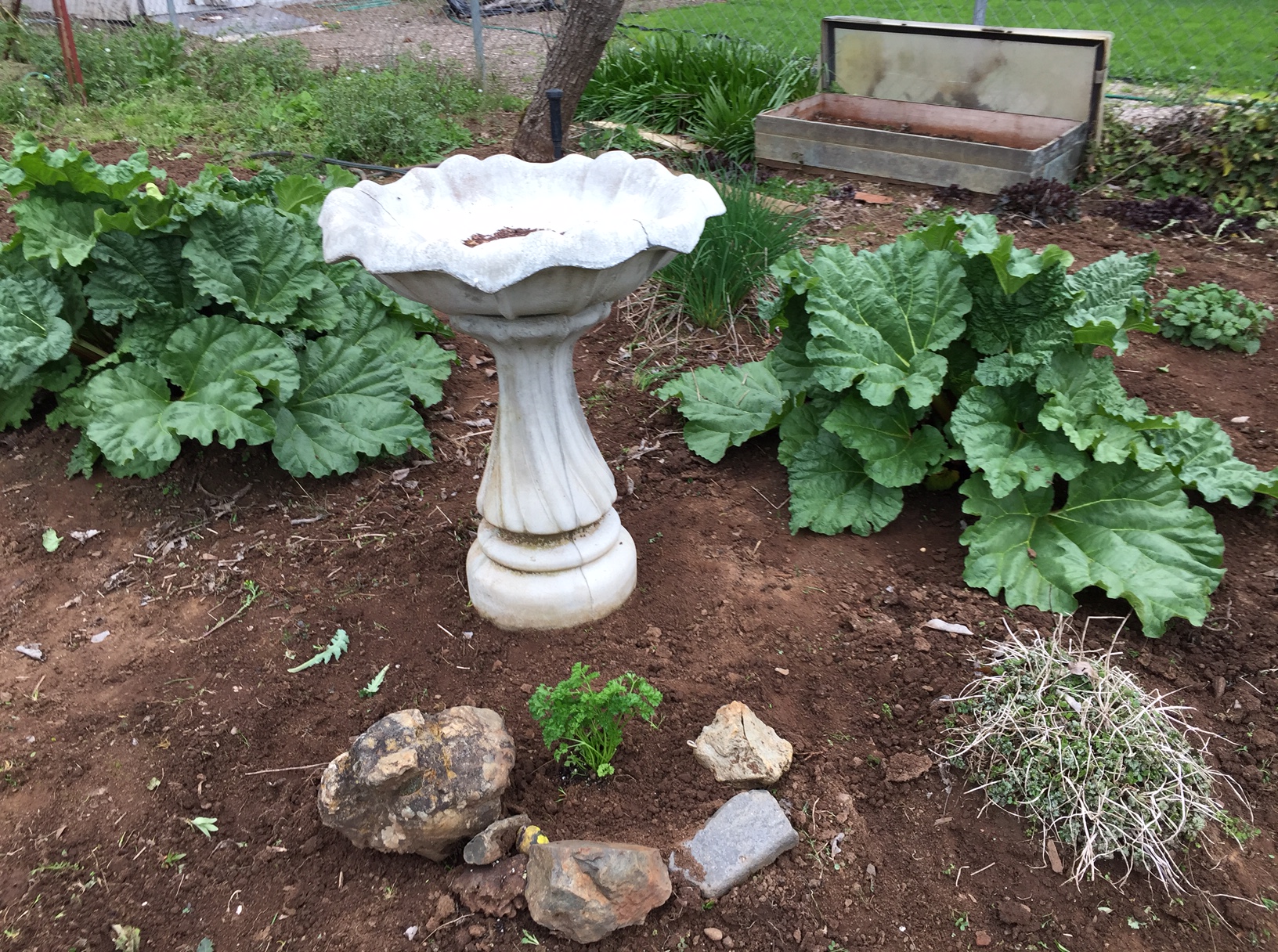 I've finally been able to get outside a little bit.  I have a LOT to do, but it's been too wet to do it.  Over the past week, the weather has cooperated enough for me to do some yard work.  I have a lot of plans for this new place.  As bulbs and plants begin to emerge from their winter hibernation, I'm getting a sense of which ones I want to keep and which ones have to go.
This is going to be my herb garden.  It is a flowerbed next to the vegetable garden.  I've already removed a huge lemon balm plant.  There is a small one in the back that will stay.  I don't use much lemon balm.  I want thyme, rosemary, sage, dill, cilantro and basil. I planted the parsley plant for a start, and I can see that there is a chive plant in the background. There are many little chive starts coming up.  I will only keep a few, and will either put stepping stones throughout the area, or move the chives forward.  I use them a lot in cooking and want them accessible.  I will leave the rhubarb.  It looks healthy and established.  I also unearthed a cold frame and will plant some things in there once I get a bag of dirt poured in there.  I'm not sure what, yet.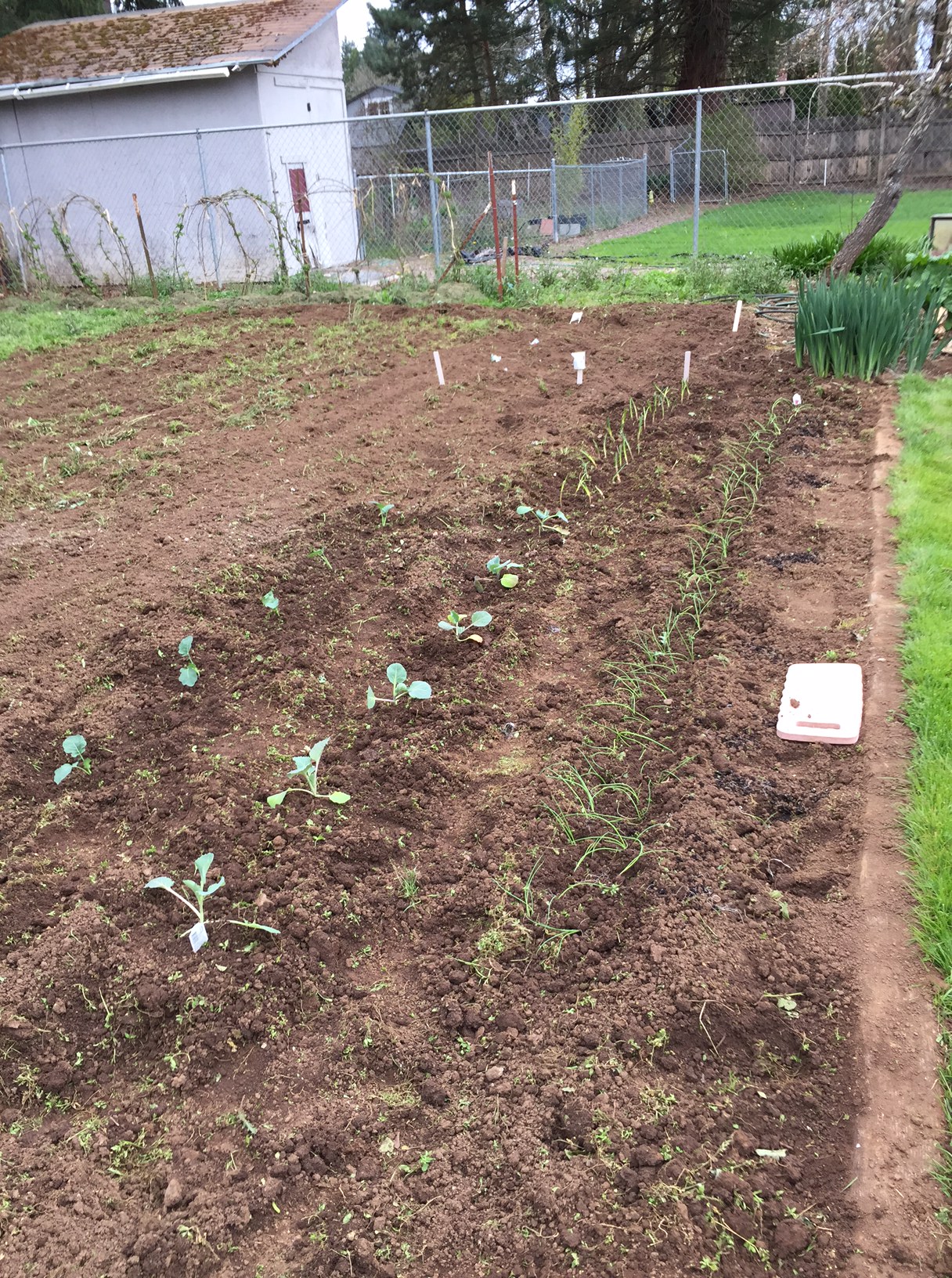 Rob got part of the garden tilled.  There are still a lot of weeds, and he will be re-tilling the rest and finishing the parts he did not do over the next couple of weeks.  He double-tilled this area, so I could plant.  I planted Golden Acre cabbage and broccoli from starts I bought.  The broccoli is a spring mixture, which should stagger the harvest.  I planted Walla Walla onions from little plants (the bare-root bundle) and Benny red onions from a 6-pack.  I have not grown them before, but that's what Wilco had.  Pasty planted most of them, which was very helpful.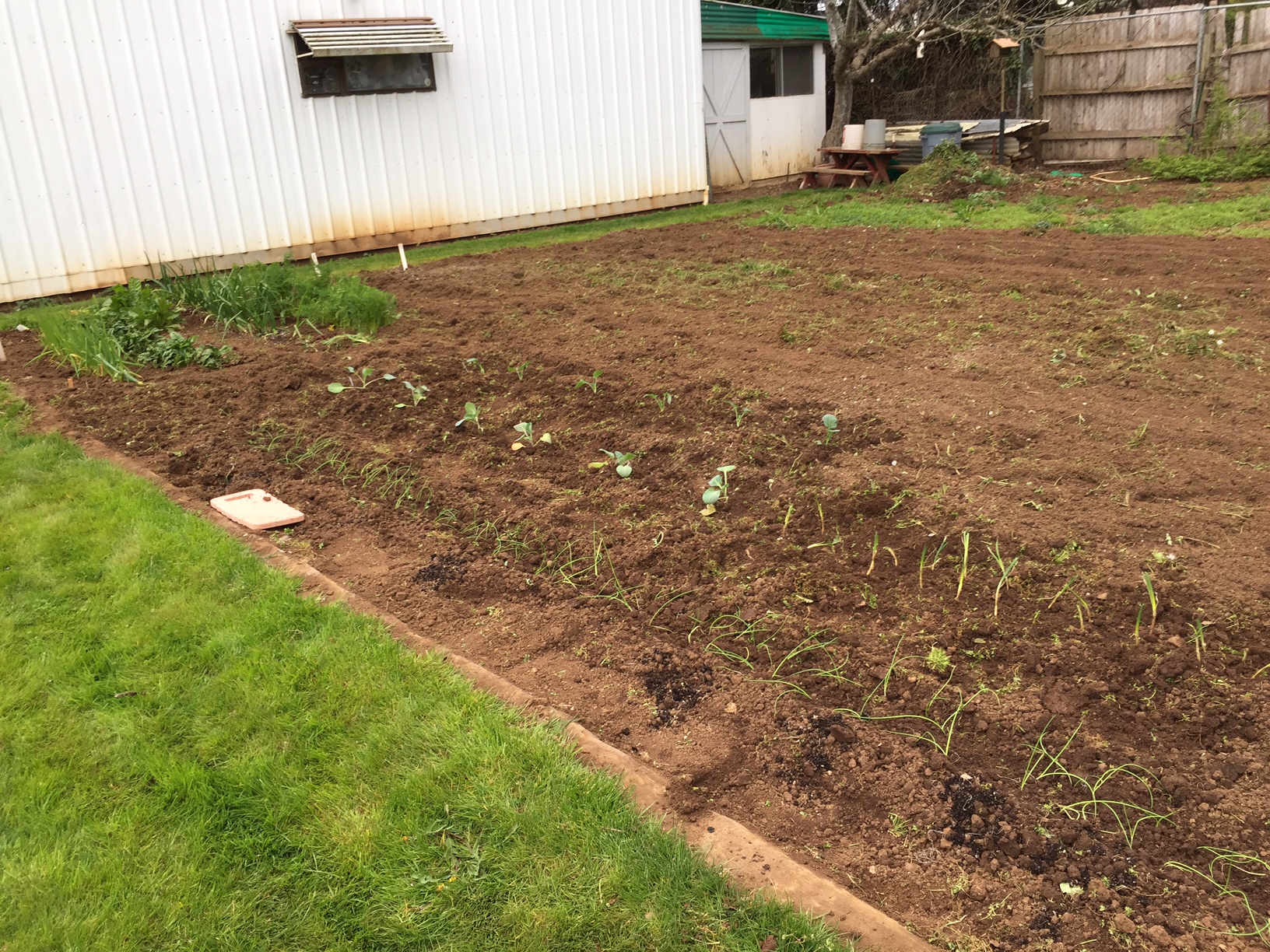 I planted seeds for Detroit beets, Nantes carrots,  spinich, pale green Swiss chard, Boc Choi Chinese mustard, Mixed radishes, Oregon Sugar Pod II snow Peas, Little White Snow Peas (the 30 day kind, it promises, we shall see), several lettuces–Buttercrunch and a mixed variety.  I planted a small quantity of many cool-weather seeds and plants and will succession plant those which I want more of.  I will plant the warmer-crop veggies later in the spring.  It's way too cold and wet for them to grow, yet.
The blackberries we moved last fall are leafing out well.   I need to make sure they don't grow back by the fence where we removed them from.  The raspberries there were here need attention.  They need new posts and wire, and to be pruned.  There are about 100 new starts growing and I need to move some over, and remove some.   The ones we moved here with us are starting to put out little tiny leaves, which is a relief, because that variety is the kind I love–so tasty. The blueberries are going to leaf out soon.   I hope they bloom well.   I got the strawberry bed into good shape, and the new plants are starting to grow a little bit.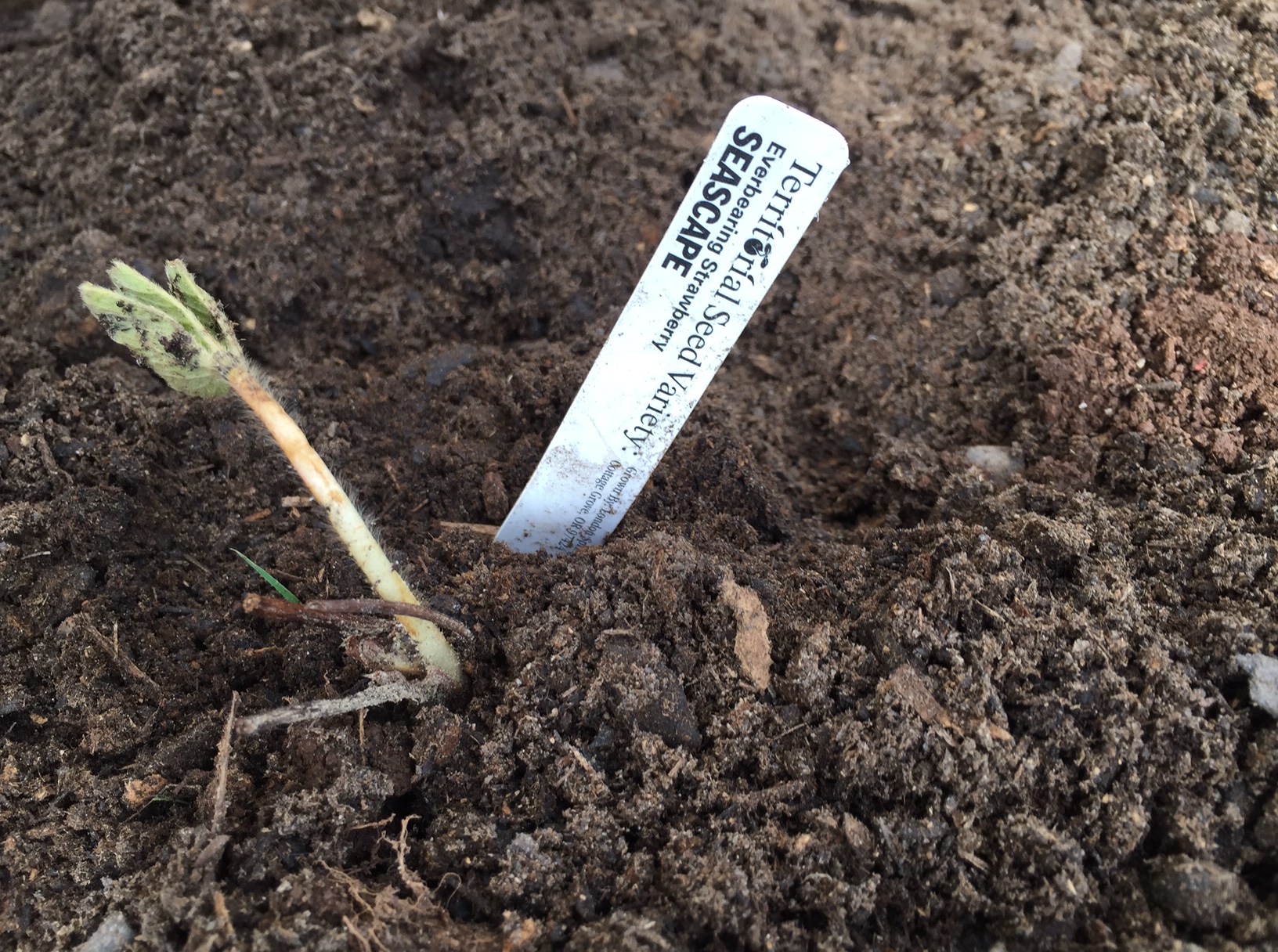 I've only just begun to clean out the flowerbeds.  There seem to be random groupings of bulbs coming up in the middle, sides, edges, etc. of the flowerbeds.  Sometimes, there is a tall group coming up in front of a shorter one in the back.  I need to get rid of some and move some, once I figure out what I have.
We planted some dahlia starts from my sister in several places.  The daffodils Patsy planted last fall are getting established and will bloom better next year.  She planted each little bulb far away from each other little bulb and only a few had the strength to bloom this year.  Next year, it should be awesome.  We moved some other daffodils from the flowerbeds into that bed, and I showed her how to plant in groups, with a few bulbs in a cluster or area.  There are a few tulips that are lovely right now.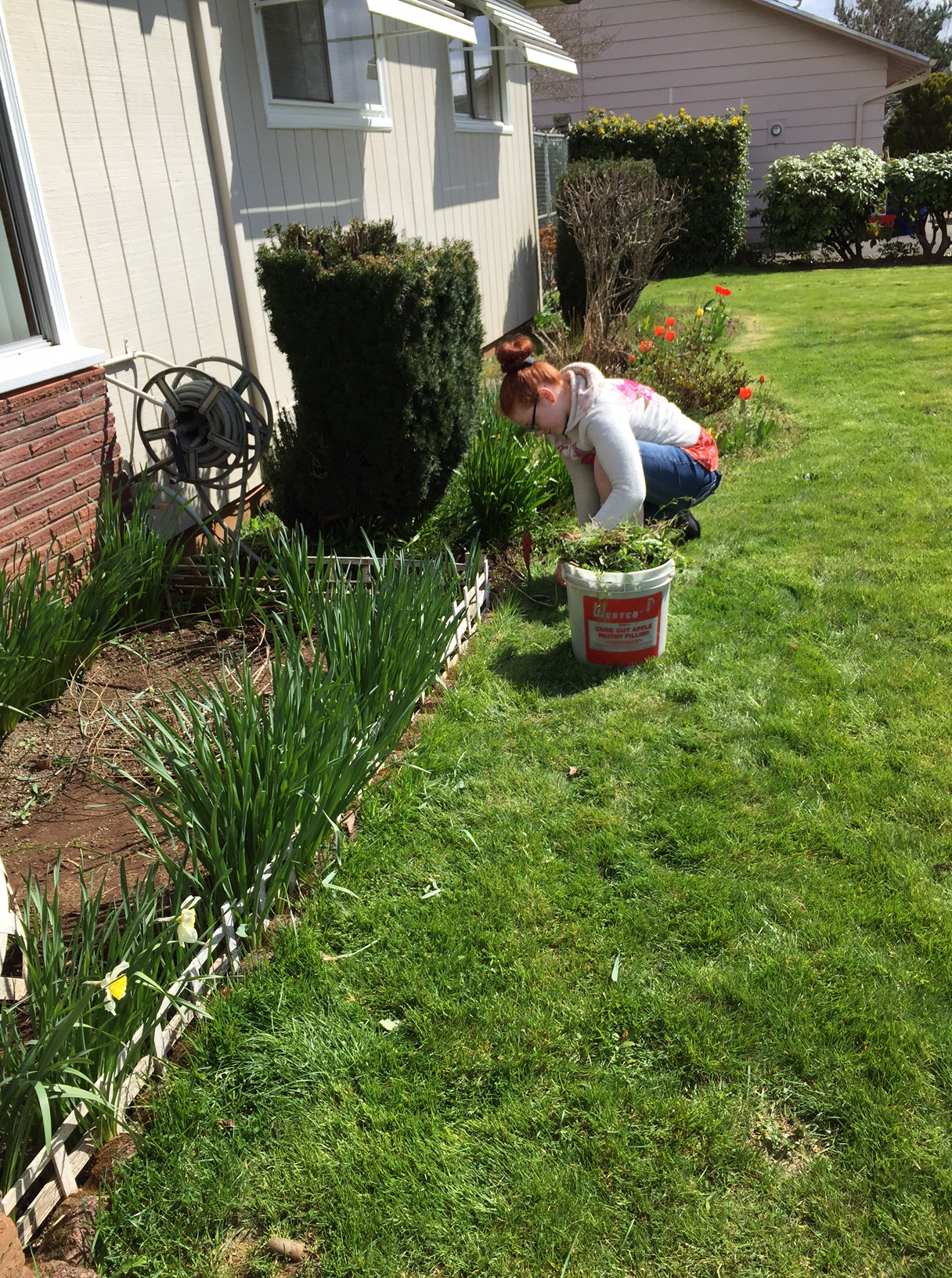 I emptied out some pots I brought from our old place and planted the primroses and pansies down into the edge of the flowerbeds in the back.  I had the girls plant some herb seeds in those pots and put them by the back deck.  If I get a lot that come up, I will transplant some of them into the herb bed and keep some in the pots for easy access from the kitchen.
I hope to do either wax begonias, or impatients along the edge of the front flowerbed in the front, plant zinnias along the house in front, and nasturtiums in the planter box by the front door.  Rob plans to put moss-killer on the grass, and keep mowing it.
During the night, the weather had the grace to drop a gentle rain onto all I planted yesterday.  Lovely.  I love spring.