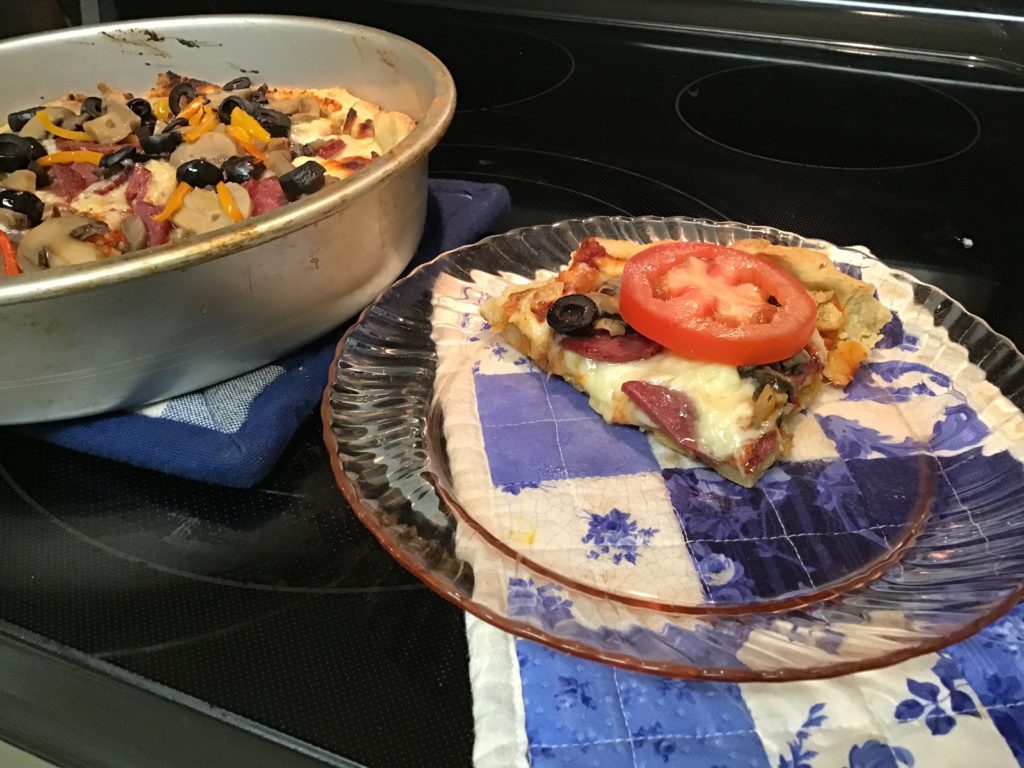 Print Recipe
Gluten-Free Deep Dish Pizza Crust
This is a soft crust that works well for deep dish pizza, baked in cake pans. Several years ago, one of our daughters and a friend won the 4-H State Fair cooking contest with this recipe, made as deep-dish pizza. In a cake pan, the crust is quite thick. If you want a thinner crust, the dough can be spread thinly onto a traditional pizza pan, par-baked, and then frozen for future use or used immediately. One thing I like to do is to make up little baggies with all the dry ingredients, except yeast, in them so I can have a quicker time making pizza on weeknights.
Ingredients
1-1/2

cups

warm water

2

tablespoons

honey

2

teaspoons

salt

4-1/2

teaspoons

active dry yeast

1-1/4

cups

brown rice flour

3/4

cups

oat flour

1/2

cup

millet flour

1/2

cup

tapioca flour

the same as tapioca starch

1/3

cup

potato starch

not potato flour

1

tablespoon

xanthan gum

1/4

cup

olive oil
Instructions
Add honey and salt to warm water in a small bowl or glass measuring cup. Stir to blend. Add yeast and stir again. Set aside. You are letting the yeast bloom to get it started and to make sure it is viable. After about 5 minutes, it will get foamy.

In a bowl (either a mixer or a bowl if you are going to stir the dough with a spoon), combine flours, starches and xanthan gum. Add olive oil and yeast mixture. Mix until well blended. The dough should ball up a little bit, but stay quite sticky. It is not the same as dough made from wheat flour–it's much softer and does not hold its shape in the same fashion.

Spray 2-9″ cake pans with non-stick spray or grease with oil. Divide the dough, putting 1/2 in each pan. Put a small bowl of water next to your pans, and dip your fingers/hands into the water frequently. Pat the dough out over the bottom of the pans, and up the sides a little ways, dipping your fingers in the water whenever the dough starts to stick to your hands.

Cover with plastic wrap and let rise in a warm place for 45 minutes.

While it is rising, prepare your sauce and toppings.

Preheat the oven to 500 degrees F. Spray a very thing coating of pan spray over the top of the crusts, or brush with olive oil. Bake for 5 minutes. Remove the crusts from the oven. Spread pizza sauce on crusts, and scatter toppings over pizzas. Bake for an additional 15 minutes. Remove from oven, and add any additional, fresh ingredients you desire, such as tomatoes. Serve while hot. Store leftovers in tightly sealed container in fridge.
Notes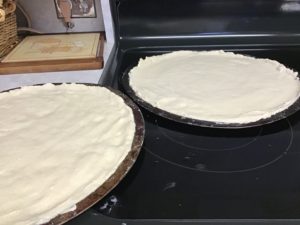 This recipe can also be patted out thinly onto pizza pans and par-baked for 5 minutes.  At that point, the crusts can either be used immediately, or wrapped well with tin foil and frozen for future use.  When you want to use the frozen crusts, remove from freezer, top as desired and bake at 500 degrees F. for 15-20 minutes.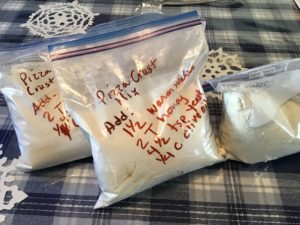 You can also make mixes of the recipe for times when you don't want to drag out all of your flour containers on a busy night.