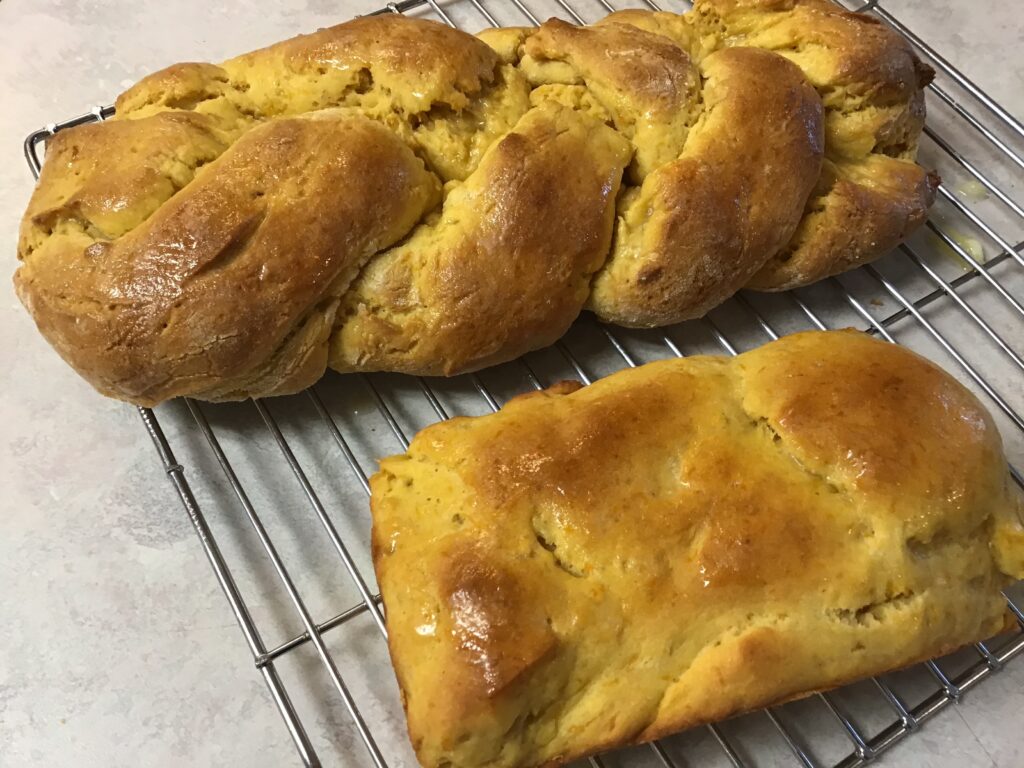 I found a recipe in a magazine that looked really good, but was not gluten-free. I spent some time one morning modifying it, and now it is. It turned out really tasty and good, and is another way to use some of the squash I've been baking and mashing. Although I did make some cinnamon rolls with this dough, frankly, they came out very ugly. The dough is very soft and they would not form well. They were very soft and delicious, though.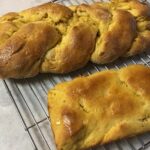 Print Recipe
Gluten-Free Pumpkin Sweet Bread Dough
This is a gluten-free sweet dough that can be used for braided bread, cinnamon rolls and more.
Ingredients
2

Tablespoons

dry active yeast

1

Tablespoon

honey

6

Tablespoons

warm water

1

cup

mashed winter squash or pumpkin

4

Tablespoons

brown sugar

4

Tablespoons

melted butter

4

eggs

1

teaspoon

gelatin powder

1

teaspoon

salt

3-1/2–4-1/2

cups

gluten free bread flour mix

I used Pamela's for bread
Instructions
Put the yeast, warm water and honey in a small bowl and let it sit until it foams, about 5 minutes. In the meanwhile, put the squash, eggs, brown sugar, butter, gelatin powder and salt in a mixing bowl and mix thouroughly. Add the yeast mixture. Add the flour, 1 cup at a time, stirring vigorously each time. After adding 3 cups of flour this way, start adding 1/2 cup at a time until desired consistancy is reached. This dough should be quite soft and sticky, but not runny.

Place waxed paper on the counter and sprinkle with additional flour. Sprinkle more flour on top of the dough. Roll, shape or form dough as desired. Rise for about 1 hour, or until doubled in size. Bake loaf for 25-30 minutes at 350 degrees F., or until done, and cinnamon rolls for 15-20 minutes or until done.

Note: The braided bread I made worked great with 3-1/2 cups flour when I formed 3 ropes about 1 inch in diameter and about 8 inches long. I put quite a bit of flour on the outside so they would keep their shape, then braided it. I tucked the ends under and then let it rise.

The cinnamon rolls needed more flour in them. I would add at least 4 or even 4-1/2 cups to that dough next time.

From this one batch, I got 1 medium-sized braided loaf, one mini-loaf and 8 cinnamon rolls.

I plan to try the braided loaf for french toast and eating. I think it would turn out good with less sugar and plan to try that another time.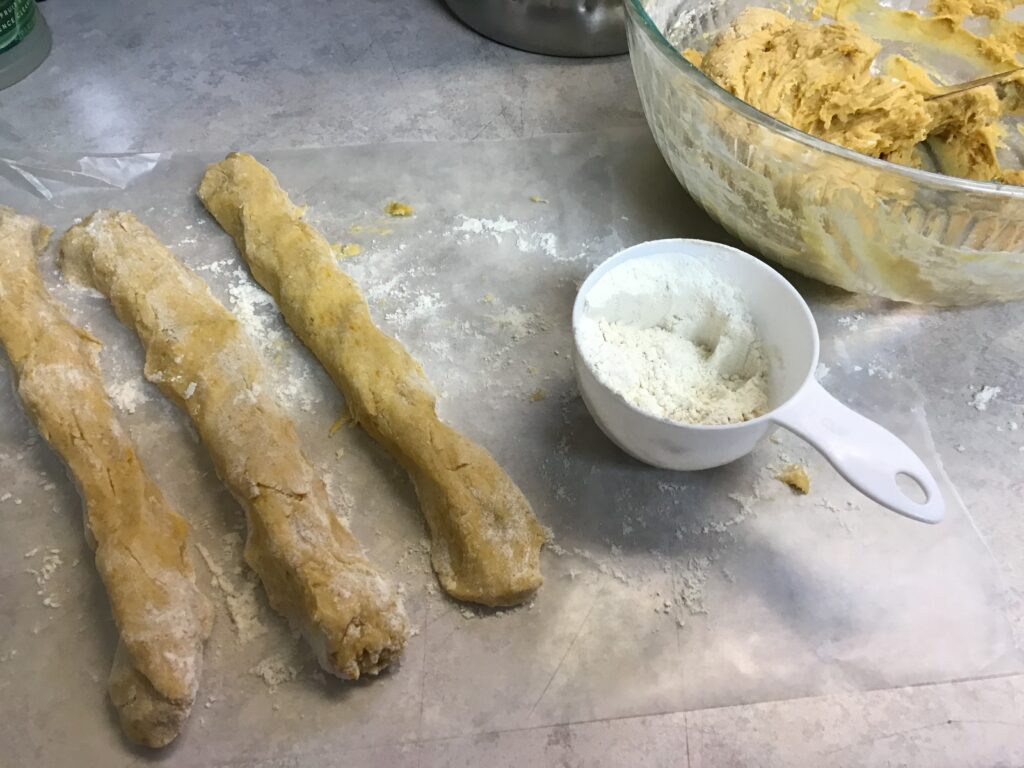 When I formed the braid, I just rolled the dough ropes in flour, then formed. When I was done baking the braid, I brushed the top with butter.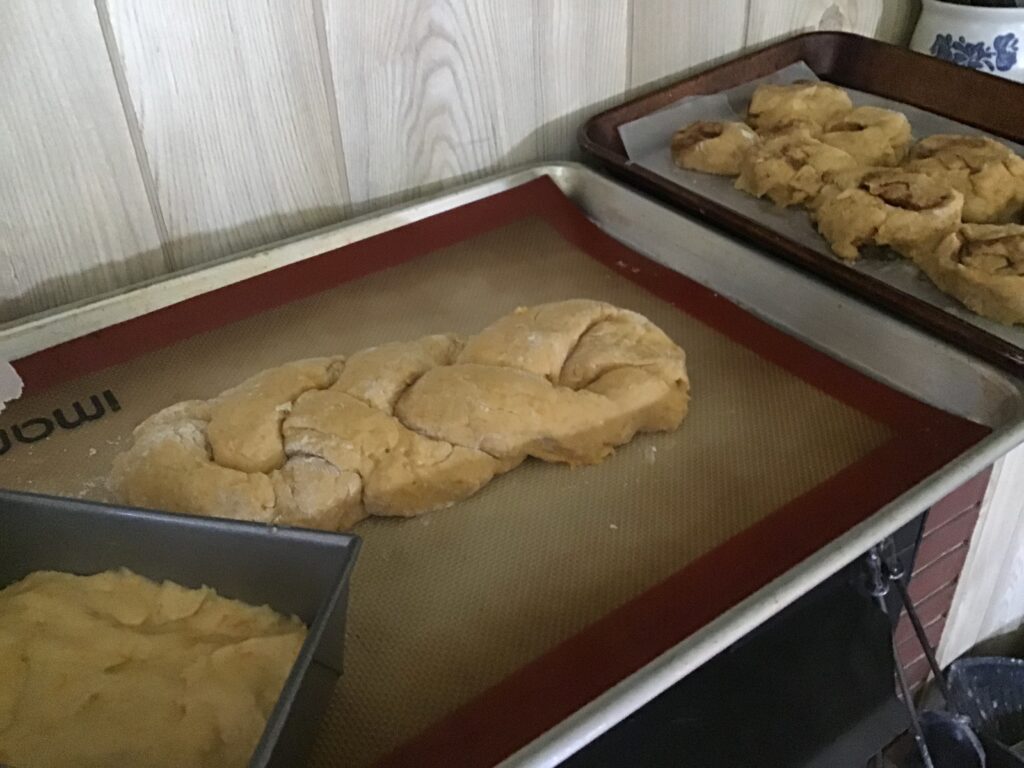 As you can see by the picture of the bread rising, the cinnamon rolls turned out very, very ugly. The dough was simply too soft for them to keep their shape. I will try again with a little more flour another time. However, if I add too much, they will be too dense and dry when baked. So, I plan to keep them as soft as I can, while being able to shape them. The other idea I may try is to just put cinnamon-sugar into the braid and perhaps I will get the same flavor, and the soft texture I want. It will be fun to experiment.