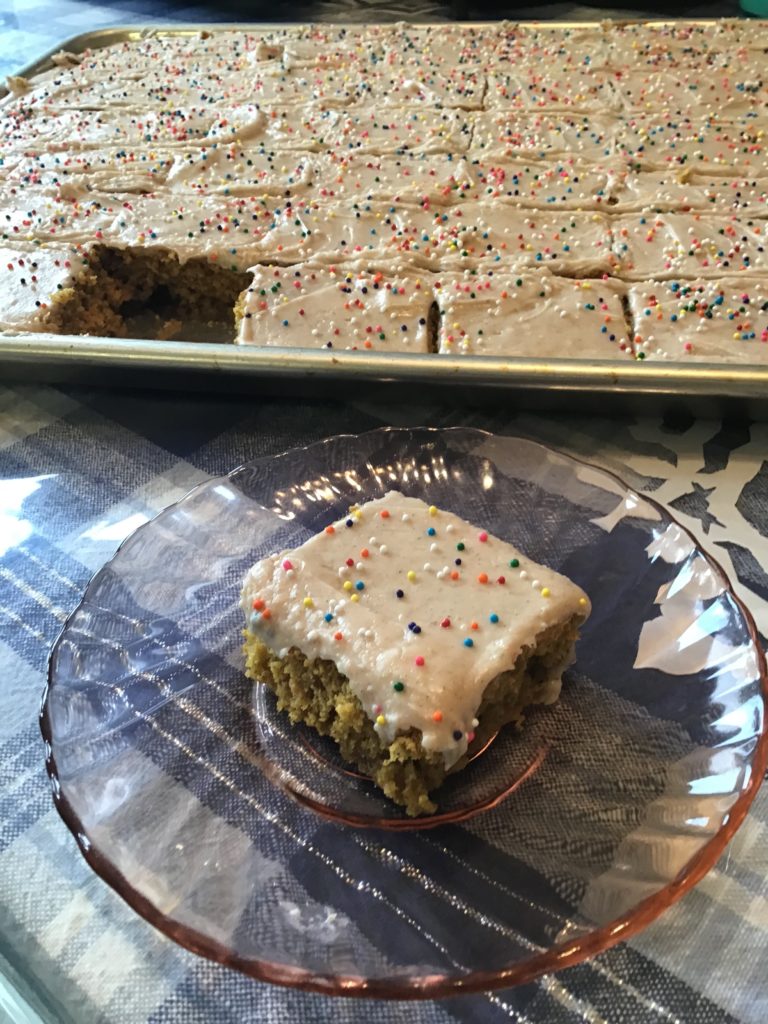 I made these bars for the college-age group at church. They tasted very good, so I thought I'd share the recipe.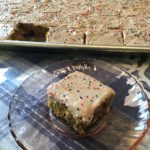 Print Recipe
Gluten-Free Pumpkin Spice Bars
These bars are a moist and tasty. This recipe makes a large batch, perfect for serving a crowd or for freezing some for a busy day.
Ingredients
1/2

cup

softened butter

1

cup

packed brown sugar

1/4

cup

granulated sugar

2

cups

canned pumpkin or cooked, mashed winter squash

4

eggs

2

teaspoons

vanilla

1

teaspoon

salt

2

teaspoons

pumpkin pie spice

2

teaspoons

baking powder

1

teaspoon

baking soda

2-1/2

cups

gluten free all purpose flour with xanthum gum included
Instructions
Cream the brown sugar and the white sugar with the butter. Add the eggs. Stir well. Add the pumpkin or squash and vanilla. Mix the flour, baking powder, soda and pumpkin pie spice in a bowl. Add to the wet ingredients and stir well.

Put batter into a sheet pan that has been sprayed with non-stick spray. Mine is about 17″ x 12″ in size. Bake at 350 degrees for 20 minutes, or until the top springs back when lightly touched, and a toothpick inserted into the center comes out clean. Cool.

Frost with a buttercream frosting that has been flavored with vanilla and 1 teaspoon of pumpkin pie spice. Cut into 56 pieces and enjoy!

Note: If you put this into a 9 x 13 pan, it will need to bake longer. Start with 25 minutes and add time if needed. I wanted a lot of cookies so I made them thin and put quite a bit of frosting on these to make a larger quantity. In the future, I plan to make them thicker, with less frosting to make them a little healthier.

The calorie count of 55 calories per bar was calculated when the bars were unfrosted, and cut into 56 pieces.