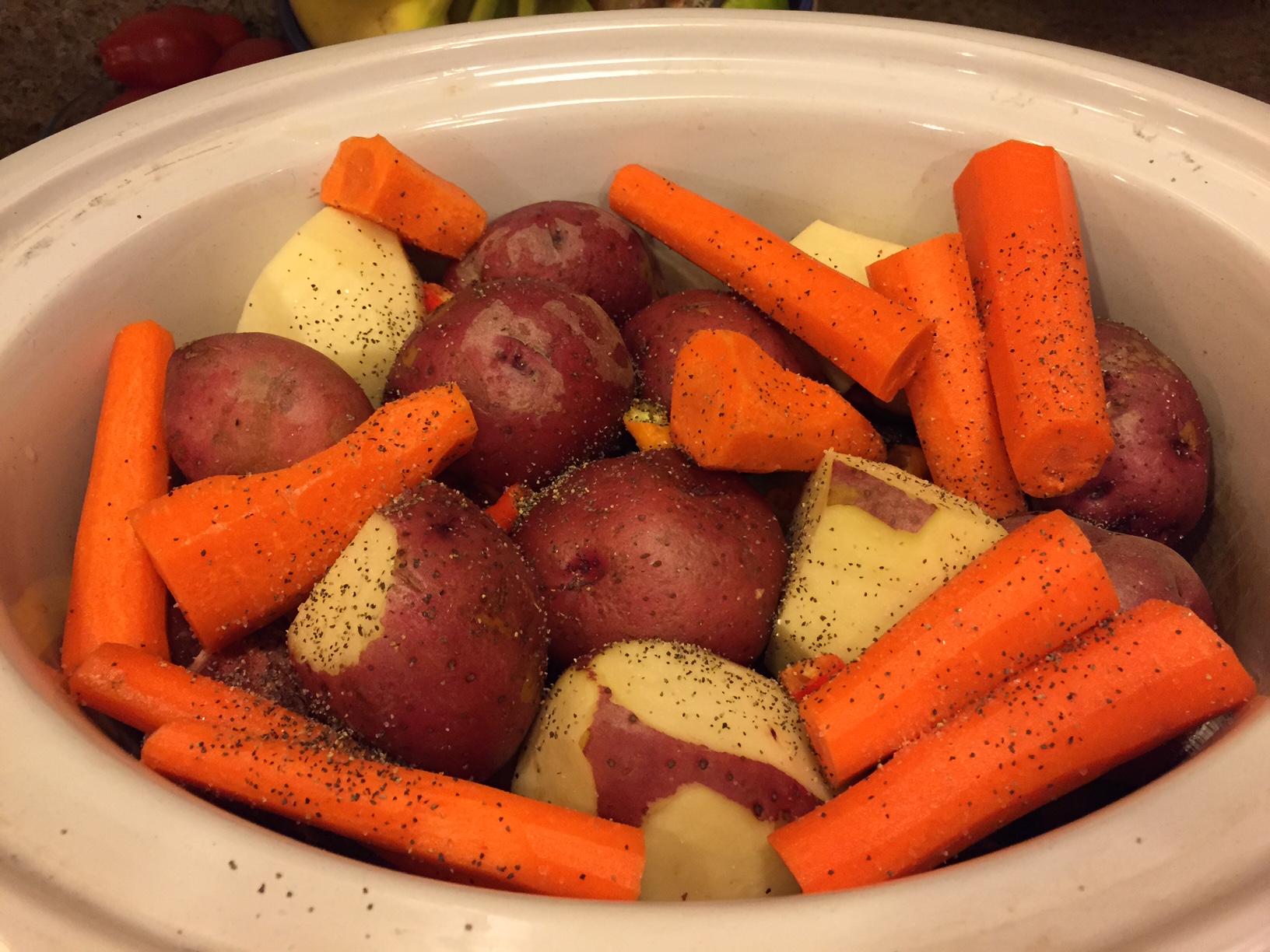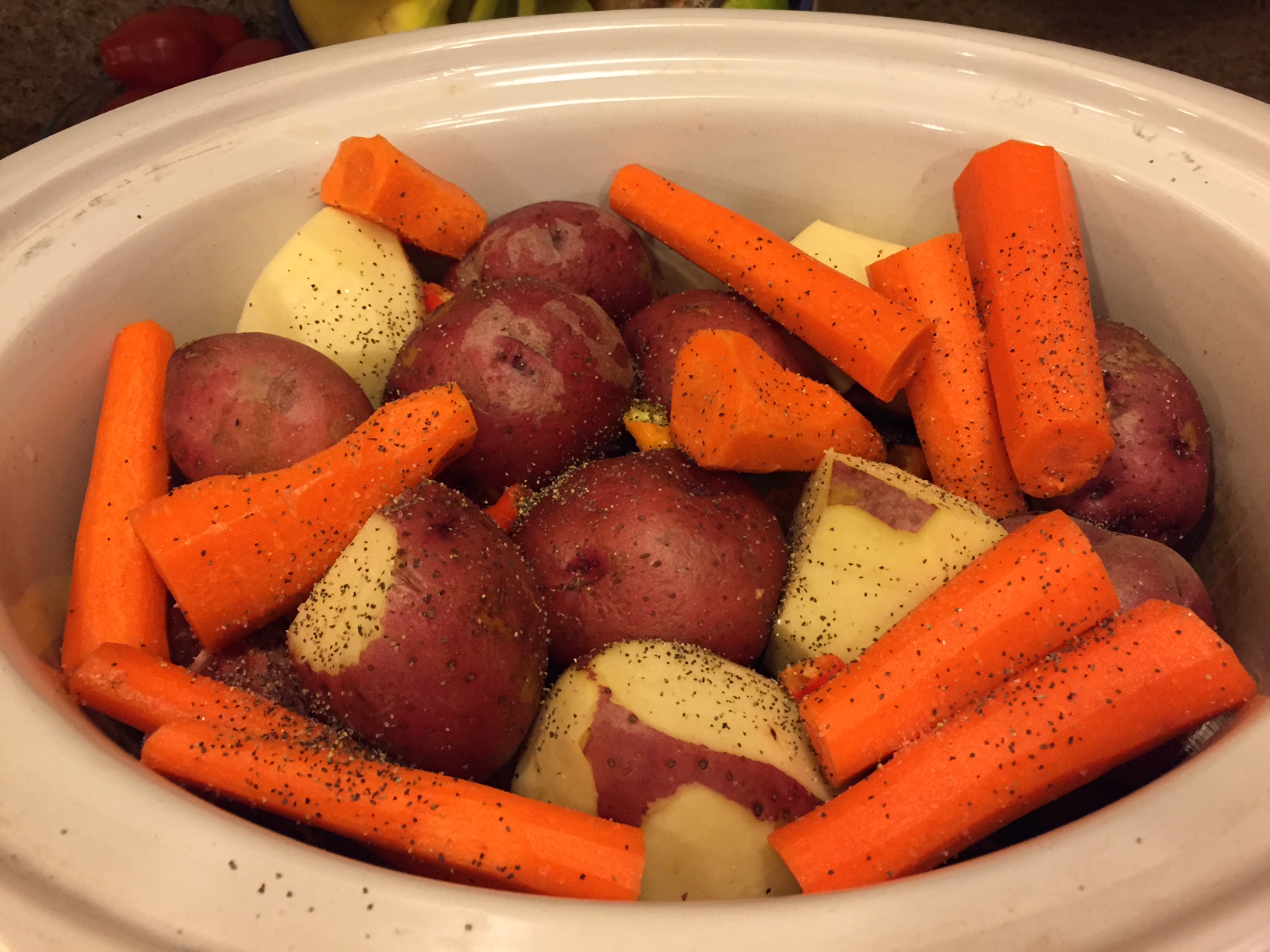 Today, I had another busy day.  We were trying to burn slash piles from the logging that was recently done on our property.  I wanted to take a meal to friends  this evening, so I chose to use my trusty slow cooker.
I thawed a chuck roast overnight.  This morning, I put the roast into the slower cooker.  The roast was sprinkled with onion soup mix.  I buy it in a large bulk package from Azure Standard and just dip out what I want with a spoon.  It tends to clump up after a while, so if it is that way, I break it apart.   It still works fine.  One package can last me for several months, and it tends to draw moisture, especially when the zip-topped bag doesn't get closed well:) I got some of the 50 lbs. red potatoes I recently bought for $10.  Red potatoes tend to go bad sooner than I'd like, at least around here, so I'm pretty committed to using them up in a timely fashion.  I cut off any bad or ugly spots, but just left the peels on the rest.  I peeled a bunch of carrots and threw them on top.  3 small "squiggly" peppers were in the fridge, so I cut them up and added them.  I sprinkled it all with a little salt and pepper.  I poured in about 1/2 cup water, and was good to go.
I turned the cooker on high for 2 hours to give it a jump start.  I wanted to take the meal mid-late afternoon, so I wanted it to cook a little faster than normal.  Then, it was turned down to low for about 6-7 hours.  It was very easy, tasty, and much appreciated when Rob took it over to them.  Exactly the kind of recipe I like to make on busy days!
We rounded out the meal Rob took over  with green salad, and a bunch of items that the 4Hers cooked yesterday–some stuffed shell pasta, stuffed sweet potatoes, and Dutch oven peach cobbler.  Our family ate more of the leftovers, plus some of us ate Crab Louie from 4 Dungeness crabs friends sent over from their recent catch.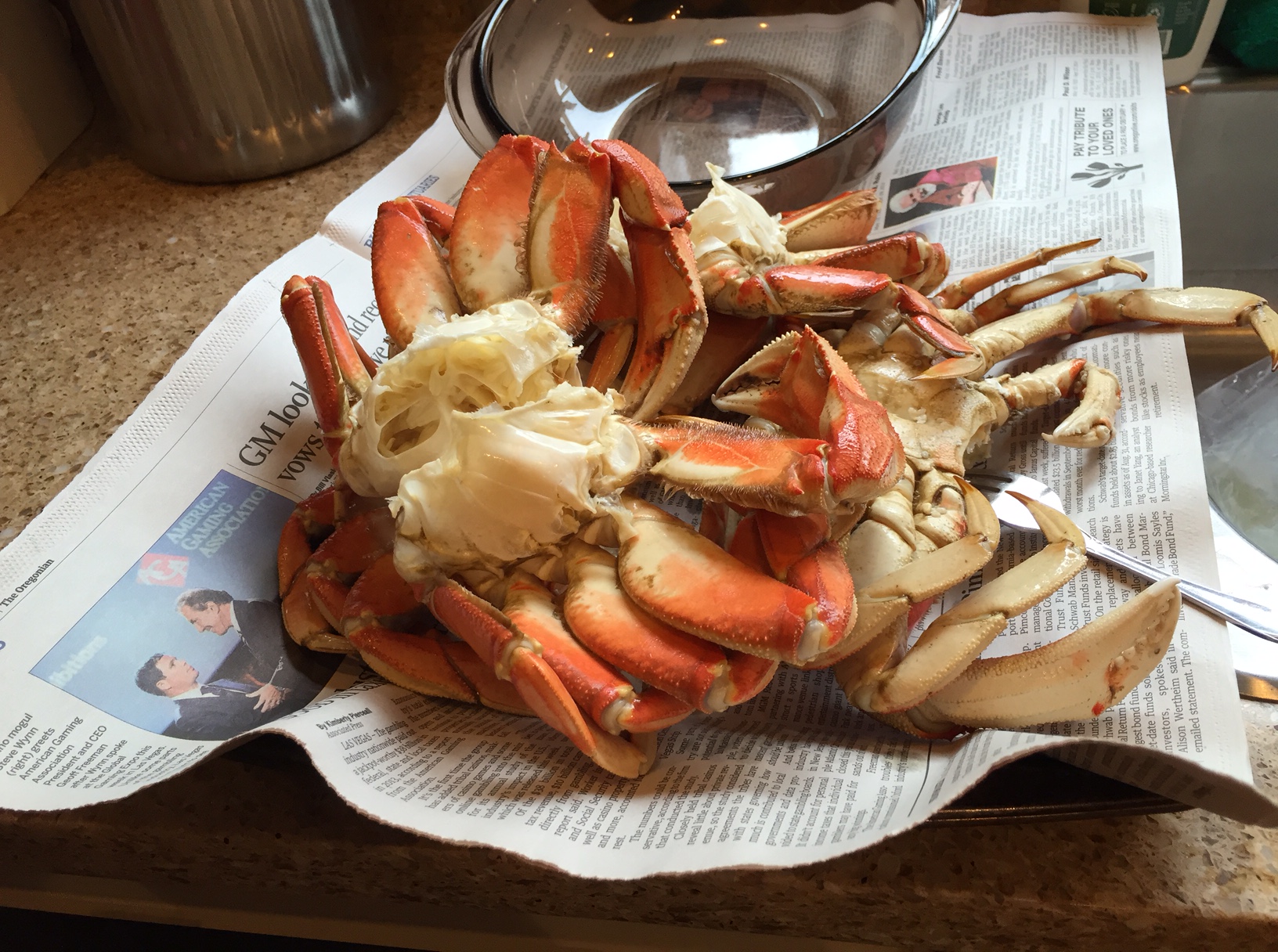 Each fall, we buy a 1/2 beef from a friend of my sister.  The beef is pasture fed, then finished on grain.  When you buy so much, the price is much cheaper than in the store and you get roasts, steaks, hamburger, soup bones, etc.–all for the same price per pound.  This year, it was $3/lb.  However, that is hanging weight, so it is actually more than that, plus we paid cut and wrap.  I save all year for this purchase, putting some aside each month so it isn't such a big expense all at once.  Once we have it in the freezer, we eat it frequently because it's already paid for and tastes great. Because of health issues, my diet is supposed to be mainly protein and veggies.  (A gluten-free diabetic is hard to cook for at times)
It was also nice to be able to use up so many leftovers from the fridge–it saves so much money!