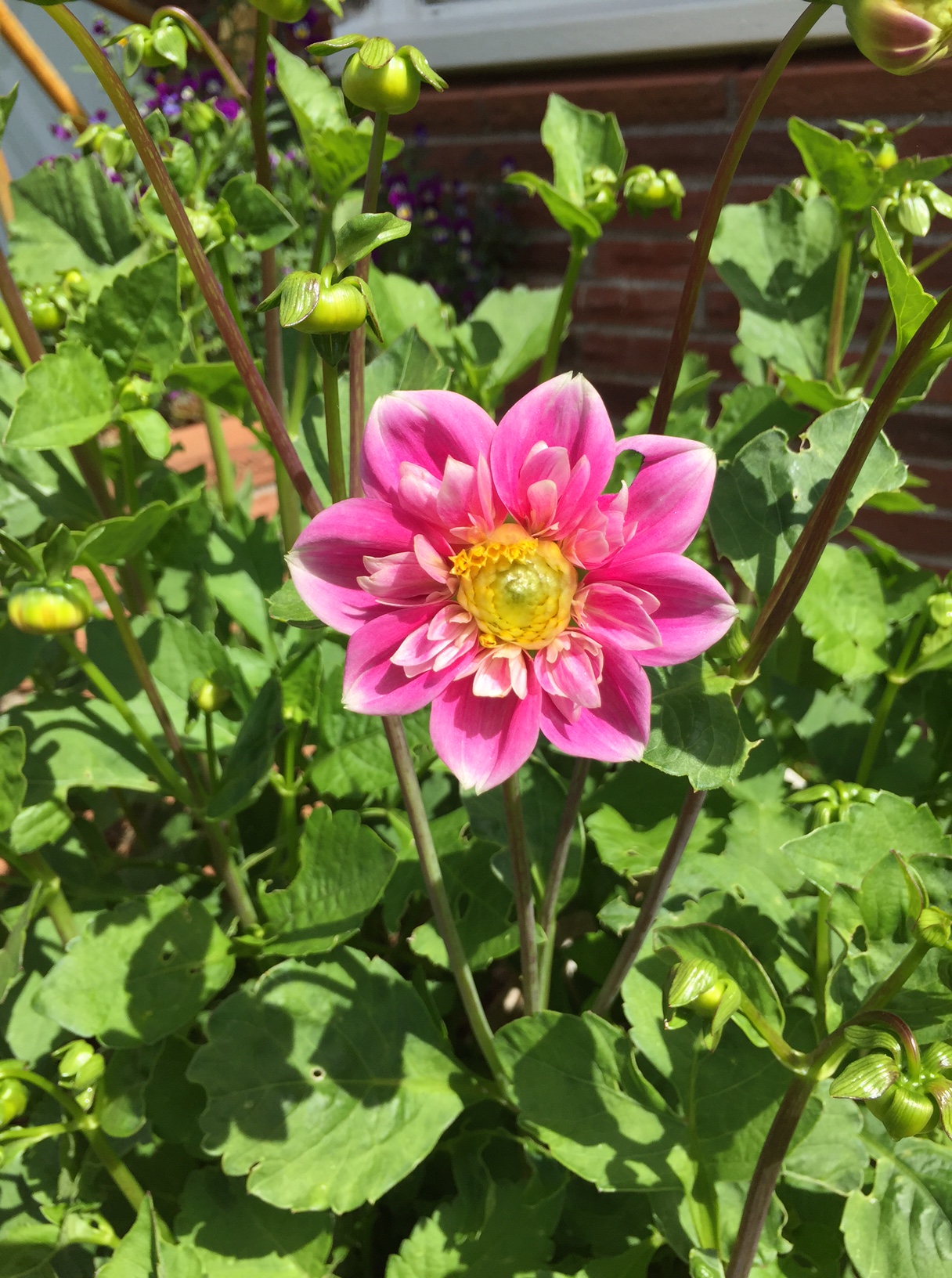 I decided to focus on the flower garden today.  I have the first dahlia blooming.  These are bulbs that the previous owners planted, and there are 2 bushes that are looking vigorous and loaded with blooms.  I wasn't sure they would make it through the extra-cold winter we had, but here they are!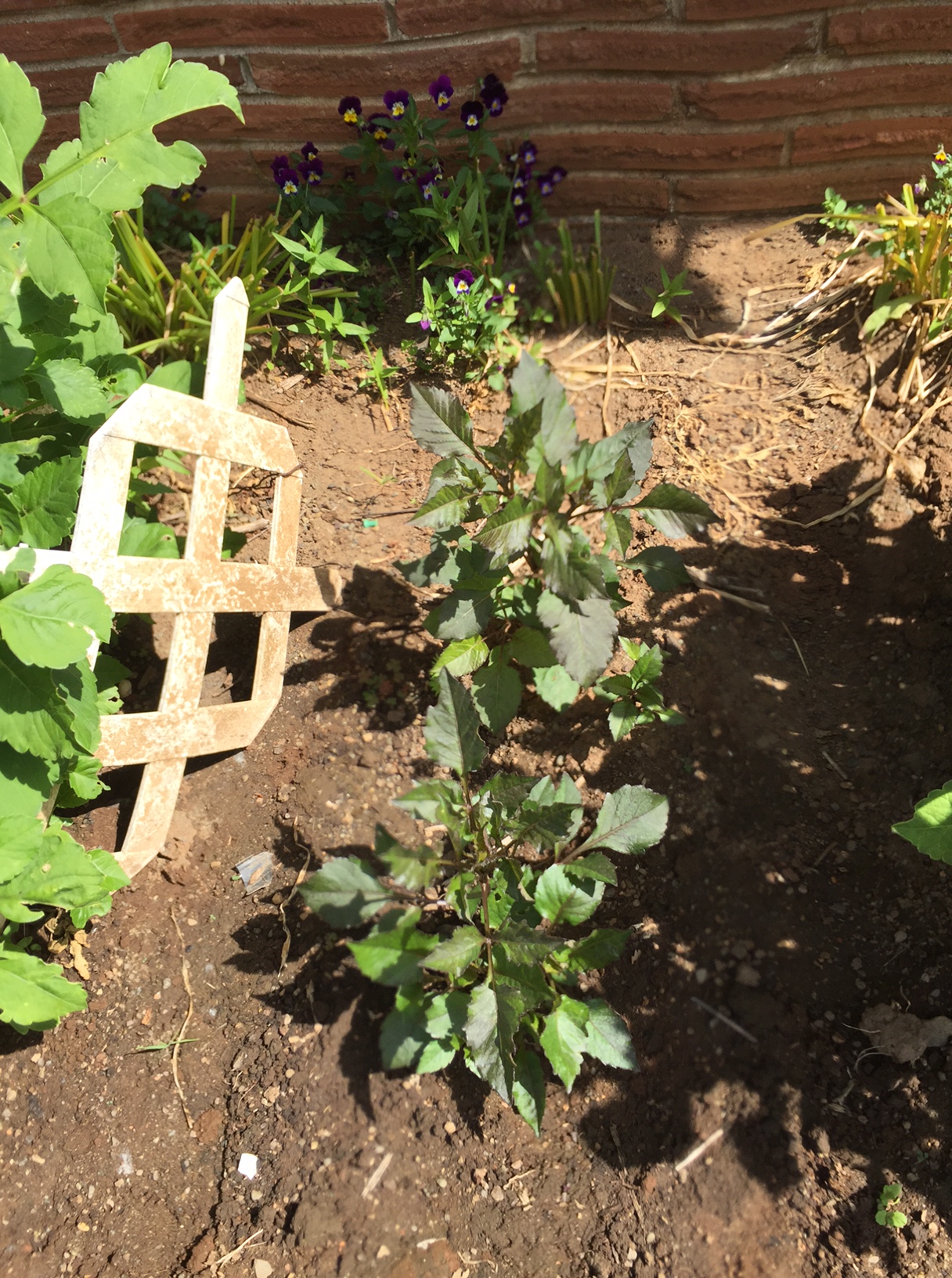 My sister gave me some starts from her dahlias.  They are coming up well in several places.  I know some are red–and some are "surprise!"  I'm eagerly waiting to see which is which.
The wax begonias and impatients are starting to grow and bloom.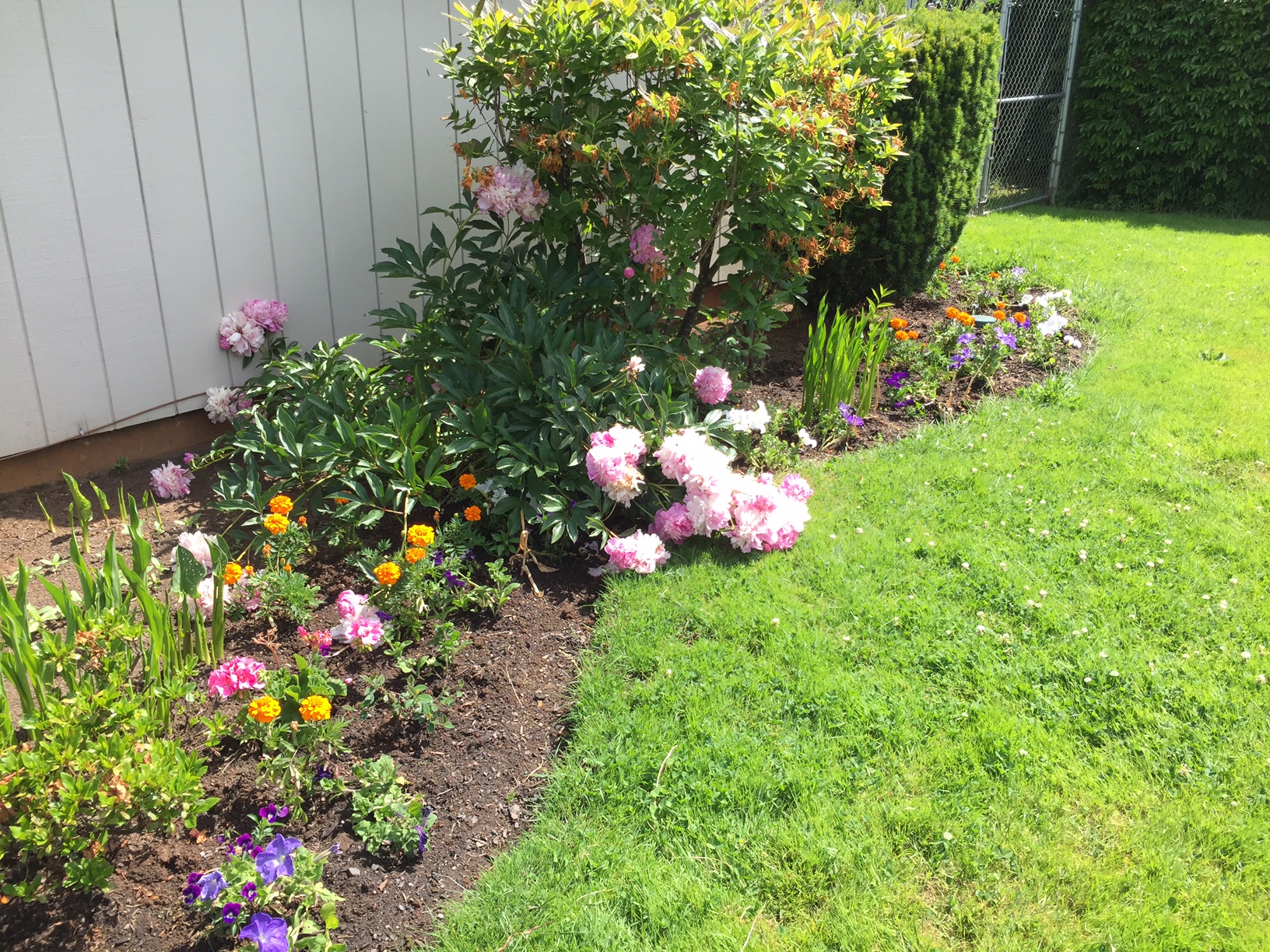 The later peonies are blooming.  The red ones are done.  I planted marigolds and petunias along the edge of the flowerbed.  I can see some Calla Lillies coming up as well, here and there.  In the back (on the far left) the little zinnia seeds have come up, and I should have a double row of bright zinnias once summer comes.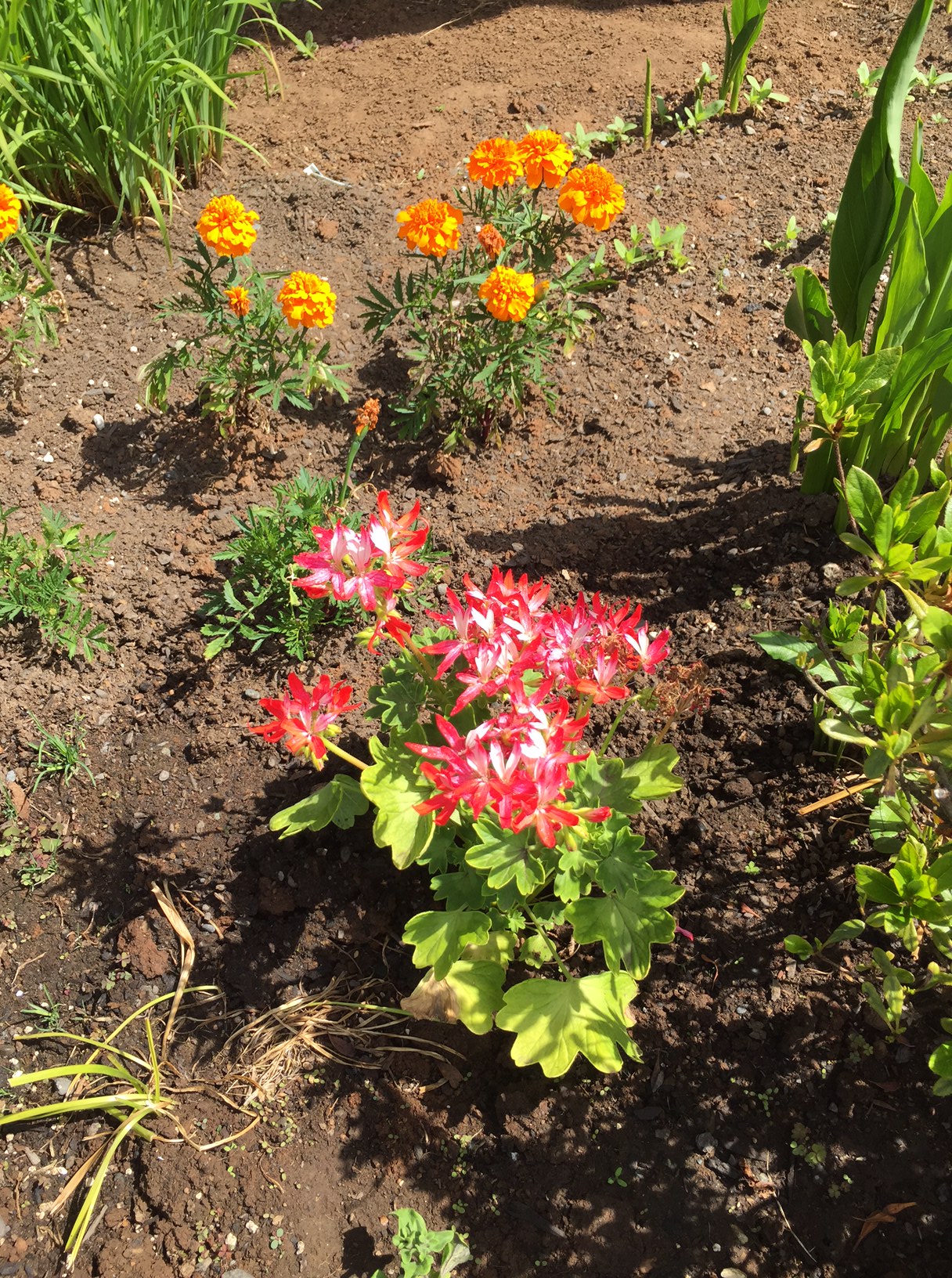 I got this "firecracker" geranium at a local nursery.  It's very striking and showy and is blooming more and more already.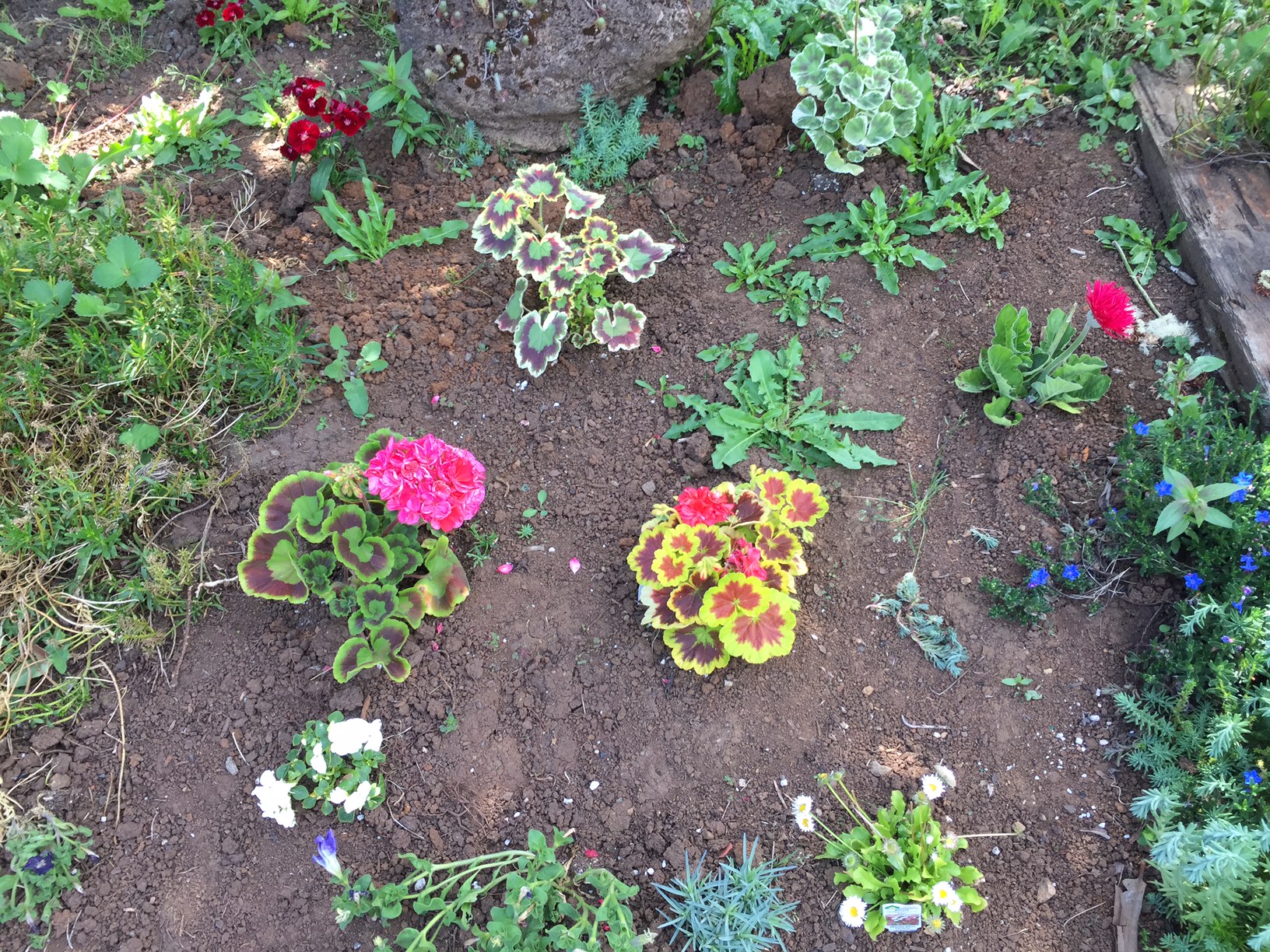 I also got these geraniums with the varigated leaves.  This area needs HELP, obviously.  It wasn't getting enough water until Rob adjusted it, so the only thing that is growing well is the weeds!!  I don't think the dirt is very good in this area, as well.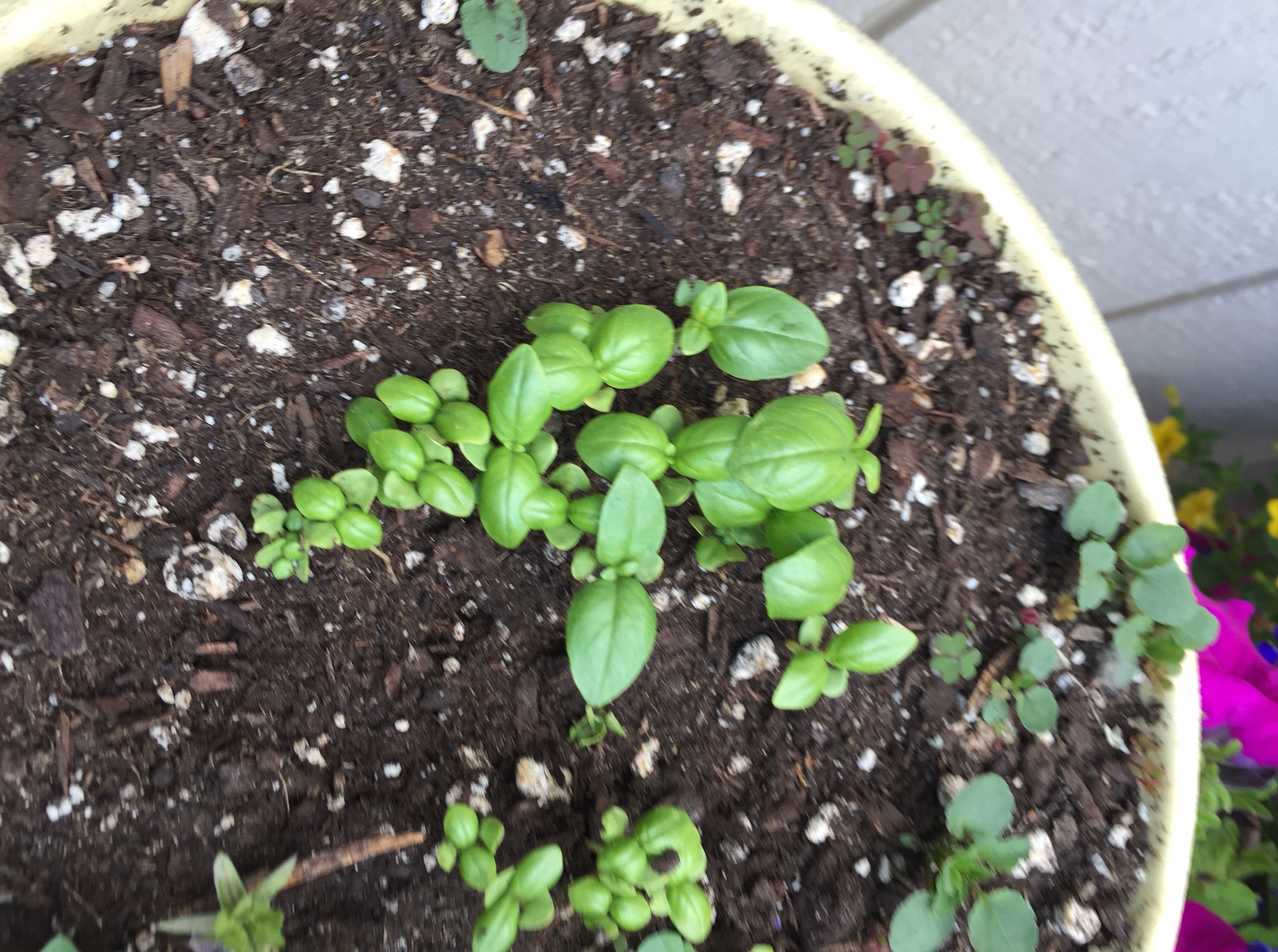 The basil is growing well. I even robbed 3 leaves off of it for a sandwich I made.  Yum!  I have a second batch growing in the garden, too.
The food garden is growing well, there just haven't been many changes.  The delicata squash came up–5 of them.  Birds or squirrels took out 3 of them so far, and the other 2 are only 1/2 there.  So, I'll go buy a plant.  Things are sprouting, growing, blooming, and setting fruit–Lots going on!  I have been eating lots of lettuce.  It is just beautiful and tasty right now.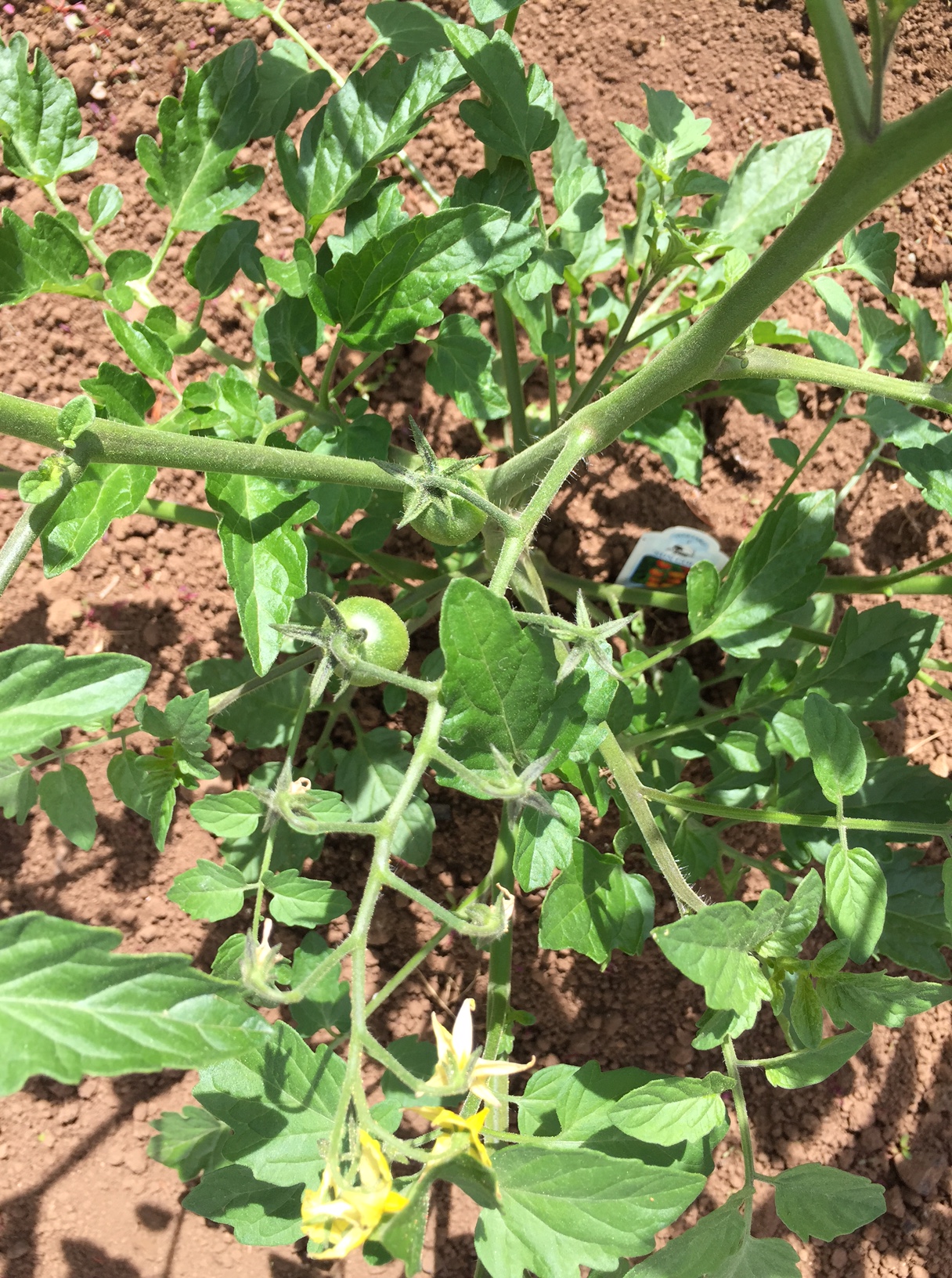 The Sungold cherry tomatoes are setting little tomatoes.  I'm looking forward to those.  A few years ago, a teen boy we know got us hooked on those.  He would give Rob a little basketful frequently from his raised bed garden and Rob would eat a few then and there, and bring the rest home.  We knew we had to grow them.  They are so tasty.  Yum!
The people who lived here obviously loved flowers and gardening.  All spring, there has been a steady succession of perennials blooming–both bulbs and plants.  They especially loved iris I think, because there have been 4-5 different kinds, at least.  The latest one is the yellow ones that just bloomed.  They are really tall and matched Ja'Ana's dance costume perfectly.   There are several rose bushes, but they need some fertilizer or something.  There is a lot of black spot on them, as well.  I've been trimming them up, and getting some blooms.  I'm really happy to have so many flowers blooming–it is very cheerful!  The berry bushes are doing well, also, and I will have strawberries, blueberries, raspberries, and blackberries.