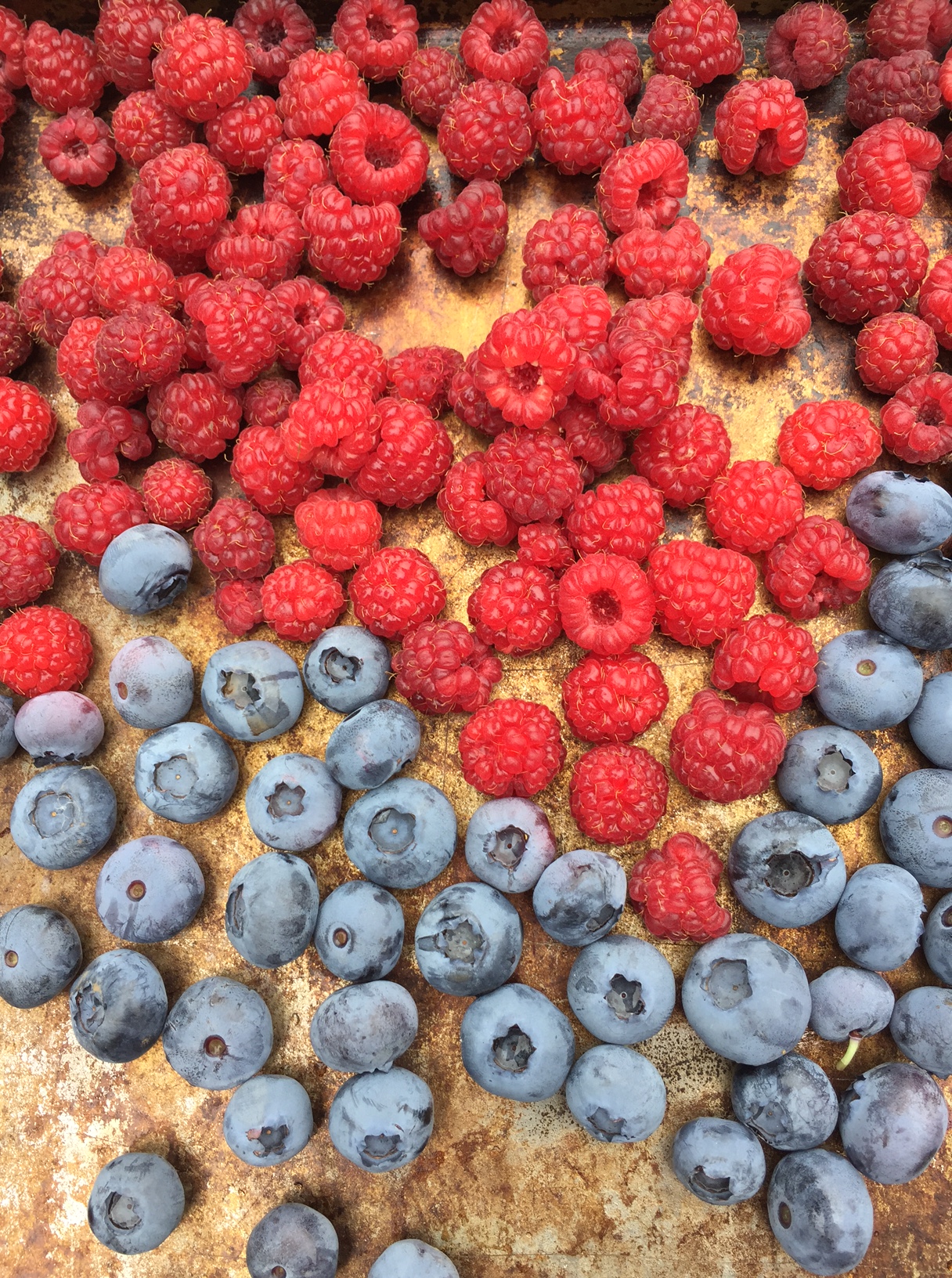 I started the day with a red, white and blueberry muffin (gluten-free muffins made with blueberries and raspberries) and put on my blue denim skirt, red shirt, and red, white and blue sweater vest and necklace.  I then proceeded to have a wonderful 4th of July, doing things I liked and wanted to do–a perfect holiday.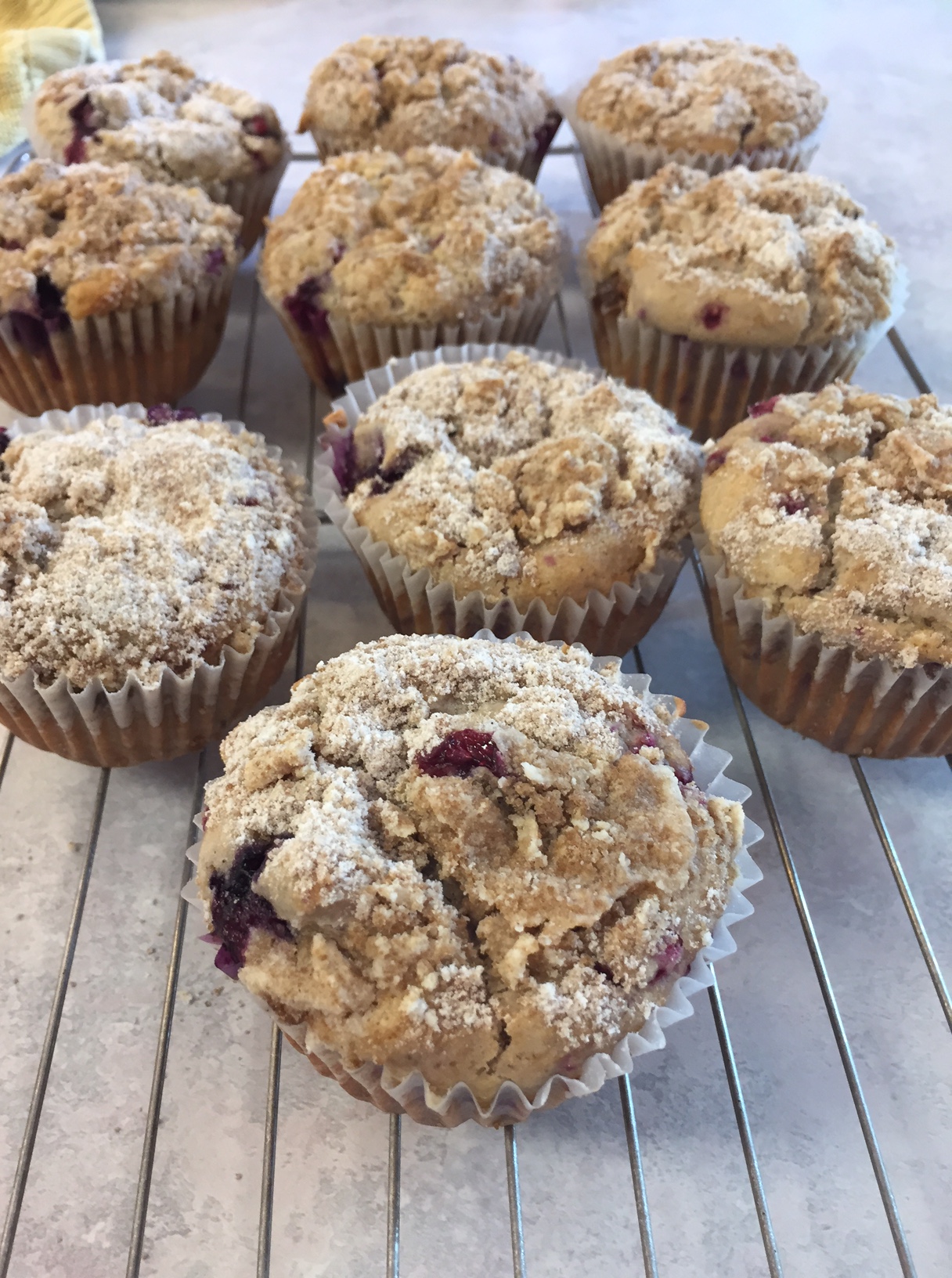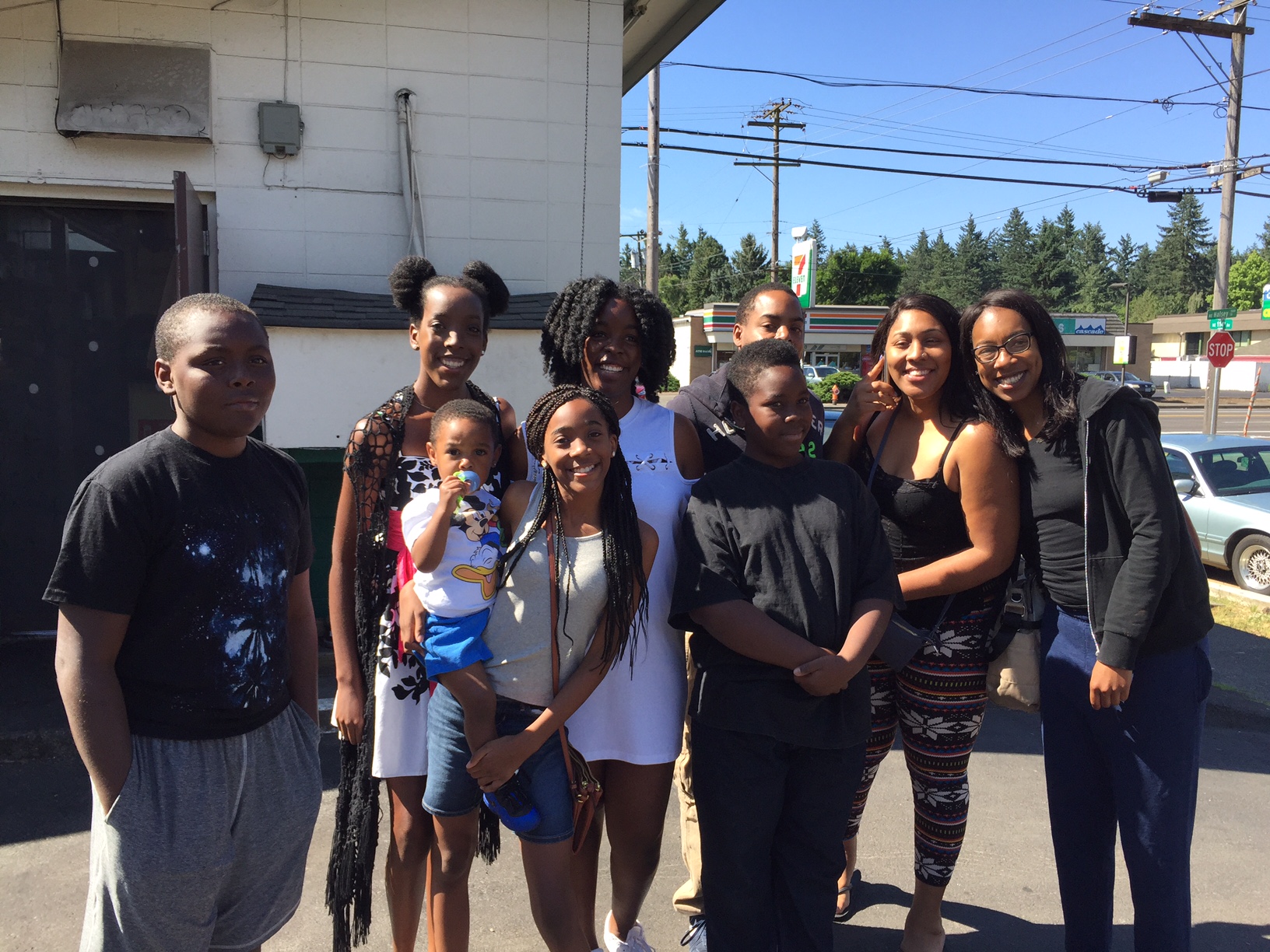 We drove up to Portland to have breakfast with some of Lovana and Ja'Ana's birth siblings/family members.  We went to a restaurant named the Gateway Breakfast House. I had never been there before, but I guess President Obama ate there when he visited Portland.  We waited quite a while, which was fine because it gave the kids a chance to visit.  It was a beautiful, sunny day–perfect for hanging around outside and taking pictures.  When we got in, it was quite small inside, and not fancy at all.  They had both breakfast and lunch items and, because we were with such a large group, I was able to see quite a few menu items.  The omelets and hamburgers were enormous!  We had a great time, both with the company we were with, and the chance to try a new restaurant.  We had the pleasure to sit near the little guy, and boy was he entertaining:)  And super cute:)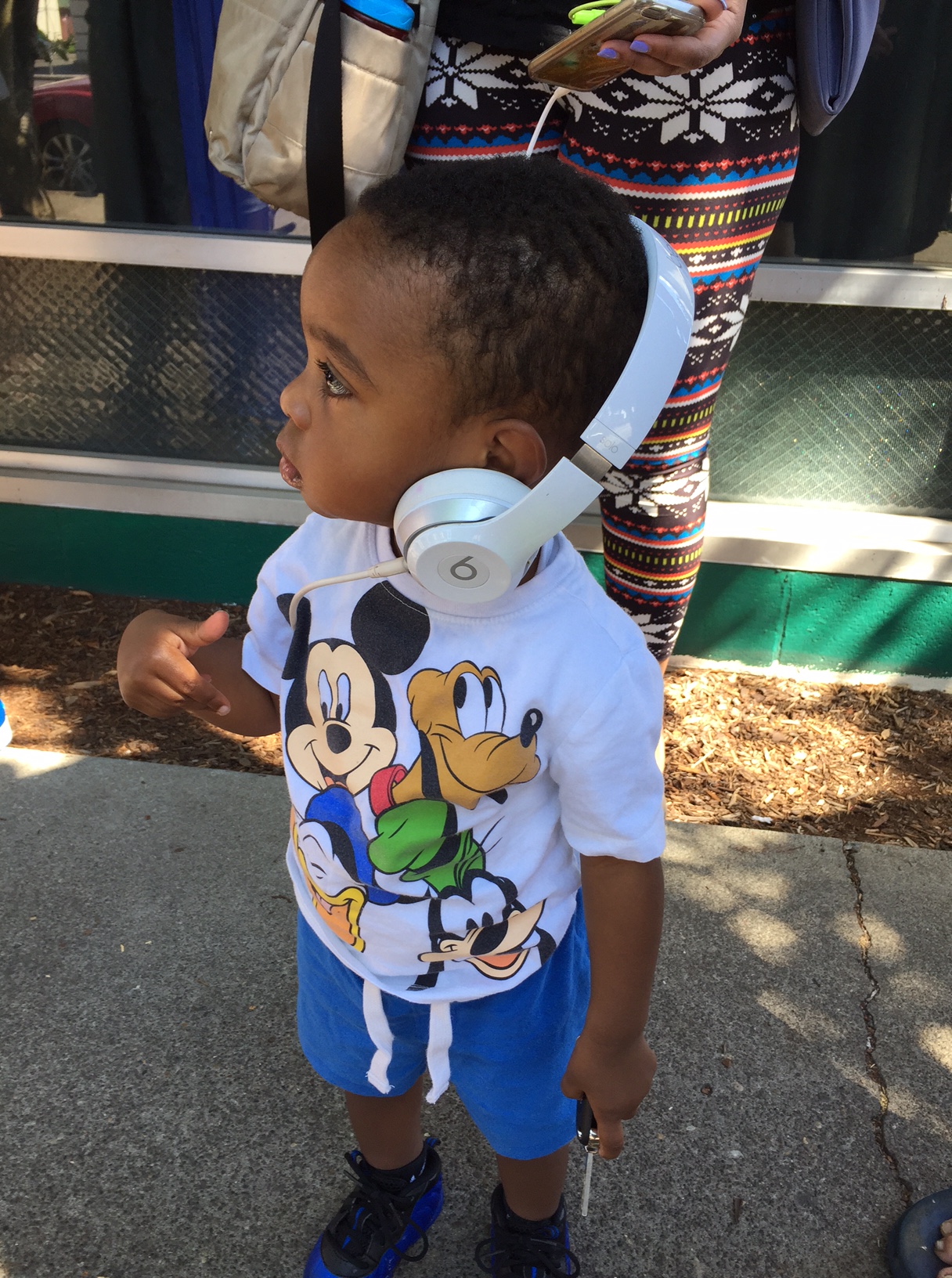 Then, we drove home.  We are listening to an audio book named "Hattie Big Sky" and are enjoying it very much.  We got to hear a lot of it today, since we were in the car so long.  On the way home, we stopped at Home Depot and ordered a new vertical blind for the front window.  It's been broken for some time now, and won't shut all the way anymore.  We've been putting up with it, but the straw that broke the camel's back was the other night when a salesman came up to the door when I was in my bathrobe, sitting on the couch, and PEERED into the crack left by the broken blind (about 6 inches) and then rang the doorbell.  I politely, but firmly told him to go away, and told Rob that we were getting a new blind ASAP!  It's on order, but it will come soon, and Rob plans to install it.
When I got home, I indulged myself in some sewing, purely for fun.  I don't get to sew much anymore, due to my busy schedule, but still love to sew.  So, I finished a sundress I had been working on for a while, for Patsy, and then made this little summer dress for a little friend.  I had worked on Patsy's dress on our camping trip, but forgot to bring an iron, so had a little to finish up here at home.   I was able to use fabric I had on hand for both dresses, and lots of rick rack from my stash for the little one.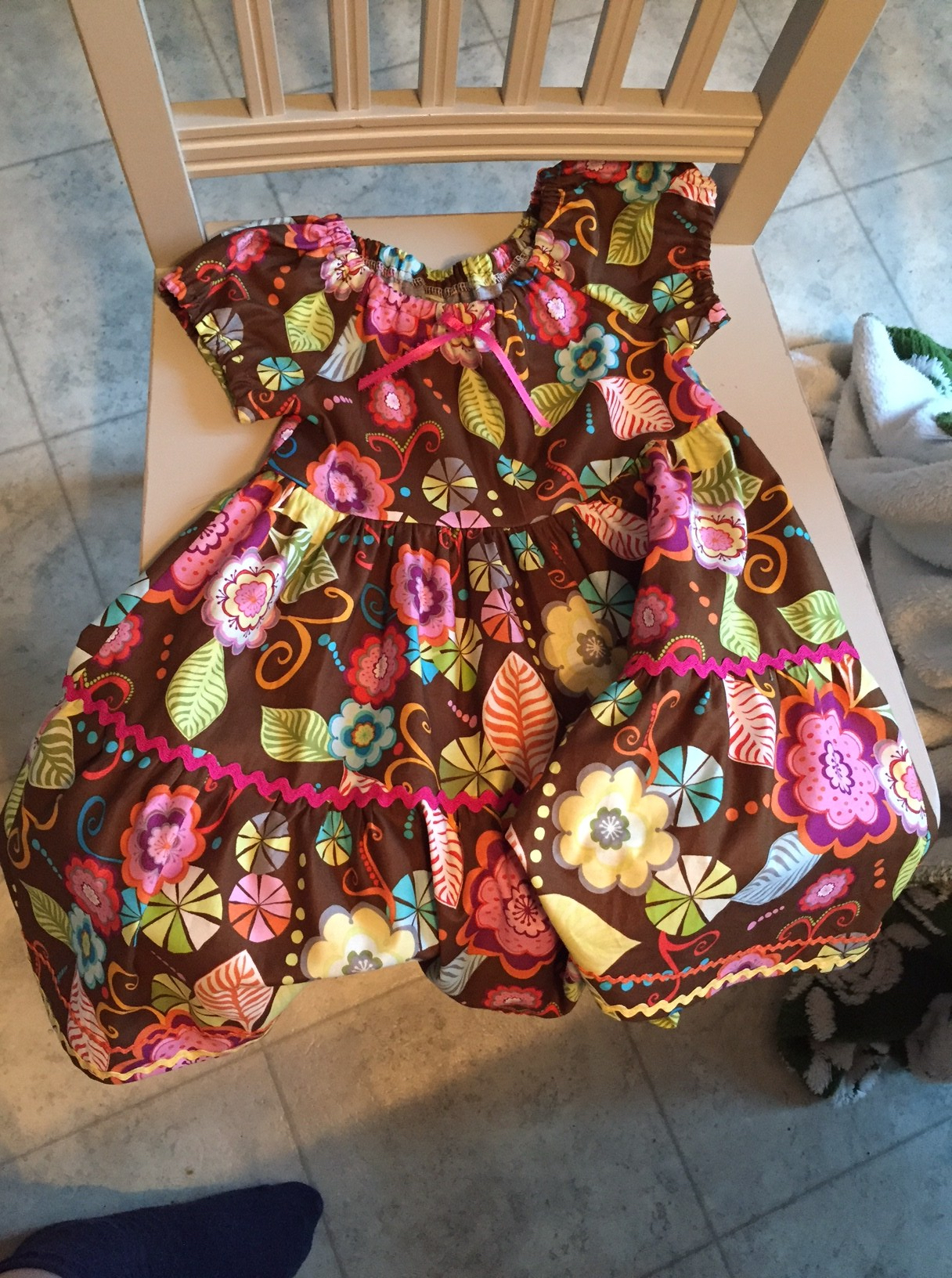 During the evening, I went out and picked a few flowers and messed around in the garden for a little bit.  I will do a garden update soon, since it's growing so well now.  Rob took Lovana back to her job.  It's official now, Saturday is her last day.  As is is, the job lasted almost 6 weeks past when she thought it was going to, so she's great with that.
Then, the neighborhood exploded into a loud and smoky display as we saw many, many fireworks exploding all around us.  I was surprised to see lots of the big, blooming, ariel (illegal) ones exploding in the sky all around us.  Beautiful. I just wasn't expecting it in the city of Salem.  Clearly, there is no need to drive to any display when we've got all that from our back yard:)   Rob and Patsy did their little pile, and then Patsy sat on the deck and enjoyed the show for at least an hour.  Judging from all the bangs and pops still emitting from the neighborhood outside, I doubt I'll be sleeping any time soon, but I had a great day.  I have another fun day to look forward to tomorrow, starting with a birthday breakfast with my mom, so I think it's my lucky week:)  (Last night we had a bbq for my niece who is back from Ireland for only 1 week). Although I miss Jake since he's on vacation with his mom and dad, I've welcomed the time to spend time with other family members this week.