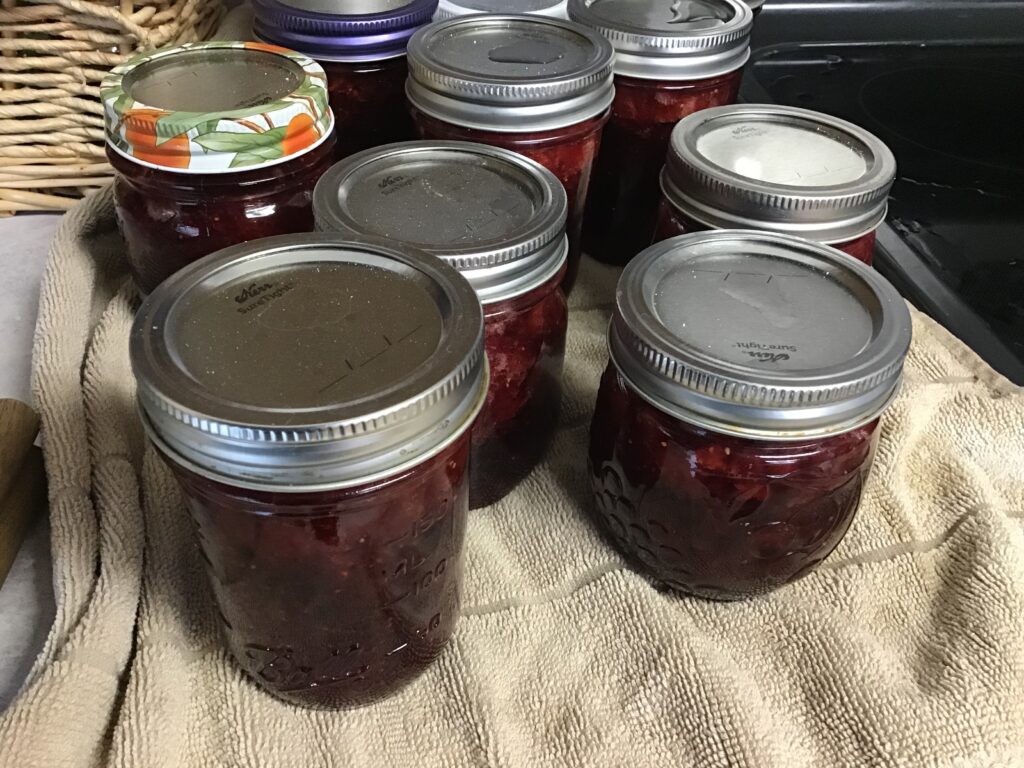 Toward the end of last summer, I was only getting a few strawberries each time I picked. I washed them and put them in a large baggie in the freezer, and ended up with about 8 cups, mashed. Today, I used that large bagful, together with the last 3 baggies from 2020 that had been lost in the freezer, the freshly picked ones from my bushes and a few from some my sister gave us to eat.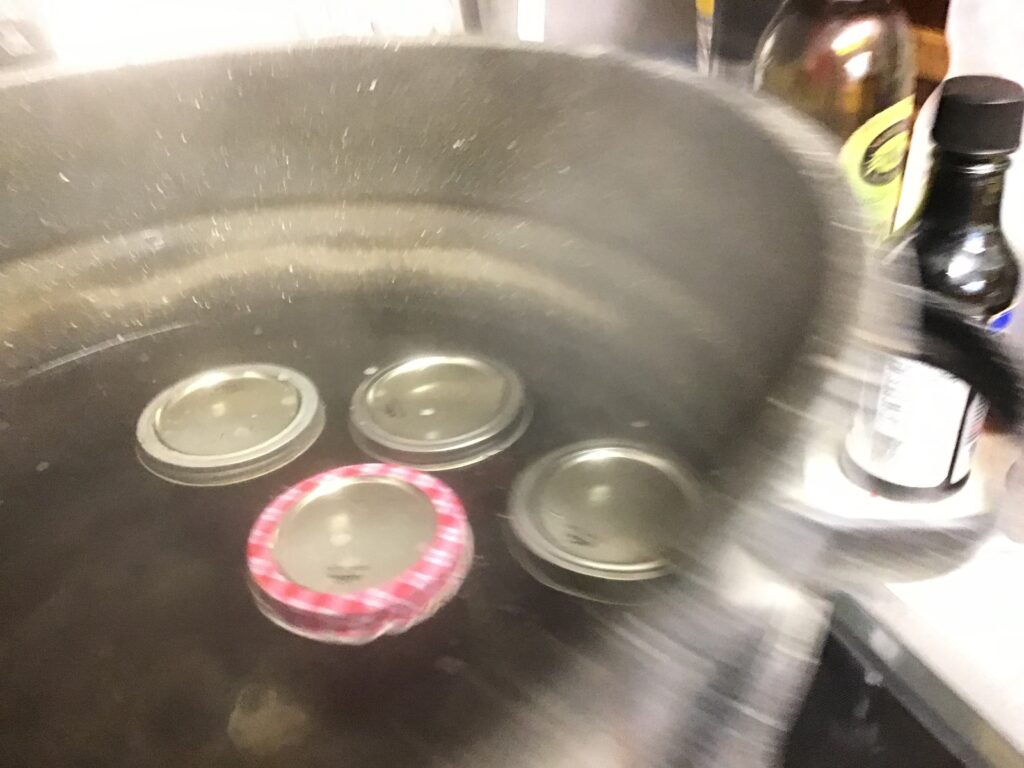 I made a double batch of jam and canned 17–1/2 pints. I will be u-picking or buying more berries to freeze for smoothies, and likely make more jam once it dries up a bit.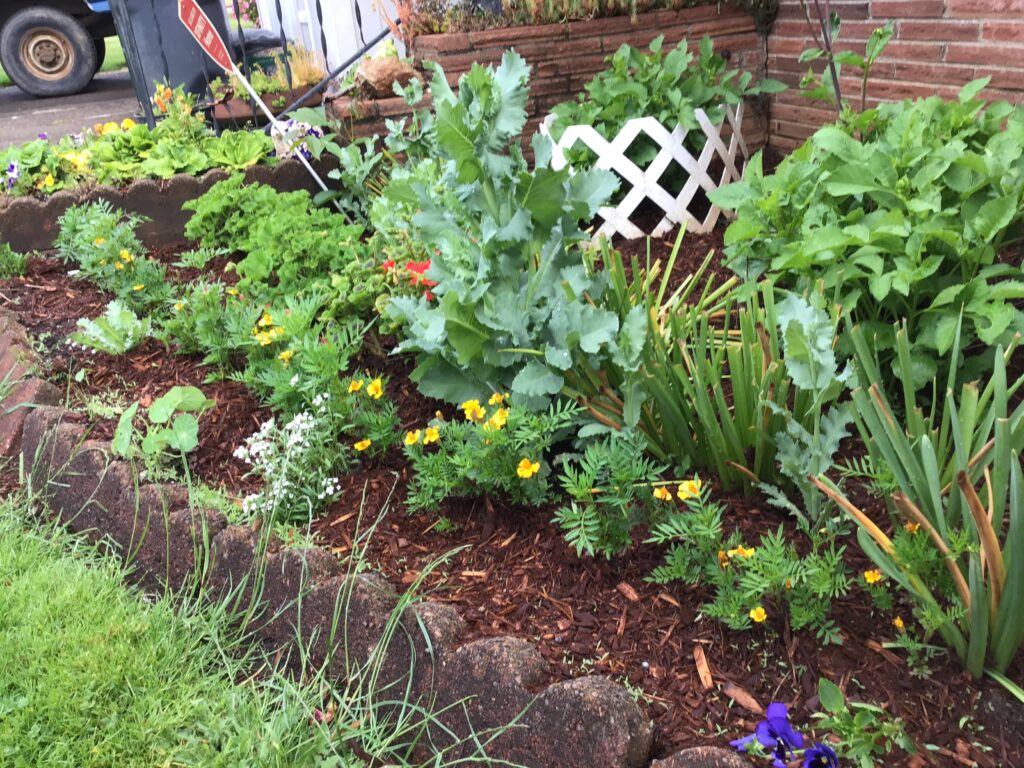 This flowerbed is looking great. The dahlias in the back come back every year. Rob grew the marigolds from a Dollar Tree packet (4/$1 at the time of purchase). The poppies came up volunteer from last year's poppies and so did the nasturtiums. The geraniums were wintered-over by Rob, in the greenhouse. A neighbor told me last week she paid $9 for one geranium and $7 for one impatient. I told Rob he was worth a fortune…but not just for his geraniums:)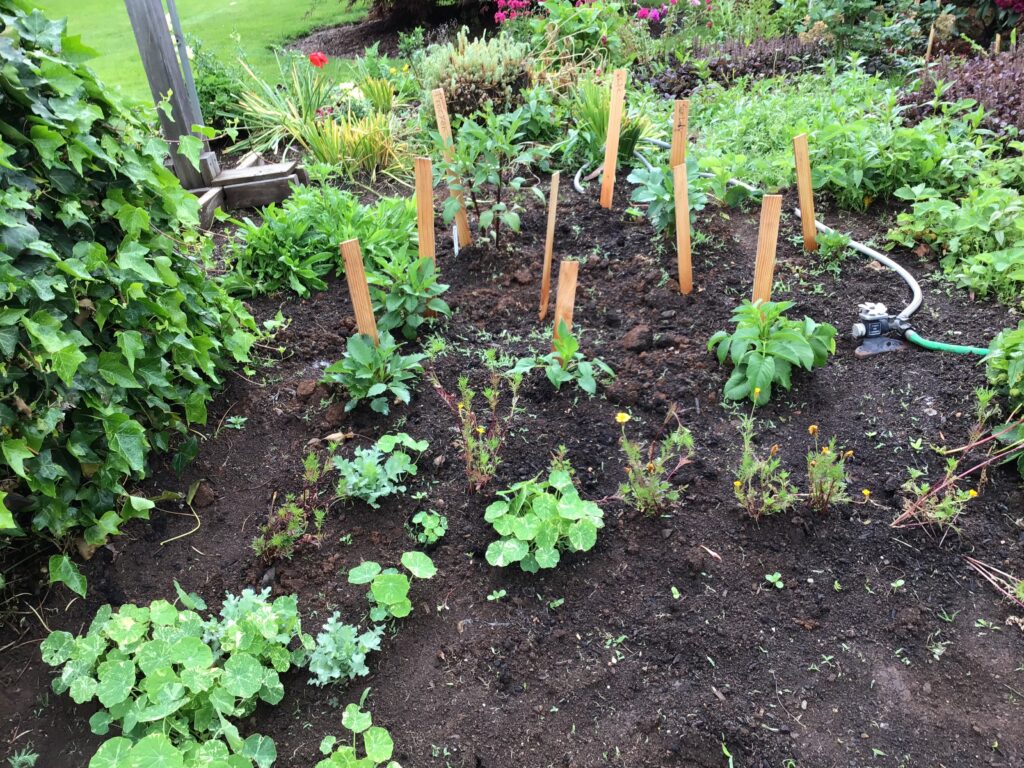 This flowerbed is shaping up, too. The dahlias are Rob's project. The nasturtiums came up volunteer and I transplanted several volunteer zinnias into this area.
We helped chaperone a party for the 5th grade Sunday school class we teach. It was at an indoor trampoline park. Jake got to go with us, and had so much fun bouncing. We had fun watching all the kids we have been teaching have so much fun. Our church's Children's Director had to set it up as a birthday party to reserve one of the little eating areas, so the kids had pizza and pop and each got a pair of socks as part of the experience. Those kids moved up to mid-high last week, and yesterday we got a new batch of students. We are looking forward to getting to know these new-to-us kiddos and have lots planned for them.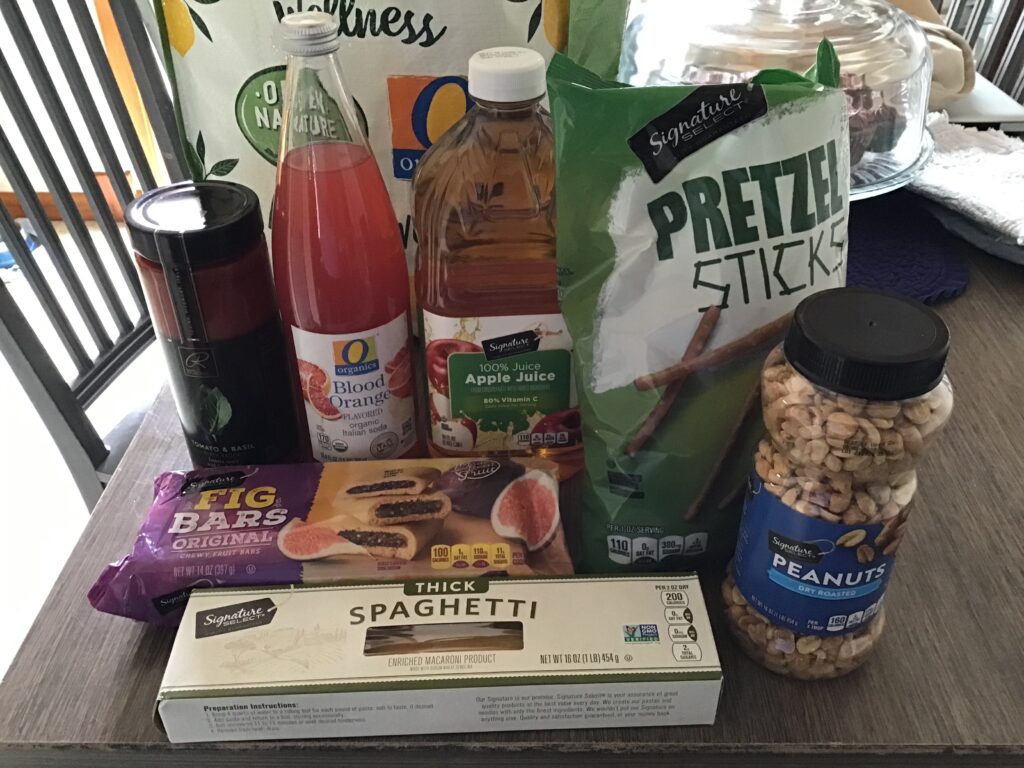 Our local Safeway had a grand re-opening celebration. The store was recently renovated and, although it stayed open the entire time, it was kind of hard to navigate at times. Patsy and I went down early. I grabbed my groceries–about $20 worth, as that's all I needed, and was given this bag of groceries, along with a bag of granola which is not pictured. Patsy was buying an item for herself and was given a bag, as well. I love having new bags, too, as some of mine are getting sad-looking.
The groceries were in limited supply, but there were fun activities that were going to start, so Rob took Jake by there a while later after he picked him up for the day. To our surprise, Rob also was given a bag of groceries, plus many free products and coupons from the produce area. Now I have coupons for free salad dressing, baby potatoes, sourkrout, and more, along with the free products he got. Jake got to sample things, play games, spin wheels, and ended up with chap stick, which he adores! Although it would have been fun to stay at Safeway all day, they came home and left the hot dogs and Mac and cheese behind for others.
Patsy cut Rob's hair. He just couldn't find time to go to the barber shop, so he had her do it. It is cool for summer now.
I took the kids to the library and got books and movies.
We have 3 birthdays in 8 days, for 3 daughters. I made cupcakes and a spaghetti dinner for Patsy on Tuesday, went to dinner with Abbie on Wednesday, and am still waiting for the 3rd one to happen this week. I sent Jake and Rob to the mall to buy gifts and they did a great job using coupons at Bath and Body Works, and got what I asked for at Macy's. I made the cupcakes and Rob decorated them.
Those two also went to a few yard sales. Jake was given all kinds of Pokemon items, which he loves. We will be helping with the reception for our niece's wedding this fall. A loose plan has been formulated for decor of the food area, and now Rob has some items to source. He will be looking at yard sales to see what he can find. For instance, they want a cookie bar. Boards will be placed between 2 old, but decorated rustic ladders and used for shelves for platters of cookies. Crates and baskets will add height to the food display. Food will be simple, but decorated with garnishes to look catered and fancy. Rob's 100 dahlia plants (that's kind of a joke–not sure how many he actually has) will hopefully give some blooms of good colors and we will use those and chrysanthemums–probably white mainly.
We will be using things around the house, as well. Our niece asked me and Jake's mom to organize the reception and do the cooking. Our husbands just got lucky and get to help as well:). We are all very excited! Rob sent a text to quite a few of his friends saying: I need ___, ___, and ____ for a wedding reception I'm helping with. If you have any of those items that you never want to see again, let me know, because I won't be returning them. If you want to keep your things, do not feel bad, I just want the things people are finished with. He got quite a bit of response already, even offers to go through basements, etc. He's going to gather up what he can and start from there re-using the items. My sister and I can add bows, paint things, etc. , if needed. We are a long ways out from this event, but I will certainly post when that day comes, or items are finished. Not only is this a frugal way to do things, it uses items that are simply languishing in basements and putting them to good purpose. It's win-win!