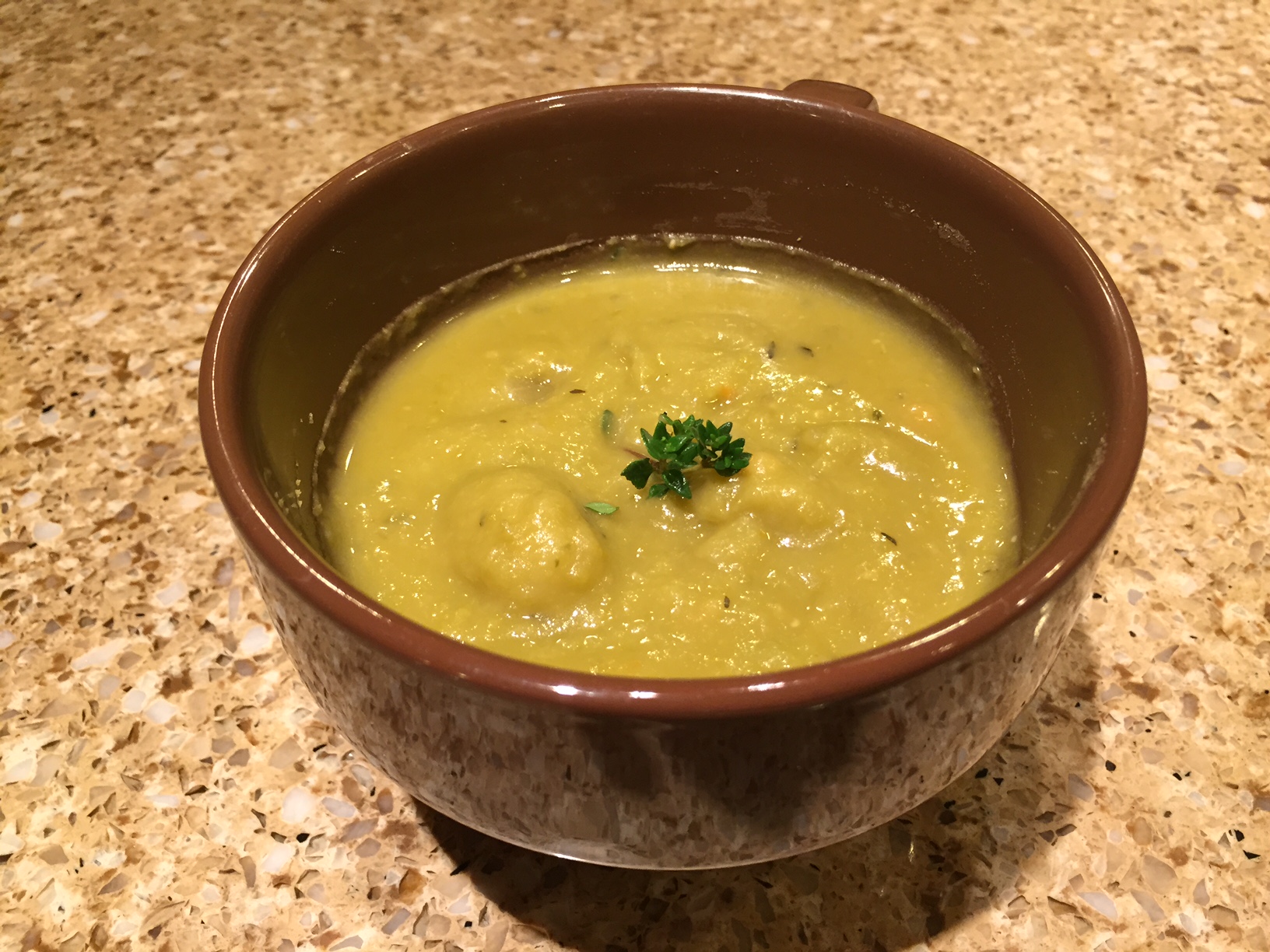 Soup is one of the best ways to fill up a hungry family.  This particular recipe is especially frugal because it does not use any meat.  It's wonderful flavor is gained from using ham broth, though, so it's not considered vegetarian.  If I wanted it to be completely vegetarian, I could use a boullion cube to turn water into broth, instead of using ham broth.
8 cups ham broth
2 cups green split peas, sorted and rinsed
2 small onions, or 1 medium onion (our garden onions grew tiny this year)
2 carrots, peeled and diced
3 potatoes, peeled and cut into chunks
1 teaspoon dried thyme leaves
salt and pepper to taste
Place all ingredients in a large pot.  Turn burner on high, and cook until soup comes to a boil.  Stir.  Turn burner down to low.  The soup should simmer, so adjust burner if necessary.  Cook for 1-3 hours on low, stirring occasionally.  The potatoes and carrots should be tender.  The split peas should get very soft and have no shape left to them.  This is the kind of soup that can hold on the stove for a long time on a busy day, so family members can dip out a bowl-full whenever they arrive to eat.  The leftovers keep well and can be warmed up for quick lunches for about a week.  This recipe makes about 10-14 servings, depending on how hungry everyone is.
To make this in the slow cooker, just put all ingredients in the insert the night before and store in the refrigerator until the next morning.  Before work or on a busy day, pop the insert into the appliance, and set it on low.  My slow cooker will cook for about 6 hours, then automatically turn to "keep warm" until I get home.  That is another way to have a warm meal waiting on a day when I have no time to cook during the late afternoon.