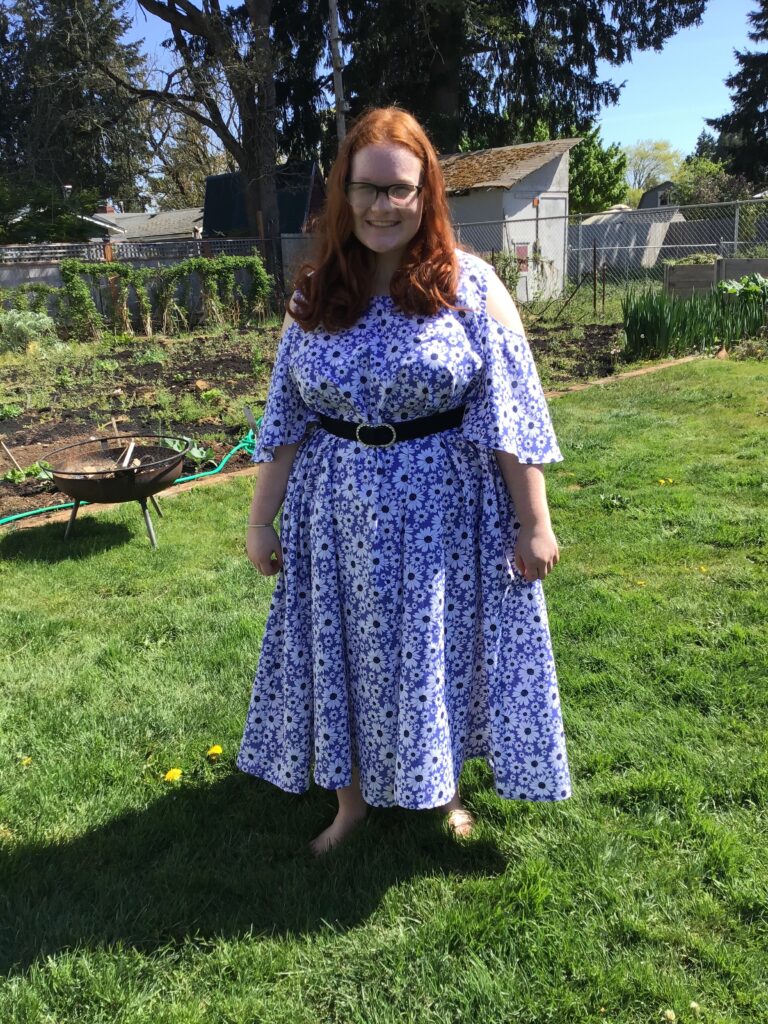 I finished sewing a dress for Patsy. I'll try to put up the pattern number and more specifics later in the week, if I get time. I used a thinner cotton from JoAnn's, purchased on sale several weeks ago. I find the thinner weight of cotton drapes better, and is less expensive for dresses that take over 6 yards like this one. I used a pattern I bought last summer and made a different view than I did last time. Patsy found a belt she rarely wears that looks great with the dress. All told, I spent around $25, and am very pleased with the results.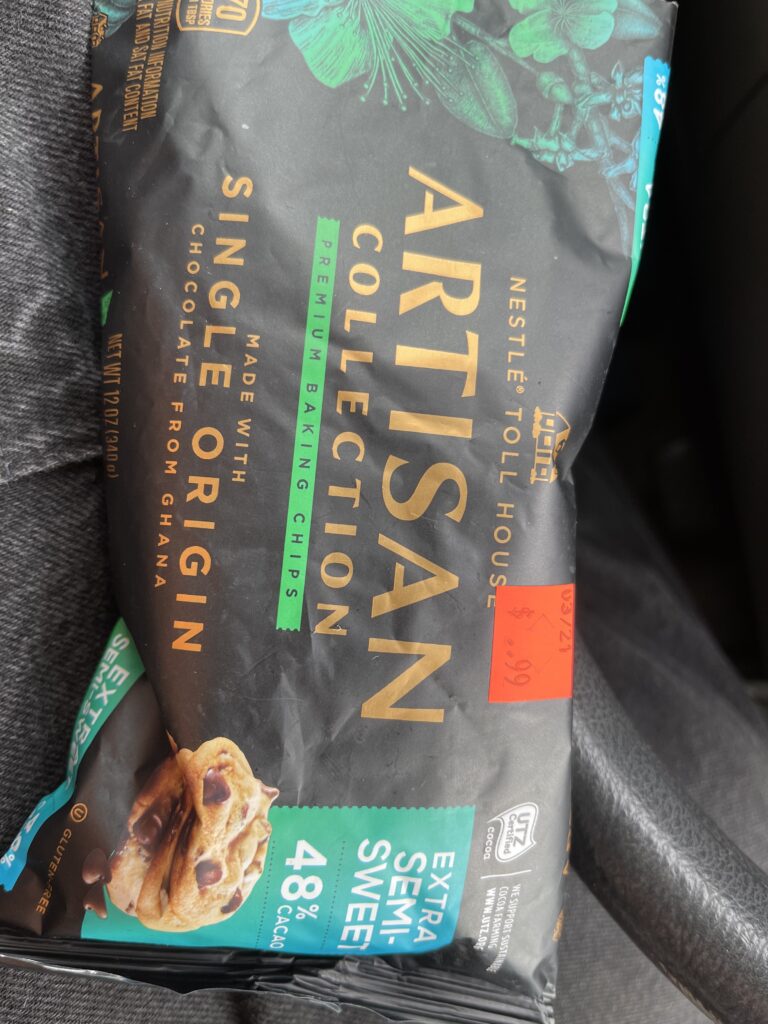 Rob found a lot of bags of these chocolate chips for 99c/each. He grabbed a bunch, shared a few and we froze the rest. He also got some very inexpensive lunchmeat and cheese. I found gf hot dog buns in the same discount store, and have been using them for sandwich buns. I wish I had bought more than 2 packs, but there weren't very many, and they were gone when I sent Rob back for more. Gf anything for $2 is a great deal.
I did a lot of large batch cooking. Some was for meals for us, which we ate or I froze. Some items were for others in my life, also either eaten or frozen. The girls and baby came over after church on Sunday, so we ate some then, too. I made meat loaf, mini meatloaves, lentil-potato soup, zucchini muffins, apple crisp, peach crisp, chicken-rice soup, salmon, a huge batch of white rice, potato salad, salads, and a few other things. I was able to use lots of little things that sorely needed using, such as a lot of Granny Smith apples from the school lunches, some sad and sorry celery, some baby carrots from the school lunches, a few peaches that had been lingering too long in the bottom of the freezer from 2018, plus some newer ones, gf rolled oats from a 25-lb bag Rob got for $10 a while back, Jasmine rice, also purchased on clearance in a 50-lb bag, thinly sliced turkey cooked and frozen a while back for sandwiches. I pulled lots of little baggies of various bits from the freezer and used them. I love it when that happens.
Rob was able to deliver tomato plants he grew to lots of friends and family. I planted a few in the garden and Patsy put Walls-o-Water around them. We've had 10 of those mini-greenhouses for years and years, but don't always remember to use them. I'm waiting to plant most of my tomatoes. I have lots of nice plants saved aside for our garden. We need to deeply till most of the garden before I can plant the rest of it. The very small area Rob tilled up was done using the small tiller, and I also dug in there with a shovel to get down deeper. That small tiller doesn't get deep enough. We will till it all in a couple of weeks or sooner. It's really early yet, for gardening around here.
I went to Safeway and redeemed a handful of Monopoly prizes and bought groceries. I grabbed the 99c/milk (1/2 gal.) and a few other things to use in all that cooking I've been doing. But, for the most part, I was able to draw from the pantry and freezers for most of those items I cooked. Patsy loves playing the Monopoly game from Safeway, but we didn't shop there very many times during the game. So, we were not wining much, obviously, as we were not getting tickets. However, the game is about to end, and we were given extra tickets when we shopped. Some other shoppers didn't want their tickets, so we happily accepted them, as well. I took J shopping, and got a handful then, plus some when I shopped. Patsy entered every code into my phone app and actually won enough tokens to add to what we had to get a $25 Safeway gift card! We were so far from having enough before this week, I thought we were not going to win one this year. Free items she won: several bottles of water, vinegar, French bread, lemon juice, 2 gas rewards, $2 off our order, a jar of spaghetti sauce, and some barbecue sauce. Now, she has another group of free items loaded onto my card/phone to get next week. I am very thankful she is willing to do this to stretch our grocery budget.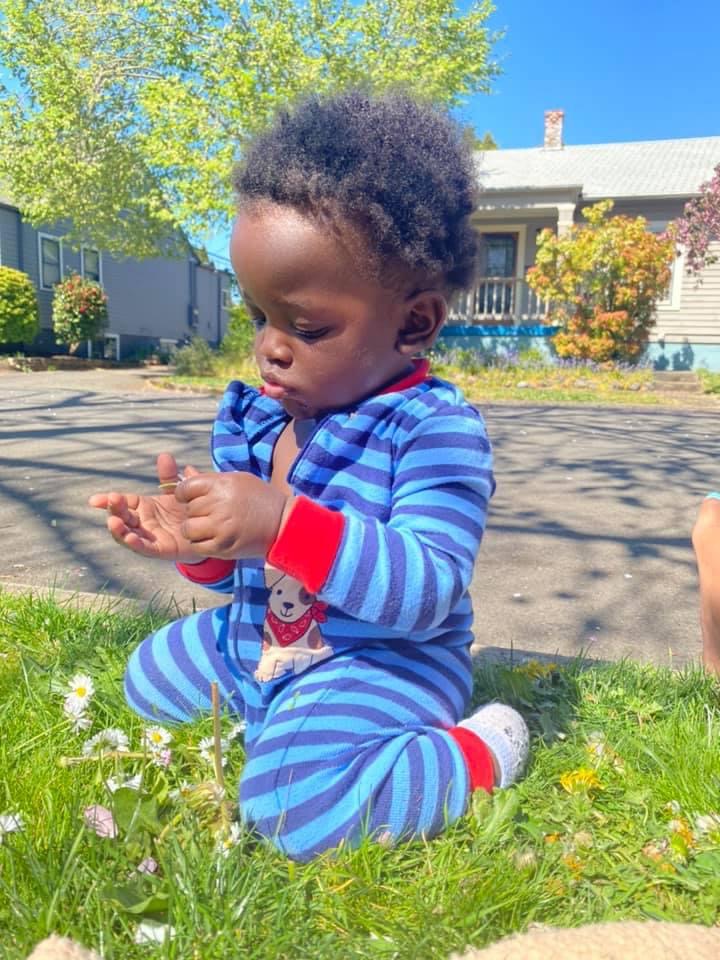 The baby likes flowers. His Mama took this picture. I watched him several times lately, usually for a short time. On Sunday, I took him home from church and played with him for a little, until the girls got there. I gave him a pansy to touch and hold, since I knew it's edible. Good thing. He ate an entire petal! Just down the hatch. Boy was I surprised.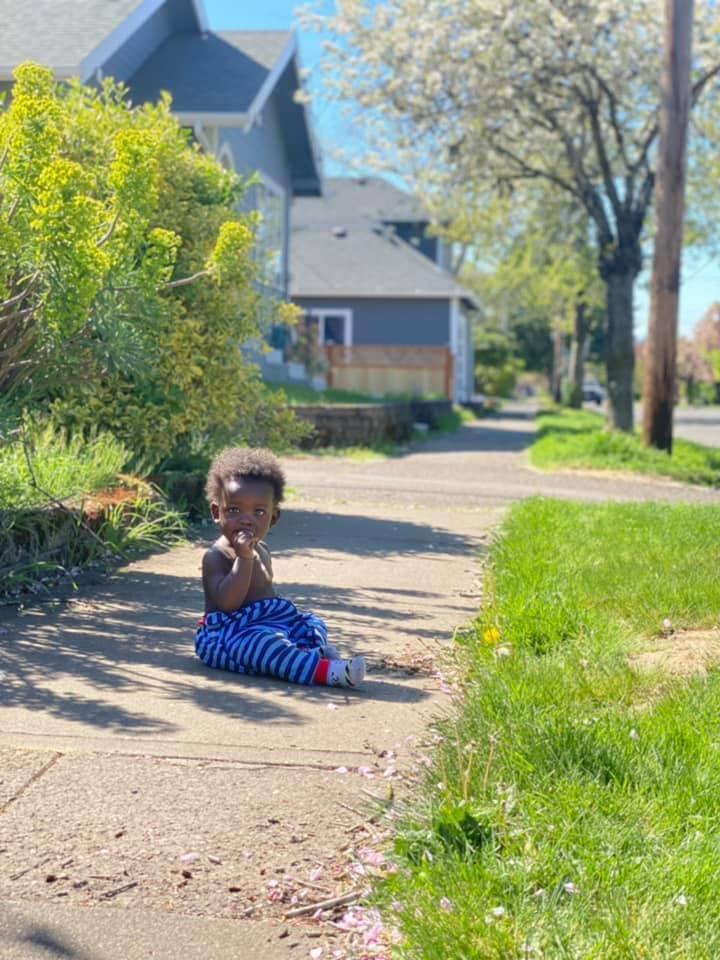 I guess he was hot.
I think he would have crawled out of the outfit, if allowed. My sister ordered a bunch of larger clothes for him. Just in time, I think! Rob and I went thought the Union Gospel Thrift Store and found several outfits for the baby, skirts for Patsy and myself and a few baby books. I even found a Land's End swim suit top in the style I usually buy, in my, that looked like new, for only $4.
The Kroc Center (Salvation Army) gym and pool is open. We took Michaela down there today for the first time in over a year. I took an exercise class and walked in the "Lazy River." Although I do a lot of walking with Rob, I am sore tonight in different muscles. It's good to work different parts of my body. Good thing we went. It sounds like the Governor will be closing things down on Friday again, due to the rise of Covid in Oregon. We will keep walking when we can.