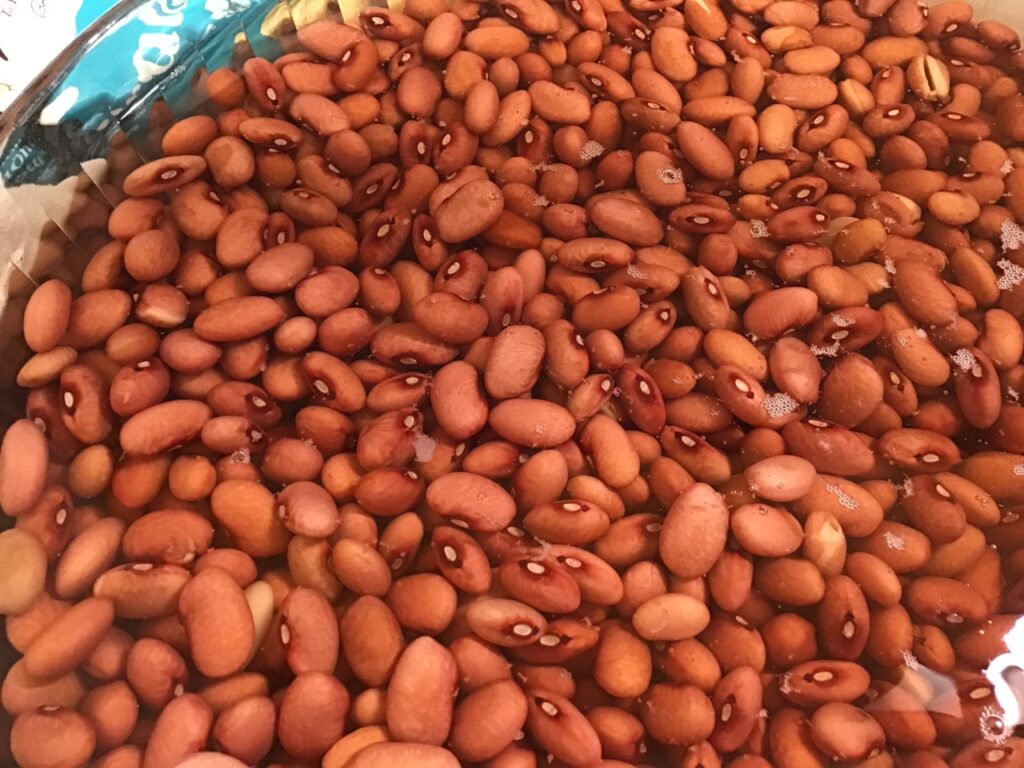 I have been cooking from my storage so much this month, it warranted it's own post. I have a lot of pantry items, purchased in bulk. I also have a lot of home-canning and freezing. I am always inspired to really dig in and use up a bunch of it every January. I did not do any kind of a special pantry challenge, as you read about on the internet–the kind of challenge where you don't shop at all, or use a certain number of jars per day, or any other fun game, even though the challenges some people come up with sound like lots of fun for those who do them. Instead, I just tried to find some items on my pantry shelves that had been there for a while and use them up, along with the usual jars of home-canned and the frozen containers of food, mostly from the top of the chest freezer, if I'm honest, because I could grab them in a hurry.
I found some red beans that I've had for a long, long time. We've been using pinto beans so much lately that the red ones have been ignored. I tried making chili one day and didn't soak them long enough and didn't add enough liquid for such old beans. I had a hard time getting them to soften. In the end, I used my Instant Pot to cook both the chili and the beans I wanted to freeze to use later on and it did the trick. I now have a large bowl of them soaking. I will soak them for a couple of days in lots of water and then just use the Instant Pot to cook them. Then, I will freeze in meal-sized portions. Then, I will do it again until they are gone. There's at least another gallon out there that doesn't need to linger longer.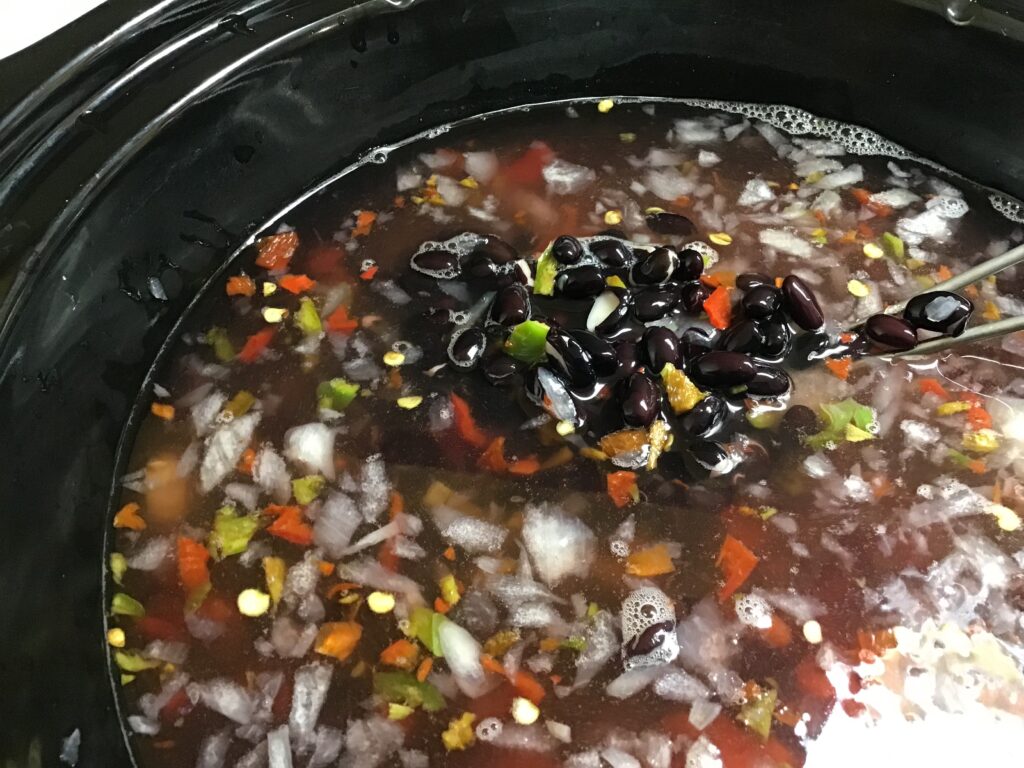 I am making refried black beans right now. By morning, they will be cooked and I will grind them with my stick blender, serve some right now and freeze the rest for later. I have a recipe, which I did make this week, that uses them. I was going to buy a can for next time, then realized I had lots of black beans and I could make my own. (I usually use pintos for my refried beans). The recipe has a masa crust with chili powder, green onion and other spices. You bake that. Then, you spread with the refried black beans and cheese and after baking that a little while, you can add taco toppings like tomato and cheese if you want. It's a bit like a pizza, but not quite.
I fed Patsy several frozen burritos. When I have beans cooked, I take tortillas and fill them with brown rice and beans, cheese and a little salsa. Then, I roll, wrap in foil, and freeze for quick meals. There are a few frozen ones left, then I need to make more.
I made apple crisp more than once this week. Rob's sister gave us another large box of apples so that's become my go-to dessert.
We've had frozen corn, canned corn, canned green beans, used canned carrots and frozen and canned broth in chicken-rice soup, plus had lots and lots of peaches, cherries, pears and applesauce. We also eat relishes, pickles, and jams every week. We have been eating the peas and broccoli I grew and froze, along with frozen peaches, blueberries, blackberries, raspberries and any other fruit I can find in the freezer. We've also used frozen onions and peppers of assorted varieties in cooking and lots of onions from our garden, which are storing well.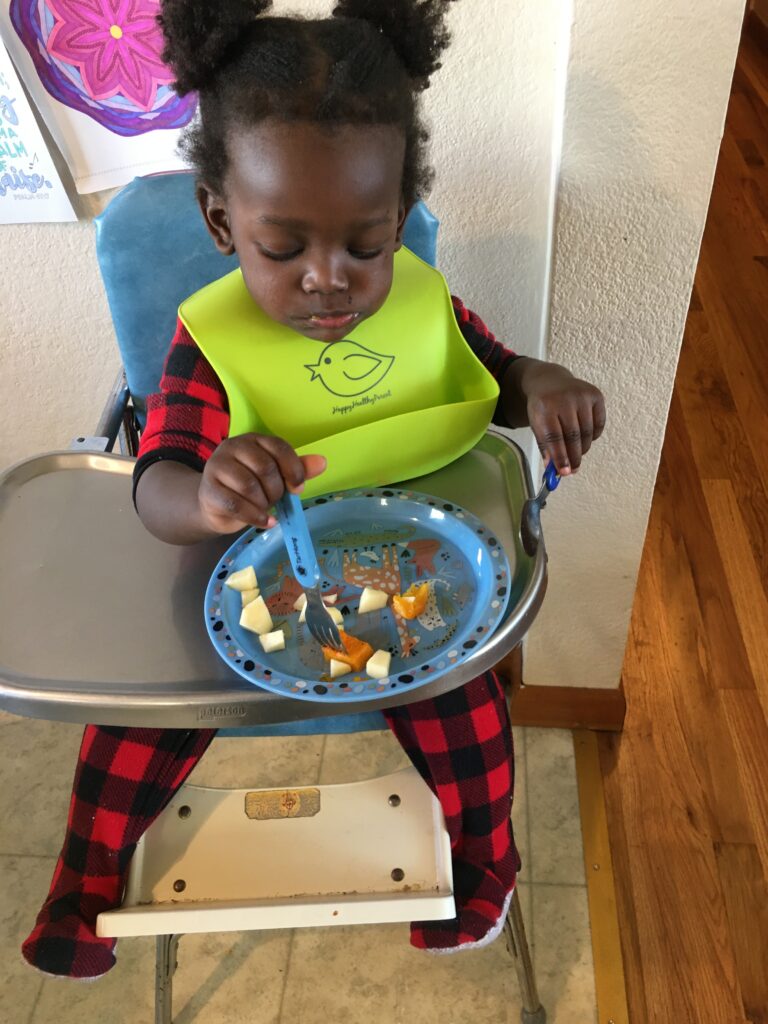 I cooked 4 Butternut squash. Some was cut in cubes and roasted and some was cut in half and baked and mashed. We were given quite a few of these squash by Rob's uncle and cousin, who grow a garden together. Mac loves, loves, loves squash. I froze a bunch to make meals easier.
If you are wondering why he has 2 pony tails, it's because his Mama got his little, tiny braids undone over a couple of days and had the hair pulled back so as to not tangle up too bad. When she gets enough time, since she's working a lot right now, she will re-braid his hair up into the little braids she likes him to wear. It will likely take her a couple of days to get it done, as it's time-consuming and he doesn't like it being done, so it's a battle.
I cooked both brown and white rice. The white is the most popular around here with the kids, so I did that more than once. Rob likes brown, so he ate all I had frozen, and I made more.
I used a lot of thighs and drumsticks I had frozen. I also used hamburger, turkey burger, and bits of turkey and chicken I had previously cooked and frozen. I made home-baked chicken nuggets and also home-baked fish sticks. The fish was some kind of frozen white fish I got at Grocery Outlet for $2 for a pound. I bought 3 bags. It's good. I wish I had gotten more, but you never know until you try unknown items from there, and I haven't been back in that area. Since things fly out of that store, it's not worth an extra trip to see if they have any left. So, I'll be happy for the 3 bags I did get.
There were lots of other things I cooked, as well, like scrambled eggs almost every day for breakfast. We did use some oatmeal, cereal, pancake mix and other items as well, but eggs are our breakfast most days. We've baked several items, pulled some from the freezer, made pear-raspberry popsicles, and other things I'm sure I can't quite remember.
What did we do with the grocery money we saved? I ordered from Azure Standard. I got some cleaning supplies and some more bulk food to fill up empty gaps in the pantry, including a 25 lb. bag of gluten-free flour, which cost almost $50, right there. I took Jake (my nephew) and Patsy to Grocery Outlet and let them buy snacks of their choice for a "party" when he spent a few nights. (That means eat snacks and watch a movie–we're not very wild partiers around here.). I bought produce and dairy products and I sent Rob and Michaela (my niece) to Costco for things like Ziplocks, deodorant, and a hot dog, of course–her favorite lunch in the world!
If you think I cook a lot for 3 people, you are right. I don't cook for 3 people, actually. It's not uncommon for me to feed 4-6 extra people on any given day, and one day this week, I fed 17. So, when anyone offers me food of any kind, I gratefully say "thank you!" and add it to my storage. Sometimes I have to can or freeze it, sometimes I don't, but it's all welcome and used.
I'm so thankful that we are able to easily feed so many people on our grocery budget (around $300/month). I haven't sent out a meal for a long time, but this week, Rob delivered two meals for some friends who needed them. (They both got home-canned corn (I cooked it so all they had to do was warm it), BBQ'd chicken, salad, a few oranges, and of course, apple crisp!) The girls and babies are here quite often. My niece and nephew are, too. I love to cook for my family and friends, and a large food storage lets me indulge my little hobby!
The Lord always blesses us–it seems food pours in here faster than I can cook it up sometimes. I feel very grateful and blessed, especially in light of all the bad news I always hear of shortages, supply chain issues and items being unavailable. We are not suffering one bit around here. Occasionally, an item is not on the shelf at the store. We simply eat something else, and we are fine and full. After all, sometimes a new recipe can become a family favorite. Who knows?