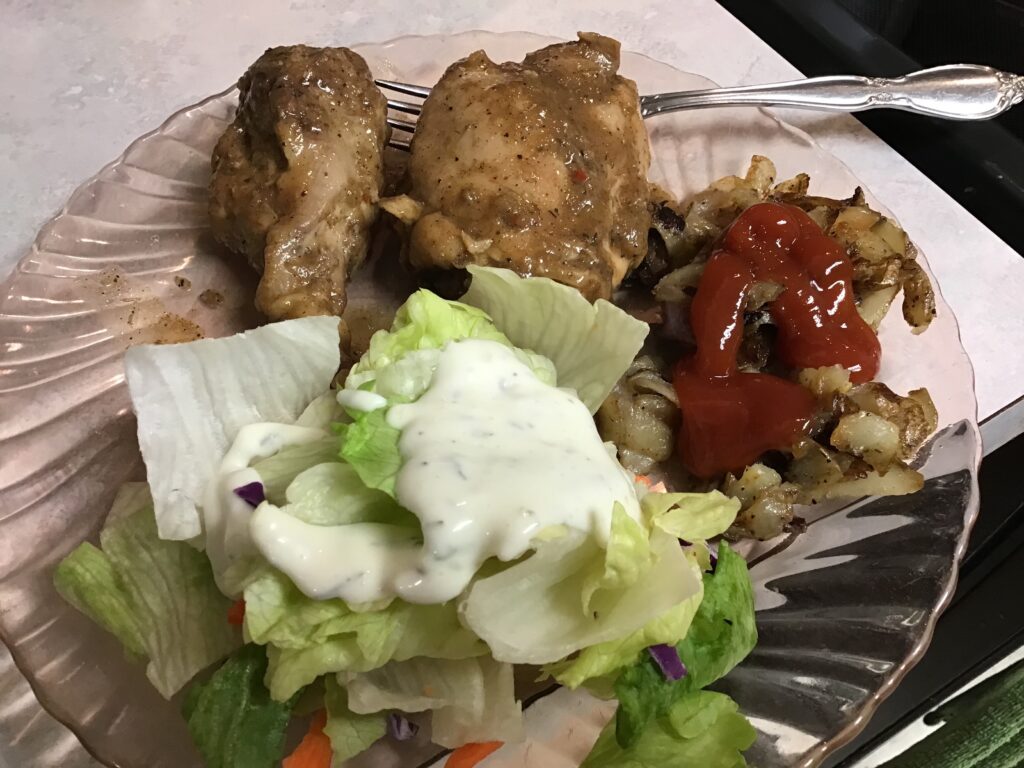 During this past week, I continued to make food from what was in the freezers and cupboards. I also was able to use up several little odds and ends that had been frozen sometime in the past and forgotten about….you know we've all got those, and I loved using them.
I dealt with the huge bowl of beans I started soaking at the beginning of last week. I made chili, cooked beans to freeze for later and made refried beans. These were some red beans, smaller than kidney beans, and not what I normally use for refried beans, but they taste great. I froze some of the chili and everything else as I finished it. I've already pulled the first carton of refried beans out and we had tacos yesterday. I purposefully froze several smaller containers (I used cartons from cream cheese I had saved) because there are times where we don't use equivalent of a whole can now that Patsy isn't here. She really loves beans and ate them like crazy when she was here. I also froze a couple of larger containers for those times when I need more.
We finished up the split pea soup, and the chicken-rice soup. I had soup several times. I don't mind it for breakfast on busy days.
I used my new Instant Pot cookbook to make Jerk Chicken. I've never made it before and was surprised at all the spices I used. Now that's a good "use-it-up" feeling–using lots of bits of spices I rarely use! I did not use a Scotch Bonnet or Habenero pepper, as we don't like things that spicy. instead, I used a small amount of home frozen Hungarian Wax peppers and the Cajun seasoning called for in the recipe for a milder spicy flavor. The book said it was not "jerk" chicken without the spicy, spicy peppers, instead "nice" chicken. And, it was. We really, really liked it.
I shopped at Safeway and Natural Grocers and stocked up on basics and produce. I used digital coupons at Safeway and also got my flu shot, which snagged me a 10% off coupon there. I had not been shopping for quite a while, so I needed quite a few things. Some prices were astounding, but I'm grateful that I got everything I needed and stayed within my budget. I got several things I just wanted, (like a couple of avocados), as well, which is always nice! I didn't buy junk food, though. After all, it is January–time to save money and be healthier, right? Instead, Rob got a fresh cucumber. Lucky Rob:)
I also got eggs wherever I could find them. One day I got 4 doz. for 1.99 each at Nat. Grocers, a few days later they were 2.99 for the same eggs and you could only have 2. I had a $1/carton Ibotta rebate for those eggs, which I redeemed. Rob finally went to Walmart and got 5 doz. for under $10. Although it's sobering to see so many empty spaces where eggs should be, I do know chickens don't like to lay eggs in the winter, and expect the situation will resolve in the spring. I sure hope so. From extensive blog reading over the holidays, I realize people are paying much, much more for eggs across the country than I am here. $5.50, $7.99, even upwards of $10 in some places for a dozen seemed quite common in my reading.
We use SO many eggs around here. They are good protein and versatile for so many things. We've had hard-boiled eggs, potato salad, egg-tuna salad, eggs salad, scrambled eggs and more this week alone. I'm grateful to get plenty at a reasonable price.
I was amazed to find good produce prices at Natural Grocers, since it's all organic there, so I got several items, including 5 lbs of carrots for $5.07. At Safeway, they had bagged salads/spinch/coleslaw mix for $1.50 with a digital coupon. I grabbed several of those, as well. I miss the garden this time of year, but just buy produce in the winter, and use what I preserved as much as I can. I love to can, but canned lettuce salad does not appeal to me:).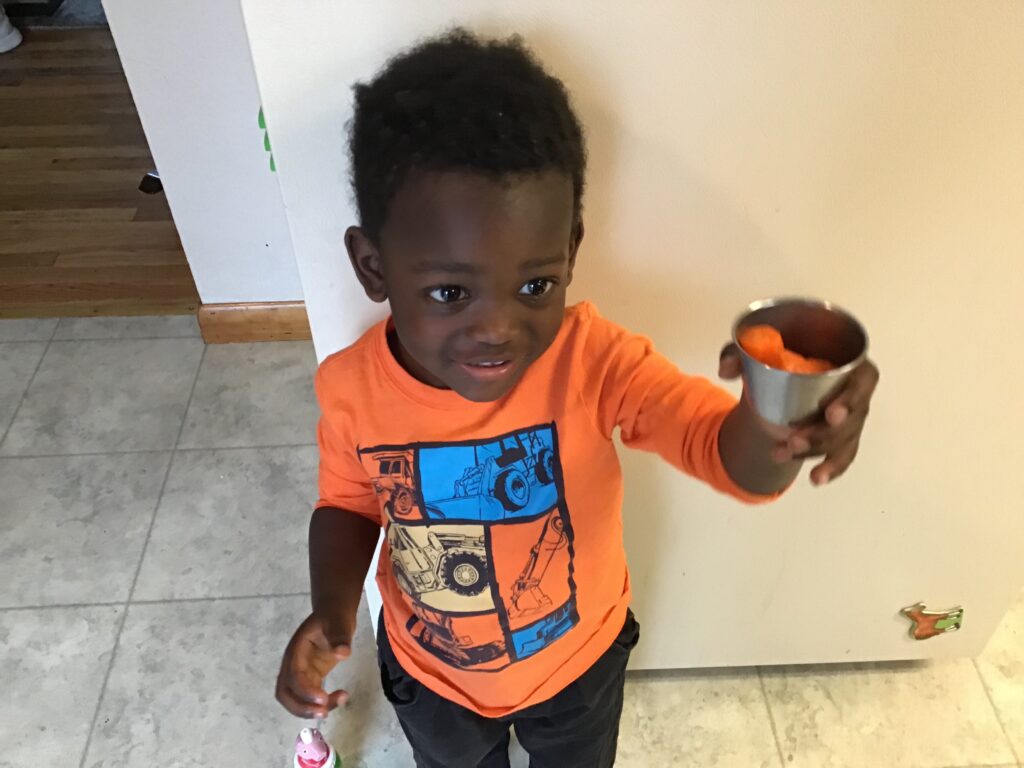 I am now billing little cups of cooked carrots as "snacks" and Malcolm is buying it:). All silliness aside, he really loves cooked carrots. I used 3 lbs one week. I use my canned ones for soups when I am in a hurry and fresh ones for cooked carrots, with roast beef, in soup and stew when I'm not in a hurry, and more.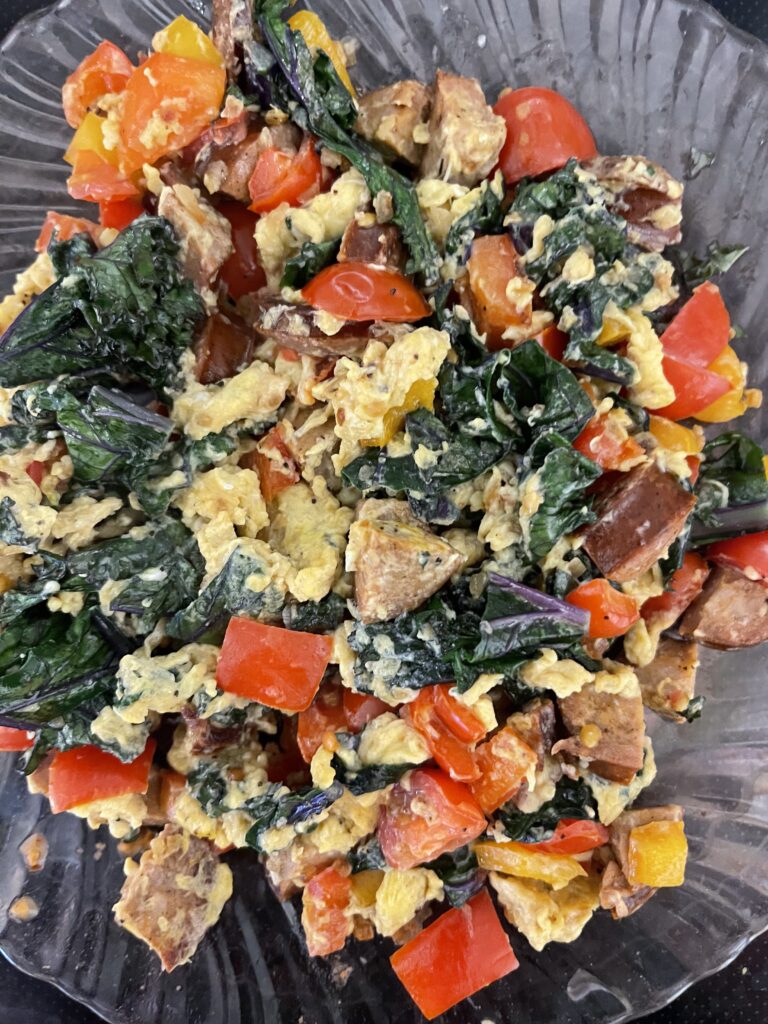 Rob made a veggie/egg scramble with frozen garden peppers, some kale, sausage and, of course, eggs.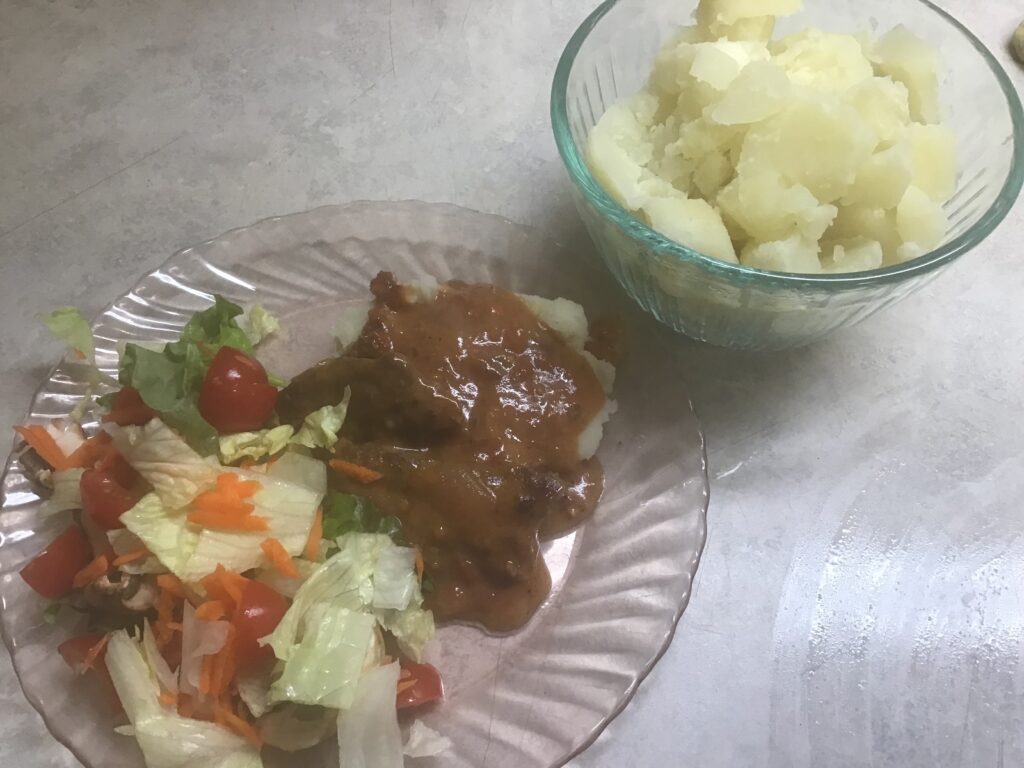 He made Swiss Steak one night. I peeled and cooked potatoes. One thing I did to save both time and energy (which saves money), is to cook extra potatoes. I mashed enough for dinner with a few leftovers for the next day and saved enough for potato salad a couple of days later. I often cook extra of many things for future meals, or parts of meals.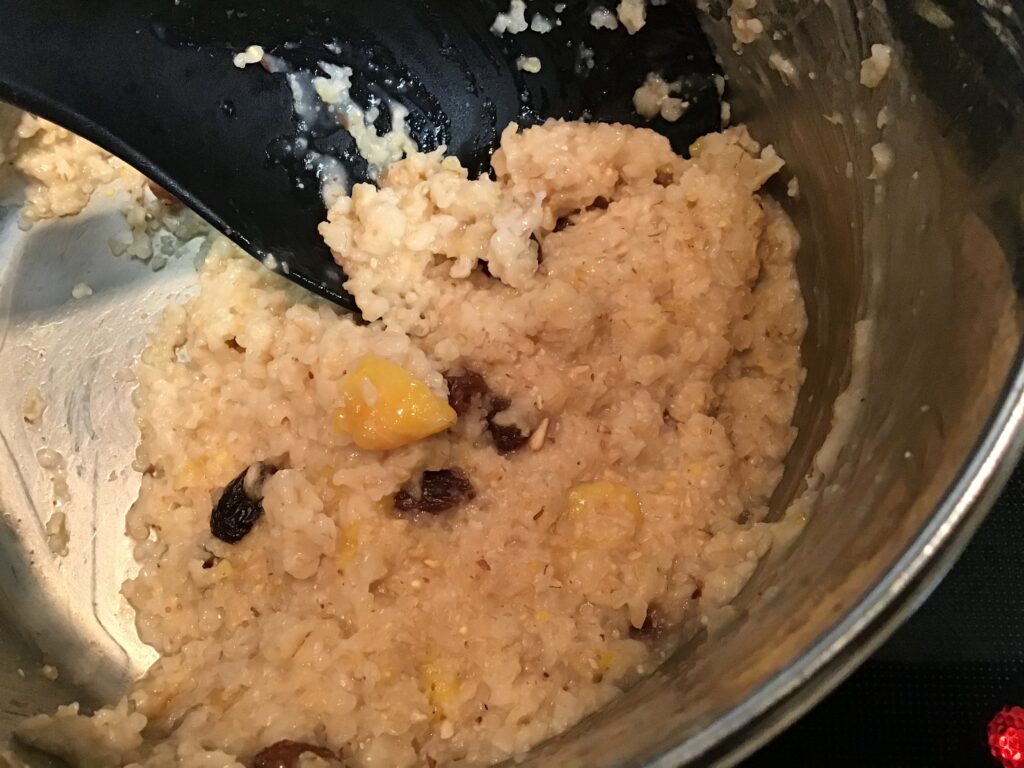 Oatmeal has also been on the menu a lot. This time, I put some chunks of frozen peaches from my sister's farm in along with raisins, which I buy in 5-lb bags. I also buy the oatmeal in bulk. The price has risen astronomically, but it's still a good deal to me. Whole grains are so healthy and they swell up when you cook them! Although I love it, I do not eat a great deal of it, due to what it does to my blood sugars, but others in the family do. I even served it for dinner one night to those who love it so much.
Oatmeal is another thing that I often cook a large pot of and save leftovers for a super quick breakfast for my grandson. He loves it so much. A while back, I got a super, super deal on some of those instant packets, and he loves them, too. I prefer to use real oatmeal most of the time. I can control the sugar content and add real fruit to it. It's also thicker and easer for him to manage with his little silverware.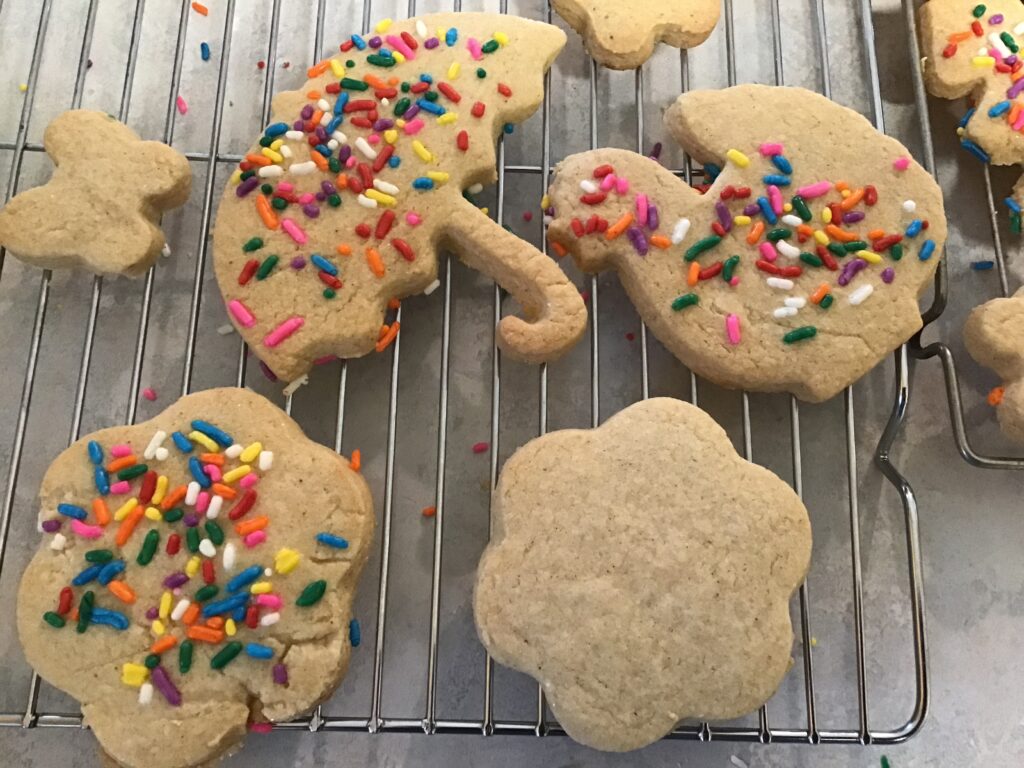 My nephew and I made sugar cookies one afternoon. We are always looking for fun activities to do together, and it was fun to focus on some of those cookie cutters I have laying around that are not holiday-related. The dough was saved from some Christmas cookies I had made, and so it was an easy project.
A couple of weeks ago, I sailed through the easiest case of Covid I've heard of lately, thank goodness. I never, ever would have even tested had I not found out I had been exposed and had what seemed like a very mild allergy. For me, they symptoms were much, much milder than the last cold I had. Still, I had to quarantine for a while, and take some nasty medicine. It really helped, I think. I did get tired. I took extra naps and rested a lot. I had one day where I actually felt sick. If that was my Covid, I'm more grateful than I can say.
I could not work at my job while in quarantine, or go anywhere, so I used some of the extra time to read blogs, read books, watch t.v., comb cookbooks, try new recipes, clean, and sew. After all, they SAID I was sick, right? So I took some naps, too. That was all very nice for a few days, but I am so glad to have been back out and about, and doing more things for a few days now. I got so stir-crazy that the minute I had fulfilled my doctor's quarantine orders, I went over to my sister's house and told my niece that I was so happy to be out and about and delighted to get to go somewhere. She asked me where I was going, and I said, "here! to your house." She just looked at me like I was crazy! But, I WAS delighted to be there.