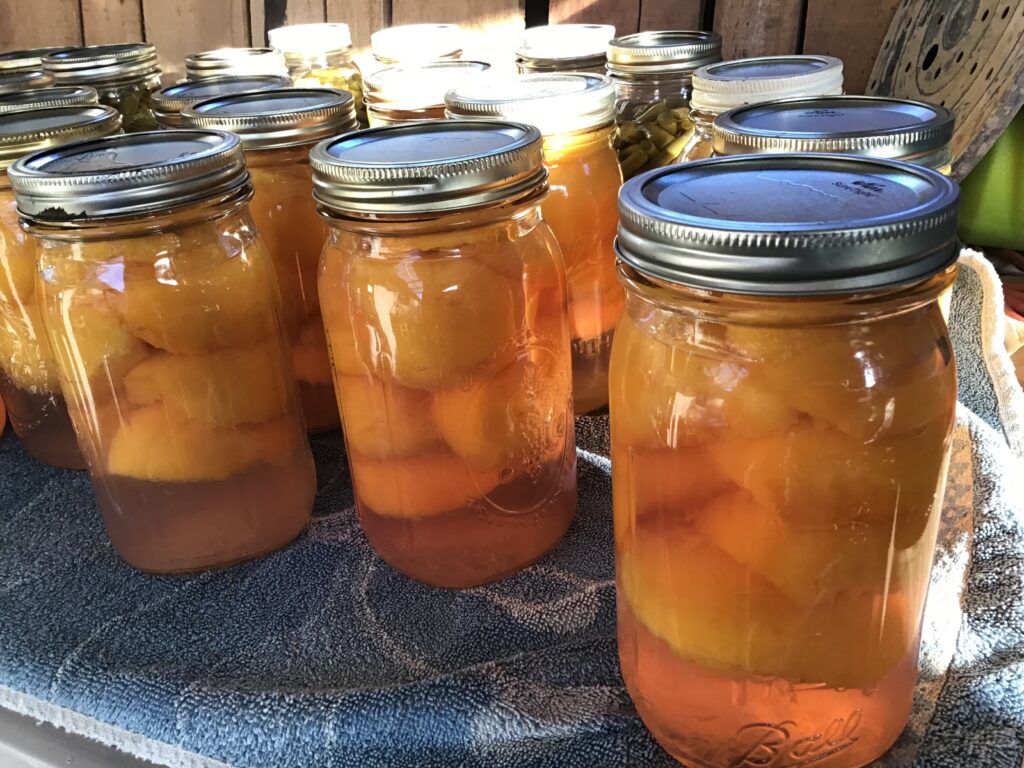 The past few weeks, I've been doing some menu-planning. I don't always do this, but I want to be sure to rotate the canned and frozen foods I have on hand, with the fresh ones, and use my summer's bounty as wisely as possible. We also have some food-challenges I need to work with. Rob watches his weight, and doesn't want to gain back the large amount of weight he has lost over the past couple of years. I am diabetic, so watch my carbs. I am also completely gluten-free, as wheat makes me very sick.
On Friday, the governor of Oregon declared that we would have a Covid "freeze" starting Wednesday, Nov. 18. Basically, this means stay home as much as possible like we did last spring, with a few differences. This made my planning slightly different. It's not like we've been going lots of places or visiting around the state, but we will stay home even more, including on Thanksgiving Day. It will be the smallest Thanksgiving dinner I can remember, with only Rob, Patsy and myself on the guest list at this time.
I had done my planned shopping last Tuesday. It was the first shopping I'd done for over 10 days, as we have been utilizing our food storage, and I just needed a few things. Once this "freeze" was announced, our daughter asked Rob to take her shopping, as she doesn't drive, and she wanted him and his car to haul it home. I had him pick up a few more items while he was out and about with her Saturday morning. They were necessities, like a couple more gallons of milk, more carrots, a couple extra cartons of eggs, and…… a bucket of vanilla ice cream….I had to scoop it into quart cartons to fit it in my bulging freezers, but I did it! We should easily be set for a couple of weeks. Then, when picking up prescriptions Saturday, I grabbed a little more produce to top things off. I'm missing my garden this week, that's for sure.
Thankfully, we are loaded up with toilet paper and cleaning supplies. Our neighbor behind us told us today that he had just been to Costco today, and they were wiped out of t.p. and the place was "swarming" with people grabbing everything they could.
I've been to JoAnn's and have plenty of elastic:) and projects to sew. (Priorities, right?)
I have powdered milk to use in a pinch, and lots of dry goods and cans in the garage, and all my home-canned and frozen foods, my 1/4 beef we just picked up last week and 3 turkeys and 2 hams. I have some other meat and fish, chicken and a little bit of pork. I have scads of frozen butter, as it has been on sale a lot lately. In fact, my autistic niece Michaela things I'm hilarious to have so many boxes of butter. She laughed and laughed when she saw them. It made her very happy. I think she likes knowing where to come for one of her preferred foods:)
I'm actually in better shape with my food storage than I was last spring. Now's the time to use it. If I don't manage my food storage, things might get too old, forgotten, or otherwise wasted. I don't want that. I've worked too hard for this food.
When I menu plan, I use a very old-fashioned composition book and a pencil, as I have for years. I look on the shelves and in the freezers to see what's there, especially if it has been there for a while and needs to be targeted, and look at our schedule for the week to know when I have time for long-cooking things like dry beans or making bread. This used to be more important when I was going more places, but it is still nice to have some days with less cooking than others. I make out suggestions for myself, always knowing I will add canned and frozen fruit each day, and I do it in pencil because I often change my mind!
In case you don't have a magnifying glass to read the menu plan above, it is a loose, working framework of a menu plan with lots of ideas, many of which will get changed before the week is over, but most will be eaten as planned. I include lists of things to buy, make or do.
Soups include: Ham and bean, split pea, Oriental Pork Soup, Chicken Stew with Peppers, Black Bean Taco Soup (Not listed, but Patsy decided to cook that for her school cooking lesson on Wednesday) and Potato Soup (not listed, but made).
Breakfasts: pancakes, muffins, eggs, hot cereal, cold cereal, fruit
Lunches: sandwiches, salads, leftovers/soups
Main dishes: frozen salmon, spaghetti pie, tamale pie and pizza, leftovers. I try to vary the protein during the week, using beef, chicken, occasional pork and fish, and dry beans.
This week's menu contains more casseroles than normal. Rob and I usually eat much more low-carb than this. Patsy likes things like pizza, Mexican food and spaghetti better. So, it's a balance to please everyone. I expect if I post any more menus in weeks to follow, you will see more meals such as chicken with salad, green beans and a baked potato for those who want one, instead of spaghetti pie, as that is more typical for us.
At every lunch and dinner, I usually serve 1 or 2 vegetables, rotating between broccoli, cauliflower, carrots, green beans and any other veggie I can come up with. I often use cabbage or lettuce for salads as one of the veggies. Rob often makes salad with some bits of chicken on top his main meal, even if a casserole is available, and 1/3 to 1/2 or even more of our plates are normally full of some kind of vegetable or salad. Fruit is always available, canned or fresh. I rotate starches. Rice, potatoes, pasta, etc. are our go-to choices. Gluten-free pasta is not inexpensive like the wheat kind, so it's a good thing we want small portions of it anyway, and we eat it only 2-3 times per month, on average. Potatoes and rice make the list more often, but a 10-pound bag of potatoes can easily last a month around here most of the time.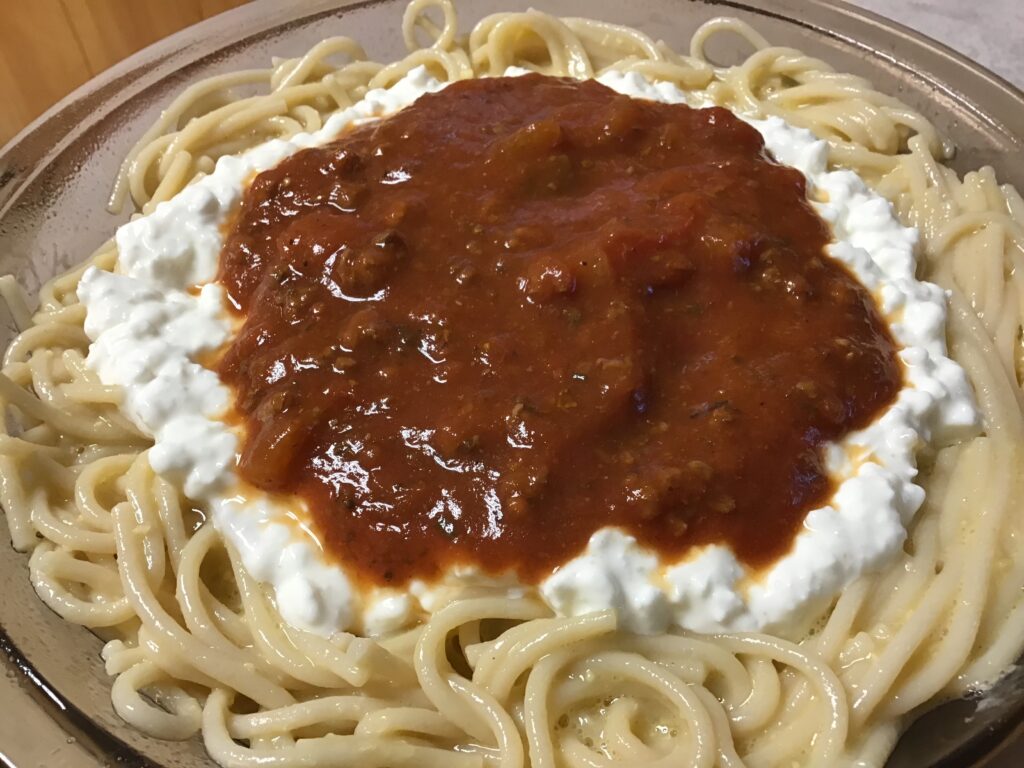 Sunday, for instance, I wrote muffins and apple crisp to go with our split pea soup. I got the split pea soup made, got sucked into a tree-falling project, and didn't cook anything else from the list. It filled us up just fine. On Tuesday, I changed from meatloaf to spaghetti pie when I realized that there was sauce to use up in the fridge. Still, planning ahead reminds me of what I need to use up. It gives me a written list to refer to when I'm in a hurry to get started cooking and also helps me remember what to thaw out or if I'm supposed to soak beans ahead of when I need them. The age-old problem of "what shall I cook today" only has to be faced once a week, not daily, but I don't feel locked into the list. If I feel like cooking something else, I just use my eraser.
I also write a list of things to cook or bake and often make things ahead of when they are needed, when I have spare moments. My freezer is usually filled with little cartons of broth, baggies of cooked brown rice and cooked pinto and other beans, containers of cornbread, baggies of bread or muffins, and so forth, for quick meals. There's always a frozen casserole or two and soup to warm up in a pinch, since life doesn't always read the list before throwing things our way:)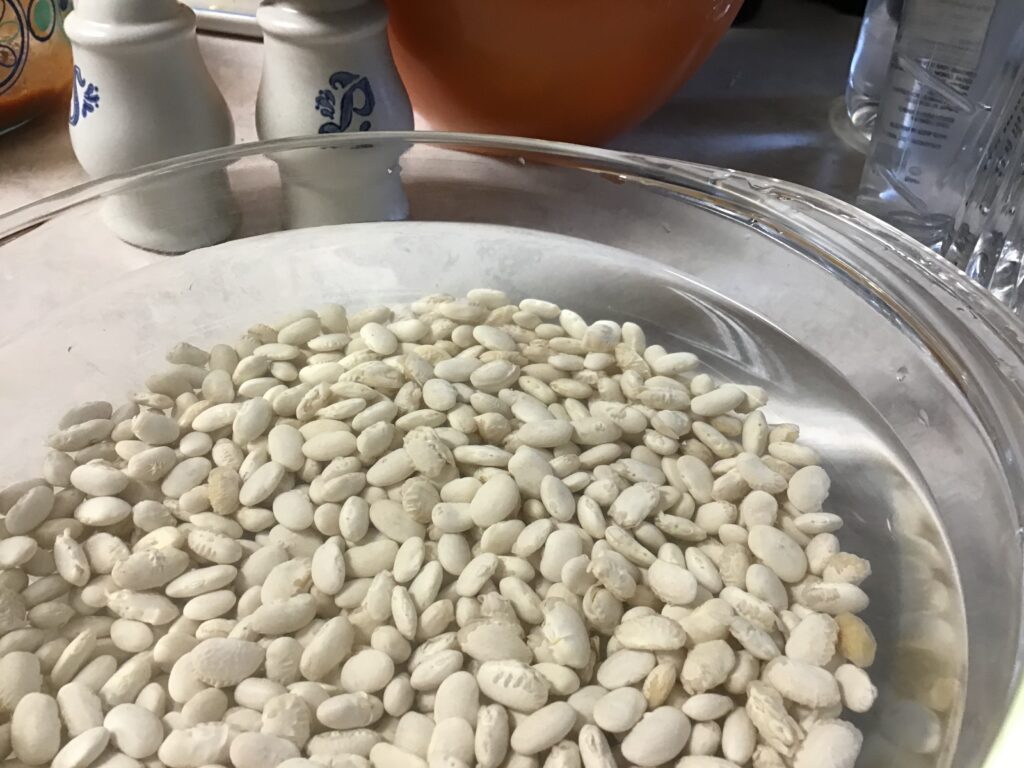 This week, I wanted to use dry beans a time or two, as I want to target stored foods, so I put down split pea soup and ham and beans, using the ham bone/broth/bits I made last week from a ham bone. The split pea soup met my criteria for at least one meatless meal each week. Rob and I have been doing that since last spring. It isn't vegetarian, because I used ham broth, but is close enough for our purposes. I find that if I don't plan to use the beans, we don't use them often enough.
Last spring, when the pandemic started, dry beans were very hard to get around here. Rob finally found some pinto beans we needed after searching several stores, but the only way to buy them was in a 50 pound bag. We didn't need that many, but it was that or nothing. So, he paid around $22 or so for that huge bag of beans, which seemed very inexpensive to me. You understand, then, why we have pinto beans so frequently. Even though I've shared small amounts with any family members who want them, I still have a lot left. I'm not afraid of buying in bulk, though. I re-package bulk items into glass jars and plastic ice-cream tubs and things last a long time in our cool garage. The key is to regularly use those bulk items so they don't get too old.
He also picked up a 25 pound bag of gluten-free rolled oats for $5 and a 50 pound bag of Jasmine rice for $10, and 25 pounds of powdered sugar for $5, during the summer, because they were damaged (not all on the same trip). My brother-in-law jokes that when Rob goes to the store, God calls down to the workers, "break that bag NOW, cut that open on accident right now, mark it down quick! Here comes Rob." I just know He takes really good care of us and our needs are always met.
I wanted a couple of crock pot meals, and especially one on Thursday when we care for both my niece and nephew all day. I found a recipe for an Oriental pork soup in one of my cookbooks, which I am changing to use up some canned baby corn we were given in a box of canned goods a while back. They were things Rob's mother was given and couldn't use, so I've been trying to target them. Since baby corn is not something I buy or regularly use, if I don't make the effort to use the can, it will still be there next spring! I'm going to make it more like Chinese chow mien instead of soup, and am going to use a can of bean sprouts and some ground pork I have had for quite some time. When someone offers me food, I always say, "yes, please" and "thank you" and then find a way to use it. If I absolutely cannot, I pass it on to someone else.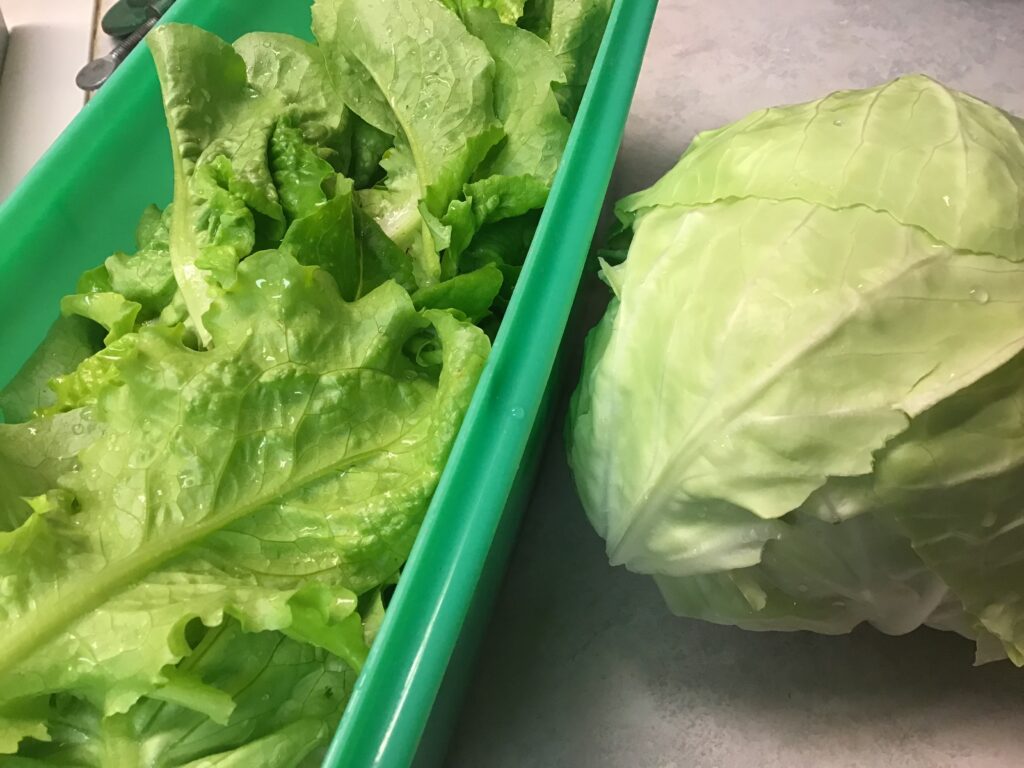 I still have cabbage in the garden. I got a good amount of winter lettuce on Monday morning, some leafy celery, a little kale, some cilantro, and left some other things out there that I fear will not ripen before spring, if then. Rob's tissue-wrapped green tomatoes are still ripening, and my cherry tomatoes that were picked green are ripening as well. There are still apples from my sister and lots and lots of onions in the back shed. I plan to use frozen and canned veggies frequently, and perk things up with the fresh ones here and there. I have fresh celery, carrots, potatoes, head lettuce to mix with the leafy lettuce from the garden, some mushrooms, a couple of cucumbers and zucchinis and some bananas and mandarins from the store. Much of that will easily last 2 weeks. We will use anything that might rot this week, and switch over to more preserved foods next week.
We will eat our way through the menu I wrote this week, then I will make another one for next week, moving any meals over to the next week that were not cooked or eaten this week. I planned lots of meals with leftovers since I don't want to waste food. If there aren't enough leftovers, I have frozen burritos I made for Patsy, and she loves peanut butter sandwiches. Rob and I love salad or soup, so I can always made another pot of soup if needed or try another recipe from a cookbook or magazine.
One other thing we tried last week was picking up a "to-go" lunch at the local school. We had not done that yet, although they have been available since last March. I had Jake and Patsy last Wednesday and wanted an activity for them, so I suggested taking them to get a bag of lunch, and they could see if they liked any of the things in it. We drove to the school and…..whoops!–Veteran's Day–no lunches. So, the next day Rob drove them down and they each got a lunch. Each bag had a carton of milk, a carton of chocolate milk, a piece of pizza, an apple, an orange, some baby carrots, and one had a corn dog and the other had a hot dog. That was an awful lot of food, I thought! They ate what they wanted. They shared the rest. Michaela was thrilled to drink some milk from a little carton, and I was so happy she actually ate an apple, once I sliced it and added some peanut butter. She's too old for the program, but the other kids shared their excess with her. I was glad there was some extra for her, since she was feeling left out. (I have apples and milk here for her, but I think it was the little carton….). Jake can't have milk anyway, so it all worked out. Besides, he wanted cornbread, his favorite right now. So, everyone was happy. I think I will take them back at least once this week, and stretch those groceries just a little farther.
I'll be the first one to admit that managing my food storage is a big job. Planning, home-preserving, rotating the food, cooking mainly from scratch…it's all work. But, it's worth it to me. I can keep my grocery bill much lower than many people can, and we can stick to our specialized diets while doing so. We are able to eat a healthy, varied diet that is far beyond the ramen noodles typically thought of as "budget food" and it tastes much better to us. Jake, on the other hand, LOVES ramen noodles, so I don't have to worry about budgeting large sums to feed him when he's here:). So, when planning your menu, find what works for you, and go for it! We are all different in what we like, want or need, but a little planning can keep everyone happy, healthy and well fed, even during a Covid freeze:)