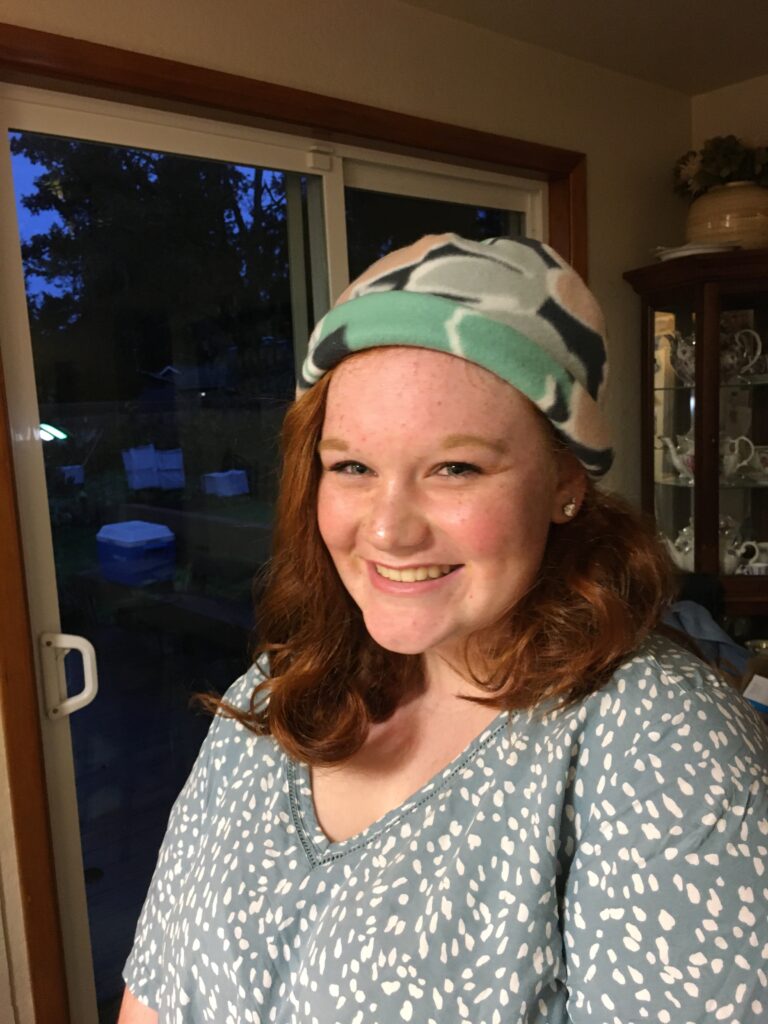 I was able to complete a quick sewing project this week. I took the scraps from Patsy's cape and made her a hat. Sadly, I lost my old hat pattern somewhere in the sewing room. Rob found me another one for free on the internet, and this is how it came out.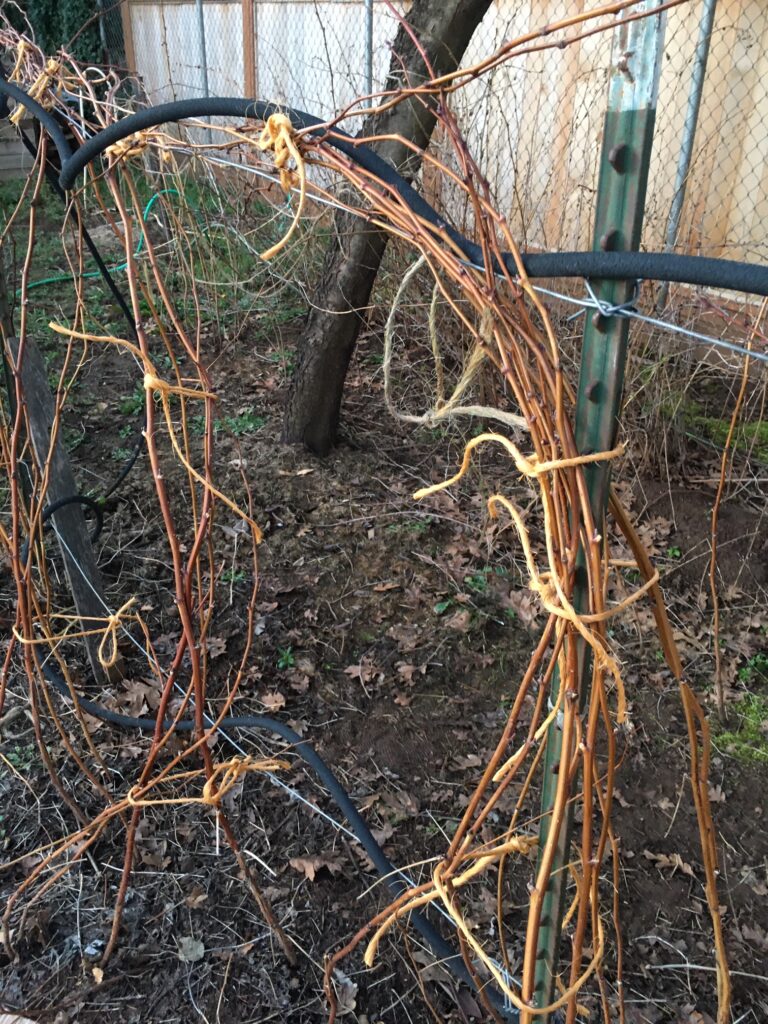 We had a very old peach tree at the back of our garden. We've been talking for quite some time about taking it down. After all, my sister owns a peach farm and we get all we want from her. Besides, we were very nervous about smashing the neighbor's fence since so much of it was actually leaning over the fence….you know how these kinds of projects are. They get bigger the more you think about them. So we put if off. This summer, it began to lean alarmingly towards the beautiful fence our neighbor recently erected, so we became more committed to removing it before it fell. In reality, this picture doesn't even really show how far it was leaning. The angle is wrong. Today was the day to get it down at last!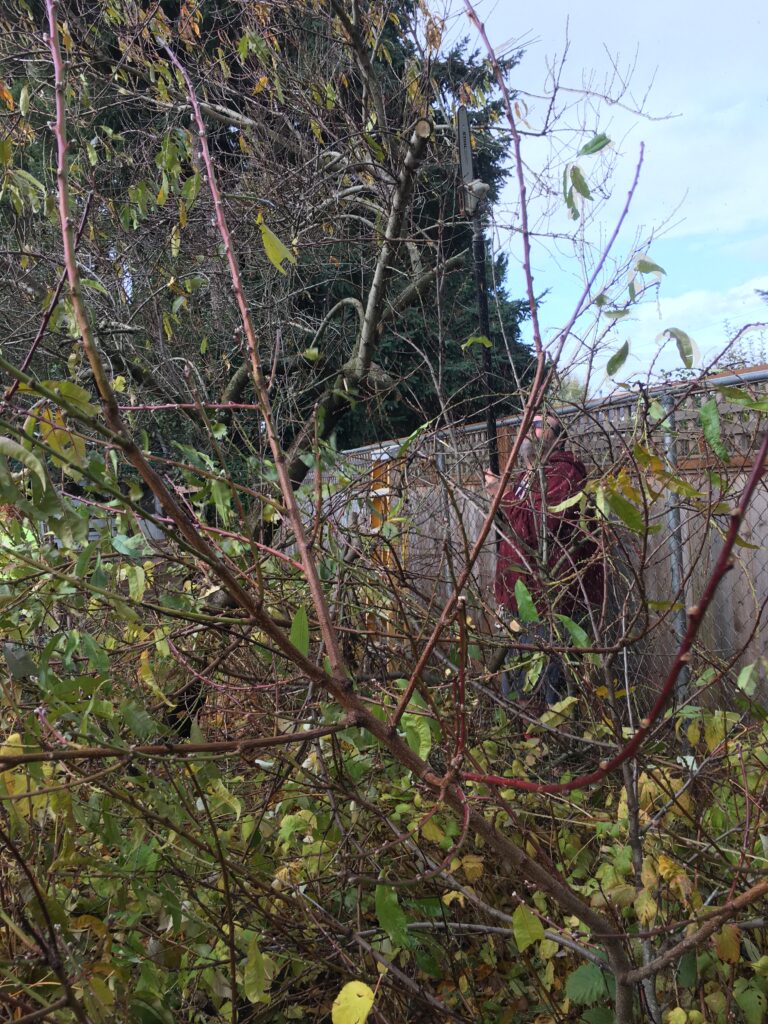 We were jump-started into action when we were visited by our neighbor on the west side of our house. We followed him into his yard to gape in horror at another neighbor's yard utterly filled with a part of a huge cedar tree that broke in the last day or two and smashed a shed and filled that person's entire back yard. He felt he should show us because the rest of the tree was starting to lean alarmingly toward our shop! After some consultation with a couple of neighbors, we found that a tree service was going to be called tomorrow. But, we knew we couldn't delay any longer in removing our problem tree. That new fence the neighbor put up is too nice to smash.
Thankfully, we had live-streamed church this morning, and God provided a window of opportunity with no rain this afternoon. The minute we were done, the skies opened up and it poured. So, it just became a nice Sunday afternoon project that didn't ruin our Sunday plans, and took much less time than we had feared.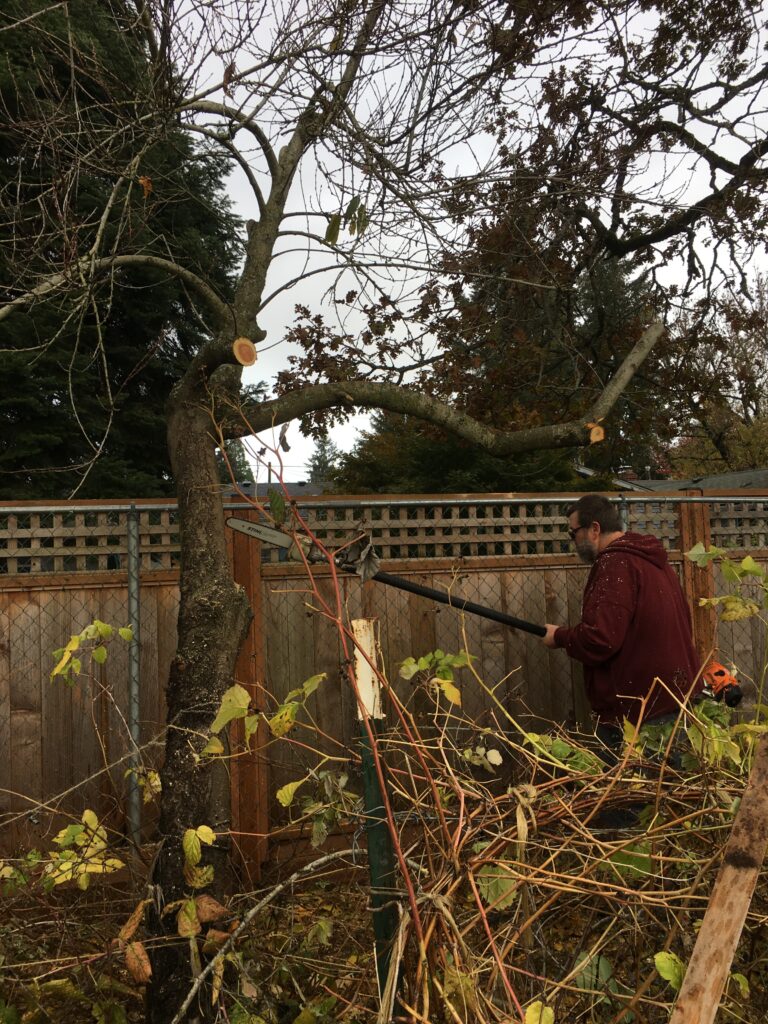 I climbed a very short ladder and snipped off lower branches with hand loppers and then moved to the clean-up crew. Rob used his chain saw with the long handle to cut off branches, bit by bit, from the top down. We were very careful and pulled the branches toward our side of the fence and threw the branches into the empty garden. Some raspberries and artichokes were actually smashed a bit in the process, but we uncovered them ASAP. There were a few branches that fell over the fence. Thankfully, our neighbor had removed the fancy lights, per Rob's request a few days ago, and we were able to pull the branches up and over using a garden rake without damaging anything. He came out as we were finishing and assured us that his side of the fence was just fine, we had not smashed, ruined, or destroyed anything in our efforts.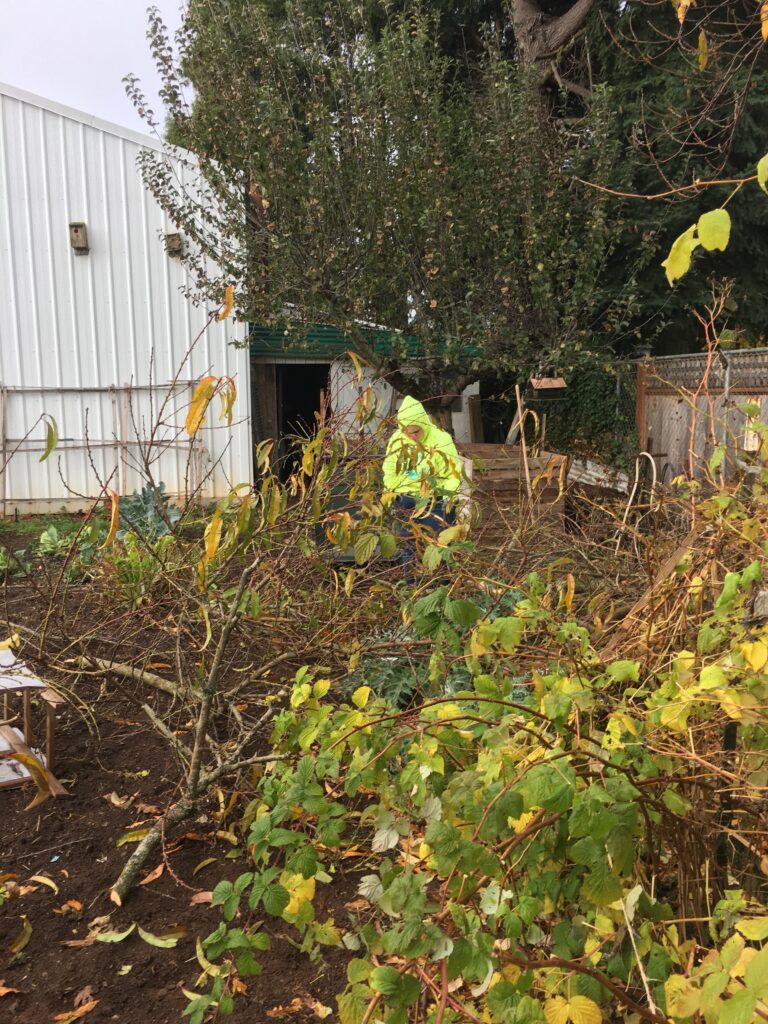 We used pruners to cut the branches into small pieces and filled the yard debris bin. Rob cut the larger pieces into firewood with his chain saw. We left the rest of the branches in the garden and will fill the bin again several times as the weeks pass by. The apple tree will come down this winter, too, hopefully. We get no good apples from it. It's not ready to fall on anything, so it can wait.
Now my garden will get even more sun and grow even more veggies! The raspberries should be sweeter and grow better. The roots of the tree have been taking too much water from the back of the garden, and I'm hoping this helps. Doing this job ourselves saved us several hundred dollars, maybe more if it had fallen and smashed that lovely fence.
I had planned on shopping last Tuesday, and got the things on my list. I used my $10 off $50 coupon at Safeway and actually spent about $45. I stopped off at Winco and got a 68c/lb turkey and a couple of things they sell for less there. In the meanwhile, Rob and Patsy stopped off at a different Winco and grabbed 2 more turkeys. I'm delighted to have three turkeys now. The whole thing was complicated by the fact that Rob, Michaela and Patsy were on their way home from picking up our 1/4 beef when they stopped for those turkeys! It was a larger quarter than last year. So, we played "arrange the freezer" for quite a while, and it all fit, thank goodness.
While out with her, he found ham for $1.29 at Grocery Outlet, and bought 2 small ones. One hour later, when other family members went to get some, they were all gone. They simply haven't been on sale anywhere this fall. Since he was going out again, I had him pick up a few more groceries, including a couple more gallons of milk with long pull dates, and we should be set for the next couple of weeks. I have reserved some of my monthly budget for an Azure Standard order later in the month, if I decide to do so.
Rob chopped wood 2 more times this past week.
So, we are loaded up with groceries and wood, so plan to spend this next week cozy and busy!