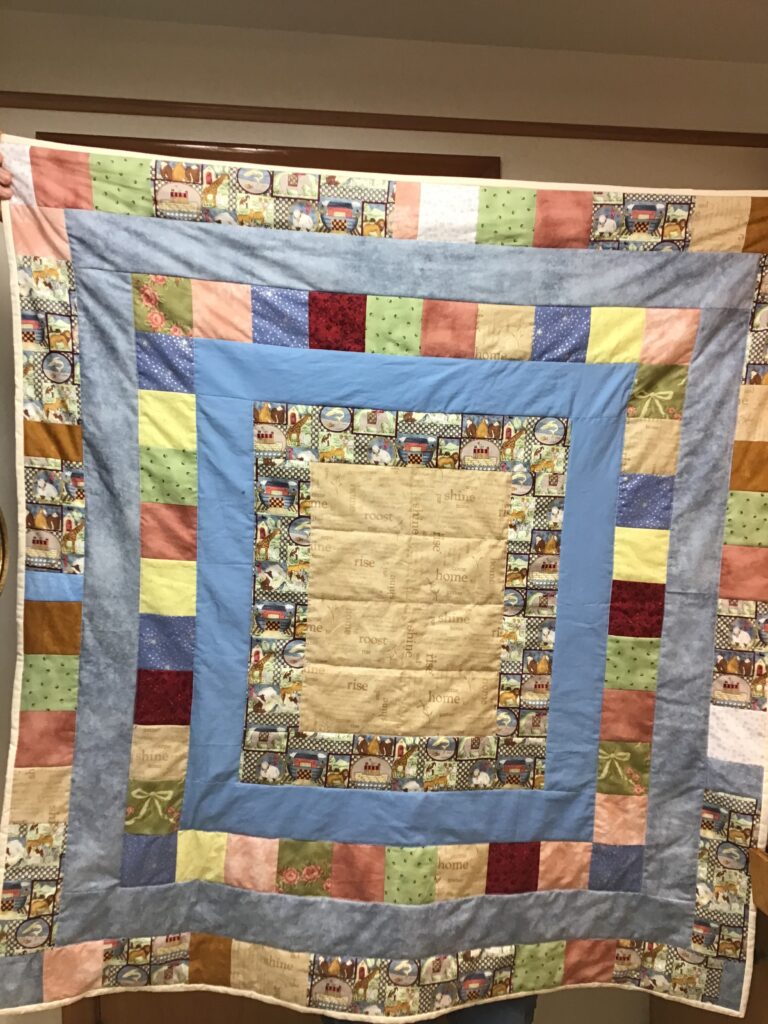 Project #1: "Animal Grows Up!"
Around 20 years ago, my niece Alissa joined our family. I sewed her a baby blanket. She named it "Animal." Somehow, all these years later, I still had scraps left over and, at her request, made her a new, grown-up "Animal." (She spotted those scraps one day (over 2 years ago), when I was cleaning a bit during homeschooling her, and remembered I had them.)
The patterned fabric, blue with stars, deep rose blender, green with little flowers, and yellow were the scraps. I kept with the theme of squares, as there were squares in the print, and just tried to match the colors in the print with fabric I had in my stash. My goal was to make a blanket that was grown-up enough that she could use it without feeling like she was carrying her baby blanket around with her, and large enough to wrap around her shoulders and use when she's cold. Since she's working at a Christian camp these days, I know she can use a blanket for her bed, as well, and this one will hopefully bring her lots of love since it will remind her of her childhood and many wonderful memories. I'm going to give it to her for Christmas. She knows about it, as I checked with her while I was making it to make sure it was what she had in mind after she asked me to make it.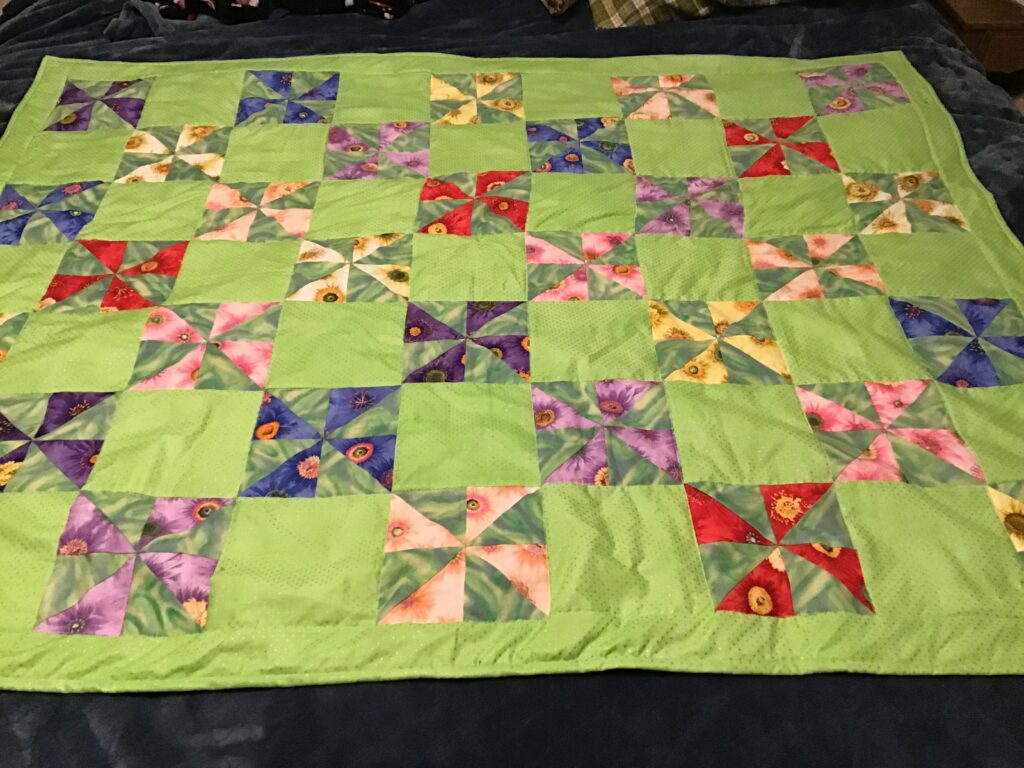 Project #2: Lovana's Garden
About a year after sweet Alissa came to live with her parents, Lovana and Ja'Ana came to live with us. Before they moved in, I started a quilt for Lovana. Yes. This quilt. I finished it this weekend. You could say it took a while for this garden to grow.
I've actually been working on this one for the last several months, since I've been home more because of Covid. I decided it was the perfect time to finish up some projects that have been around for far too long. I finally finished yesterday. She's seen pieces of it over the years and has been told it was for her. I know she's going to be very surprised when she sees it's finally finished! This one will be a surprise, for sure, as I'm positive she's long given up that she was going to ever get her quilt!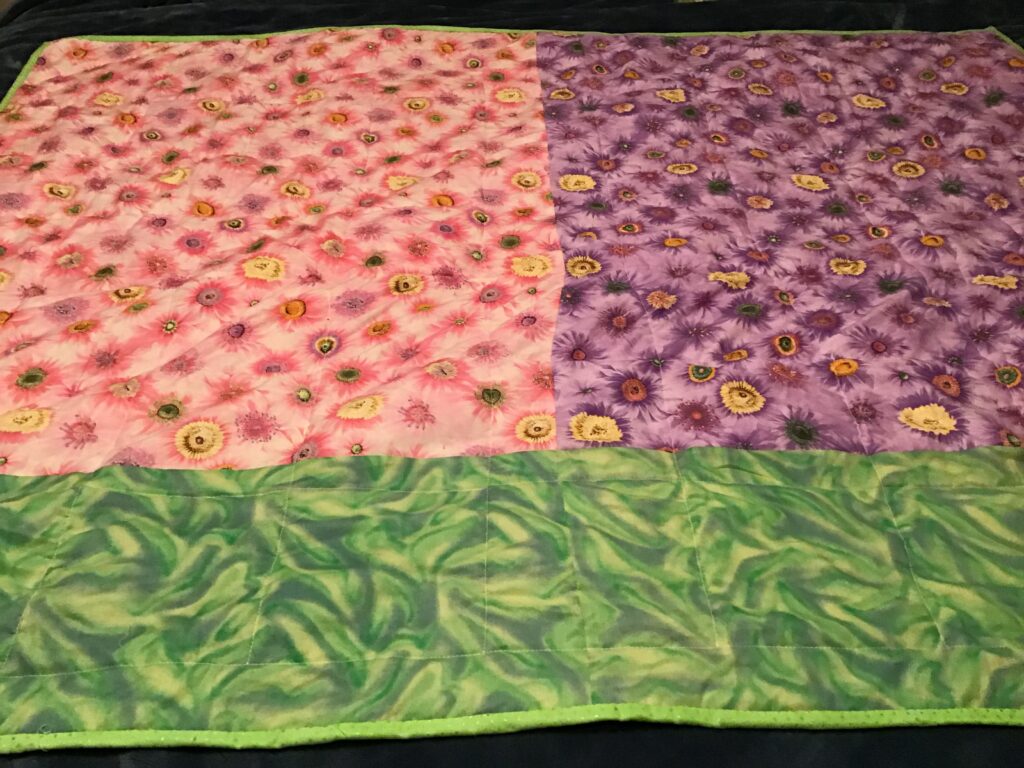 Since we are staying home as much as possible because of our Covid restrictions, I didn't want to shop to finish these quilts. Even though Lovana's was larger than I've ever done before, I machine quilted both of them, using one large piece of batting (cut in half) that was in storage in the loft above the shop. This close to Christmas, I'm sure the machine quilters are already booked up, and besides, I'm not going places right now, including quilt shops. I will admit, it was hard for me to keep things flat and smooth while I sewed simple lines across the quilt and there was ripping involved. I did prevail, and then hand-sewed the bindings down while watching more t.v. in one weekend than ever before:)
There was just enough fabric left over from 3 of the prints used in the quilt, and I sewed them together to make a back for Lovana's. There was plenty of the green dot for her binding.
I had a large piece of muslin we had picked up from a yard sale and used it for the back and binding of Alissa's.
I used up the batting from the shop loft, and even finished up a spool of thread and most of another one. One of these days, I will need to replace some of my sewing items, but for now, I'm rejoicing that I've been able to use up some things that have been taking up space for a long, long time.
Both quilts are showing up a little darker in these pictures than they are in real life. They are both a little brighter. Both turned out lovely. I am super happy that I got them both done, quilted, and finished in time for Christmas!