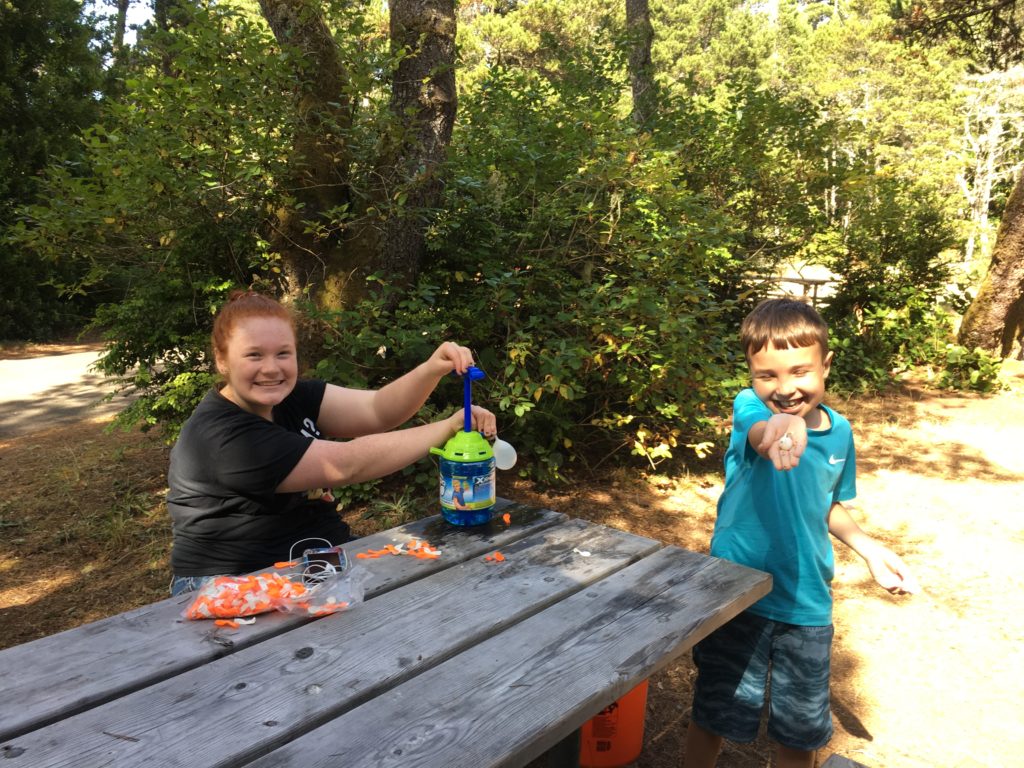 I have been planning an outdoor school experience for Patsy for a few weeks. When Jake heard she was going camping and doing school, he insisted on some school, too:). He was always going camping—he loves it so much. So, along with the notebook I was making for Patsy to do, I had to make one for Jake, too. For his, I had Rob run off some word searches from the internet, and let him do those. I planned lots of fun, outdoor activities, as well, along with "messy" crafts that were perfect for doing outside.
Here's where the big surprise came in…..I wrote the date down wrong. Really, I did! So, we woke up on Saturday and I leisurely asked Rob to look up which campsite we had, just for fun, and YIKES! we were due down there at the coast that day!!! I called my sister to see if Jake could go with us earlier than we had planned, so they packed him up, came over and helped us get ready and hustled us off on our adventure.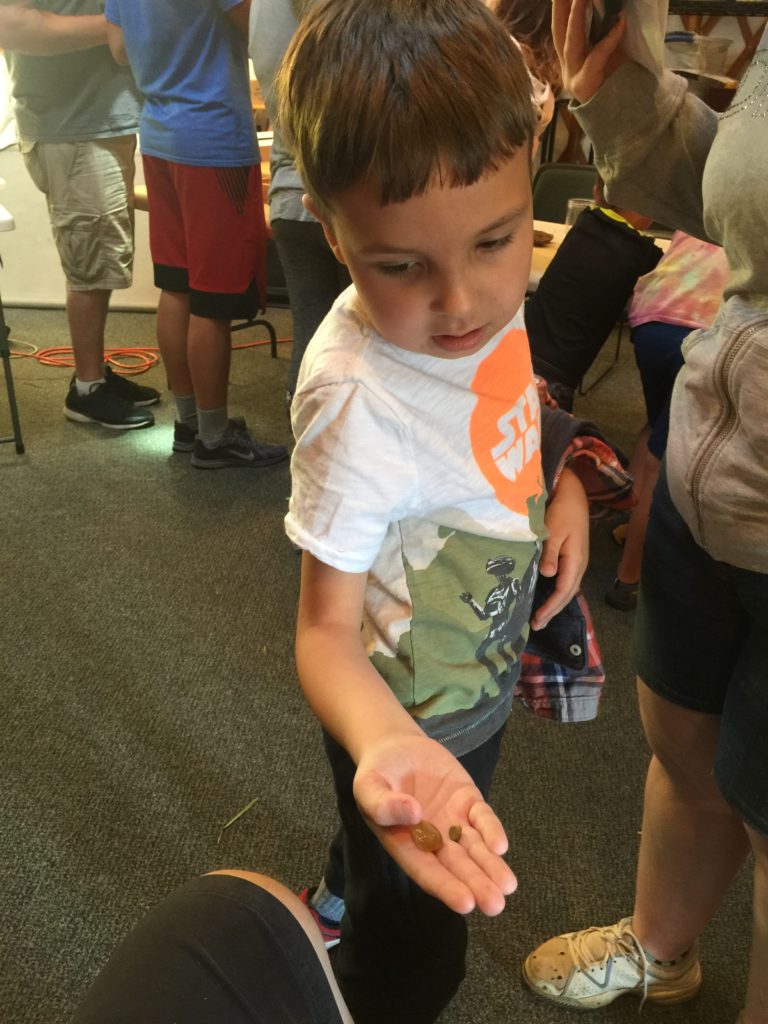 The very first day, there was a ranger program about agates. Rob took the kids down to it and they were hooked! The ranger gave them each 2 agates and they spent hours hunting for more down on the beach in 3 different places. On the 3rd beach we tried, they finally found some. They were excited.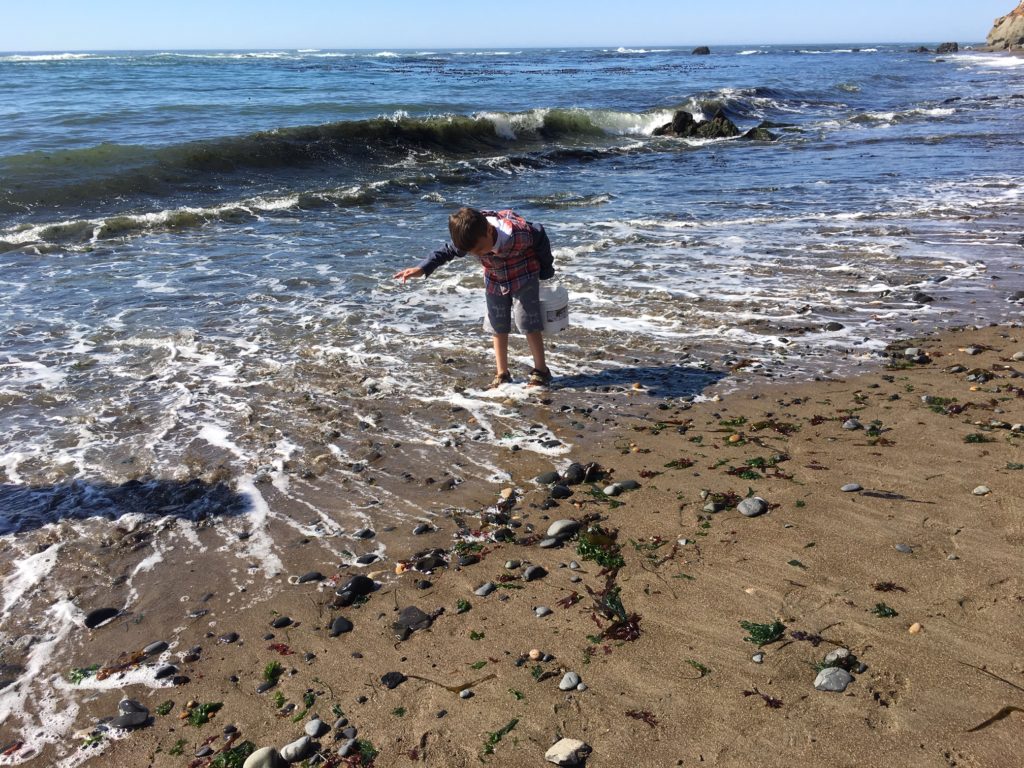 Patsy did bookwork each morning, like language arts, Bible, math, and science. Jake did a few word finds. I read aloud to both of them, mostly things Patsy needed to hear for school–good for them both. I also read a beloved Boxcar Children book to Jake in the evenings. In the afternoons, we did fun activities.
Patsy had chosen 2 simple cooking projects to do on the trip. One was trail mix …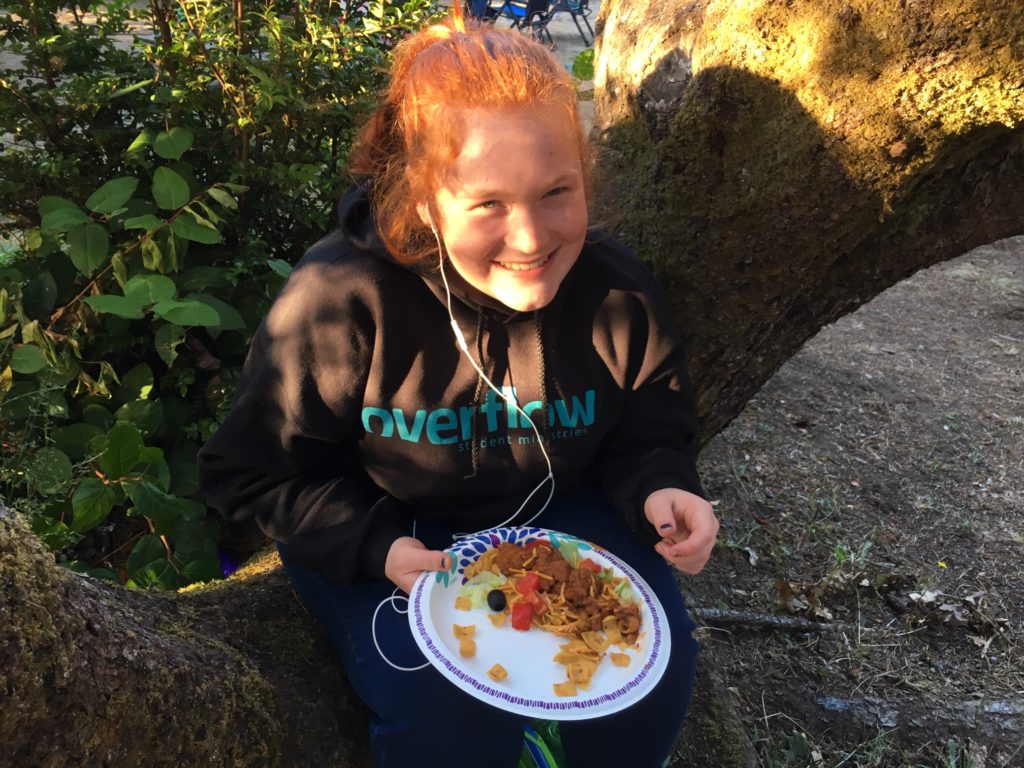 and the other one was Camping Haystacks–mostly a can of chili on top of Fritos with some salad toppings. She loved it! I mean, who wouldn't want chips for the main part of dinner, right?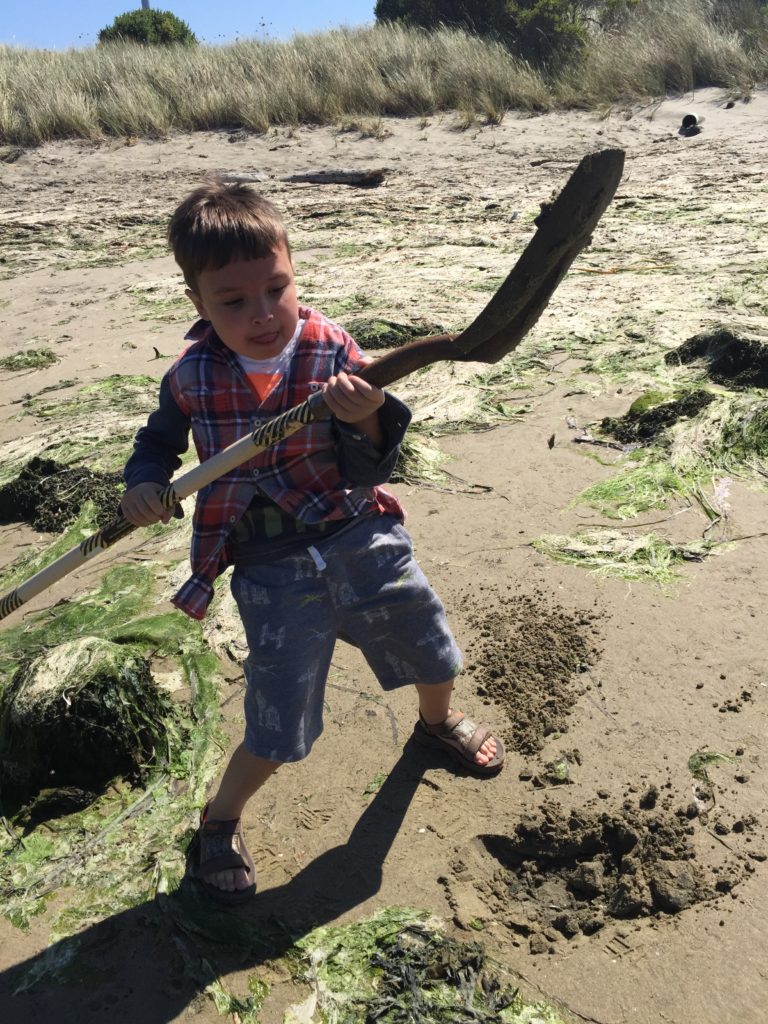 Patsy and I went clamming and caught nothing. Jake and Rob did not walk out with us, but instead, Jake dug for gold. He did not find any gold, either, but he made it clear that if he had found any, it was, and I quote, "ALL MINE!"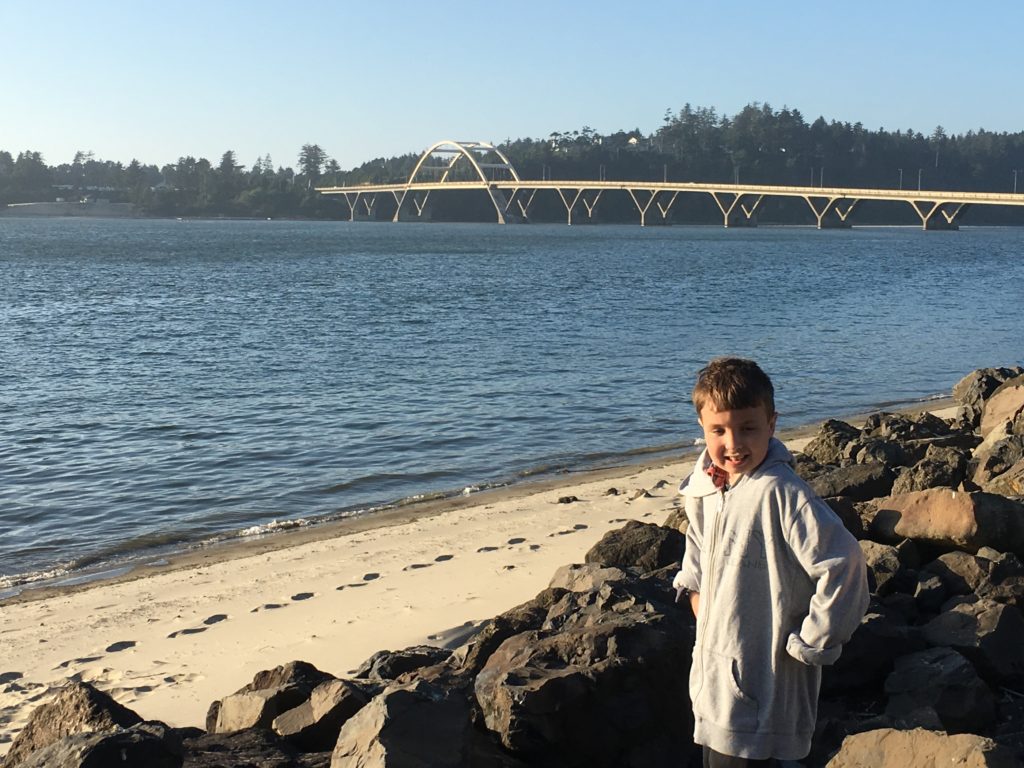 The weather was amazing. It was in the upper 80's (or warmer) most of the time. There was wind or a breeze frequently. I heard we escaped some awfully hot weather back in the valley. In this picture, we had gone for a drive and stopped to feed some seagulls.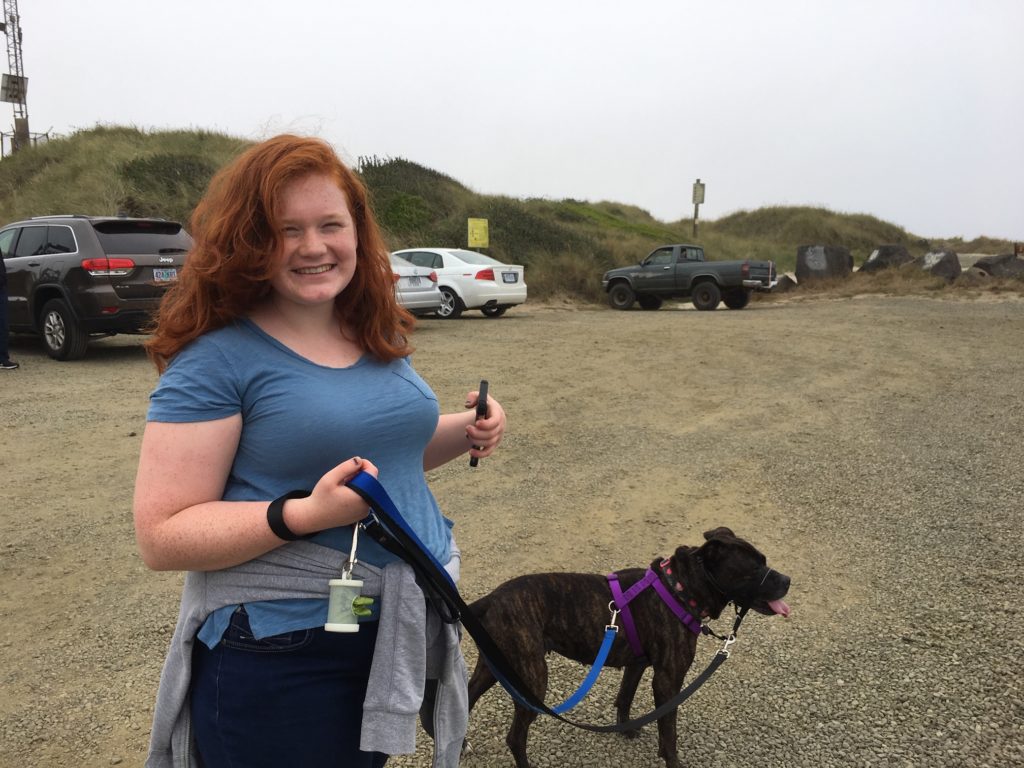 Patsy and I took a few walks. I have been working on training our dog— if she pulls, the "Haltie" on her nose (black leash) tightens on her nose, which she doesn't like. If she isn't pulling, I let her run on the blue leash and let the other one hang loosely. I only tighten the black one if she pulls. I have no idea if anyone else does it that way, but it's working well. She managed to walk calmly through the entire campground full of dogs and children without going ballistic by the end of the time. I'm starting to take her places with more and more people and animals, and she's not comfortable, in fact shivering and shaking on the crowded beach one day, but I want her to get used to it.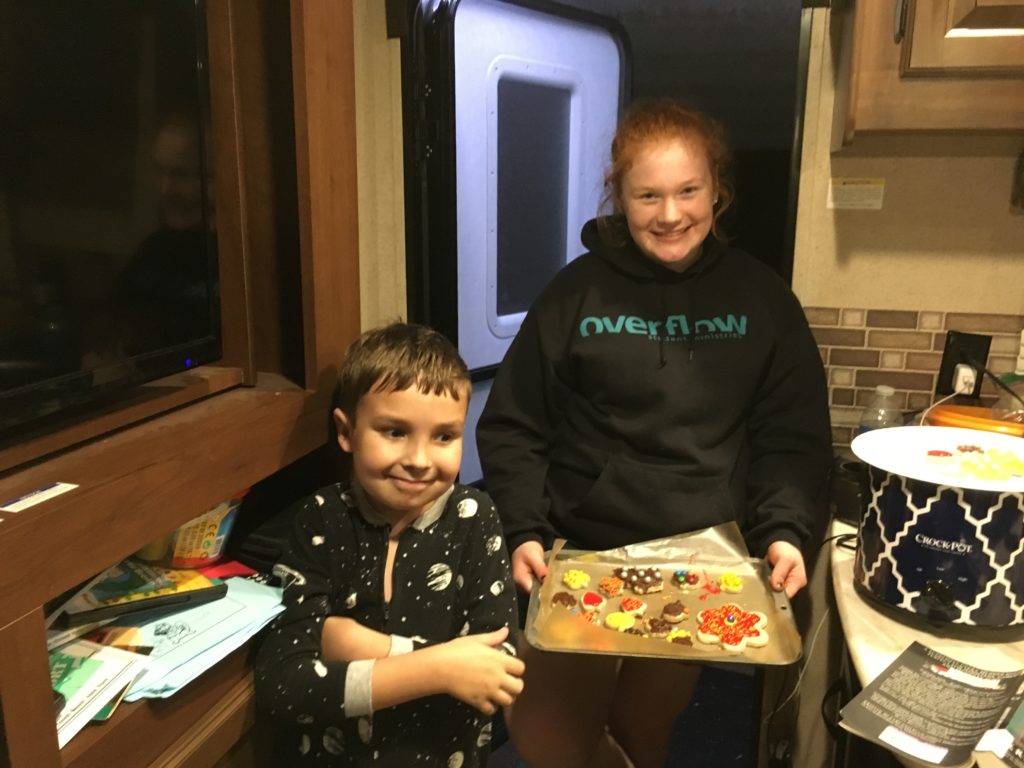 We read books about fall and decorated fall cookies. I had hoped to bake them before we went, but with our hasty departure I couldn't, so I had to make them in the camper. It worked, but the oven isn't the best. Of course, this activity was geared for Jake, but no one argues with cookies around here.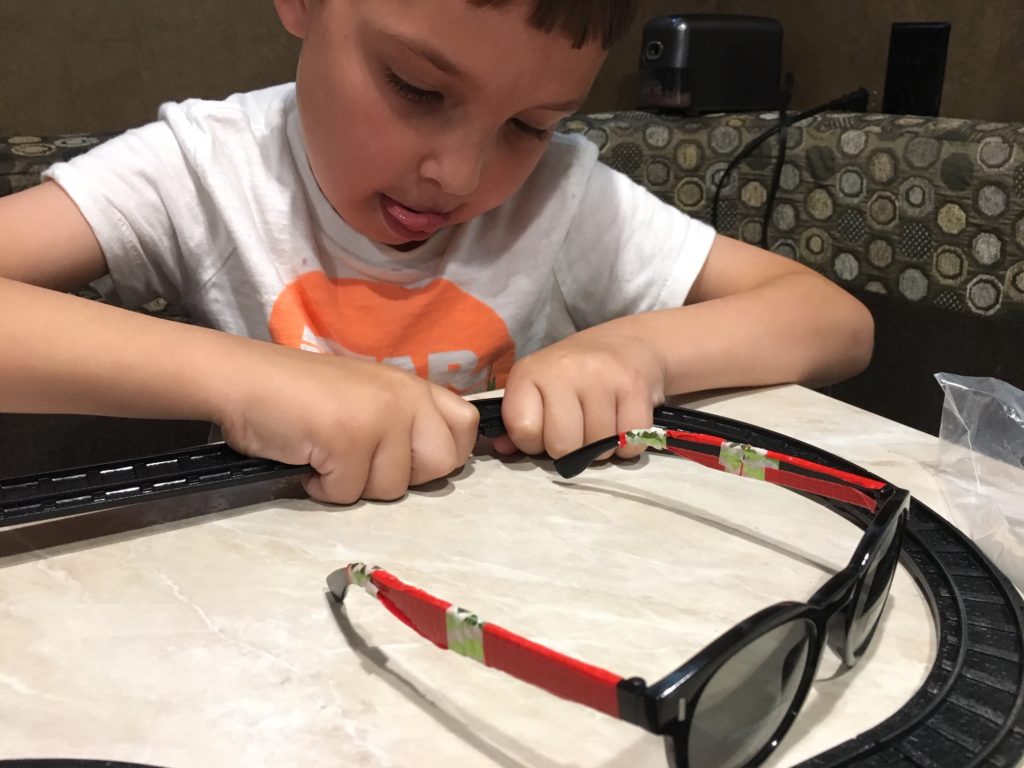 Patsy did another craft..a coconut oil-brown sugar scrub. They both folded some origami animals as well, and decorated sunglasses with duct tape. They had a lot of squirt gun fights.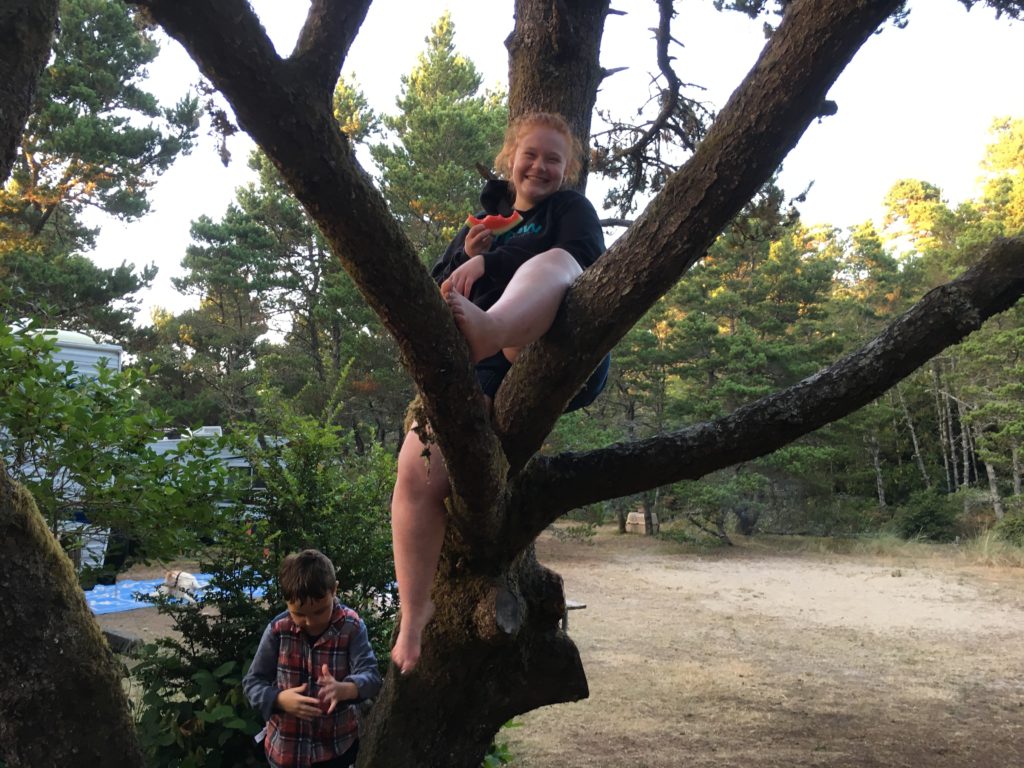 The tree was a favorite perch all week.
Our other nephew came down the last night after he finished work. Jake immediately roped him into game playing. We had a great visit, although short, and we all headed back to the valley the next morning.
I had Rob develop some pictures of our activities and we put them into a notebook for each kid so they would have good memories to keep about their fun outdoor school.
I am very satisfied with the fact that we are now most of the way through the first 4 weeks of school with Patsy. I hope to finish week 4 today. I love getting started in August. It will give me more leeway during the year when I get super busy. I also love the fact that we could take school on the road, get a lot done, but still have so much time to enjoy the outdoors. It took a lot of planning and a lot of supplies for so many crafts and hands-on activities, but I love to do that.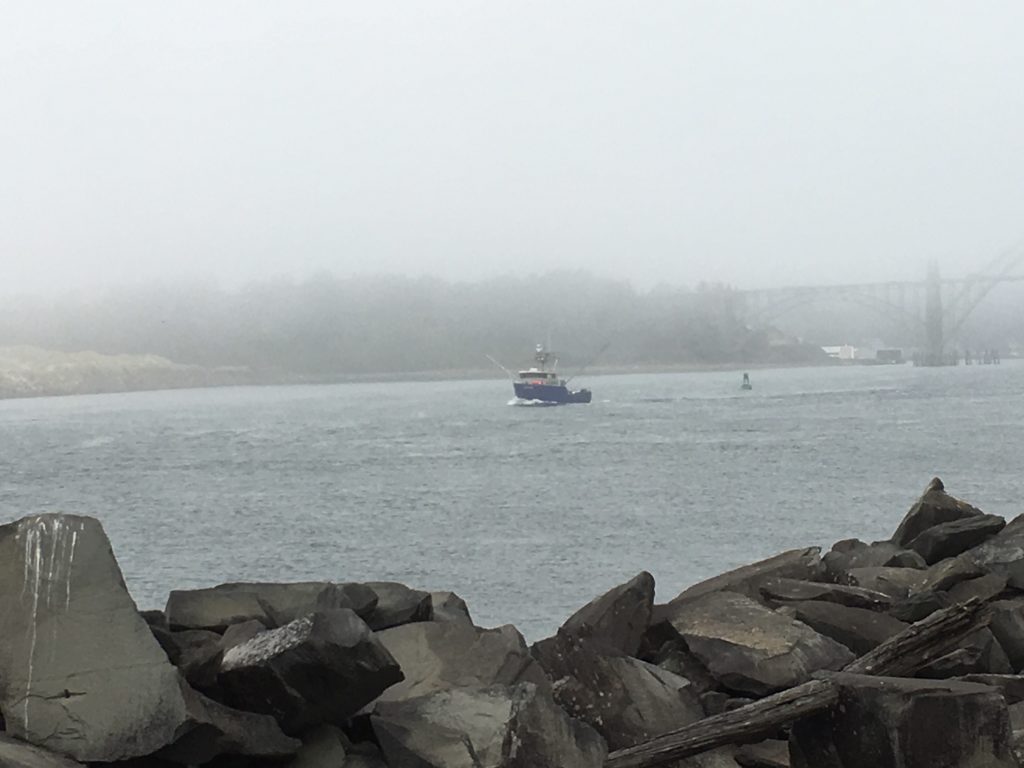 On Wednesday, the weather started to change. I enjoyed the cooler weather, and came home Thursday to a city that was considerably cooler than it has been, which was a relief. I gave a happy, sun-tanned boy back to his daddy and he's going to spend the next couple of days snuggling with his mama. I'm going to put the house back together, can up some applesauce and start working outside in the garden and yard a bit over the next few days. Things are quite messy after 2 trips away, but then again, the work will always be here. Little boys and teen-age girls won't.