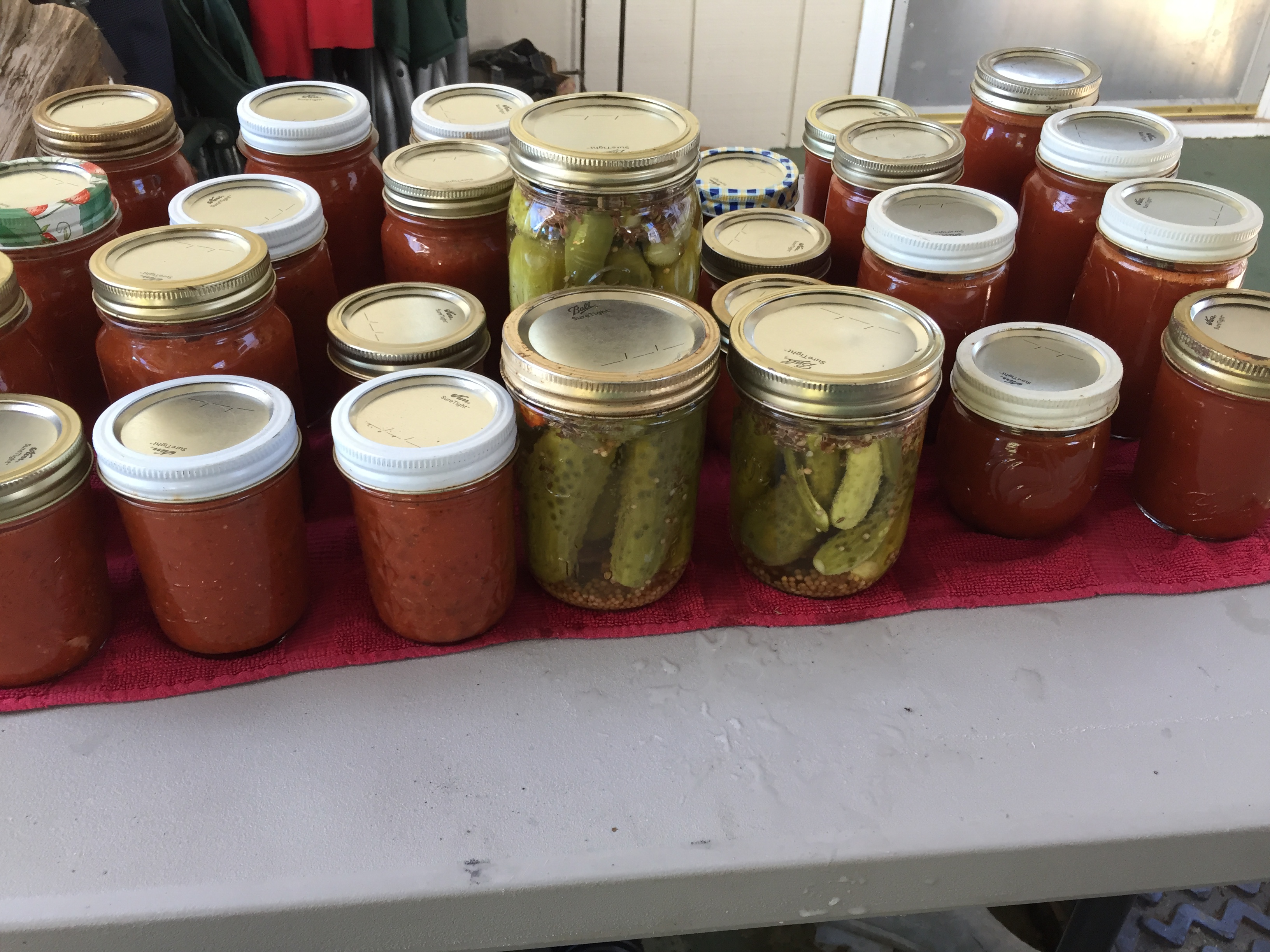 The 11 little jars on the right are the enchilada/taco sauce.  I was asked how I made it, and if it was a secret recipe.  The truth is, I am writing it down for my self as much as anyone else, because if time passes, it will be a secret–I won't be able to remember what I did!
This is my second attempt at enchilada sauce this summer.  The first one was good, but we wanted a little more spice and a smoother texture.    My pamphlet from the county extension office states that you can change the spices without affecting the safety of the finished tomato product, but nothing else, so that's what I did.
I took a large bowl of tomatoes and washed and cut them up.  Then, I put a layer of them in a pot on high and crushed them with a potato masher while they cooked.  When that layer was softened, I added more cut-up pieces and kept crushing and cooking until the pot was about 3/4 full.  You have to keep stirring, because this will stick and burn if you are not careful.  Then, I put these cooked tomatoes through my Foley Food Mill to get the seeds and skins out.  I put that puree back into the pot.  At this point, it was nice and smooth, mostly seed-free, but pretty runny.  I thickened it up with a combination of cooking it down and added some tomato paste until it was the consistency of taco sauce such as I would buy at the store.  Our favorite is La Victoria, and we usually get the mild, but sometimes the medium.
I used about 2 cups of paste in the large pot that was 3/4 full, but then it was too thick and so I had to add some water to thin it slightly.  If you are making this, the amount of paste you will need depends on several factors, which include the dryness of your tomatoes, the variety of the tomatoes, and the amount of time you cook the tomatoes down before you add the paste. Use trial and error until you reach the perfect consistency.  Each time you make it, it is likely to take a different amount because the tomatoes are so variable.  Taco sauce should be thicker than tomato juice, but not as thick as pizza/pasta sauce.  We buy our tomato paste for these kind of projects at Cash and Carry in the gallon cans.  I open the can, use what I need and then freeze the rest in baggies to use over time.  It is a real money-saver to purchase it that way instead of little cans for 50c-$1 each.  The last time we bought a can, it was slightly dented, and cost around $3, but it is usually a bit more than that.  Still a great deal.
This is my best guess at the spices I added to the pot:  1/4 cup mild chili powder, 2 Tablespoons dried oregano, 1 Tablespoon dried cilantro, 1 teaspoon garlic powder, 2 Tablespoons ground cumin, 1 Tablespoon salt, 2 teaspoons pepper, and 1/2 teaspoon – 1 teaspoon cayenne pepper.  The truth is, I was putting in spices, tasting, adding more spices, tasting, etc. until it tasted right to me.  The chili powder, oregano, etc. added an underlying layer of flavor but there was no zip at all, until I added the cayenne.  It is not very spicy, just enough to give a little kick.  When I make it again, I will start with this mixture, then add more of those same spices and/or salt if I don't feel like there's enough.
I put the hot mixture into the jars and added 1 Tablespoon lemon juice to each larger jar (not quite a pint) and 1/2 Tablespoon to the 1/2 pints.  Then, I canned it for 35 minutes in a hot water bath canner, as instructed in my Ball Blue Book for tomato sauce.
This yielded the 11 assorted jars in the right hand side of the picture above.  If I get enough tomatoes, I might make this again this year.  It turned out yummy and we are already opening and eating it:).  At this rate, it won't take long to use up those 11 jars!