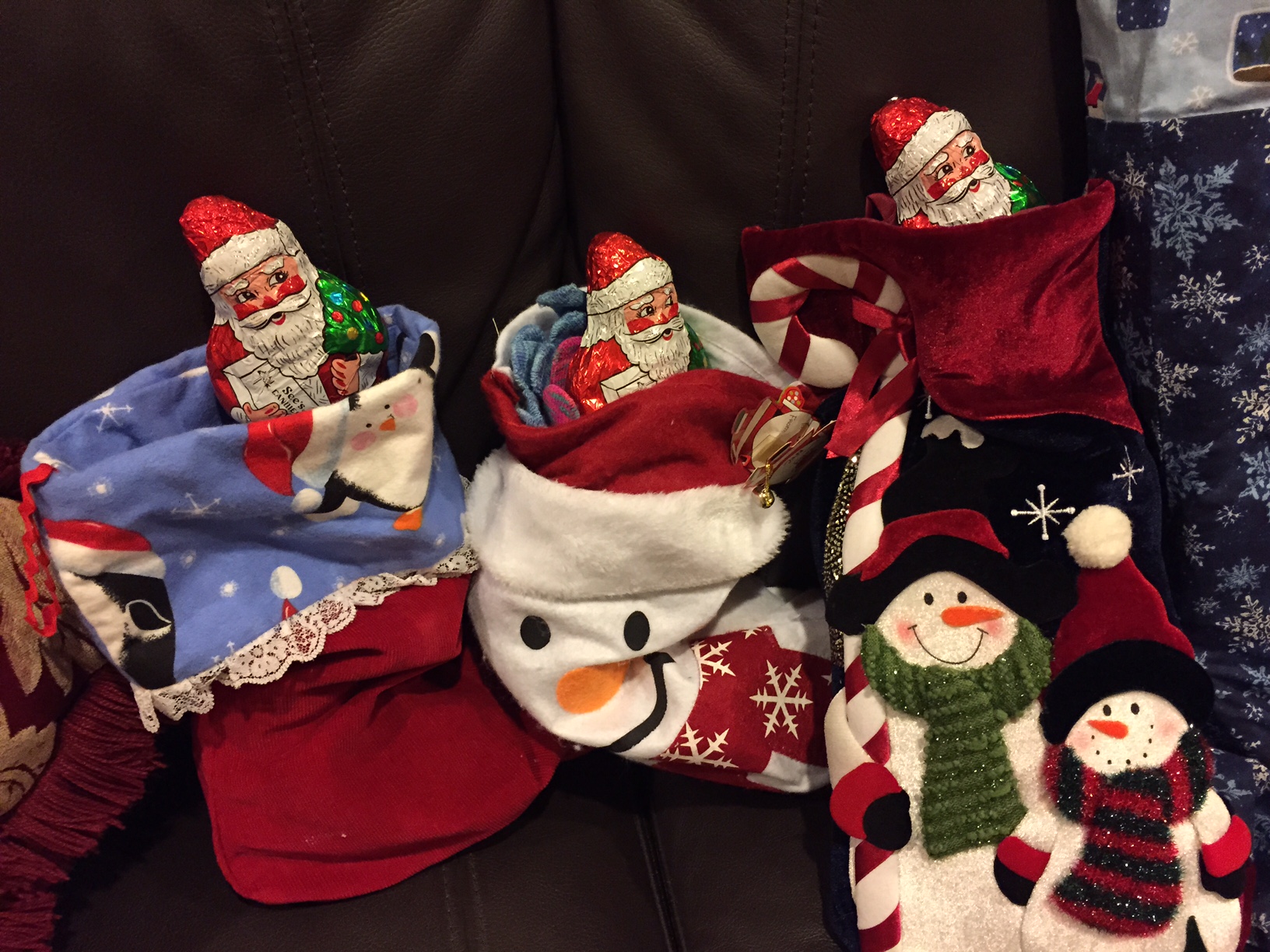 Our Christmas turned out to be very meaningful and delightful.  We were able to keep the hustle and bustle low, while still getting to enjoy several holiday activities, and we felt very satisfied with the season.
We were also able to come through the season feeling satisfied that we were able to give gifts to people we loved while not overspending.  We did, however, cut things back quite a bit from years past, because of Rob's job loss.  One thing we cut back on was giving small gifts to friends.  We just did not give them this year, and I'm sure everyone understood.  Instead, we used that money on the girls.  Even though we never gave costly gifts to friends and co-workers, teachers, etc., it adds up and we simply wanted to use the $ elsewhere this year.  Next year, I will make some extra jam, or relish, or whatever I can figure out—I'll just plan for it differently.   Sometimes life just takes unexpected twists and turns and plans have to be re-adjusted.
Family members got turkeys, a plan that had been in the works for months.  When they were butchered right after Thanksgiving, they were delivered. That sure took a lot of pressure away from the week of Christmas. A few people received zucchini relish I made last summer from our over-abundant crop.  It tastes just like regular sweet relish.  I also made some potholders.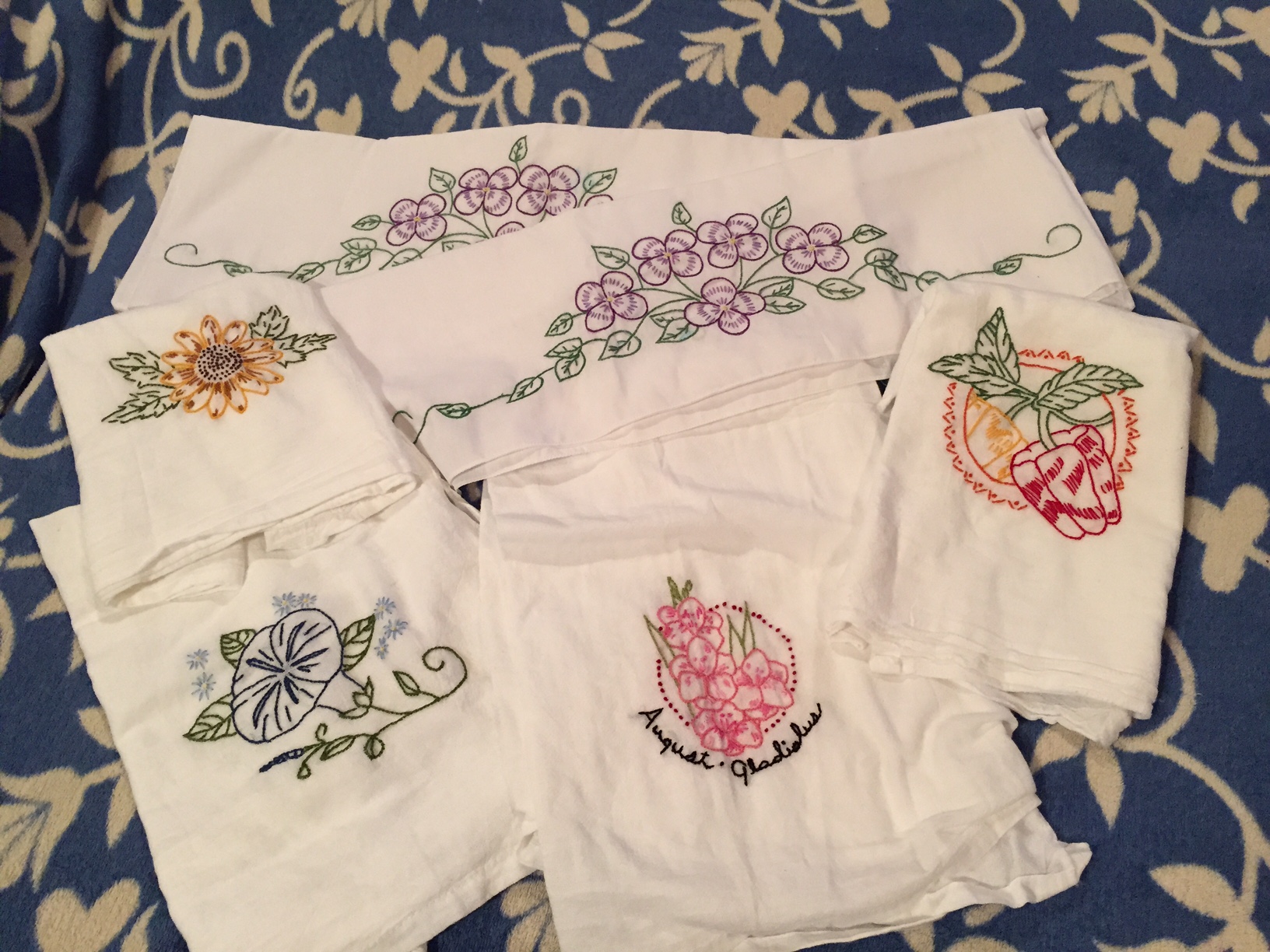 I gave away a few dish towels and pillowcases I had embroidered.  One set of pillowcases is not in the picture, but it had flowers on it as well.  The towels were purchased at Walmart in a big bundle and stamped with Aunt Martha's iron-on embroidery stamps.  The stamps can be used over and over, so most of the stamps were some I've had for years.
We do things differently than most.  We open our gifts at home on Christmas Eve, after church, and then go to my sister's on Christmas Day  to celebrate with extended family.  And, we don't hang the stockings.  We put the things in them and put them in a row on the couch.  Why?  I'm not sure.  It probably got started years ago when we didn't have anywhere to hang them.  We put fewer things in the girls' stockings than usual, but we made sure each item was of higher quality.  So, a chocolate Santa from See's candy, a small gift card for Starbucks, the obligatory orange that MUST be there, etc.  They were very pleased.
They got gifts they had asked for and really wanted, just slightly fewer than some years.  Again, they were very pleased.  Rob and I gave each other a few things we needed.  I got some tea, a can opener, a couple of sweaters for work, etc.  He  received a coffee maker from the girls with some help from me.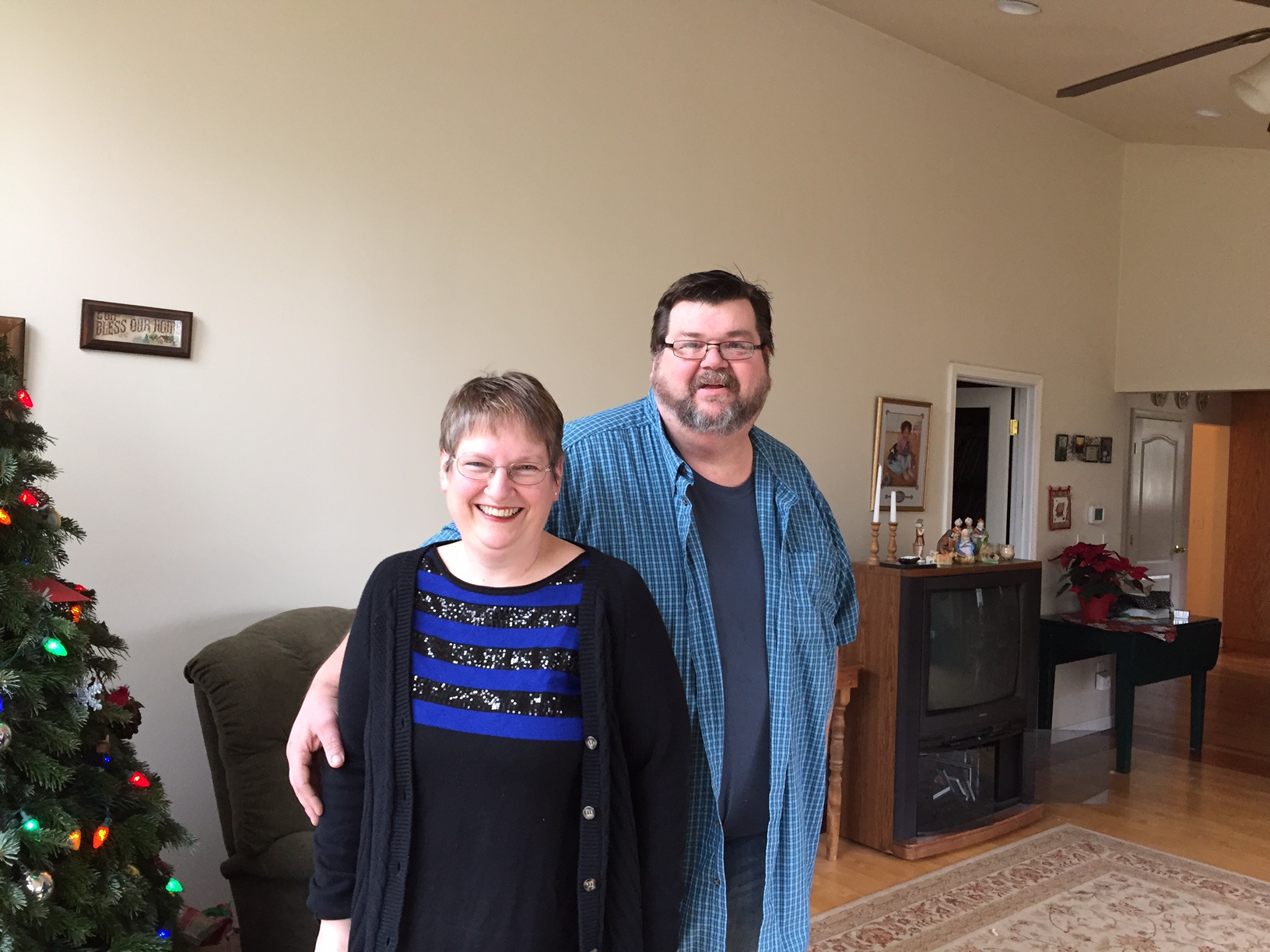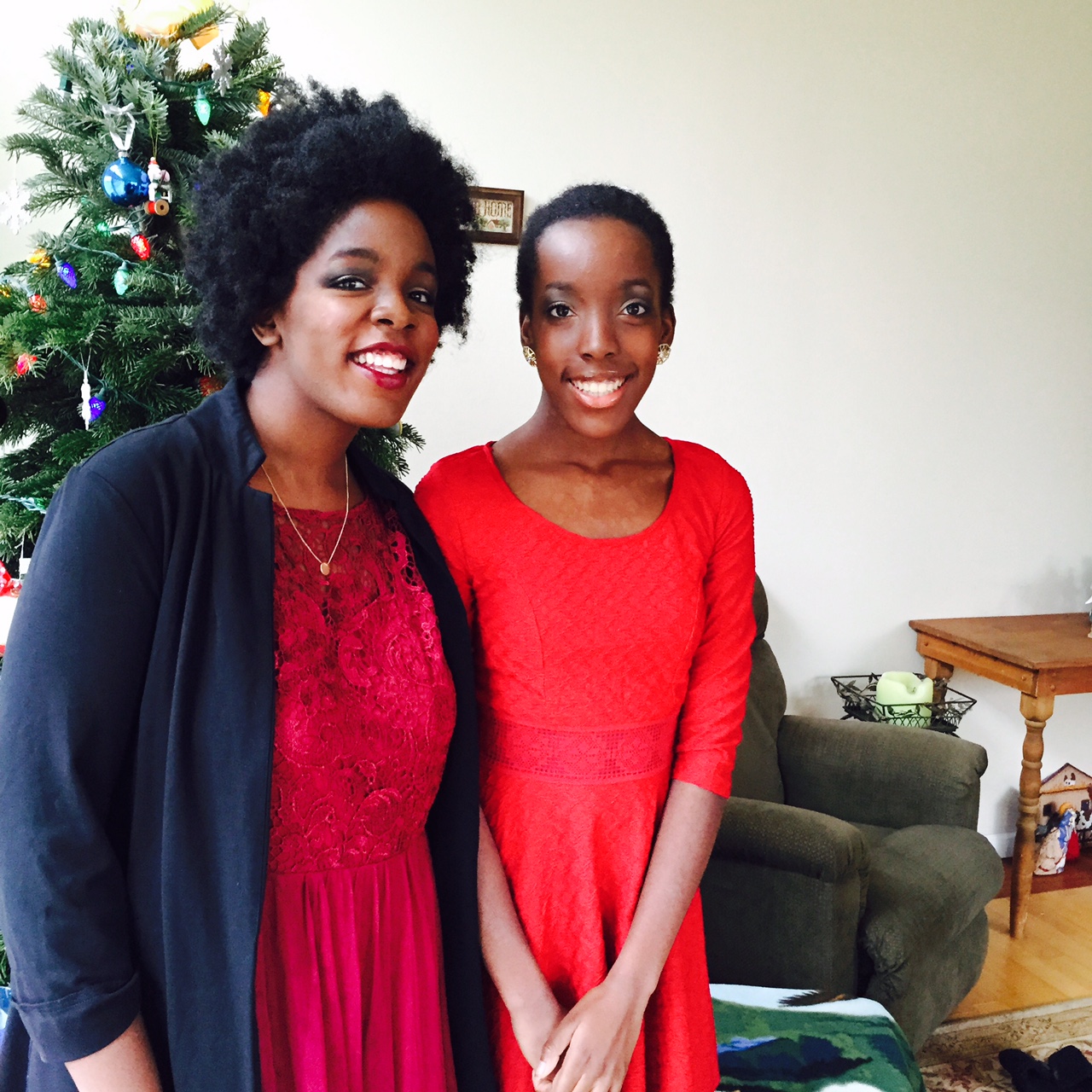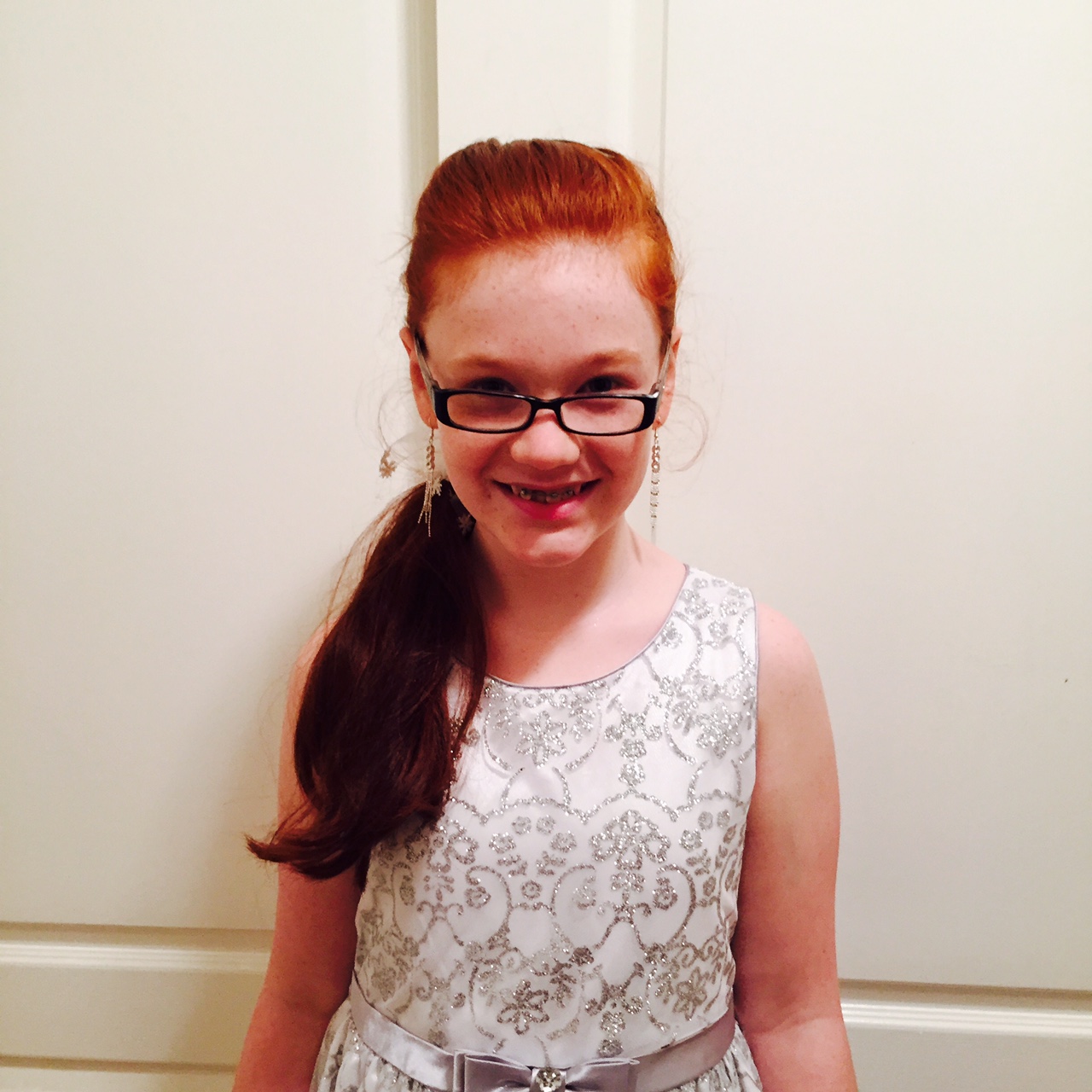 On Christmas Eve, we all dressed up and went to church.  It was a very beautiful, meaningful, candlelight service.
We had several times during the week when we ate somewhere else other than home, or had people over here.  This comes with having such a large, complicated family.  I was able to shop sales for extra food items I needed, and use many items I already had at home as ingredients as well.  We took one son out to breakfast one morning.  In the end, we were able to get together with 7 out of 8 of the children, no small accomplishment!
We received the good news that some close friends were able to slip over here (they live 8 hours away) for the night, so enjoyed making dinner and visiting with them as well.
We used wood heat.  We used decorations we already had and the centerpiece we were given–the only thing I bought was a poinsettia a few weeks ago.  We wore clothes we already had to church and holiday events, with the exception of Patsy and Ja'Ana– they each got a new Christmas dress as usual, bought on sale, of course.  I believe Patsy's was either 60 or 70 % on Thanksgiving Day (Rob had to take Lovana to work at Fred Meyers for a few hours that day, so picked it out while he was buying the $20 boots for each of them).  He is an amazing shopper!
We chose free activities such as church choir concerts, etc.
We watched shows on our Kindles, using Prime.  We also used Prime for free shipping for the items we ordered from Amazon for Christmas.  For us, since we do on-line shopping, Prime pays for itself in shipping savings, and we get the shows as a bonus.  We do not have cable, or even free tv that works at our house, so it's Prime shows and library movies for us.  We were given the $ to go to the new Star Wars movie, now we just need to find the time!  We were also given a slew of various gift cards by different people, and are very thankful and excited to use them after the new year.  We were also blessed with a couple of sizable cash gifts.  We do not know who one gift is from, so, thank you very much, whoever you are!  We are very grateful.