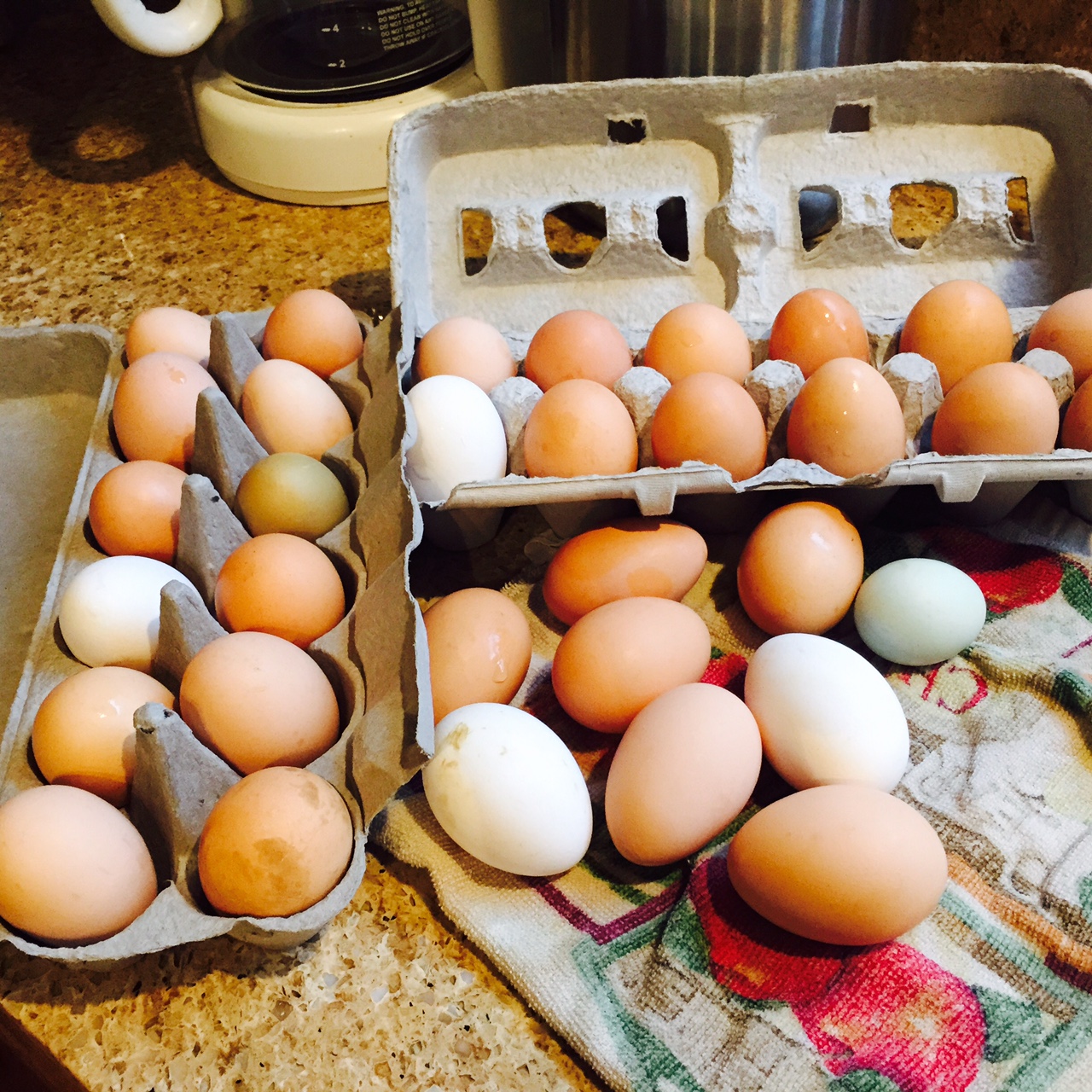 I am delighted that the chickens have decided to lay again!  They took a little break during the darkest time of the year, which is normal, but recently have been cranking out a few eggs a day.
Every day when Rob brings in the eggs,they are placed on the counter in a bowl.  When I get ready to wash the eggs, I place the bowl in the sink and run tepid water on them so they can soak.  Many sources say to not wash your eggs because they keep better unwashed.  Mine have chicken droppings on them, so I choose to wash them off.  Some sources say that if you are going to wash them, use lukewarm water so that the pores are not opened with hot water, impurities don't enter, and the cold water doesn't close the pores, trapping in the impurities.  I have no idea if that's true, but it sounds sensible, so I use lukewarm water.
I have an old toothbrush that I use for egg washing, only.  I just gently scrub each soaked egg while holding it under a small stream of tepid water. Sometimes stains remain.  I'm fine with that.  I air-dry them on a towel and then put into cartons in the garage fridge, or into the egg keeper in the refrigerator in the kitchen.
We had to buy one 5-dozen package of eggs from Costco this winter when the chickens were not laying.  I didn't even get them finished before they started up again, so I probably  could have survived without buying any, but we had no way of telling when they would start again.  They are very light sensitive, the days are getting longer again, and this batch of hens is less than 1 year old, so we knew they would lay some more, we just didn't know when exactly.
Since we have been paying for feed all along, I am delighted to be entering that time of year when I have all the eggs I want.  I also give them away when I have an overabundance, so my sister is happy, too.