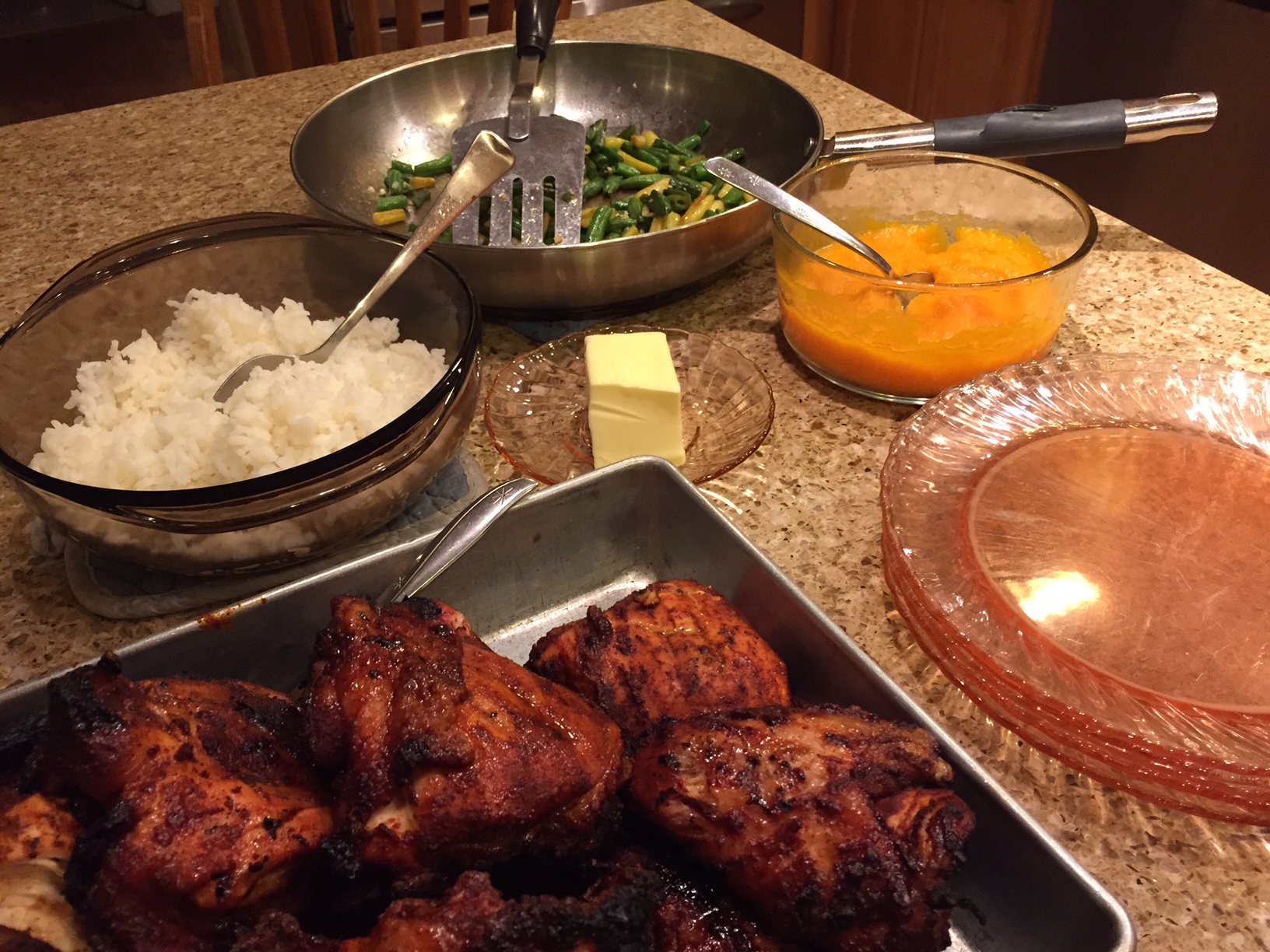 Last night, Rob barbecued chicken.  He used a rub of barbecue seasoning, brown sugar and garlic powder and then cooked it on the grill.  That was an unplanned meal, but caused us no grief because it all came from the freezer and storage.  I sauted frozen green beans with butter and garlic, thawed squash, and cooked white rice from a 50 pound bag Rob got 2 summers ago.  We have put in quite a few hours the last 2 days packing, sorting, burning trash (lots and lots and lots of trash….), and the troops were all home working all day and were starving.  So, they burned through most of 2 pizzas, almost all of this chicken and vegetables, bacon, sausage, eggs, a huge pan of home-made hash browns, and I'm not sure what else.    Once I saw how the day was going, I cooked up a huge pan of rice, so there is rice left, plus a little chicken.
Sunday:  Family dinner–my sister made ham and mashed potatoes and gravy. We did green beans and my aunt brought salad.  I took cauliflower and a berry crisp.  We had 13 today, so a small crowd.  This evening, there is leftover chicken, salad, 4 pieces of pizza and peanut butter sandwiches to choose from.
Monday:  I found some chicken thighs in the freezer.  They had been in there too long, so I thawed them and trimmed off any suspicious areas and put them in a marinade to soak. I used ginger, soy sauce, brown sugar and water.  They will be sauted in a pan and will be teriyaki chicken, served with rice and broccoli.
Tuesday:  clam chowder
Wednesday:  Turkey noodle casserole
Thursday:  Lovana cooks.  She wants to do Mexican food, involving corn tortillas–her choice when the day comes as long as we have the ingredients.
Friday:  chili in the crockpot–4H day, so very busy and we are tired when they all go home
Saturday:  Cashew chicken.  I found some frozen pea pods from last fall's garden, and some cashews when I was digging around in the freezer and want to use them.  I can make brown rice with this, as I have lots of that as well and we actually prefer it.
Sunday:  Hamburgers at my sister's.  She and one of the girls will be out of town visiting our niece who is in college.  They will probably also visit Mickey Mouse:)  We will bring all of the dinner between us and my aunt and feed my sweet brother-in-law and the kids who are still at home.  He invited a couple of young adults also, and there are a couple friends of my kids who might show up, so we can just unthaw a bunch of burger from the 1/2 beef we bought last fall, and cook a bunch up, with hot dogs for Michaela and Jake.  I should know how much to thaw for sure towards the end of the week.  I will probably do potato or macaroni salad, a relish tray, and some kind of dessert.  Patsy and I made zucchini chip bars today–I may re-make them if they taste good.  Sometimes changing a regular recipe to gluten-free needs a few tries to make it work out.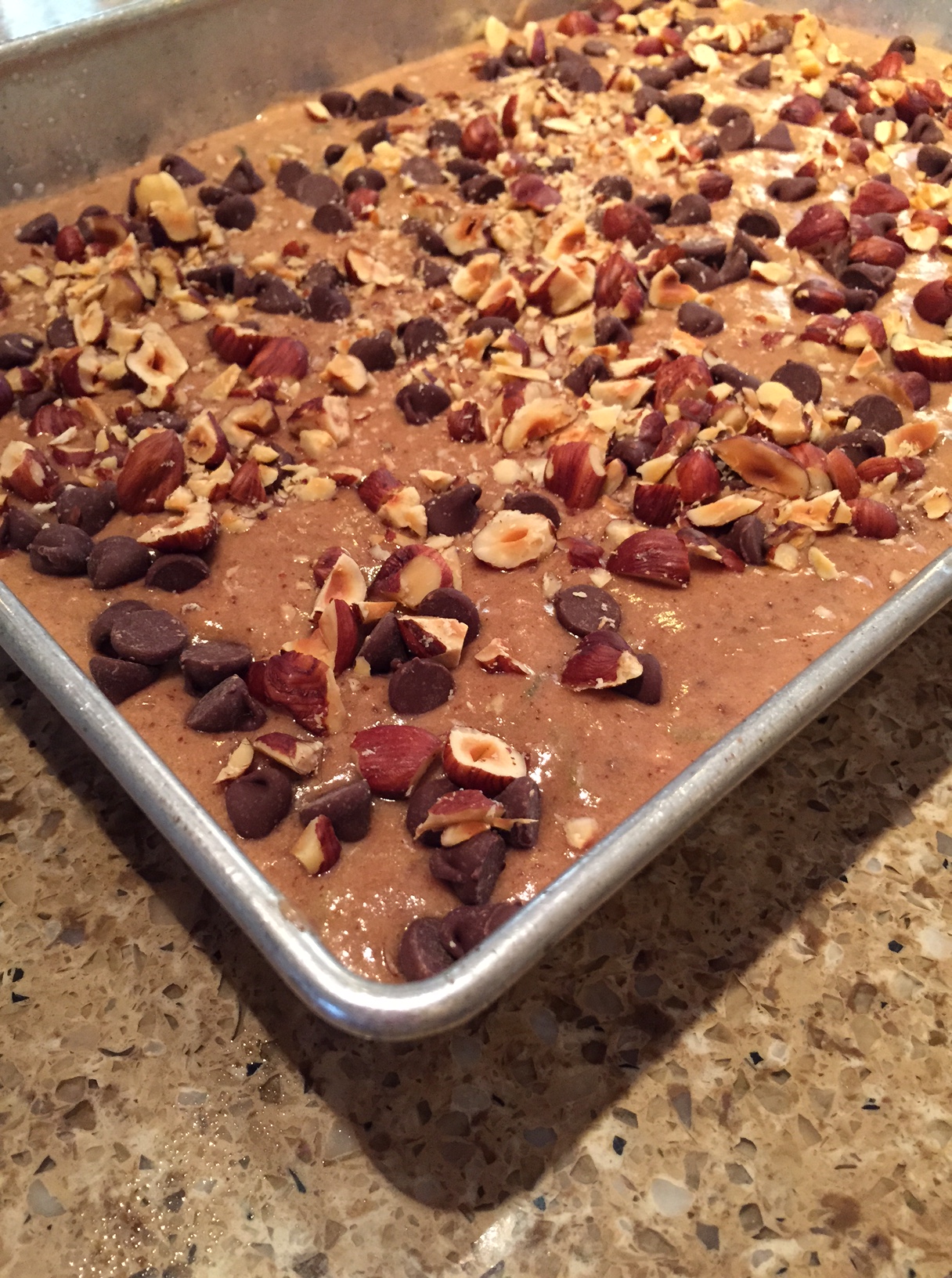 We also made some brown banana bread with flax seed.  They were a little less sweet than we wanted, but definitely edible with a little jam!