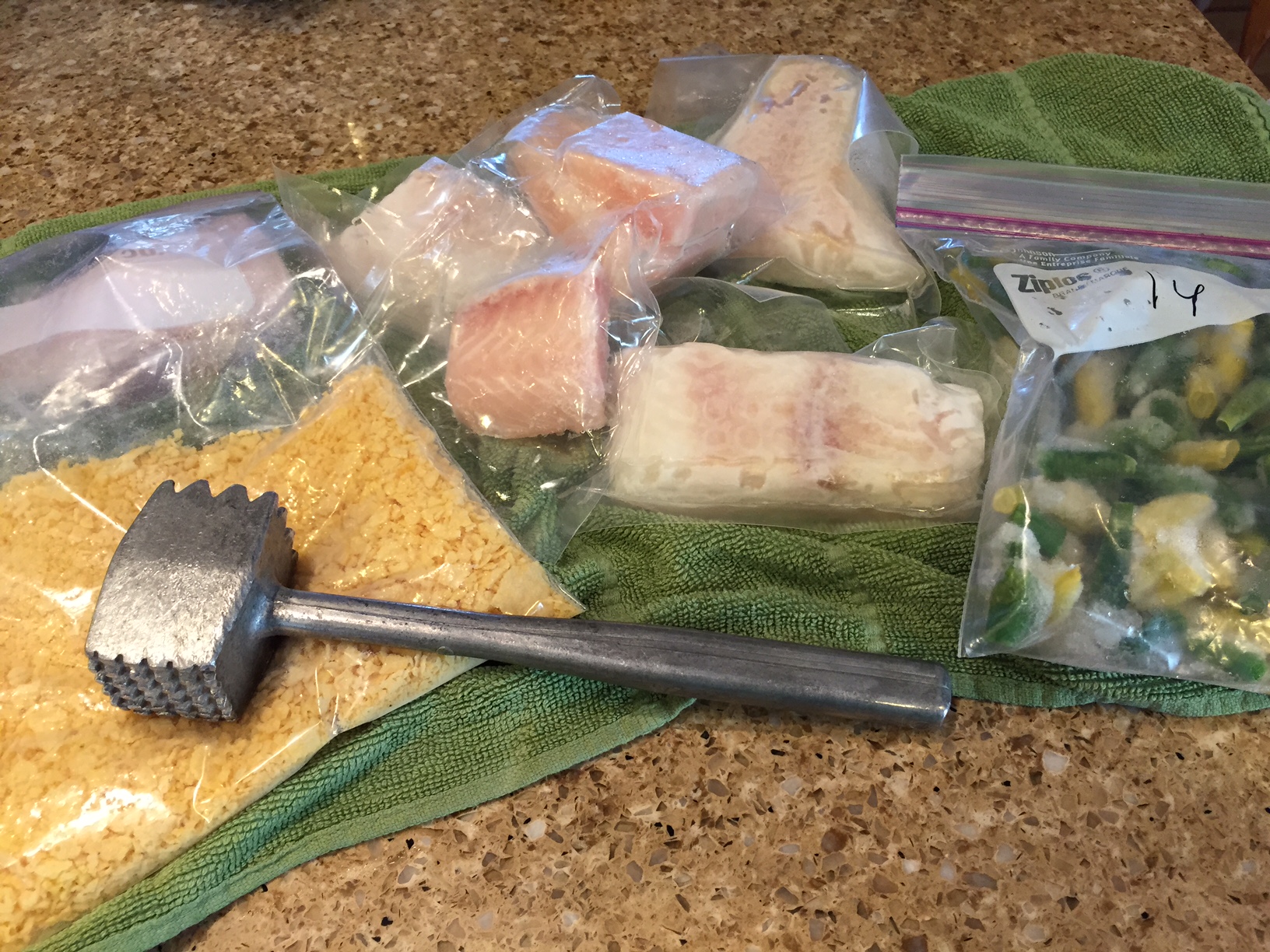 Sunday:  Leftovers from fridge.  We did not do the family meal, due to ill children.
Monday:  I crushed up cornflakes from a box that has been around a long time, and will coat the fish with them.  Crunchy Fish Nuggets with Lemon Tartar Sauce from the American Heart Association Quick and Easy Cookbook is the recipe I'm using.  I confess I ate the green beans already after I took the picture, so I'll get out another vegetable tomorrow.  This is very quick to make after work.
Tuesday:  Roast in the Crock Pot.  I will either do the pork or beef, whichever one I find on top or at the front of the freezer.  We have a couple of appointments on Tuesday, one is in the late afternoon.
Wednesday:  Leftovers.  I have green chicken chili, and turkey-rice soup and I work late that day.
Thursday:  Lovana's choice.  It's been Mexican food for the last 3-4 weeks, so I'm guessing Mexican…..?   Who knows, I might be surprised.  I chuckle because when my mom wanted me to cook, I would take the leftover roast beef from Sunday dinner and make French Dip–every single Monday–as my meal.  She though I was being difficult because she wanted me to practice cooking lots of recipes, but I really, truly, loved French Dip and still love it to this day.  So, I just let her make Mexican every week, my only rule is that we have to have the ingredients in the pantry or freezer.
Friday:   My mom and aunt are coming to help me clean, sort, etc.  I want soup in the crock pot for lunch and will serve leftovers for dinner since we have a late afternoon caseworker visit.  (Truly no pressure about getting the house pristine–this is our dear Nicole who has been out of the office for 3 months–she's coming to see Patsy–not the house, and we are eager to see her.)
Saturday: Pizza.  We didn't make it this week, so still have all the toppings from last week.
Sunday:  Family dinner. Since this week's dinner was cancelled, the lasagna was frozen down there, the cake is frozen here–I will still make beans and salad.
As I was explaining to Patsy, the menu plan I write is mostly for my own benefit.  It helps me to have it written down in a place where I can refer to it easily.  When I have a busy week, like this one's shaping up to be, it keeps the whole week moving more smoothly.