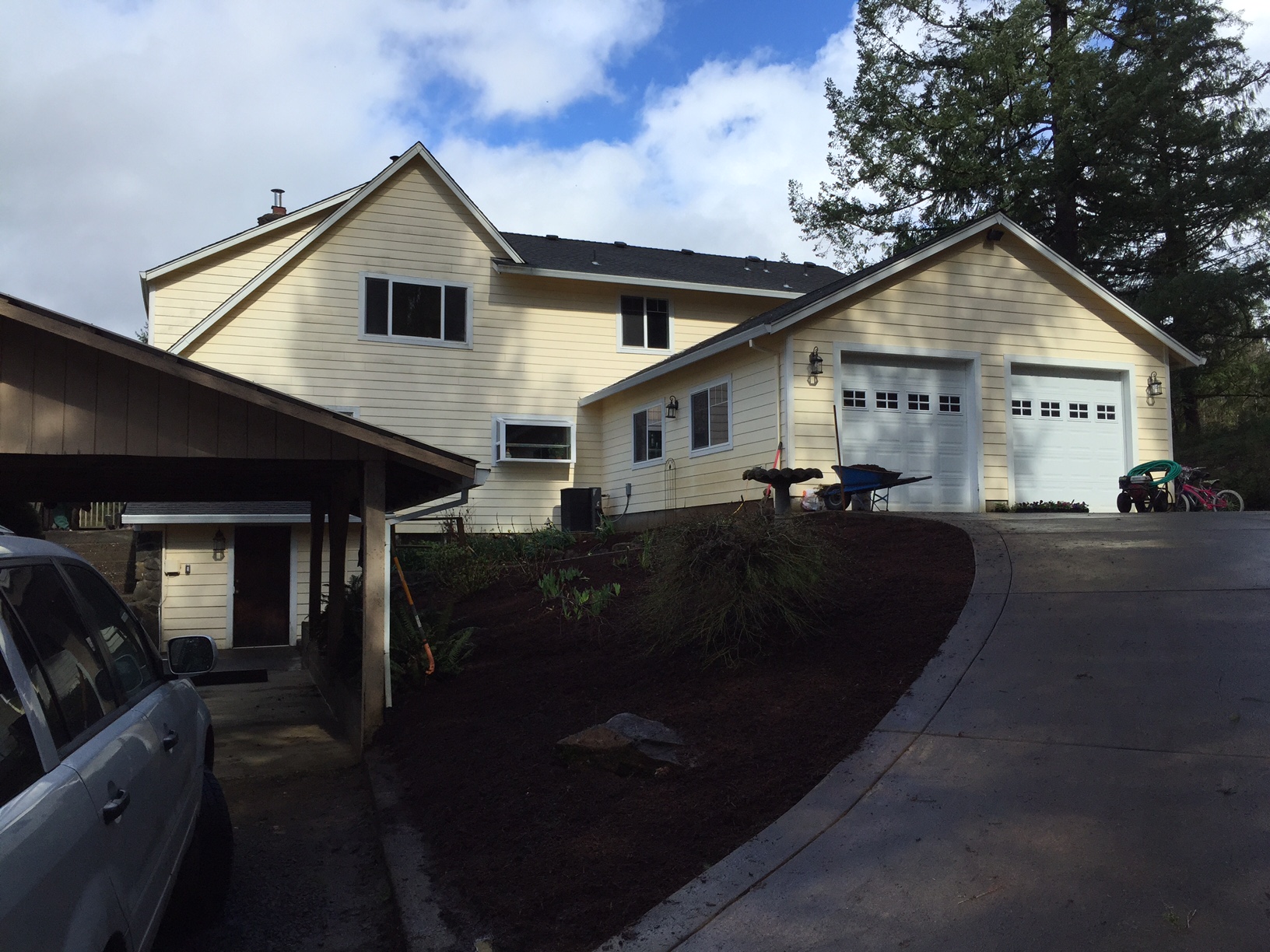 What a wild weekend!  The weather matched our weekend and went from this partially blue sky to pounding rain, a high-wind warning that only blew a little, hail, more driving rain, and a few minutes of sun.
In the midst of it all, we had around 45-50 people flow through our house during the past 4 days.  They were here to do as many jobs as they could so we could put the house on the market this week. Some were close friends.  Some were family. Some were complete strangers to us.  It was touching and amazing.   We made list after list of jobs that needed to be done.  Rob made one for outside and I made one for inside work.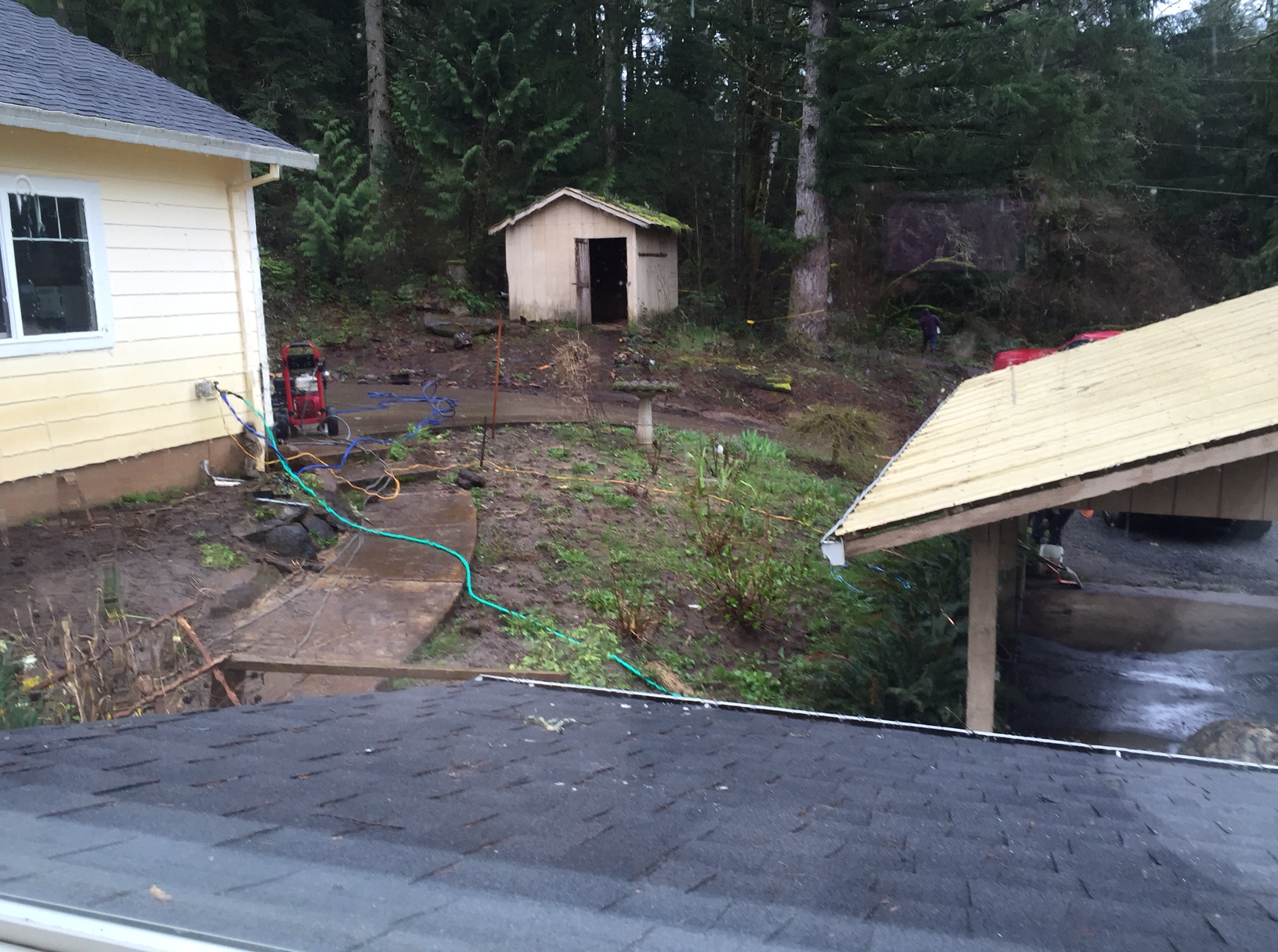 The entire house was pressure washed, including the driveway, carport, siding and roof.  The gutters were cleaned.  You can see how weedy the flowerbed was, and how wet and muddy everything is.  We were delighted when so many people decided to come anyway.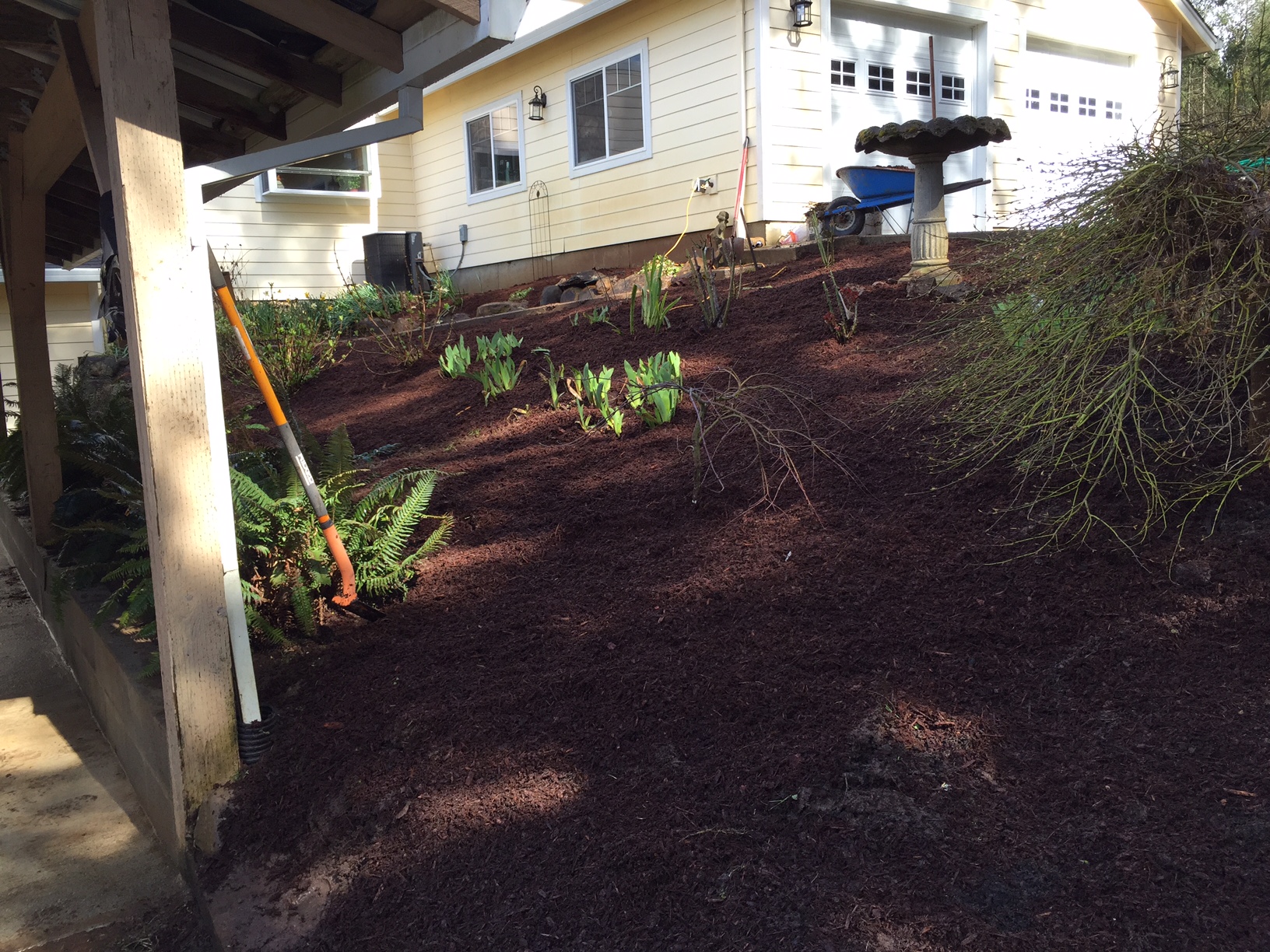 This is the same flowerbed a few hours later.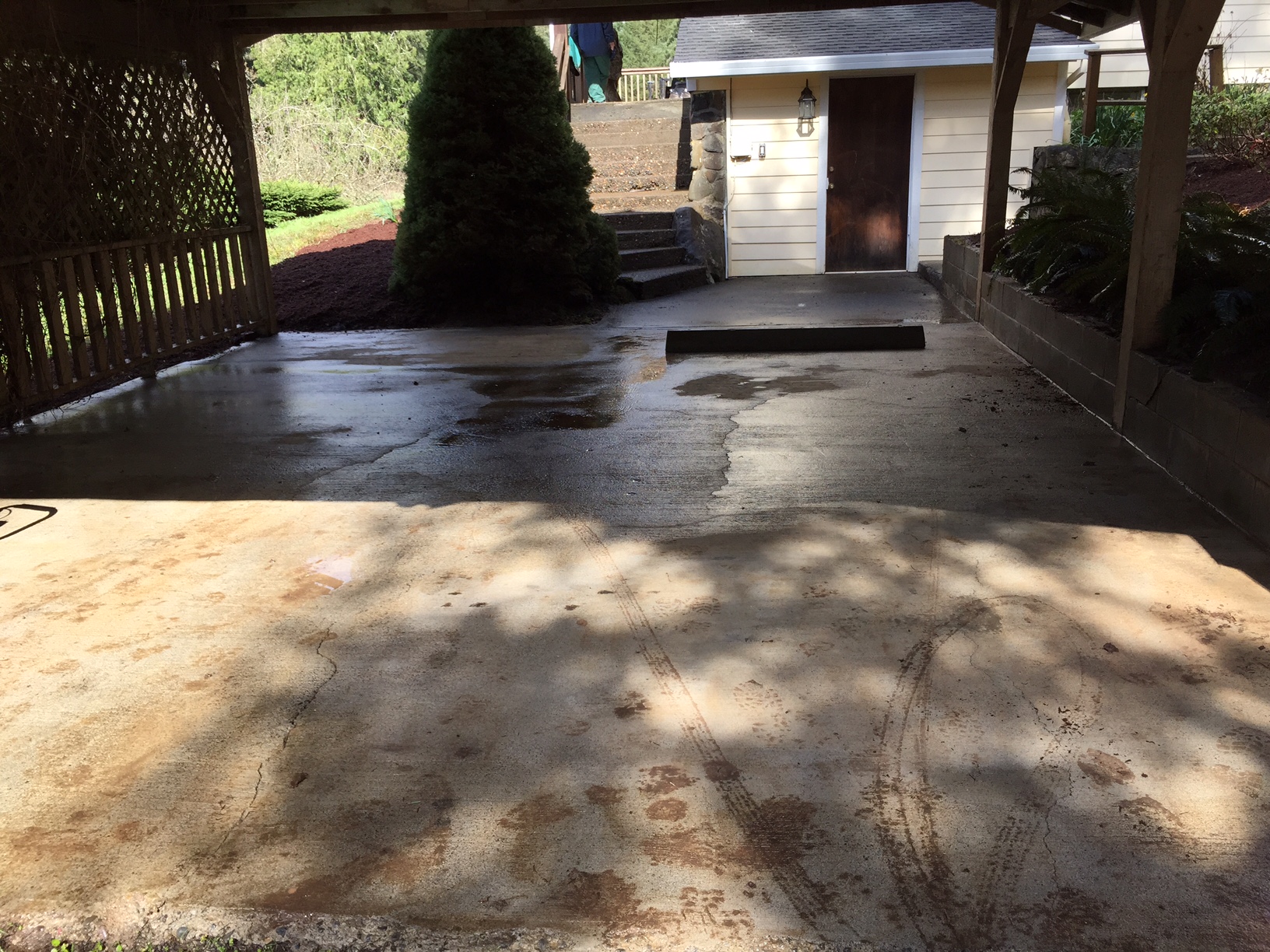 The carport is clean.   These pictures were taken during a small, small window of sunshine.  The rest of the day the people were drenched.  When lunch time came, many of them were so wet that they didn't want to come in for lunch.  We were able to put up card tables in the front room so they wouldn't need to worry about getting anything dirty. That floor can be mopped easily.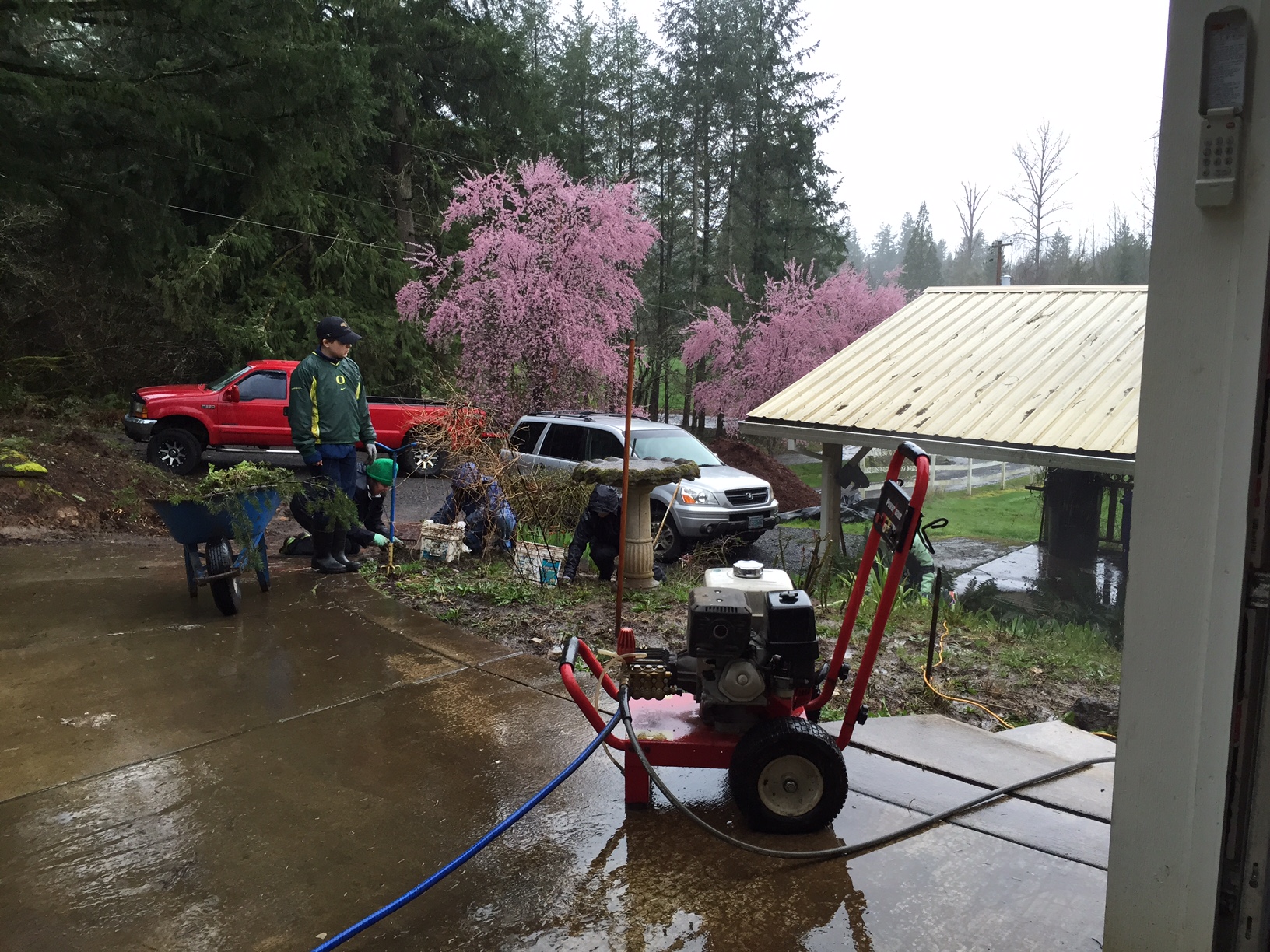 They even got the lower flowerbeds bark-dusted.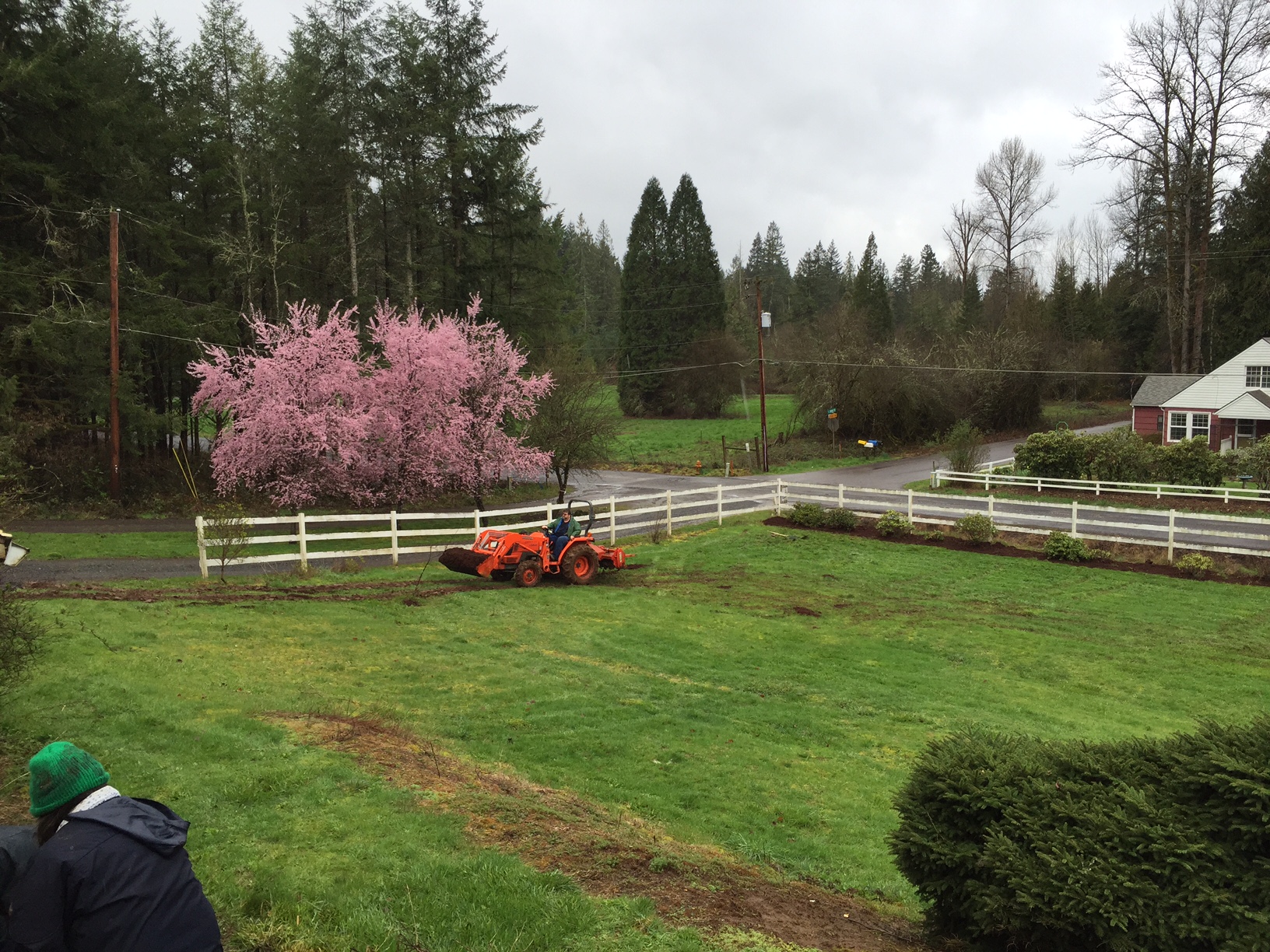 The lawn was mowed on Saturday, when it wasn't quite so wet.  There was also quite a bit of other outside work done, such as trash pick-up, a fence removed by the barn, a trash pile burned and then removed to look better, using the tractor.
In the meanwhile, the house was being cleaned from top to bottom on the inside.  We have been working on it for over 2 months, so this weekend was the time to finish things up.  The rooms were put into final order with lots of help.  I only got pictures of the upstairs so far.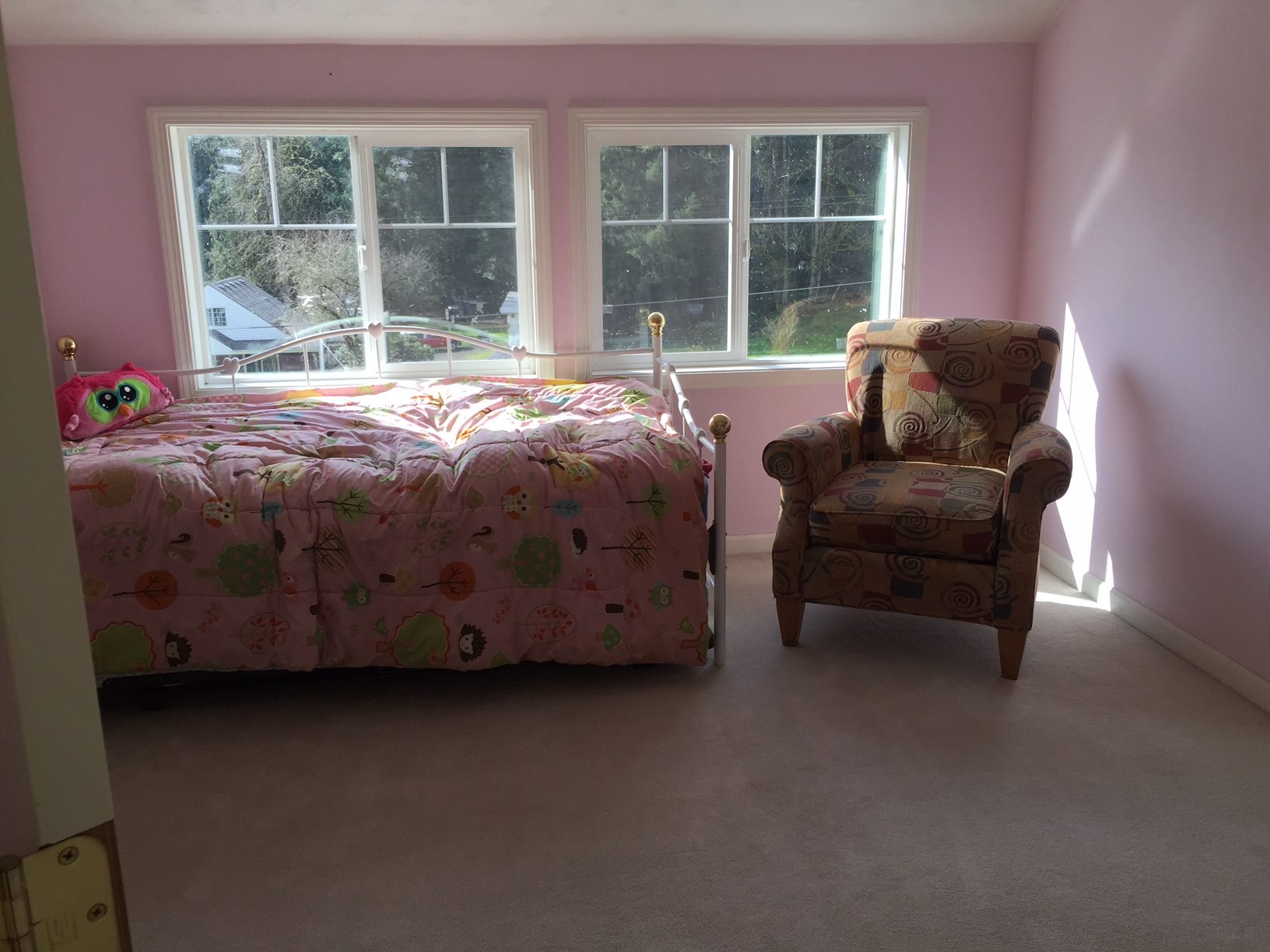 Ja'Ana's room, after Aunt Rosalie's magic touch.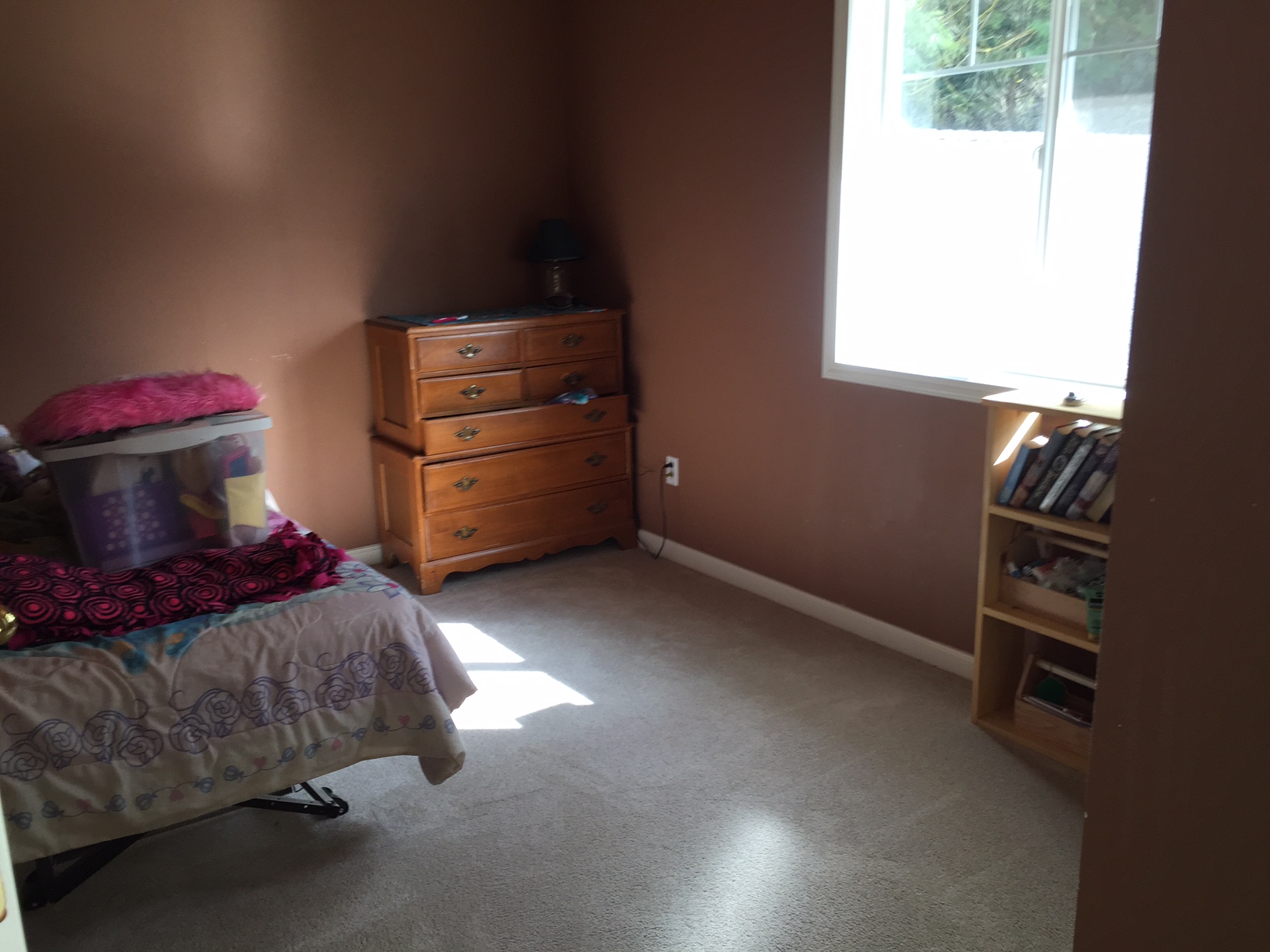 Patsy's room, after Auntie's magic touch!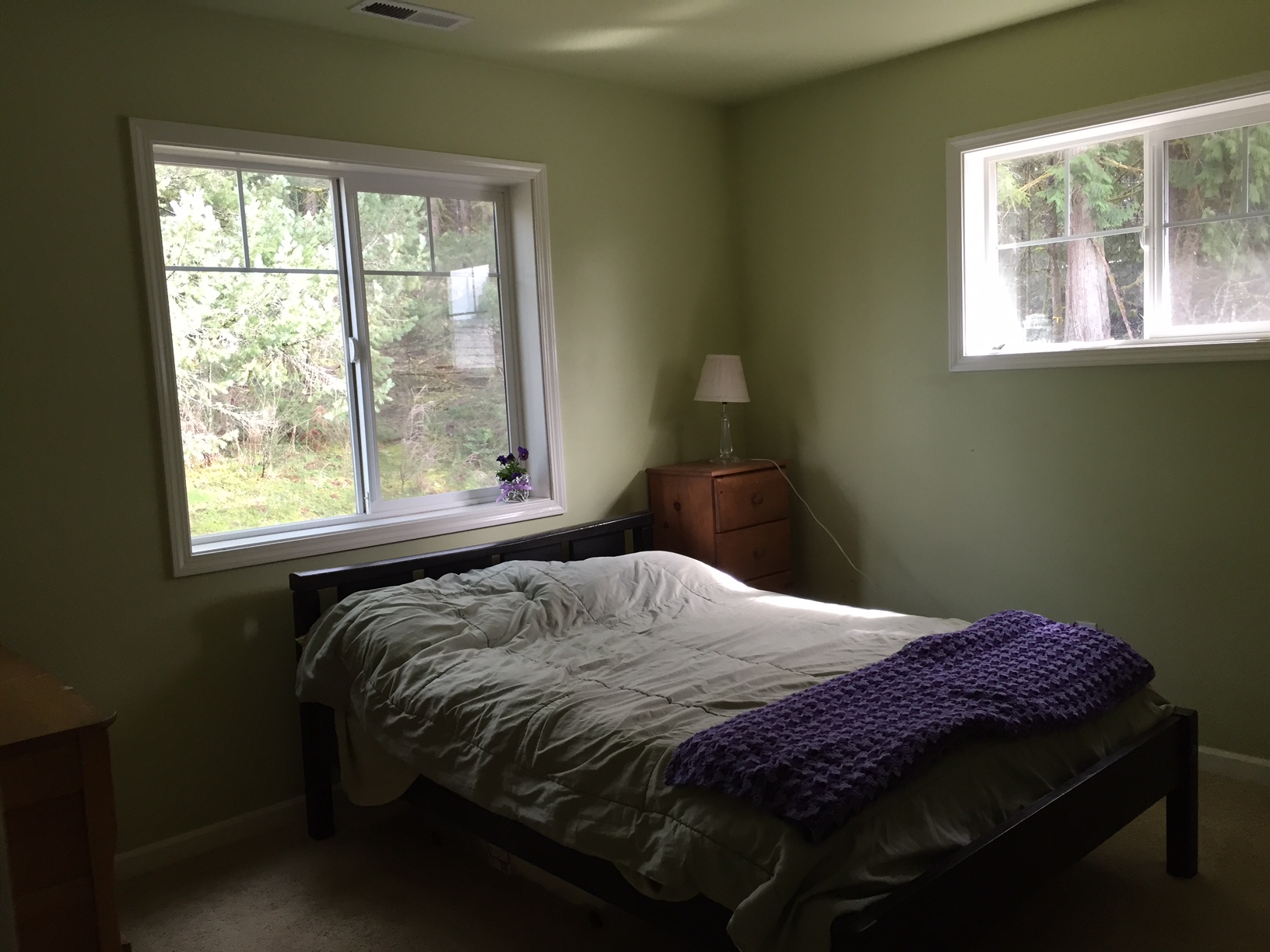 Lovana's room.  All the girls cleaned up as best as they could, then Aunt Rosalie came in behind them and organized any remaining clutter, washed windows and sills, and vacuumed and cleaned carpets.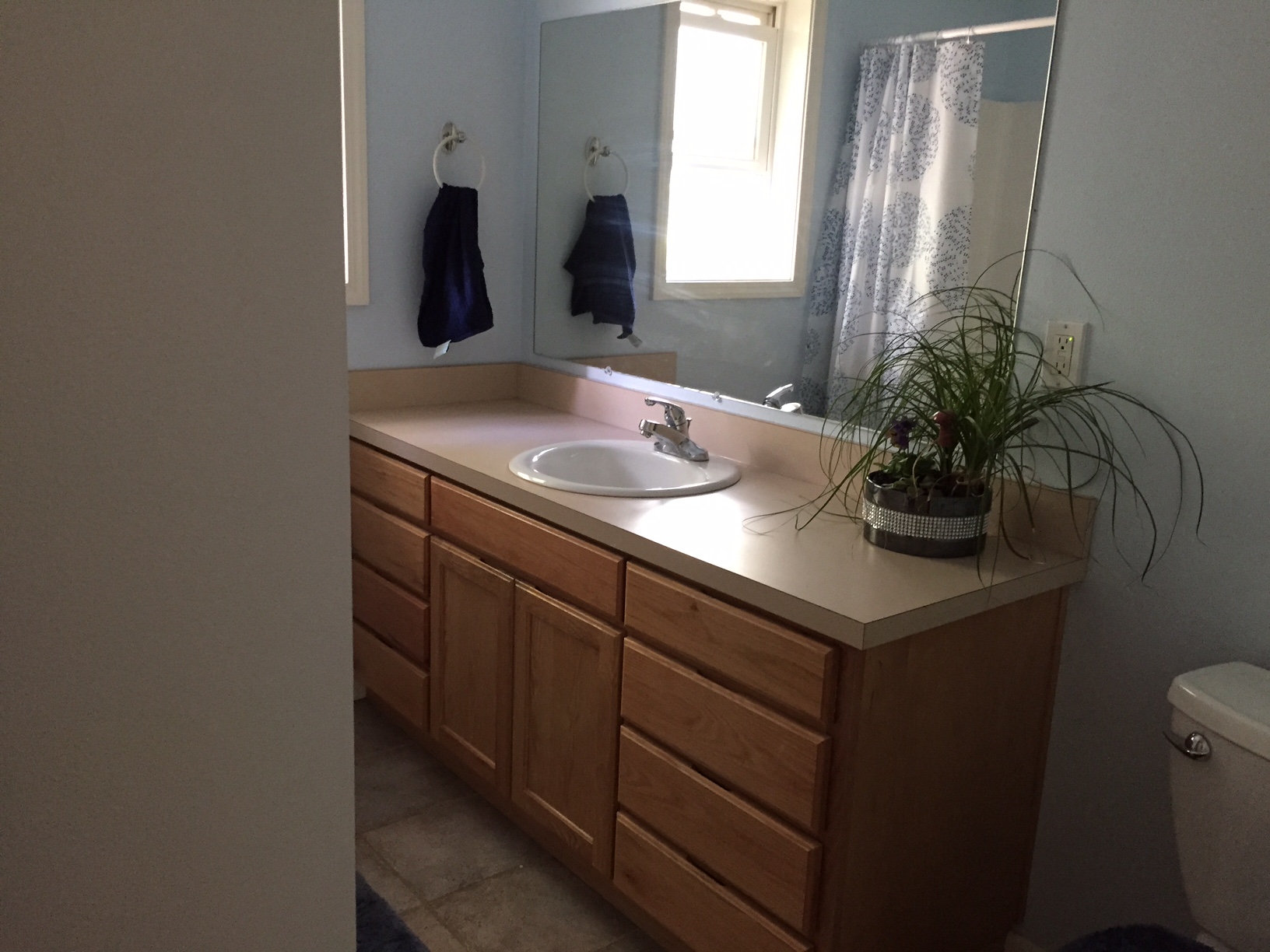 The freshly painted upstairs bathroom.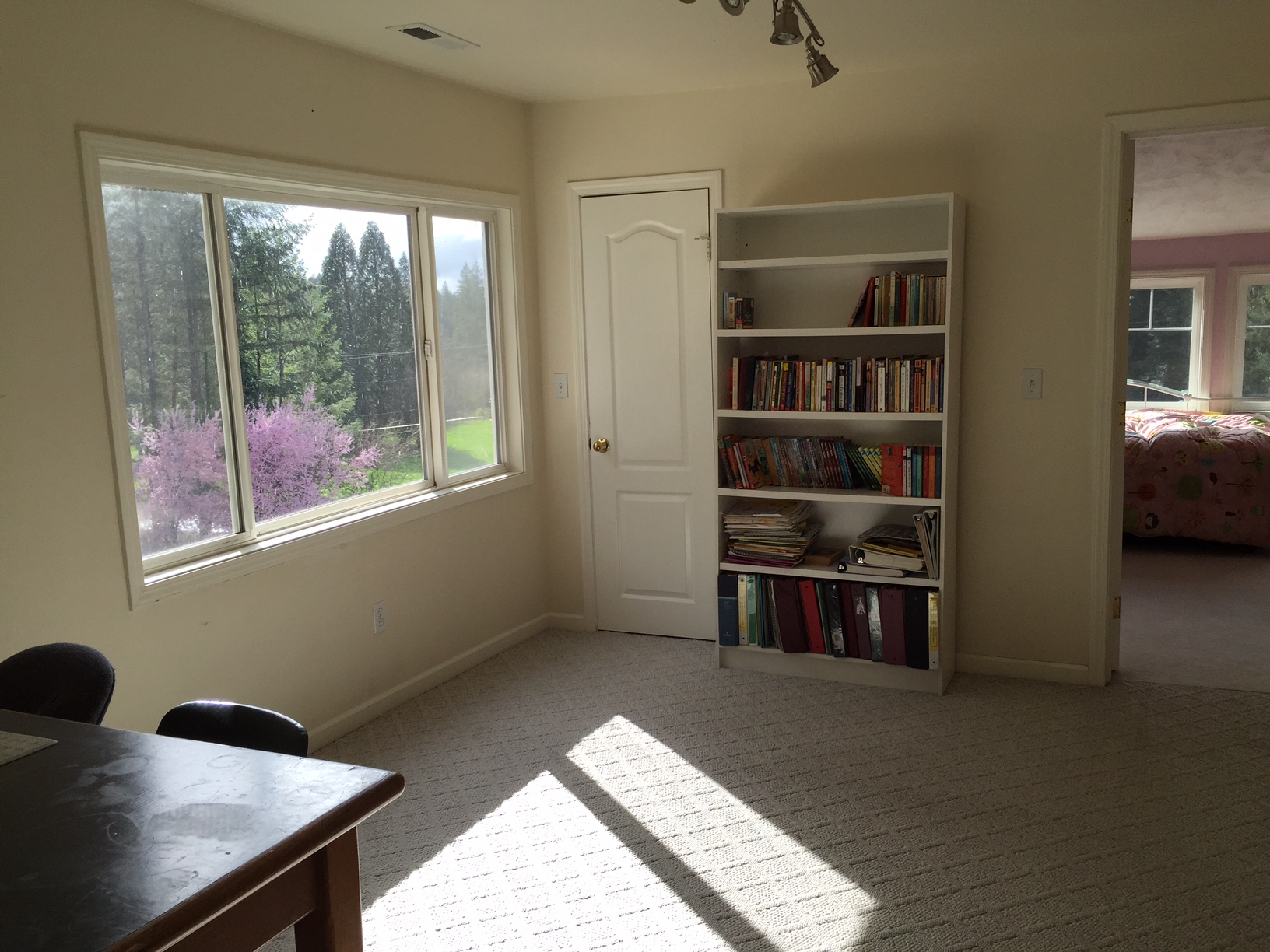 We call this the playroom.  It is an open room upstairs that we use for 4H sewing, crafts, etc.  I did not get a picture of the sewing room, but it's clean, too.
The downstairs got deep cleaned.  Cobwebs captured, baseboards scrubbed, walls wiped, smudges removed, windows washed, floors swept, the downstairs bathroom's paint touched up, and the kitchen cupboards were lemon-oiled.  A friend took charge of the laundry room, which had not been touched, yet, and organized it completely. I will try to capture some pictures of the downstairs tomorrow.
We made food for people.  Sunday, others brought some, too, which helped me tremendously.
Today, I could barely climb out of bed and go to work, I was so tired.  However, it is a grateful, happy tired that comes from a job well done.  Tomorrow, I will get up early and spiff things up downstairs (including mopping), and make sure everything gets put back correctly upstairs and down. Rob did do some bathroom cleaning and lots and lots of laundry today, so we can hide it in drawers, etc., and not have big baskets of it sitting around. I even took a bunch of clothes out to the camper for our upcoming camping trip.  They will not be seen there.  Less is more, they say, when it comes to listing a house.
A photographer will be here at 11 am in the morning.  I keep seeing more things that could be cleaned, but it's good to have a deadline or I would probably keep cleaning forever:)