When we moved into this new house, we were delighted to find berry bushes growing in the garden.  They are a blackberry of some sort, probably Marion berries, according to the old owner's daughter.  They were growing up against the fence, and clearly had not been trimmed for a while.  Since there were quite a few chopped off pieces on the ground on the neighbor's side of the fence, we concluded that he probably did not care to have them growing through to his side.  Also, we could not access the back side of the berries.  So, we decided to move them a couple of feet out away from the fence.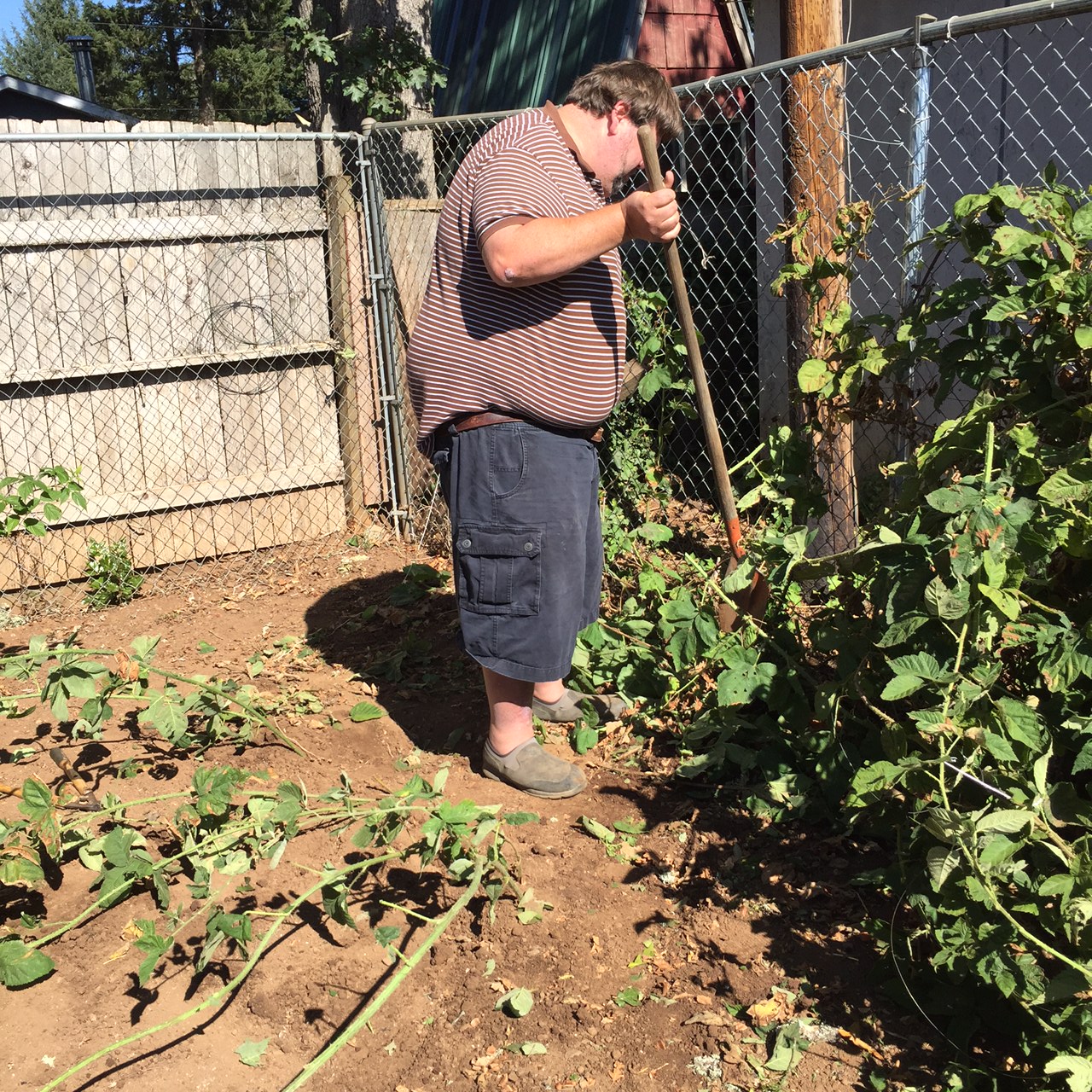 We started by digging up clumps of new, fresh vines.  They were a nice bright green color, and we left the old, gray-brown ones to be taken away.  We tried to make sure there was a nice clump of roots on each one we kept, and some even had a new bud growing.  Rob, Lovana and myself all had plenty of turns digging.  Once a good start was dug up, we planted it in the dirt and laid the vines out away from where we were working.  What we did not want or need, we put in the yard debris can.  We anticipate that the roots of the old vines will send out new shoots and we will need to kill them, but it sure looks great now.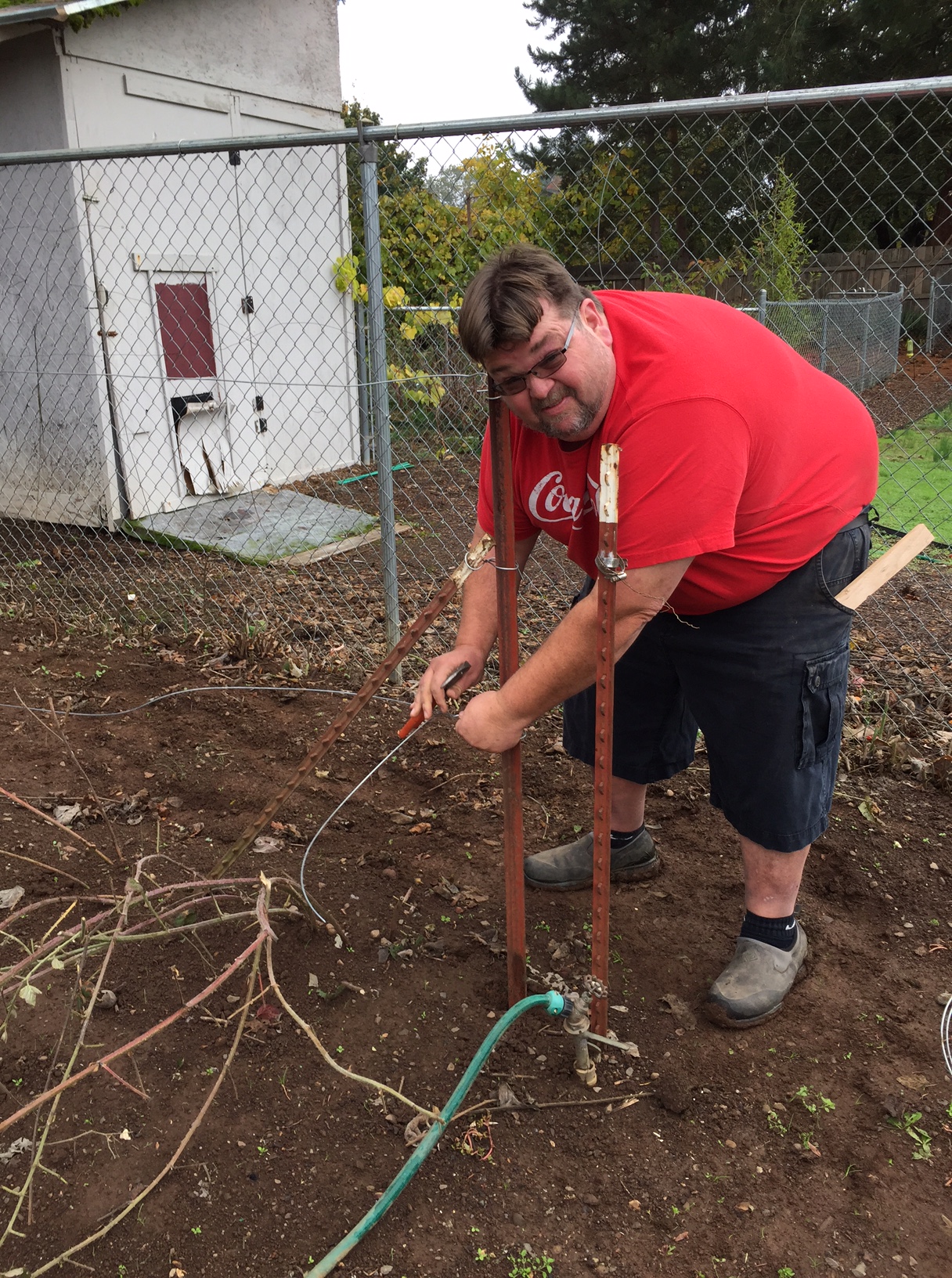 A week or two passed, with plenty of rain to keep them alive.  Rob went up to my sister's farm and grabbed a few fence posts we had stored there, and got some wire.  Today was nice and he pounded those fence posts into the ground and strung the wire between the posts.  He put several posts in the row, about 5 feet apart, and strung a low wire and a higher one.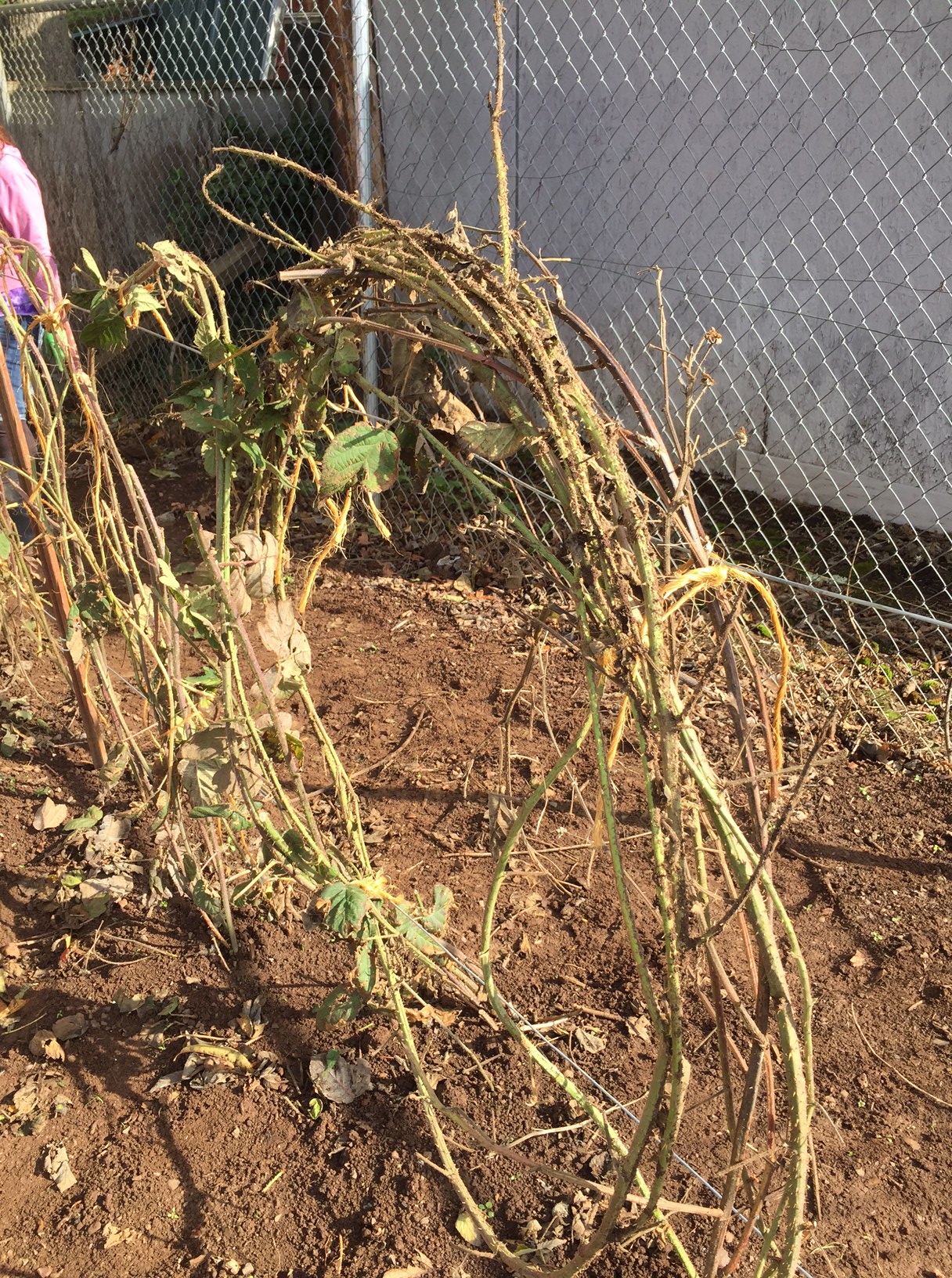 Then Patsy and I tied them up with baling twine.  We tied each group of berries up to the lower and higher wire, and whenever the vines were long, tied them into a circle, using the wires to support them.  Next spring, they will fill out and make a nice barrier between us and the neighbor, be where we want them, and easy to pick.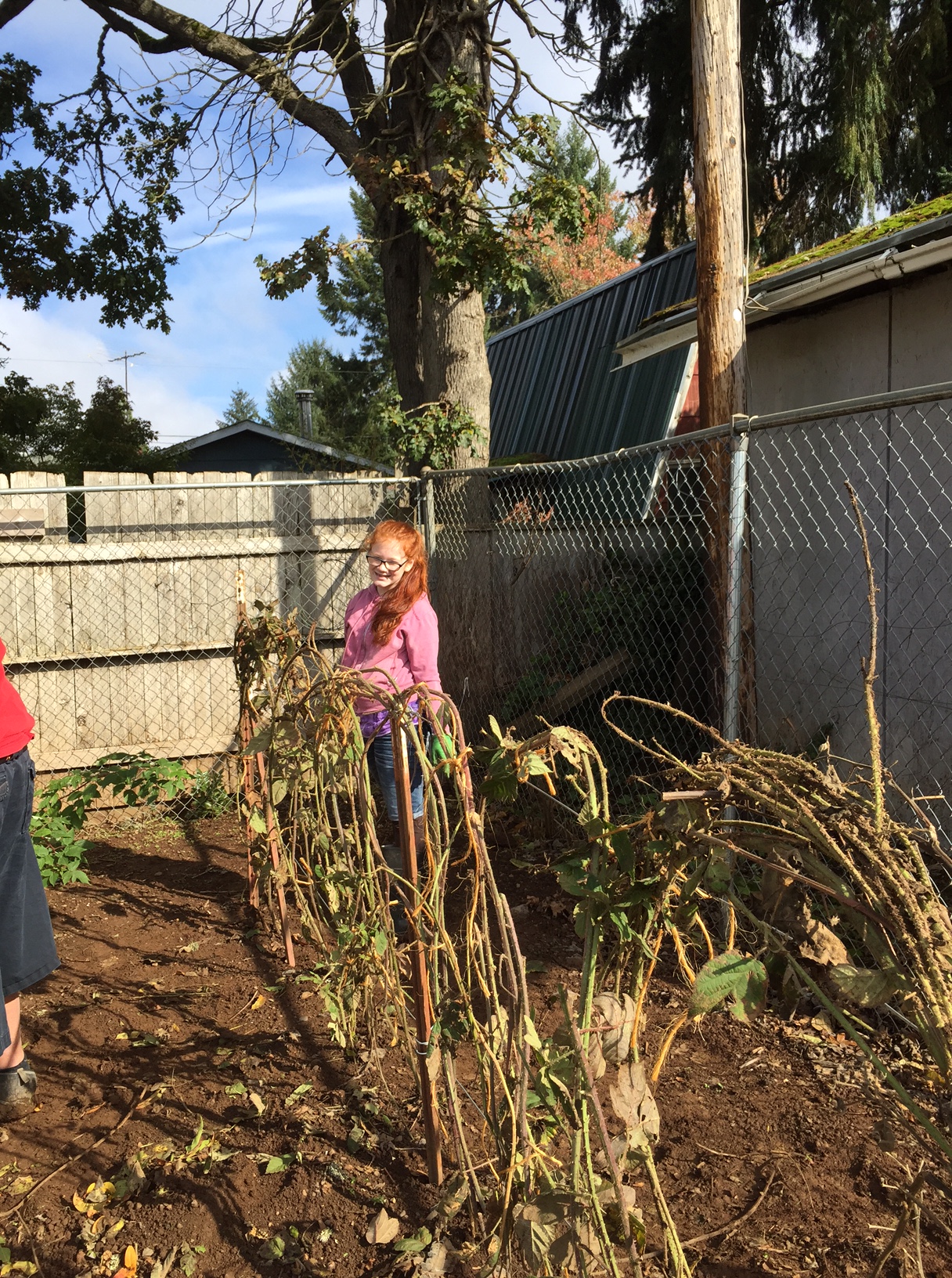 It looks amazing!  As we were doing that, Rob was over on the left pounding in a few more posts for some raspberry plants I dug up at my old house.  My aunt kindly kept them all summer under her automatic sprinklers.  I got 6 good root "clumps" from my pot.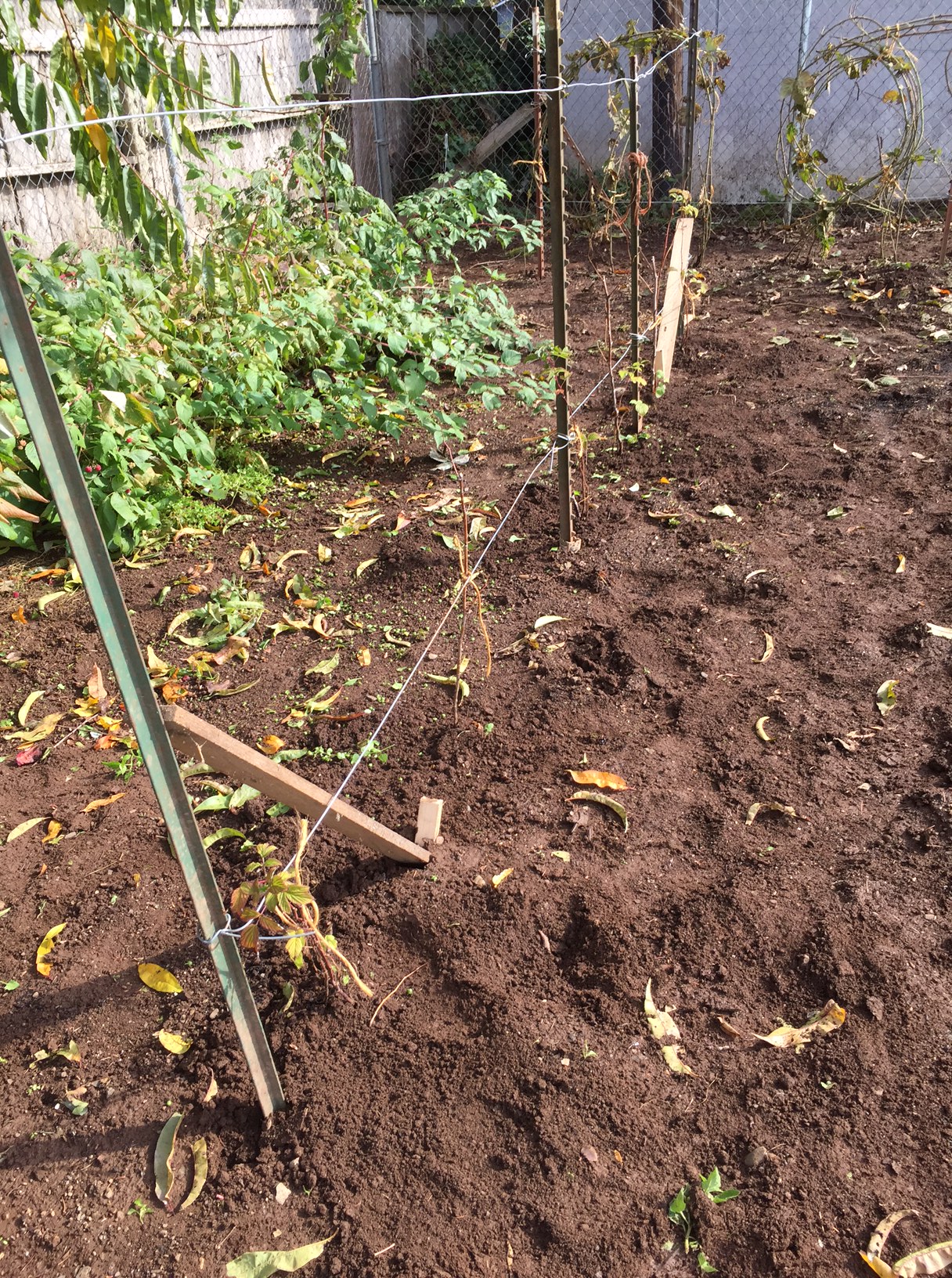 He strung wires for them, too, and I planted them.  They are really small after a summer crammed into a pot, but we will see how they do.  I have high hopes.
We both felt really good about getting these jobs done.   I don't think I'll harvest much next summer, but in a couple of years………YUM!  (The berries in the background are a project for another day–they are everbearing raspberries that were here–I need to trim and tie them up, and Rob needs to put in a better wire and maybe some more posts.  They don't have as much flavor as my old berries, so I am super happy some of mine survived.)  It was great to get a nice day on a day we did not need to work.