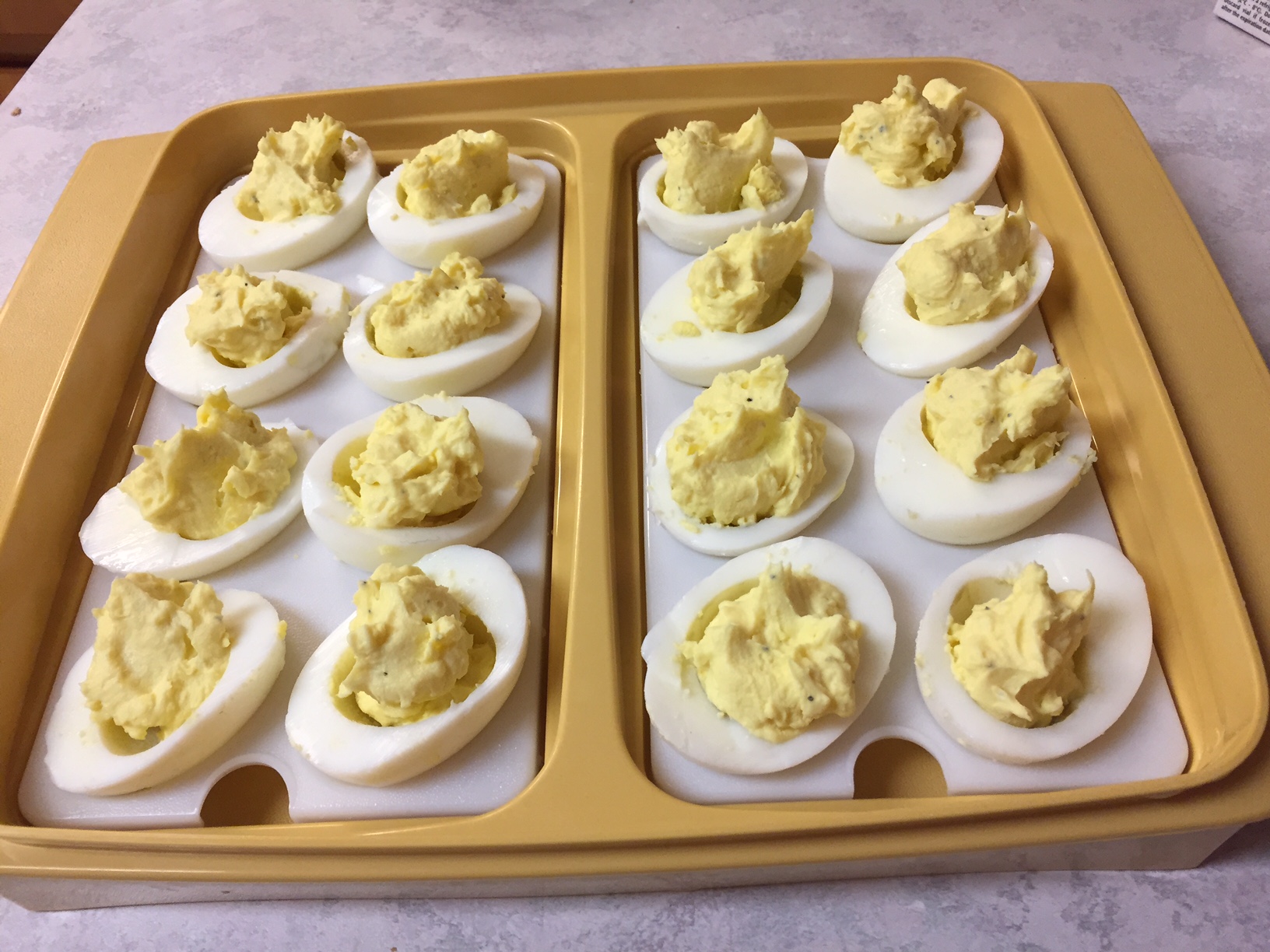 Eggs were on sale for 99c/dozen at the store 2 blocks from our house.  So, tonight, when we had company, I served up deviled eggs, soup, veggies, rolls they brought, and ice cream.  I was so happy to easily serve 14, a nice practice run for Thanksgiving, where there will be only a few more than that.  It was great to see our friends.   Different sets of friends are slowly making it down to visit us in our new home, and we are super excited to see them when they come.
I got milk for 99c for 1/2 gallon, corn chips for 88c per bag and a few other items at Fred Meyers.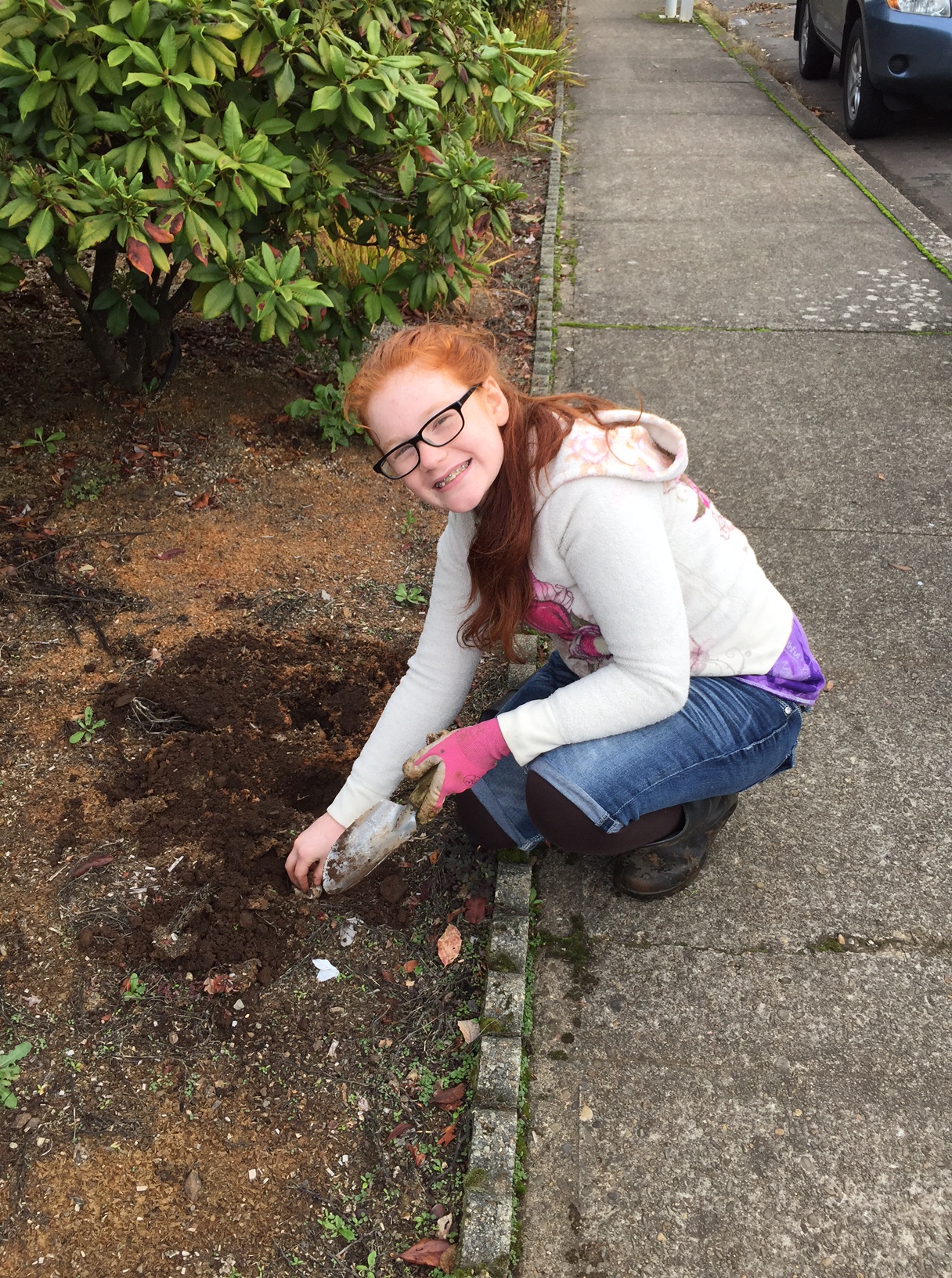 During the summer, my sister had Ja'Ana and Alissa dig up a flower bed for her, removing many bulbs.  She shared a bucket full with us.  On Saturday,  Patsy planted a bunch of them near the sidewalk.  There is nothing but a big blank area that gets really dry in the summer, so it will be perfect for bulbs.  There are still some left, but a lot got planted.  It should be a lovely splash of color for absolutely free.  Rob got a lawnmower and mowed the lawn for the first time since we moved here, so things are looking good.  We've had such a lot of stormy weather and were glad to get a nice day.
J had a chance to go with the youth group to remove a tree that had fallen in the recent storm.  The kids were paid into a fund that will be applied towards the next youth group outing they want to attend.  Win-win!
I worked a lot last week, which will translate into a bit more $.  This week will be easier on me, and I have a lot to do around here, so that's ok.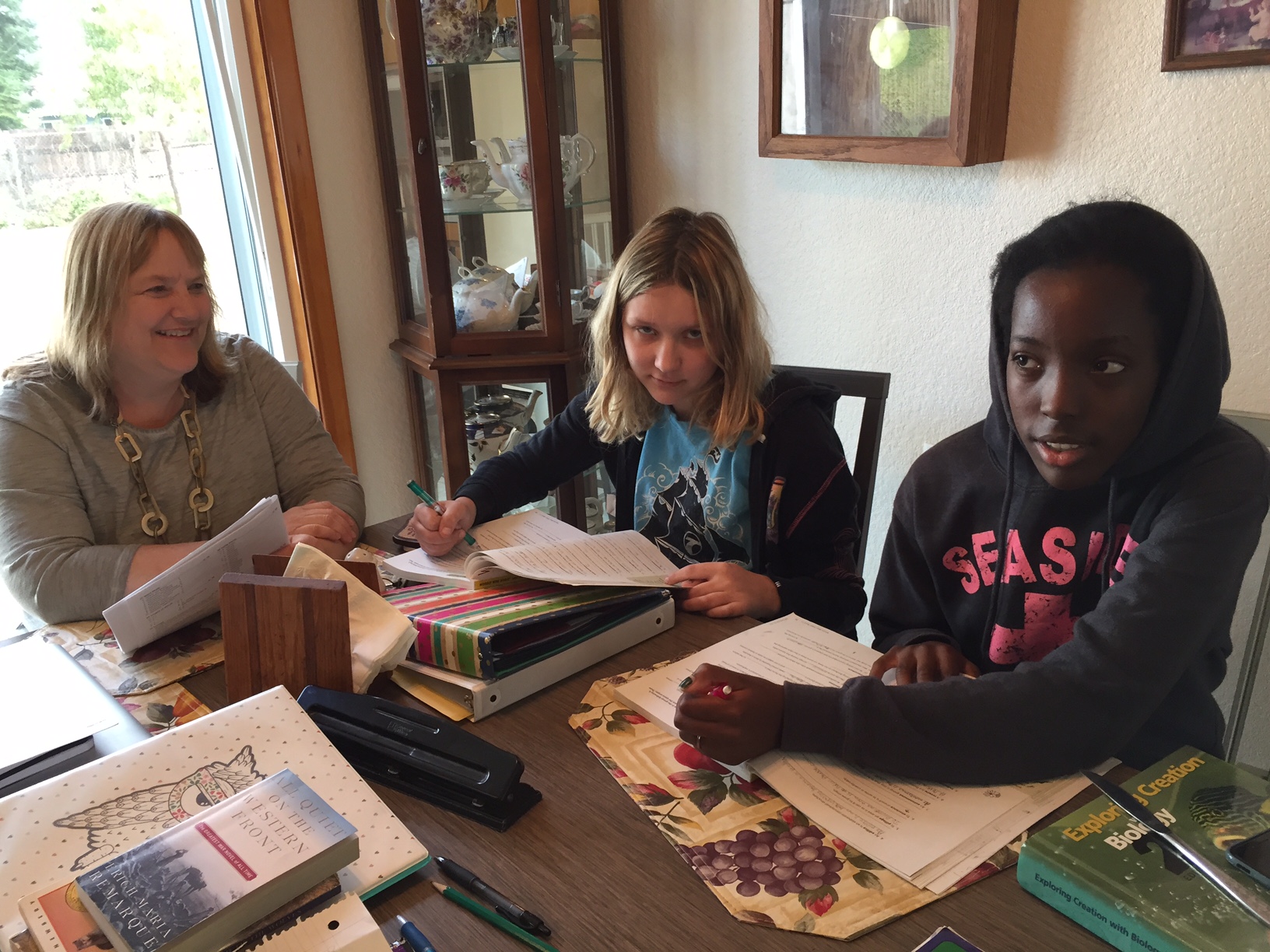 My sister was able to come do school with the girls one whole day.  Of course she wants to be as involved as she can with her daughter's education.   Get a load of those expressions!  The girls clearly didn't know what to do with both of us teaching them at the same time:)  Truly, it was awesome.  I was able to show her what they were doing, and how to do it, and she did some of the reading while I did laundry.   We are settling into routines now.  My brother-in-law started geometry and conversational Spanish with the girls last week and they are off to a great start.  I have assignments to help them do Monday, and he will work with them after work on Tuesday and give us some more to have done by Friday.  They have both done Spanish before, so he is talking to them at length (like an hour at a time) and giving them little assignments to do in-between when he works with them.  I'm keeping Language Arts, History, Vocabulary, and Biology going.  Also, I'm handling the Home Economics.  We are all working on field trips, Rob included.  Between us all, these girls are going to get educated!  Even if it kills them:)
Rob's job keeps changing a little each week.  The first child he was originally hired for has moved on to another school.  We are happy that they kept Rob on at the same school.  For a while there, we were not sure if they could.  So, they changed him to another child, and then another.  He also rides the bus with yet another child, and this one gets on near our house, which saves him gas money.  He is still getting used to what he is supposed to be doing, but is getting the hang of it more and more each day.  He still has a job, and we can't wait to get paid for the first time in a long time.  So, that's going well.