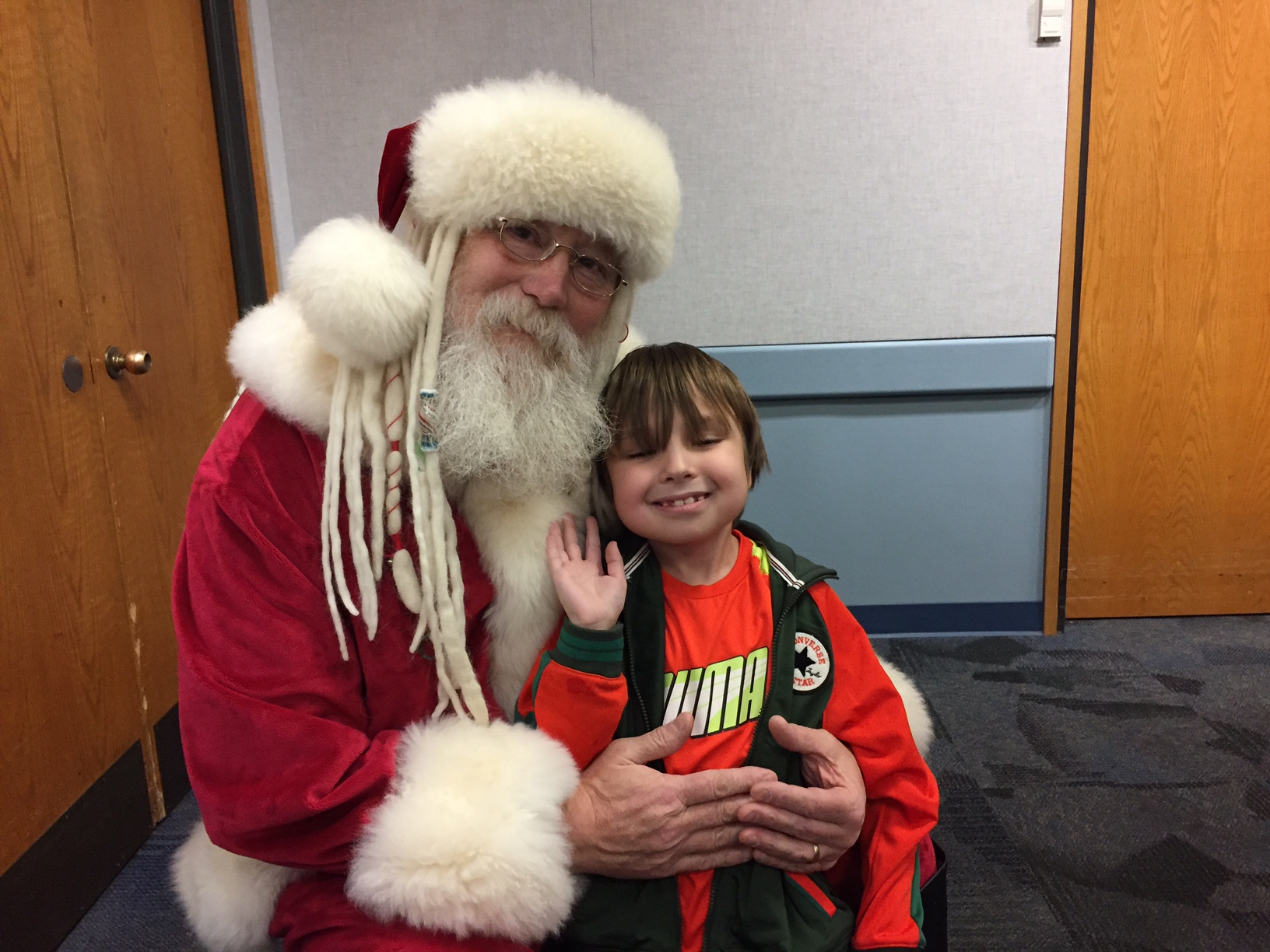 The last 2 days have been busy, and full.  On Wednesday, Rob helped my niece, Rachel,  move home to her parents' house.  She is leaving on a big adventure to Ireland in January and does not want to keep her apartment for the 6 months she will be gone.  He kept our girls occupied with that project and some errands, and I kept Jake occupied.  We hung around his house all day.  Since Jake's big sister came home from college late, late at night Tuesday, all of the big girls were exhausted, since they had gone to get her from the airport.  Jake did not go.   So, he kept me busy.
I had him do his usual chores, eat his breakfast, get dressed, etc.  Then, we did crafts and played with trucks, Legos, read stories and played games.  (I will say that his rules are definitely his own, but since I don't care if I win, it works for me better than it does for Patsy, for instance.   We use various cars and little trains for markers. We have to drive them along in a certain way that only he knows and the rules change every minute.  About 1/2 way through the game, he is done, but as long as he had fun….)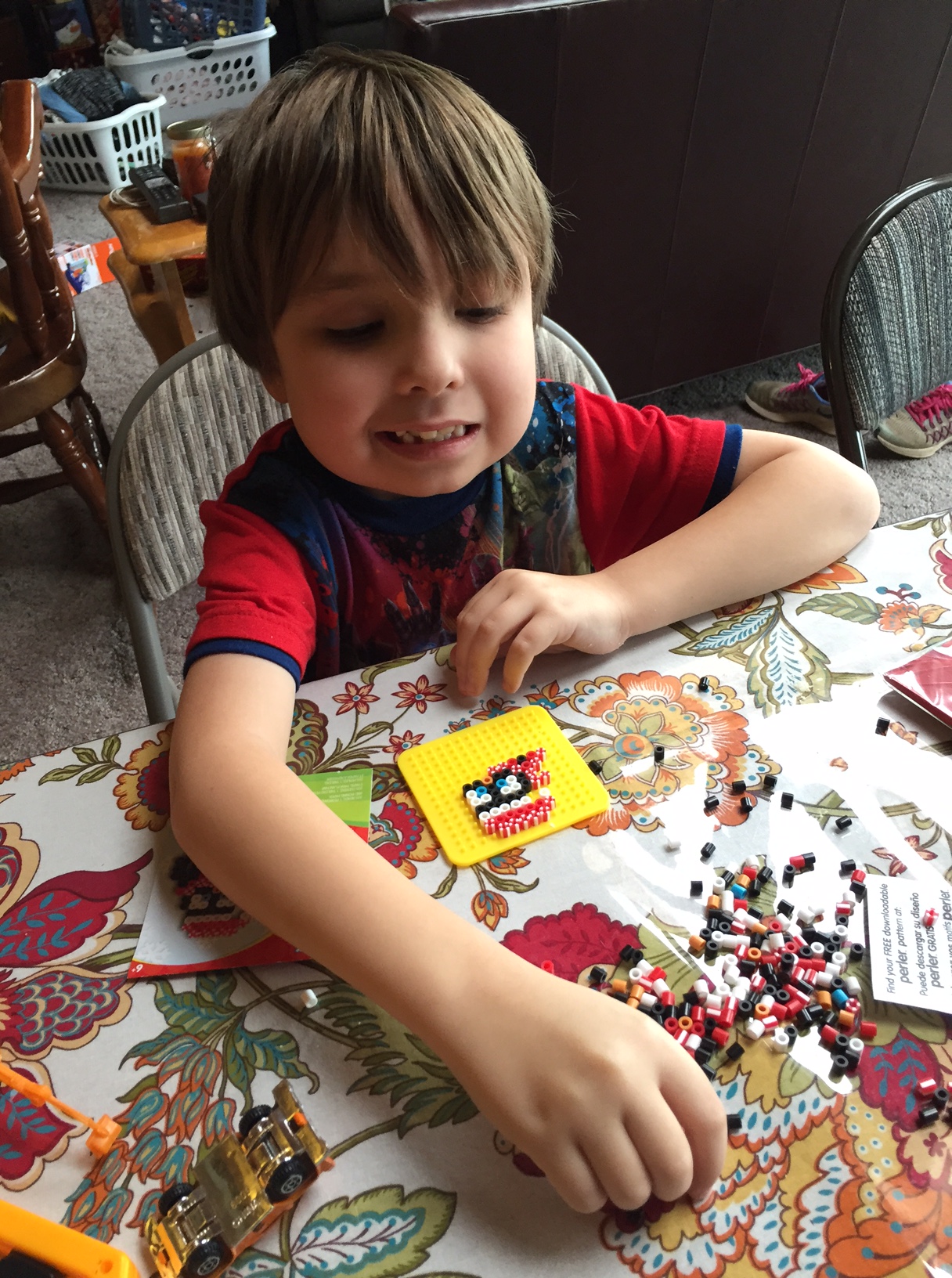 I've been having him try the Perler bead projects.  I was so proud of him. This penguin is the first one that no one had to finish for him.  He got it all!
Today, we did chores, etc., and some more crafts.  I had no idea he liked crafts so well.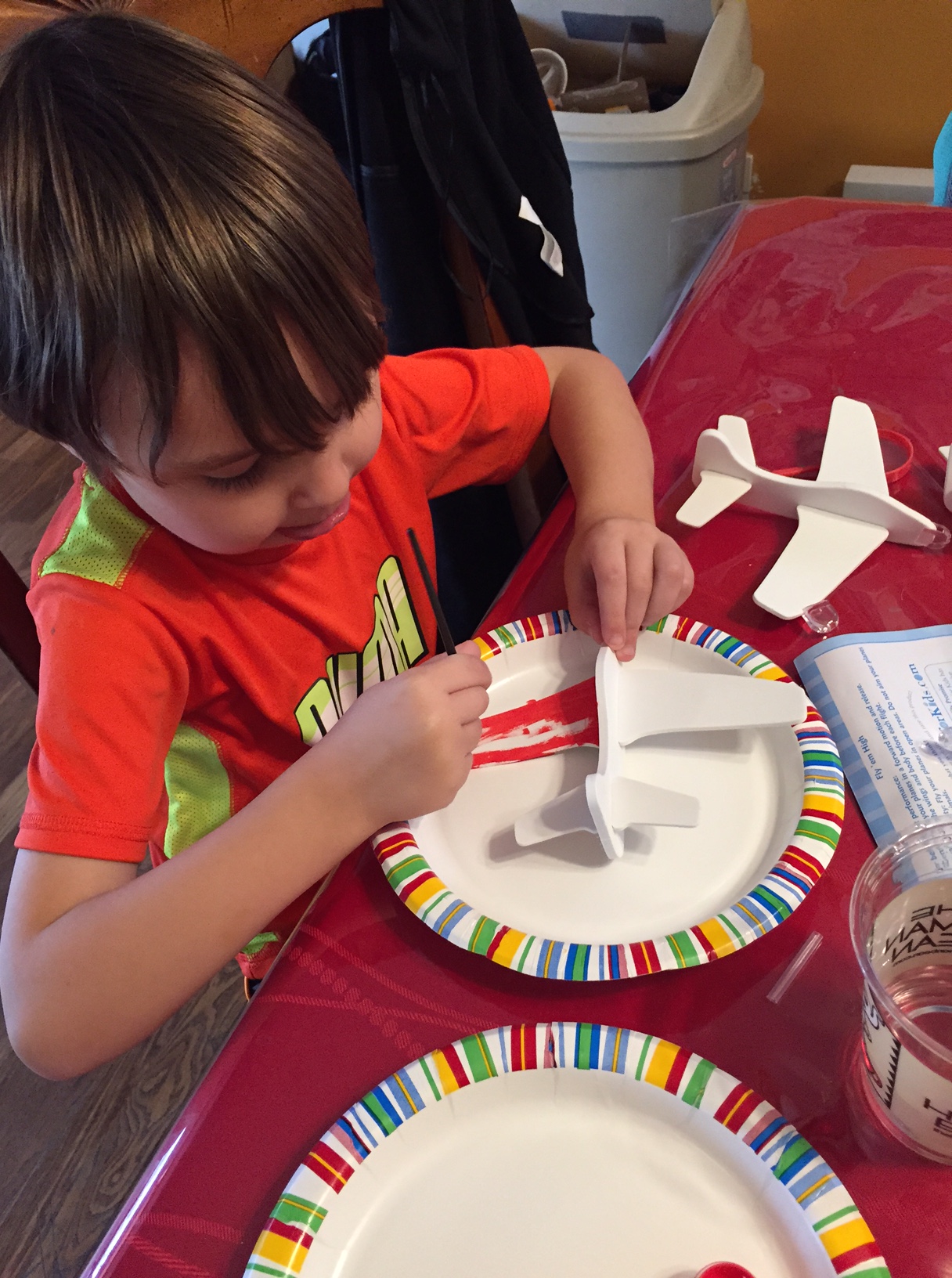 This is definitely the time to buy kid crafts.  I have been able to pick up several kits for 50% off, or even 60% off.  I shopped at JoAnn's and Michael's.  I got a lot of bang for my buck.  He wanted me to sit beside him most of the time, all day, both days, but it was mostly for company.  He loved doing the crafts.
So, this afternoon, Rob came, with the van,  and we went to the library where they were having an activity where kids could go from table to table making Christmas gifts.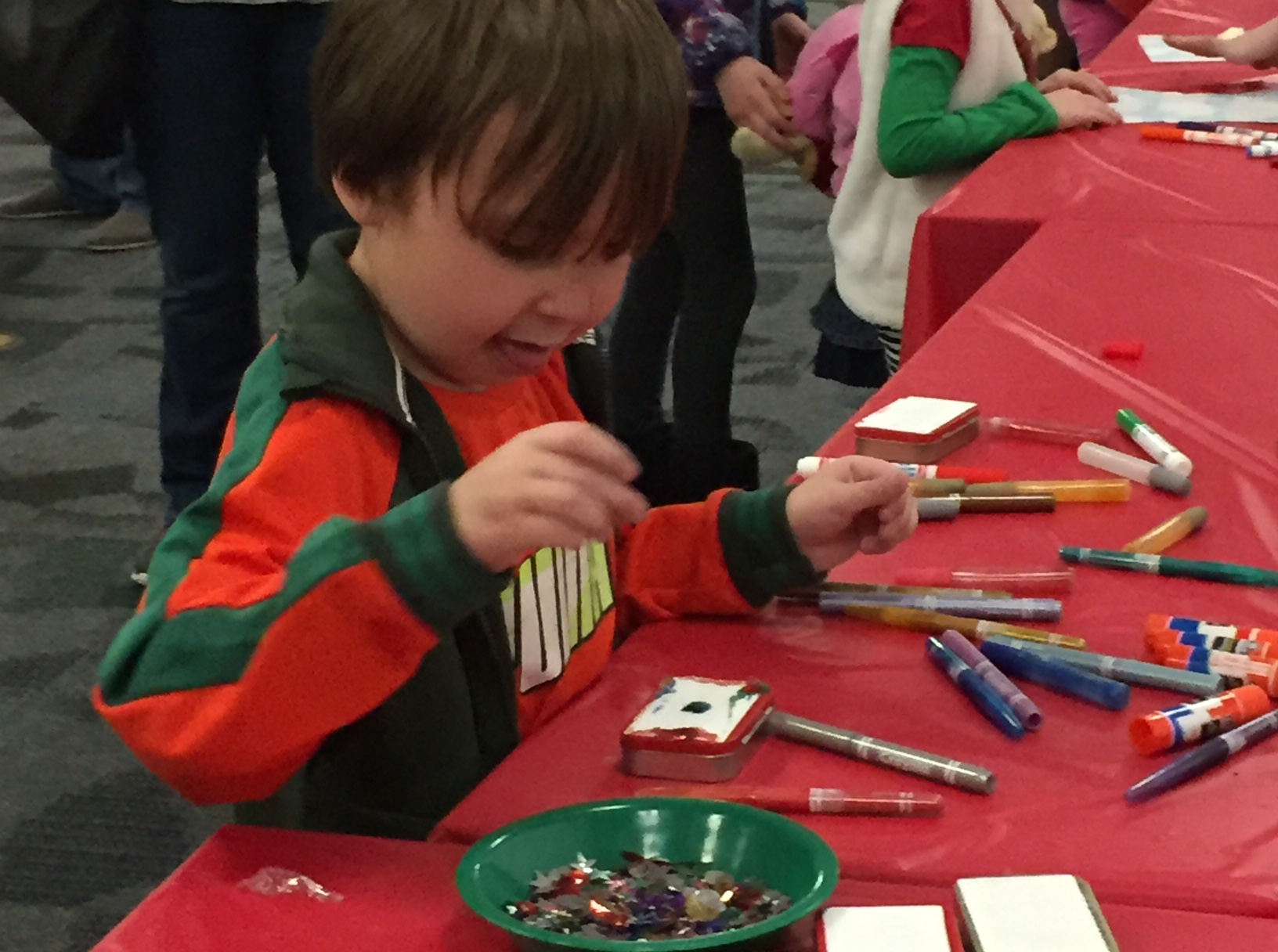 He made crafts until he had visited each station, and even made some things twice.  Who knew?  He also enjoyed visiting with Santa, who stopped by.  We even got an Amelia Bedelia book, as he has begun to enjoy that character.
While he and Patsy made crafts, the big girls (all 4), wandered through the huge library, enjoying themselves.  It was good to spend time with Caitlyn as she isn't home very often.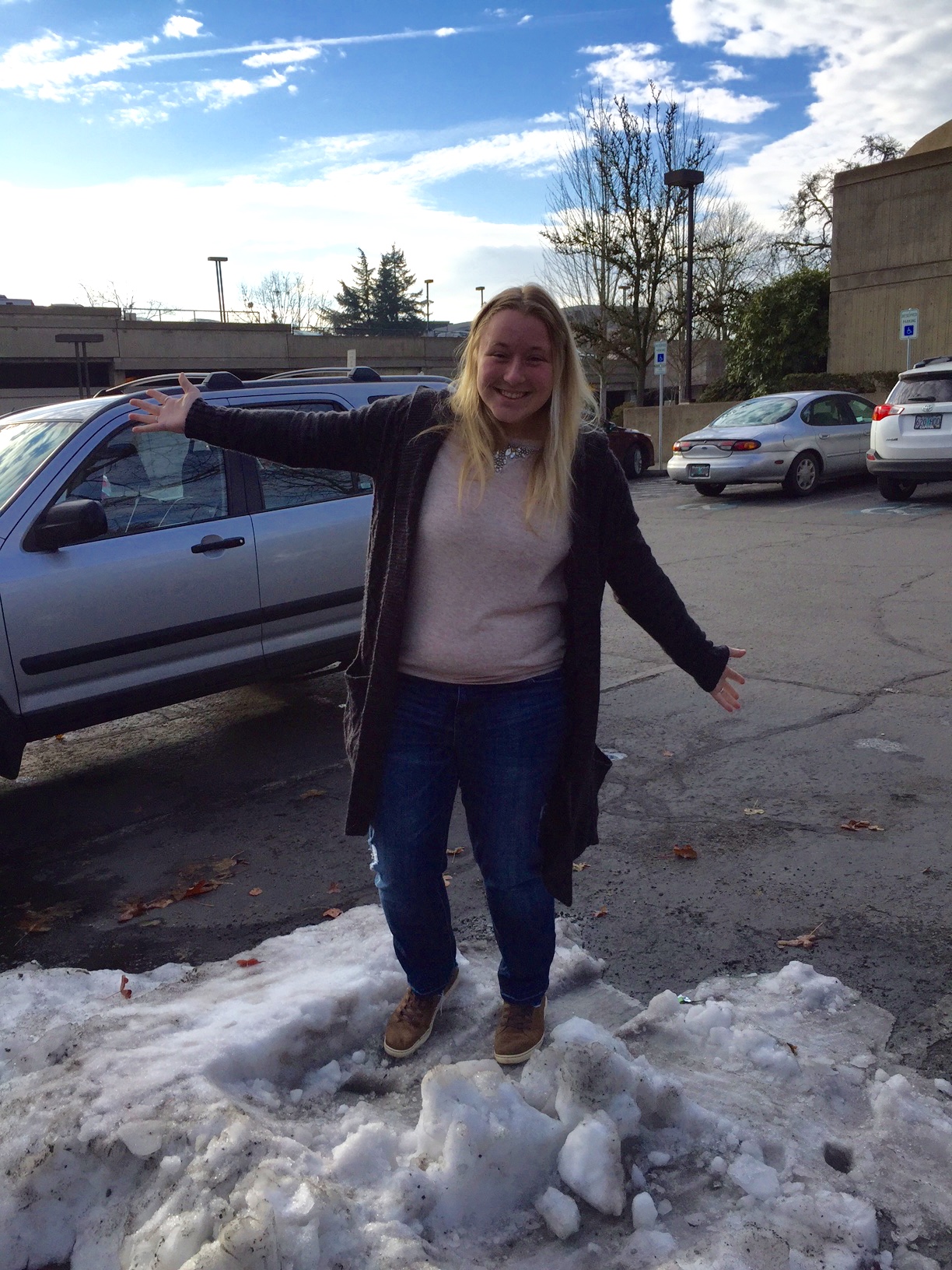 We couldn't resist a photo shoot in the remaining pile of snow in the library parking lot.  It's the closest she got to the fun of the big snow, since she goes to school in southern California.  The only piles left are where people plowed or shoveled it into heaps during the storm.  It worked for her!
Once we did an errand for Alissa, bought a few more crafts for tomorrow, the library, and picked up some photos Rob had ordered from Fred Myers, several hours had passed.  The afternoon was awesome, and I have to admit that french fries were involved.  Tomorrow, I will spend another day with the kids, again focusing on Jake, and then I have next week off from such structured activities.  We will still see one another, but their mom and day and big sister are going to keep Jake happy and busy since they all have the week off,and I've got a few things planned for Rob and my girls to do a few of the days, plus at least 2 family dinners.  Fun all around!