This morning, I got up early and started picking beans.  I got SO many, just like I was hoping to.  At 9, my mom and aunt showed up to help, with Jake and Michaela in tow.  While out in the garden, I took the opportunity to pick a few cucumbers, snow peas, zucchini.  Things are coming along nicely.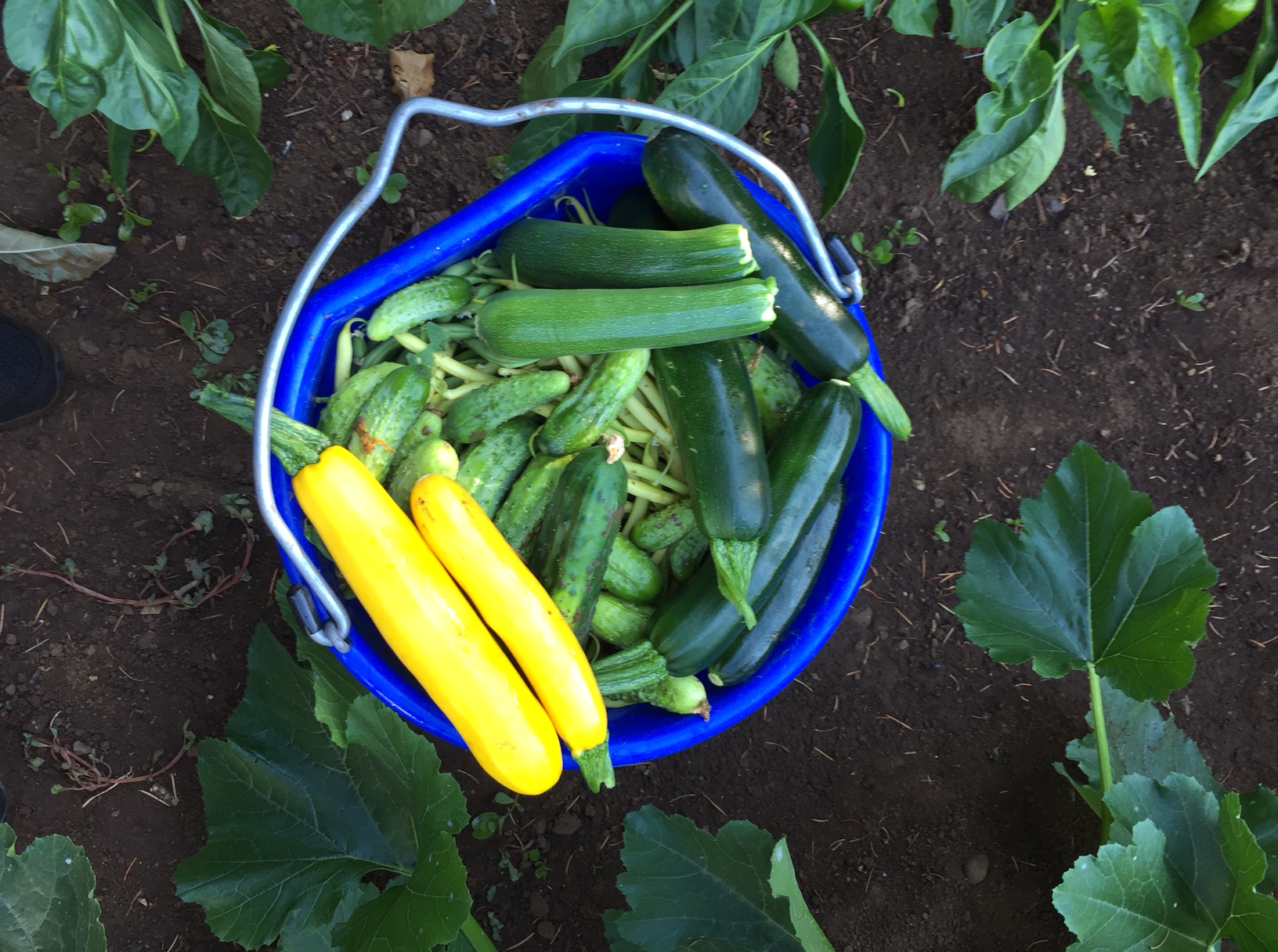 The bucket is full of beans, and the other veggies are just resting on top.  I had no time today for anything else, but tomorrow I'm going to see if there are enough cukes for a couple jars of pickles.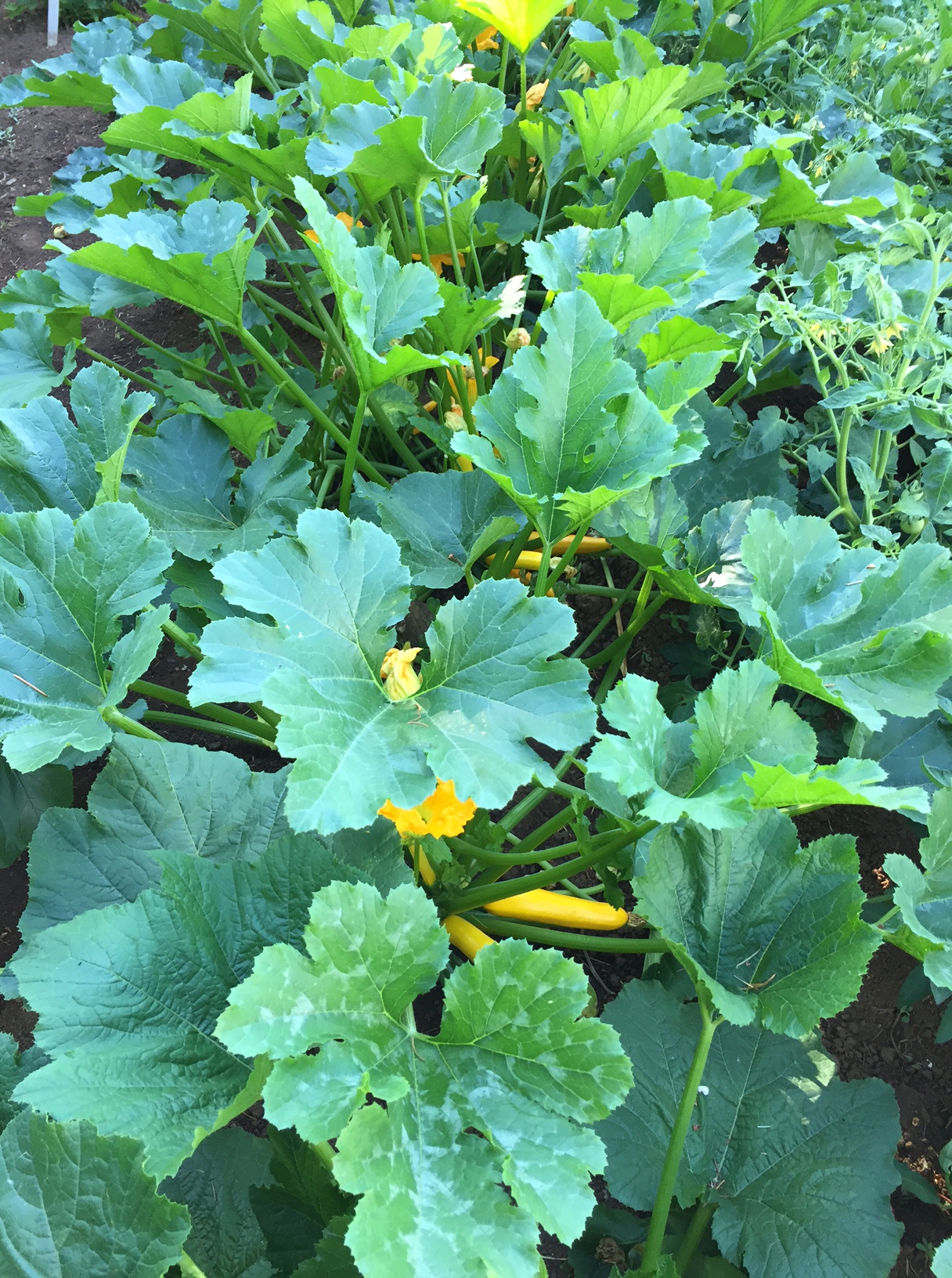 My pollination issue has been resolved:)  There are probably about 15-20 zucchinis forming!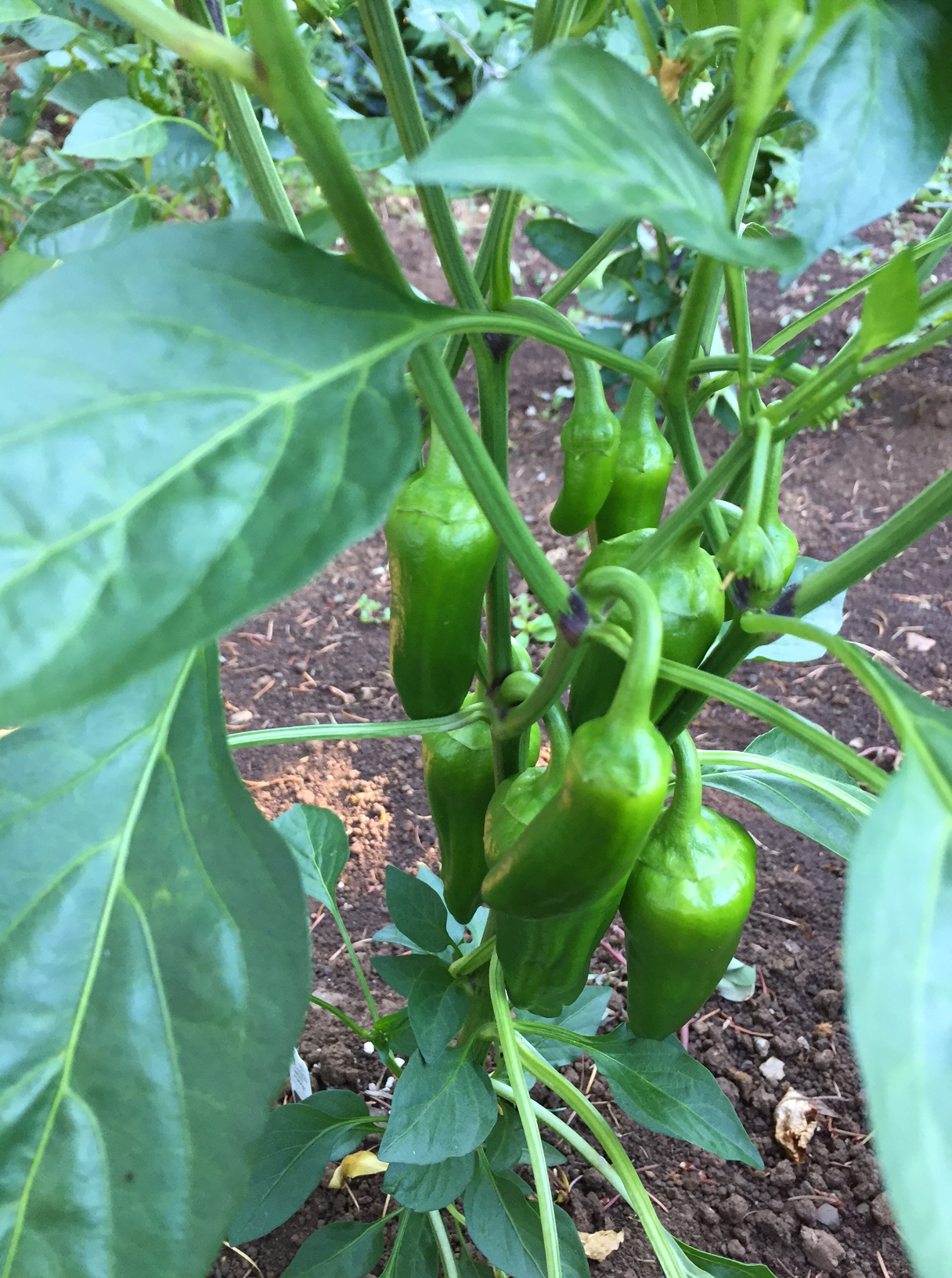 These are Carmen peppers.  They are a sweet pepper, and are the first to turn red at my house.  I usually grow them from seed, and was delighted to find a few plants of that variety that I could buy.  They're not ready yet, but are coming along.
Some of the seeds I planted for the late summer garden are up.  The bush peas are up, and the snow peas are just starting to poke up.  Beets are up like crazy, but the pole peas are nonexistent.  The seeds may have been too old.  I will plant a few more things after these beans are done and pulled out, like yet another row of lettuce.  The little cabbage plants are starting to take off.   Right now the garden is full.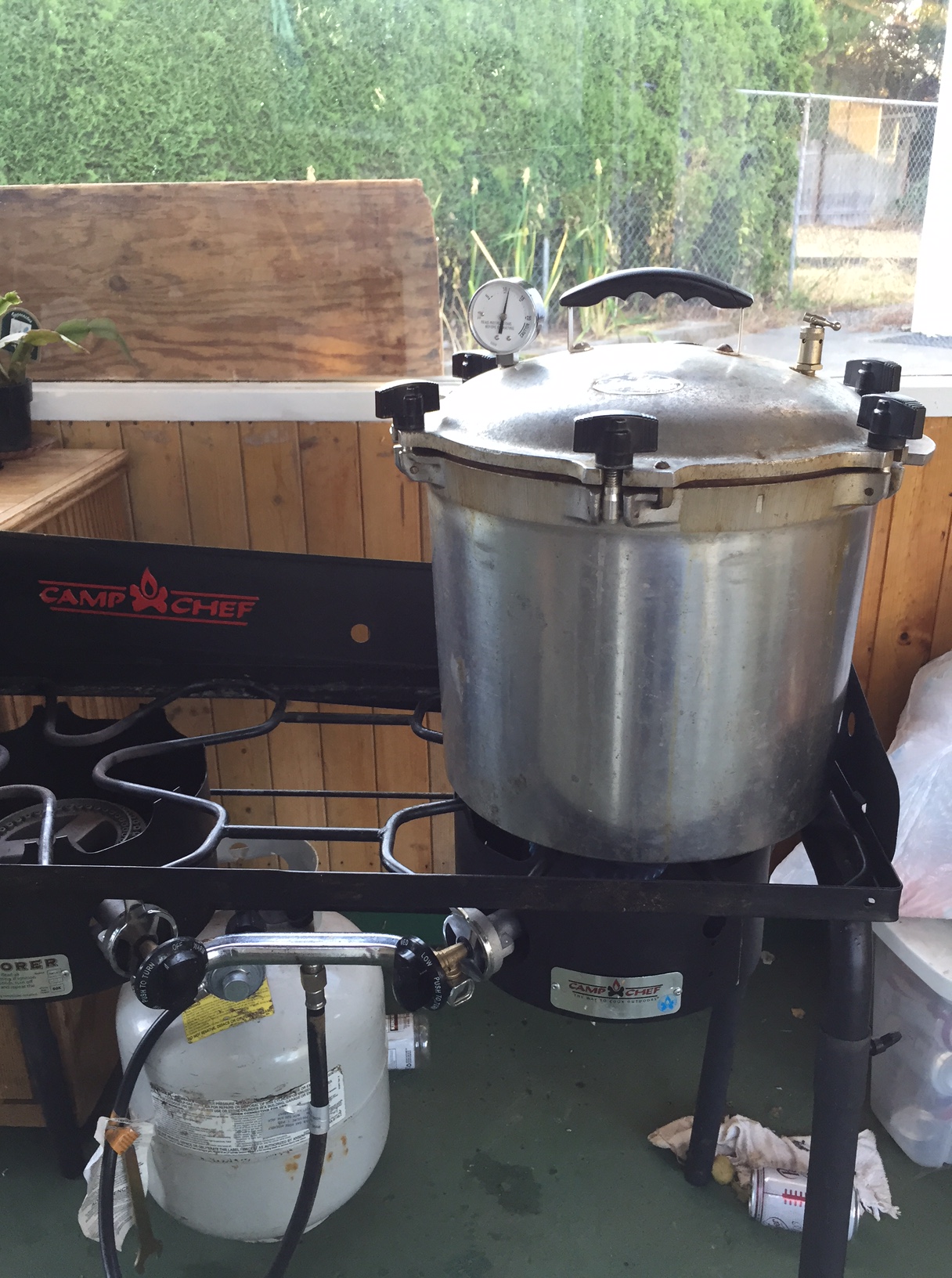 Before he left for camp, Rob set up this camp stove for me to use in the outside covered porch and got me a full tank of propane.  This house came with a flat-top stove, which is not recommended for canning on.  So, I'm learning to can a different way–outside, and with propane instead of electricity.  There was a lot of juggling things around, scurrying in and out of the house setting up things, and generally figuring out the new way of doing things.
My snapping crew kept snapping steadily while I washed jars, filled them, added 1/2 teaspoon salt, filled with water, put on lids and rings and began processing.  Then I put my mother on a chair in front of the canner to keep it at a steady 11 pounds of pressure.  She had to continually adjust the propane level to keep the pressure consistent for 25 minutes for quarts and 20 minutes for pints.  We always watch it the entire time.   It's the safest way.
Michaela and Patsy helped snap and then Michaela helped Grandma by timing the length of time needed with her phone.
Aunt Janet kept snapping.  All morning long.  Jake asked to go to the Dollar Store to get the prize he had earned by doing his daily activities.  All morning long.
By lunch time, we had them all snapped and into jars.   By 1 o'clock, we had 2 loads cooked and cooling.  After a quick lunch, we all dispersed to our respective errands and I finished canning them when I got back.  From the Dollar Store.  (We also did a library activity, and some other things, so I didn't actually finish until about 8:30 pm)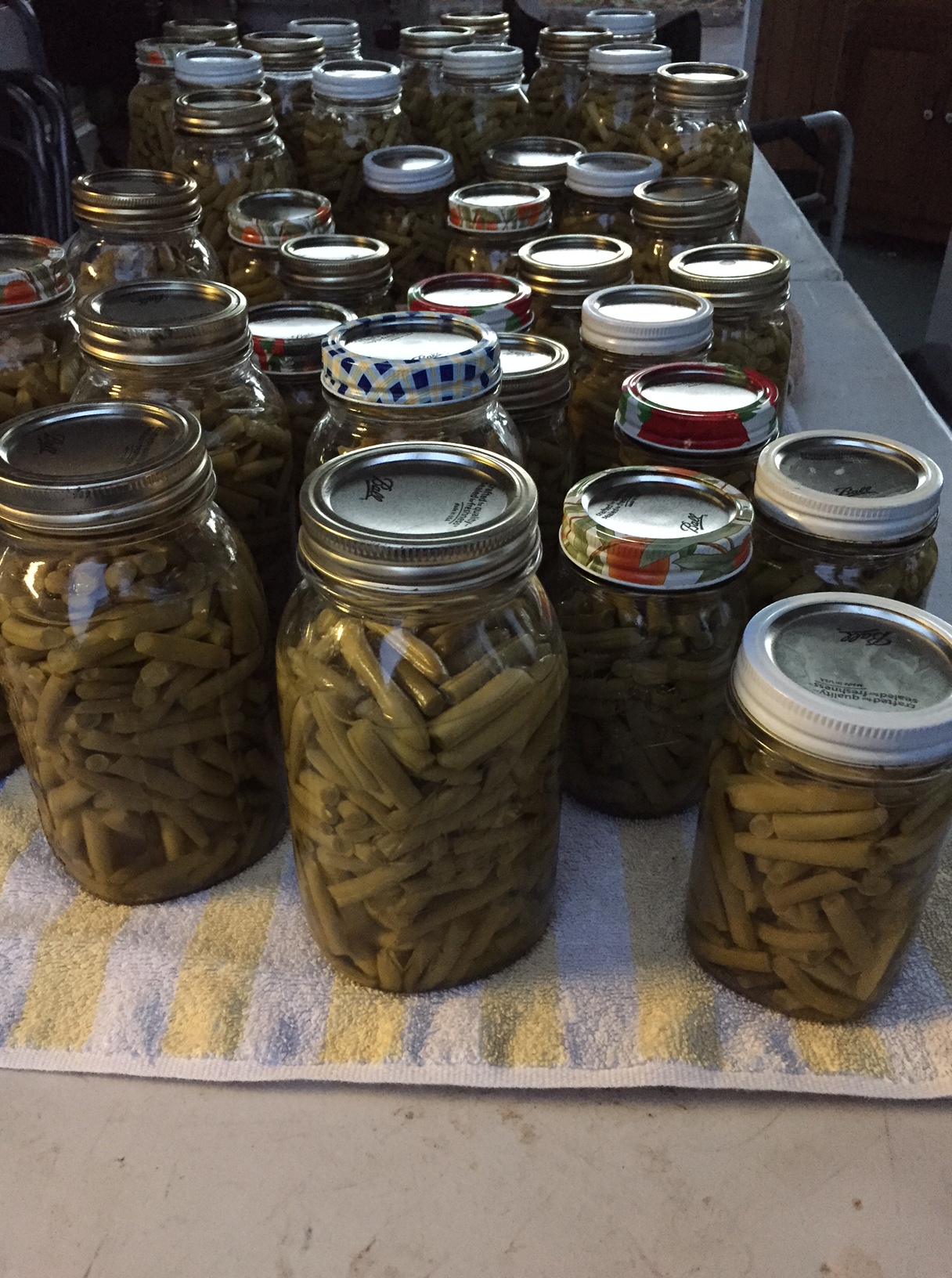 At the end of the day, I have 21 quarts and 17 pints, all cooling on a table outside.  I'll let them cool all night and wash and put them away tomorrow.  I am very pleased with the amount we got.  I could not have done it without all my helpers.  I'm so thankful for their help.  It was a long, satisfying day.