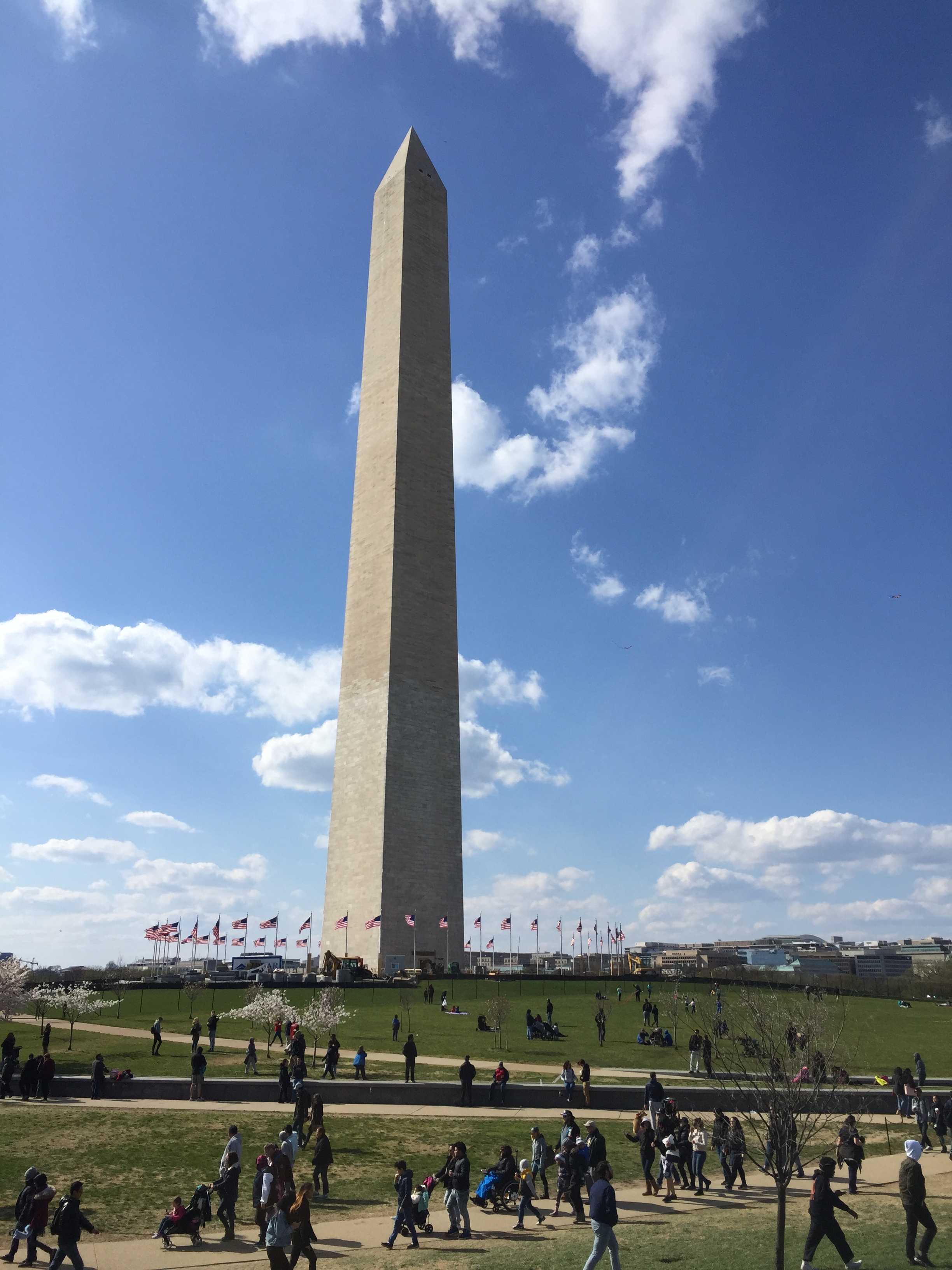 After sitting in the sunny, but brisk, air for a couple of hours, the correct blue line bus finally arrived.  We talked to another driver, of a special "pink" line that had been created for the festival and it took him 2-1/2 hours to drive around the Tidal Basin 1 time.  It's not very far, folks.  The traffic and crowds were just that busy.  We were starting to worry that we would not get to our next destination (Arlington Cemetery) in time,  so were quite relieved when the bus driver called to ascertain that, yes indeed, a blue one was on the way.  He did point out that we would have no bus back, though.  It was too late.  We were fine with that, and figured we would take the Metro, which we easily did.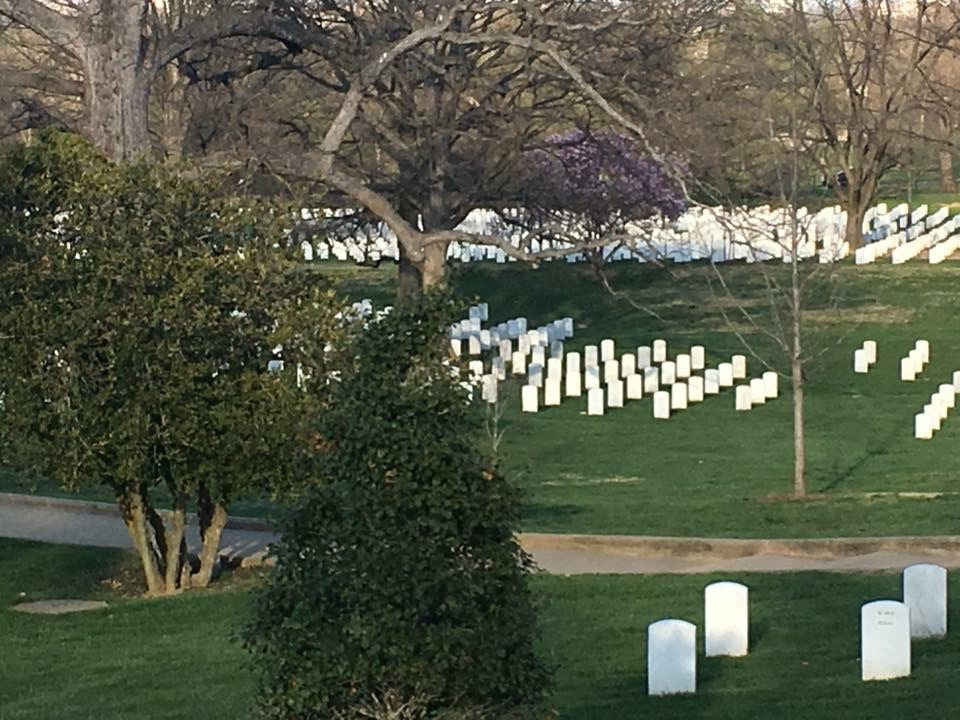 Upon pulling up to Arlington Cemetery, and entering the visitor's center, My sister recommended that we buy a ticket for the tram, taking us to the Tomb of the Unknown Soldier, showing me where it was located on a map.  I blithely quipped, "We can if you want to, I can walk that little distance easily."   After all, my backpack was no longer loaded with cheese, or any other heavy items, and we had walked from the Metro with all that!  Little did I know.  I am so glad her wisdom prevailed and we got the tram ride.  It was quite far, and very much uphill.
Because it was so late in the day, the tram only stopped at the tomb of John F. Kennedy, and only for 15 minutes.  We hopped off and trotted over to take a look.  After studying his death, and the history surrounding it so thoroughly last year, it was very special and amazing to pay our respects to him.
The view from his tomb was breathtaking.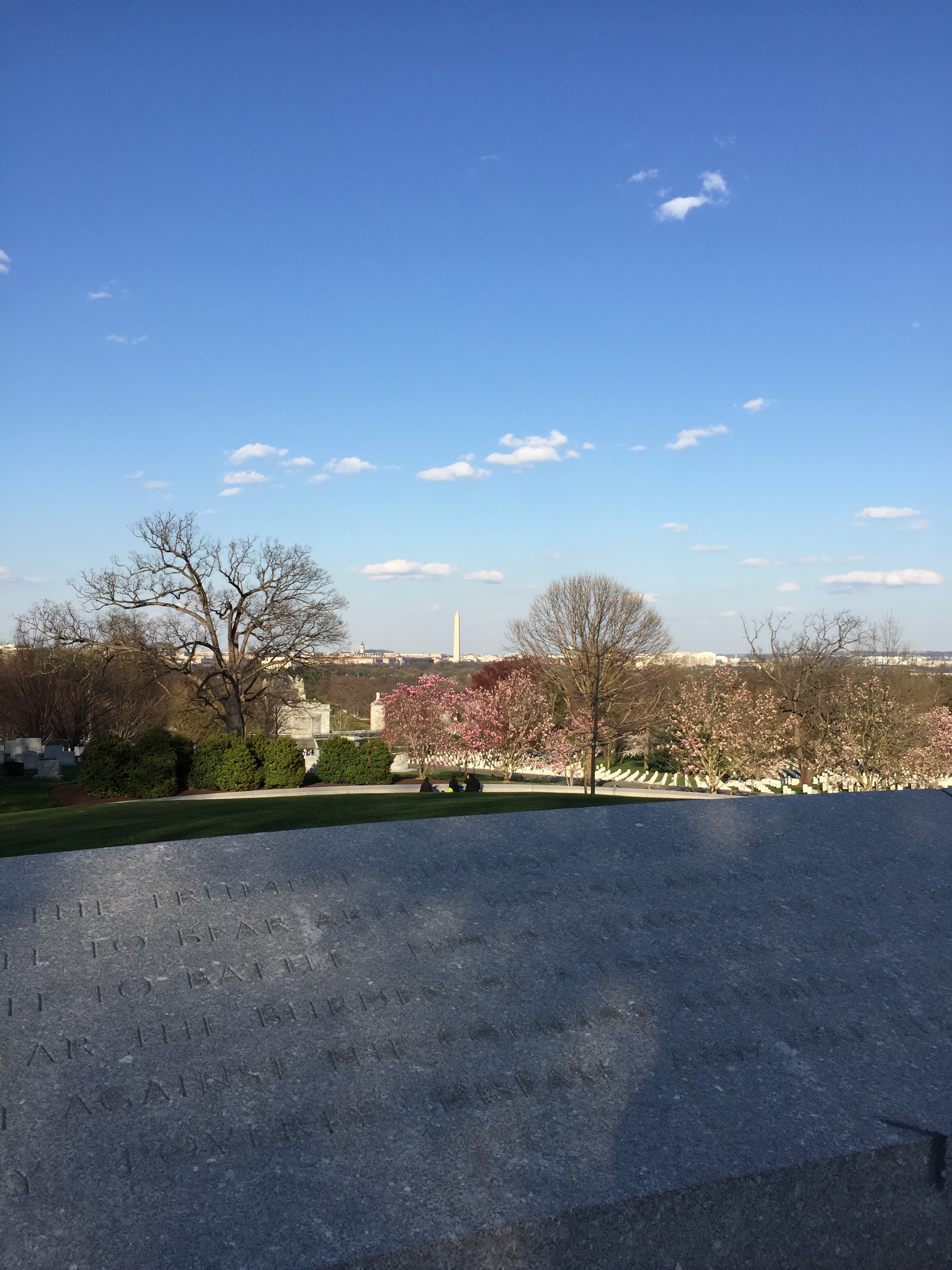 We could see the Washington Monument in the distance, along with the rest.  We soon became accustomed to orienting ourselves with the Washington Monument since it was so tall, and easily visible.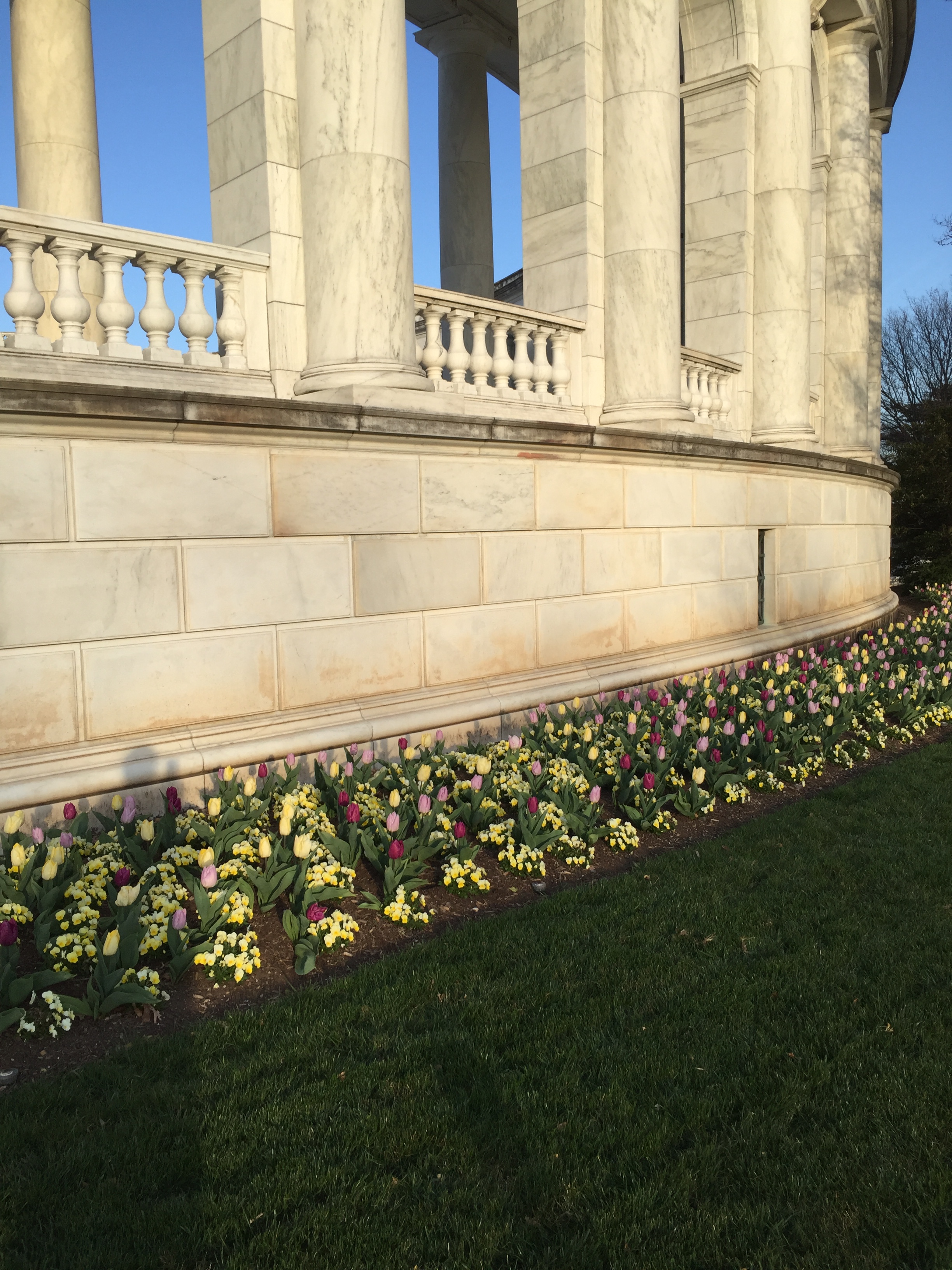 We hopped back onto the tram and were shuttled up to the Tomb of the Unknown Soldier, just in time for the 6:30 Changing of the Guards.  They closed at 7, so we felt fortunate to have made it in time.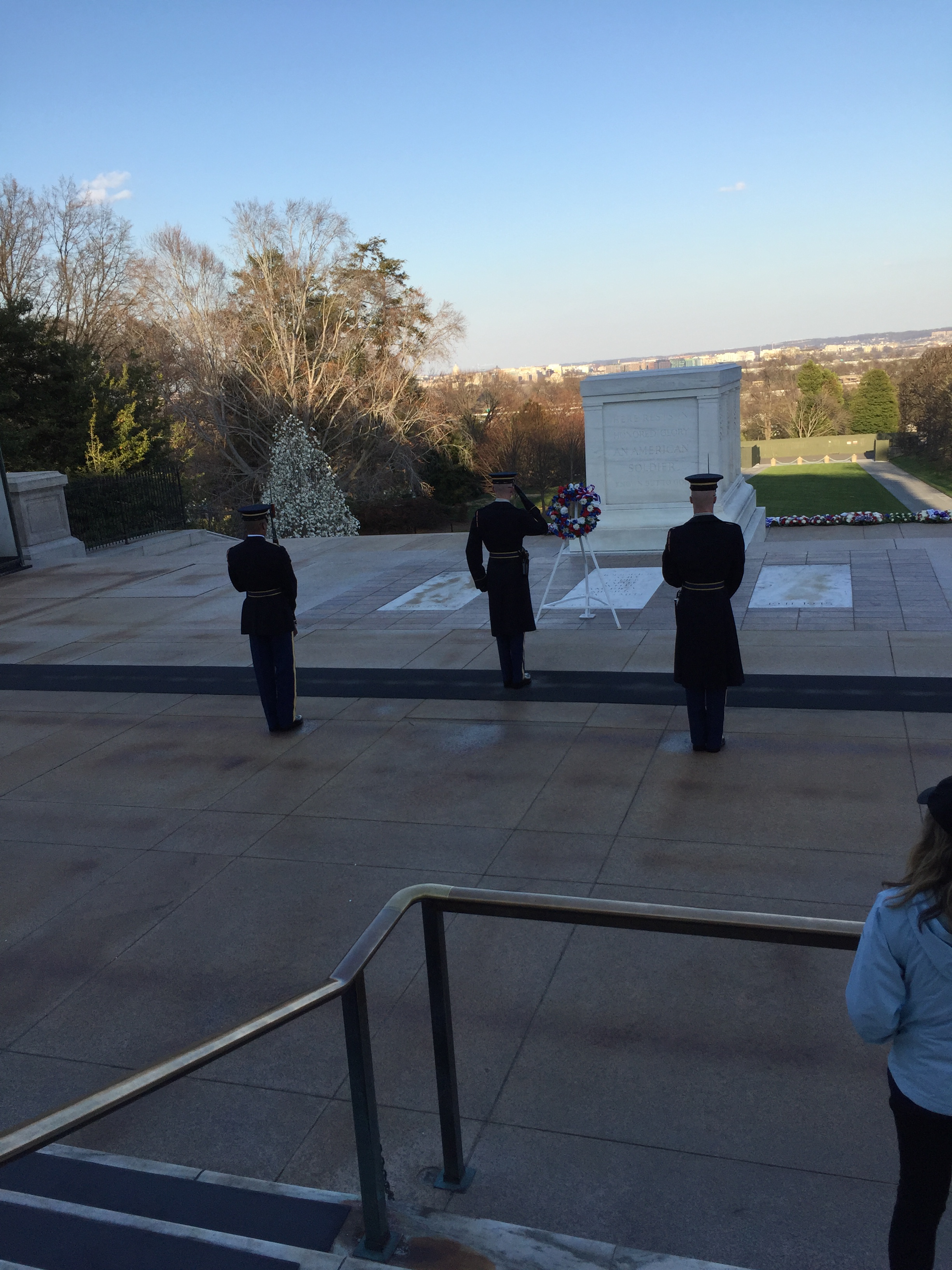 With the shadows lengthening, and dusk approaching, we watched in sober silence as the guard who was on duty was replaced with another one, all in silence punctuated with sharp clicks from their shoes, snaps and clicks from their guns, and a few choice words.  The crowd was silent and respectful, and everyone was asked to stand for the ceremony.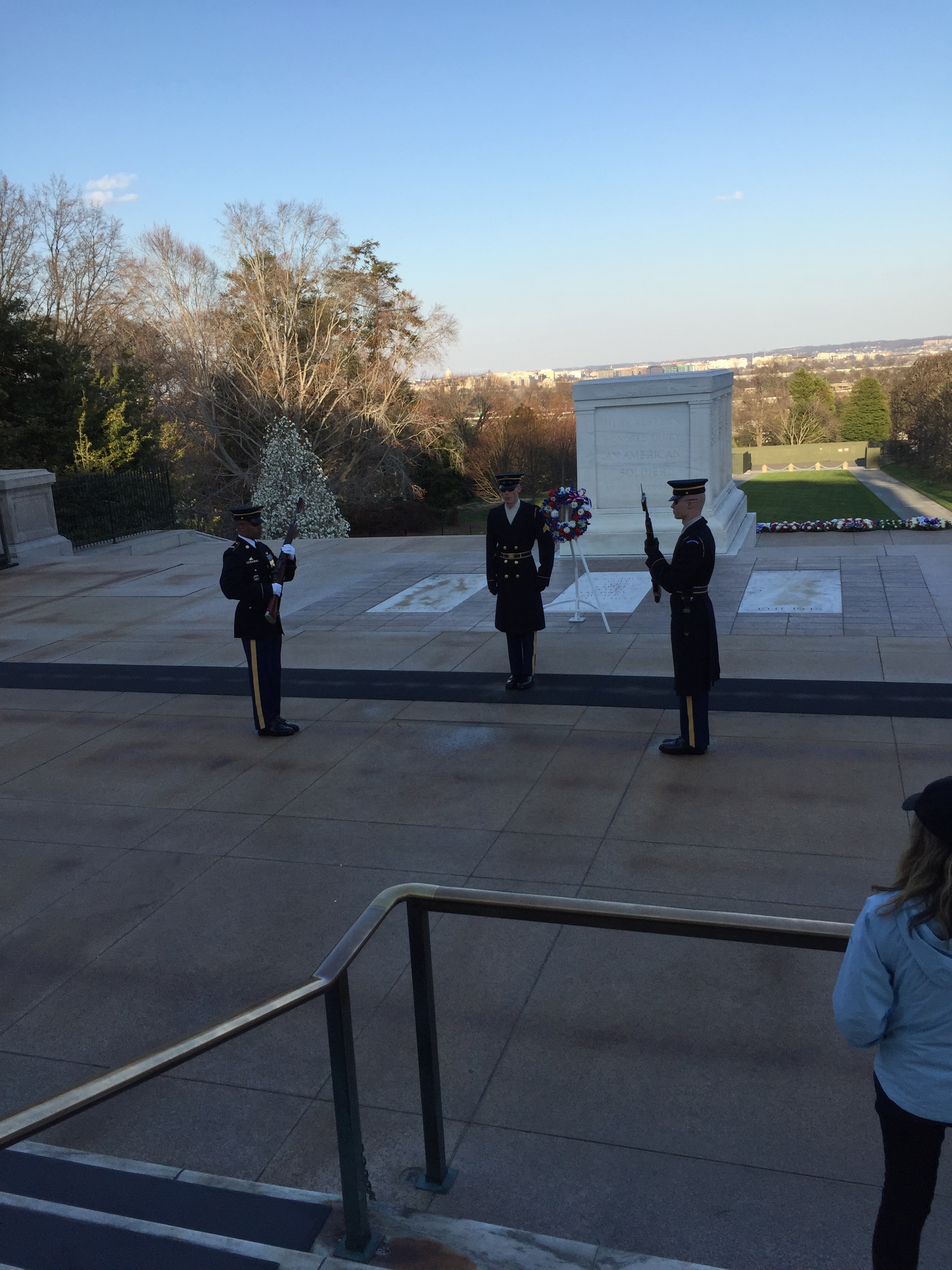 I'm not sure exactly how long we stood there.  Just minutes, but so filled with meaning for me.  It was such a reminder of those brave servicemen and women who came before me, who fought and died to make America what it is for me today–a safe place where I can rear my children in freedom, a place where I can live and breathe and worship how I want to. I felt an enormous sense of gratitude to both them, and the ones that are still serving our country today.
By this time, the wind was biting right through our coats, and the sun was beginning to dip low behind the grassy knolls covered with the uniform white gravestones.  We were only too glad to hop back on to the tram and ride to the base of the cemetery, and briskly walked a "D.C. block" to the Metro.  (D.C. blocks are very long, much longer than our blocks here.  It became a joke to us how long they were!). We were learning how to navigate the system, and that both the blue and silver lines went back "home" and what names to read so that we didn't get on the train going the wrong way!  We went back to the condo with no trouble, and found our groceries on the doorstep, ate dinner, and went to bed.
We had already gotten up at 6 a.m. that morning, D.C. time, (3 a.m. our time which our bodies thought we were still on) to try to get tickets for the Smithsonian African American Museum, and were not successful.  The next morning, we were going to try again, and every morning, until we hopefully got tickets.  This museum is so popular that it has been over-run with guests, and although the tickets are free, they were out months ago for our trip.  The only ways to get some were to a)show up at a certain time/place/day and hope there were a few being handed out, or b)get on-line at 6:30 a.m., and repeatedly push "buy tickets" until you either got through and got some, or you didn't.  It was the one thing that Ja'Ana had asked that we visit, and we were going to make that happen if we could.  Each person could only have 4 tickets, and we needed 6, so at least 2 of us needed to be up early to try, each morning until we were successful.