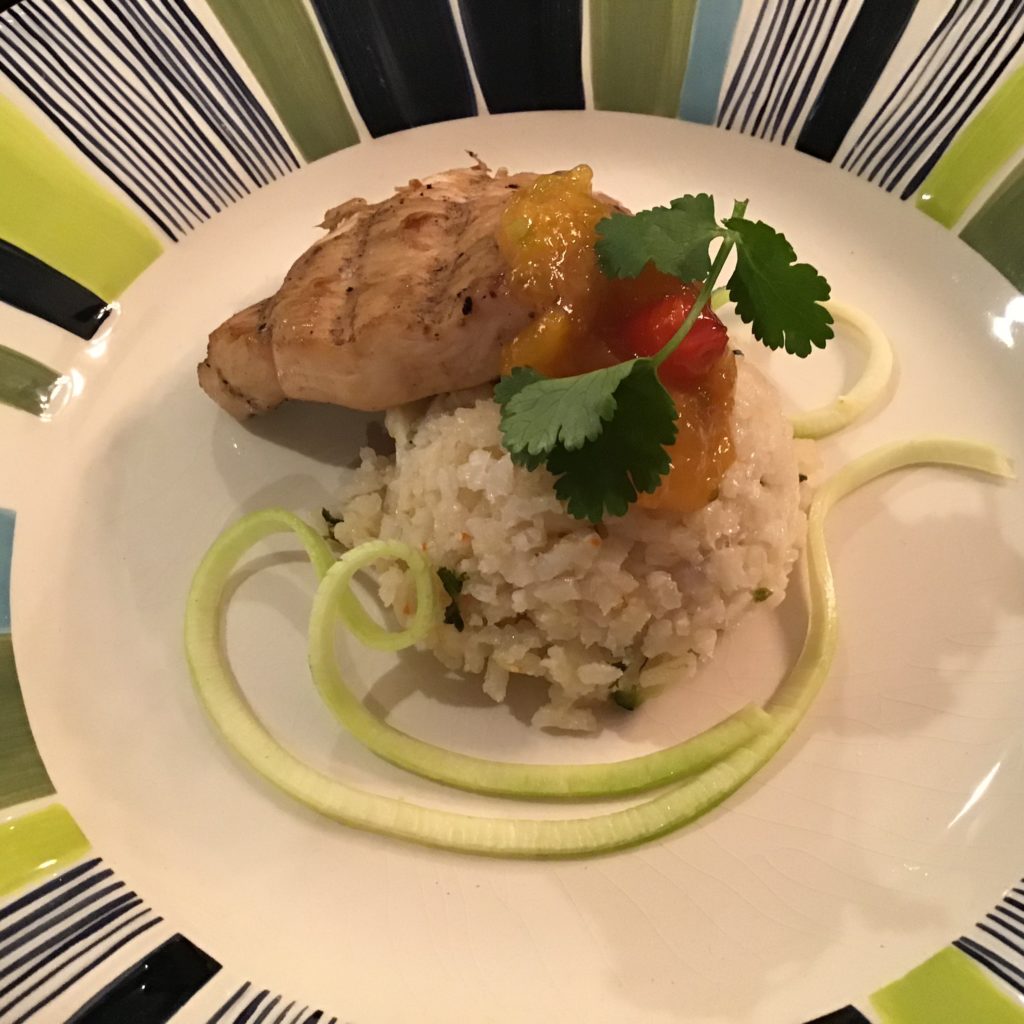 This was a week of contrasts. We fed 2 different groups of kids 2 very different meals.
Last Saturday, we were very involved with a formal dinner for the high school youth group from church. The event was held at my sister's house and our 2 families did all the cooking.
We ended up having about 24 youth, and 12 college-aged and adult helpers. My brother-in-law rearranged their house so that there were 3 large tables in the living area and all the youth were able to sit down.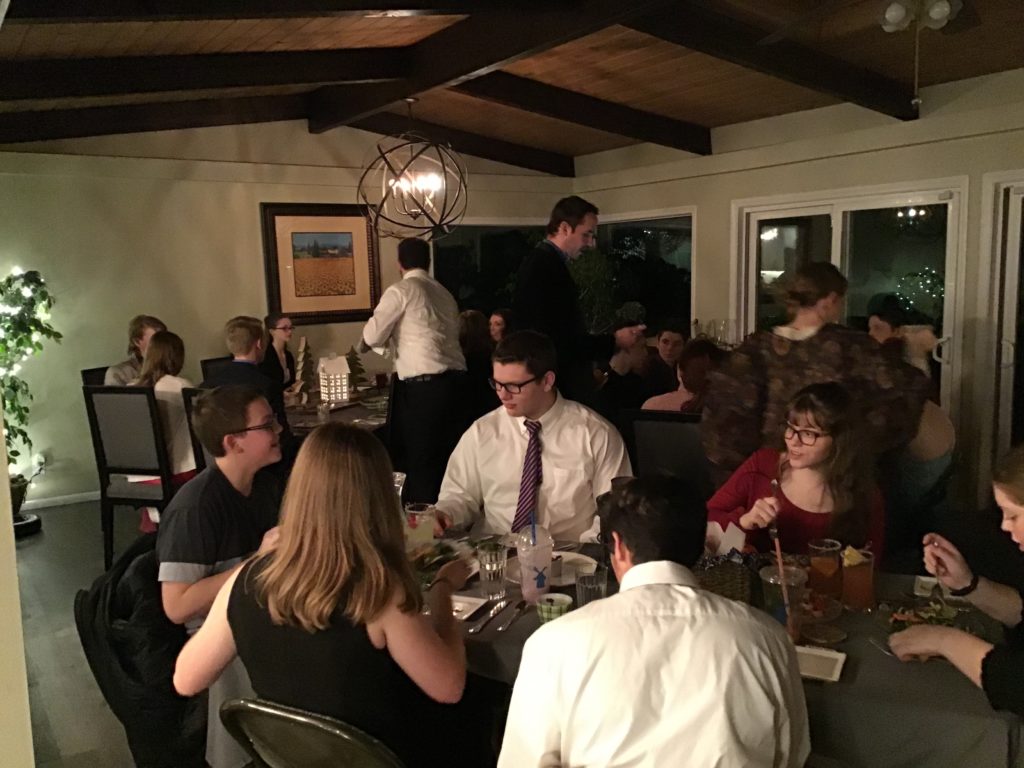 We had gluten free and dairy free students coming, one that was allergic to fish and one that was allergic to shellfish, so needed to make it allergy friendly. We had at least one vegetarian as well. It was quite a challenge.
We served the meal in courses. We had the "waiters" take orders, noting special dietary needs and kept all questionable food completely separated from the other food, even on the grill. Rob used foil and separate pans/dishes to do this.
Our waiters kept really good track of what each student needed using sticky notes.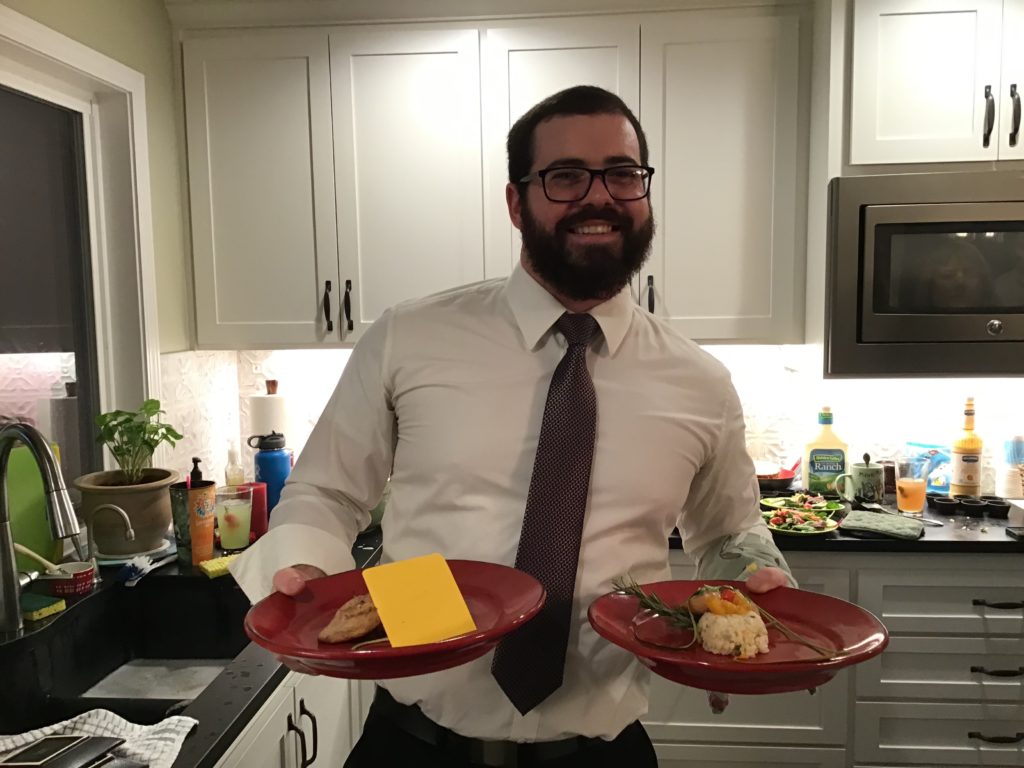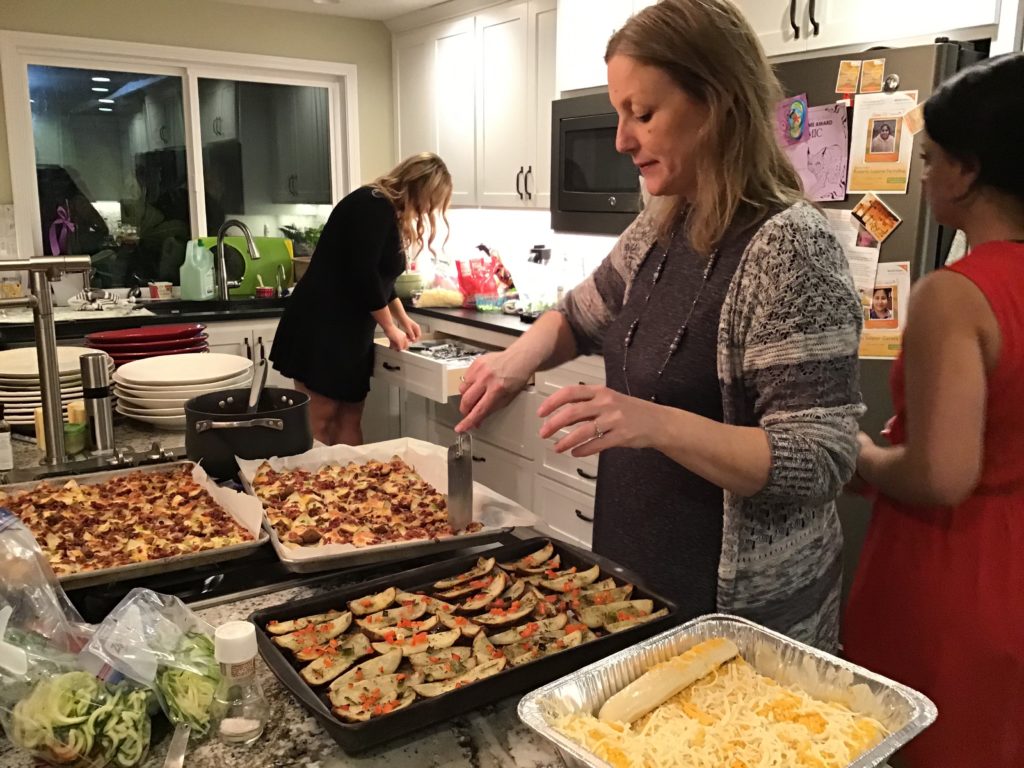 The first course was appetizers. Rob barbecued shrimp skewers with peppers and onions threaded on in between the shrimp. We made 2 kinds of potato skins–one with olive oil, green onions and rosemary and one with cheese, bacon bits and green onion. We had purchased mozzarella sticks, served with marinara and ranch. The last appetizer was cheesy bread sticks. The bread sticks were purchased and cheese was sprinkled on top and they were baked to melt the cheese.
There were fancy drinks. They had sugar around the rims of the glasses and the kids could choose their favorites. Unlike a restaurant, they could have free refills and some had several!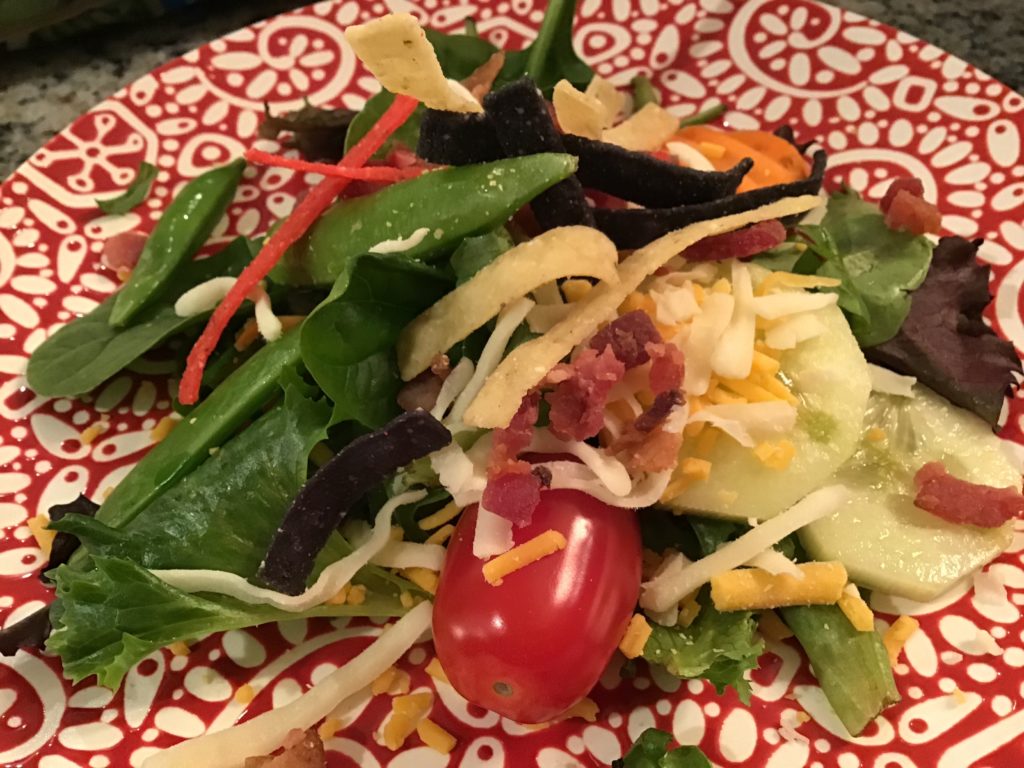 Salads were next. They got their choice of dressings and customized salads without cheese or bacon if requested or needed.
The main course consisted of risotto, teriyaki chicken or salmon topped with mango-peach chutney sauce, garlic green beans and was decorated with spiralized zucchini and cilantro. Rob was able to cook the beans, chicken and salmon on the big grill outside, which helped the kitchen prep tremendously.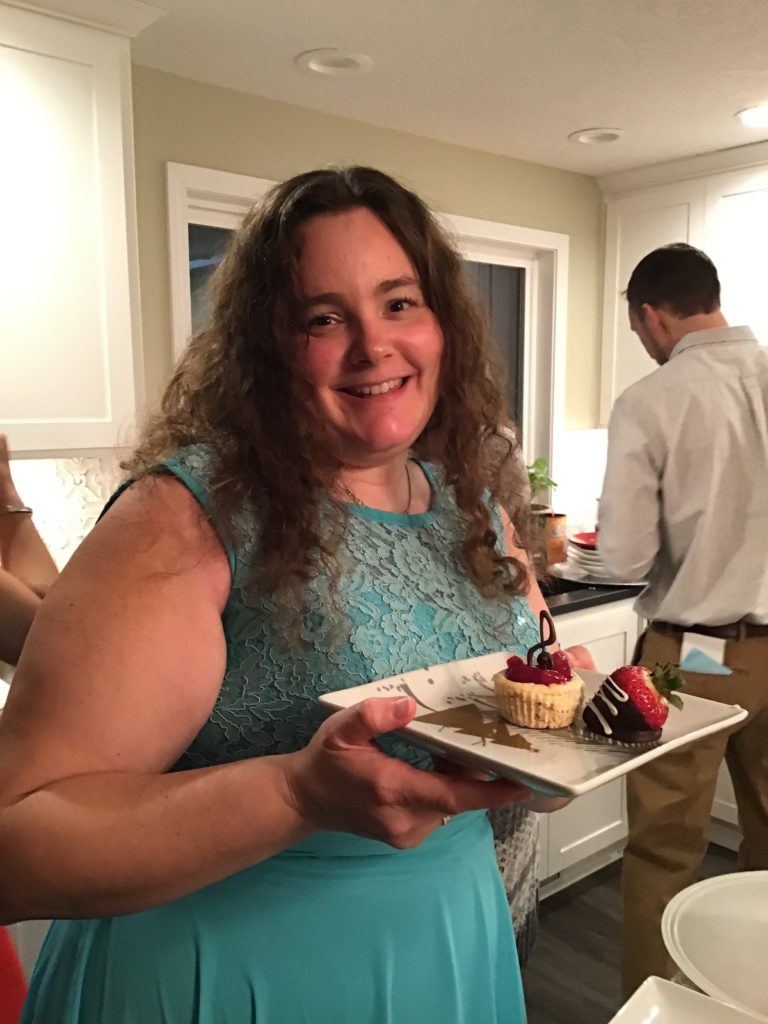 We dipped strawberries in chocolate and made gluten-free mini-cheesecakes with cherry topping and chocolate decorations for dessert. It was so pretty and tasted so good. We dipped a few berries in dairy-free chocolate, but did not make dairy-free cheesecakes. The student was still happy because he could have a yummy strawberry and some extra chocolate candy we got for him.
That event turned out very, very well. It was so fun to see the kids and some adults dressed up and they ate SO much food! We had a ball doing the event. The kids were delighted to have this experience and were happily talking about it the next day at church, I've heard. They went off ice skating afterwards, but we collapsed! It was worth it, though.
The second event this week was feeding the college aged kids their Tuesday night dinner. It was just coincidence that our turn for that was this week as well. It was kept quite simple.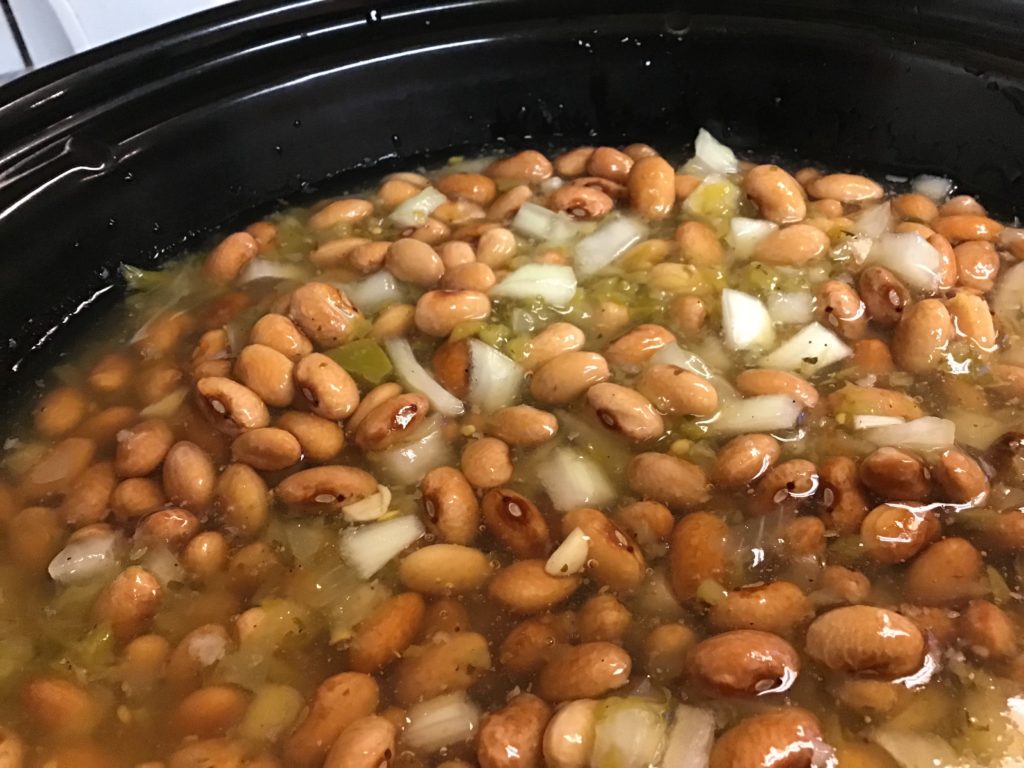 We got ham for 77c/lb at Winco and Rob barbequed 2 of them. He sliced them and put them in our big roaster. I made southwestern beans with soaked pink beans, onion, green salsa verde and ham broth. We used 6 heads of romaine and one head of head lettuce to make a huge bowl of salad. Then, we put toppings such as olives, cheese, tomatoes, and tortilla salad toppers out so they could create their own southwestern salads. Some canned corn, oranges and brownies and made from a boxed mix finished out the dinner. There were around 35 people there–more than expected, but the food held out! Hallelujah! Those kids are a cheerful, appreciative bunch every time we feed them. It makes it fun to do.