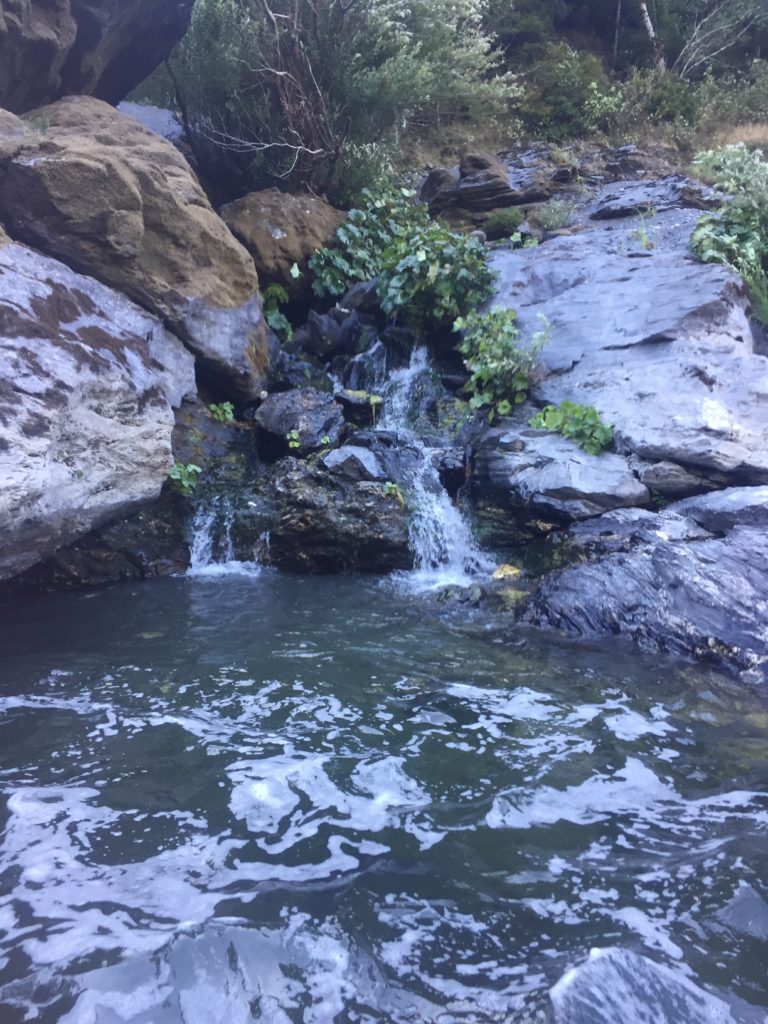 We just returned from a big adventure, complements of my sister. She should have been a travel guide…..She planned the trip out to the last minute, got all the accommodations and tickets, and arranged everything. It was amazing. Here's what we did.
Months ago, she had purchased tickets for the play, "Charlie and the Chocolate Factory" up at the Keller Auditorium in Portland (Oregon). It was for my birthday present, and started at 2 p.m. on Saturday. We had a wonderful time. It was so well done. I loved it!
When planning the trip, she found the beach house she wanted to rent was only available on this past weekend, the same weekend as the play. She also wanted to go ride the jet boats that go from Gold Beach, Oregon, up the Rogue River 52 miles and back down again. So, we needed to leave on Saturday to make all of that happen. The play caused us to get a late start.
I was in charge of the meals for everyone. Everyone included: My sister, Gail, 3 of her children, myself, Rob and Patsy, and a friend, Debbie, and her 7 children. Jake and his big sister, Caitlyn, came on Sunday night, as he doesn't do well on boats. So, I packed a picnic for 13 to eat in the cars on the road. We pulled into the hotel around 12:30 a.m. Sunday morning. It's a distance from here, and we didn't leave until early evening.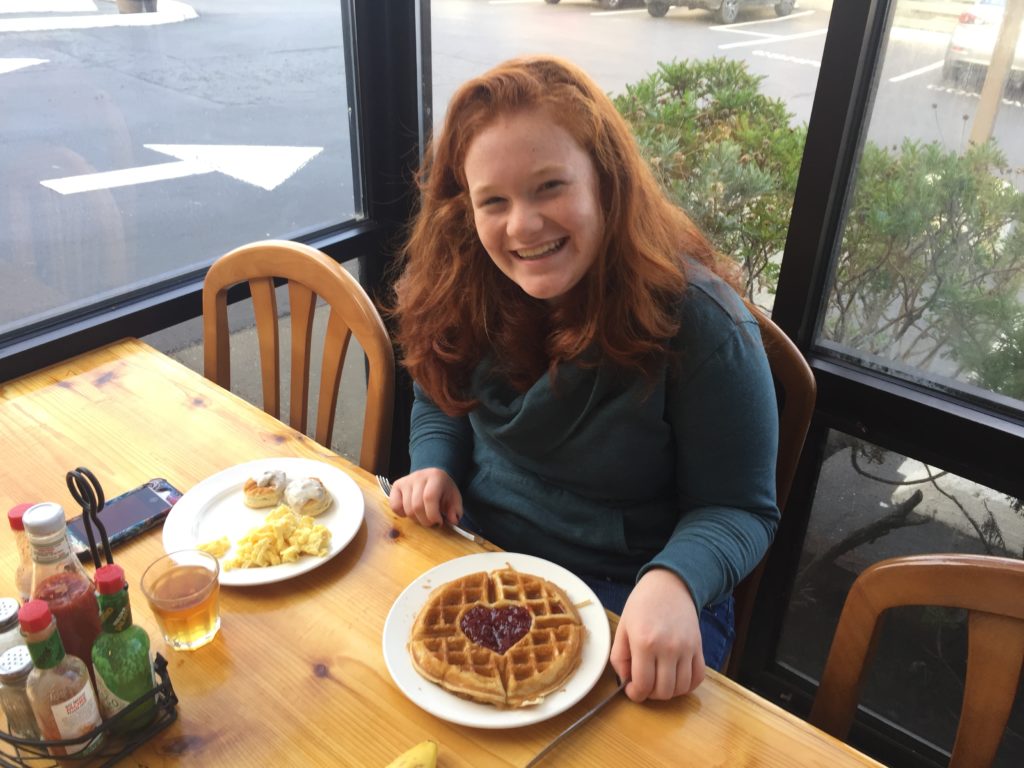 The hotel included breakfast the next morning, which we enjoyed tremendously. The kids loved the waffles with the heart shapes in the center. Rob and I packed a large picnic for the 13 of us who where going on the boats, plus drinks, while the rest of the crew enjoyed the hotel swimming pool. Then, we were off for our 11:30 departure time.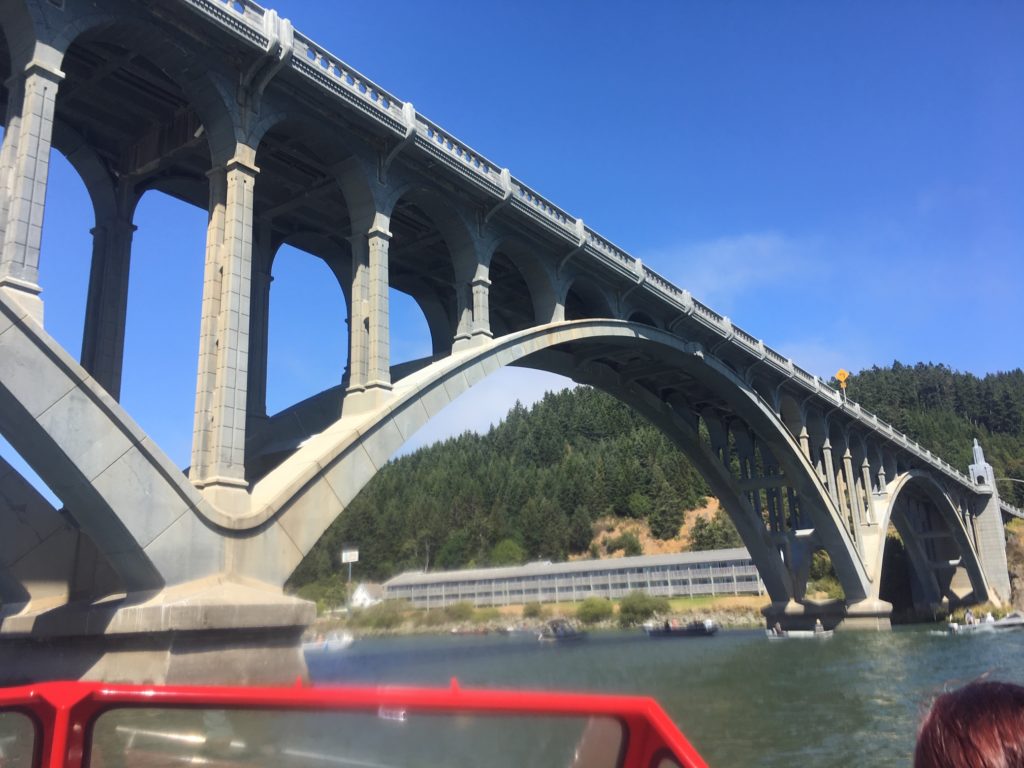 Rob really, really wanted to do this trip. In fact, he declared to Gail (my sister) that he would crawl into the boat if he had to, when the subject was first brought up. He had to!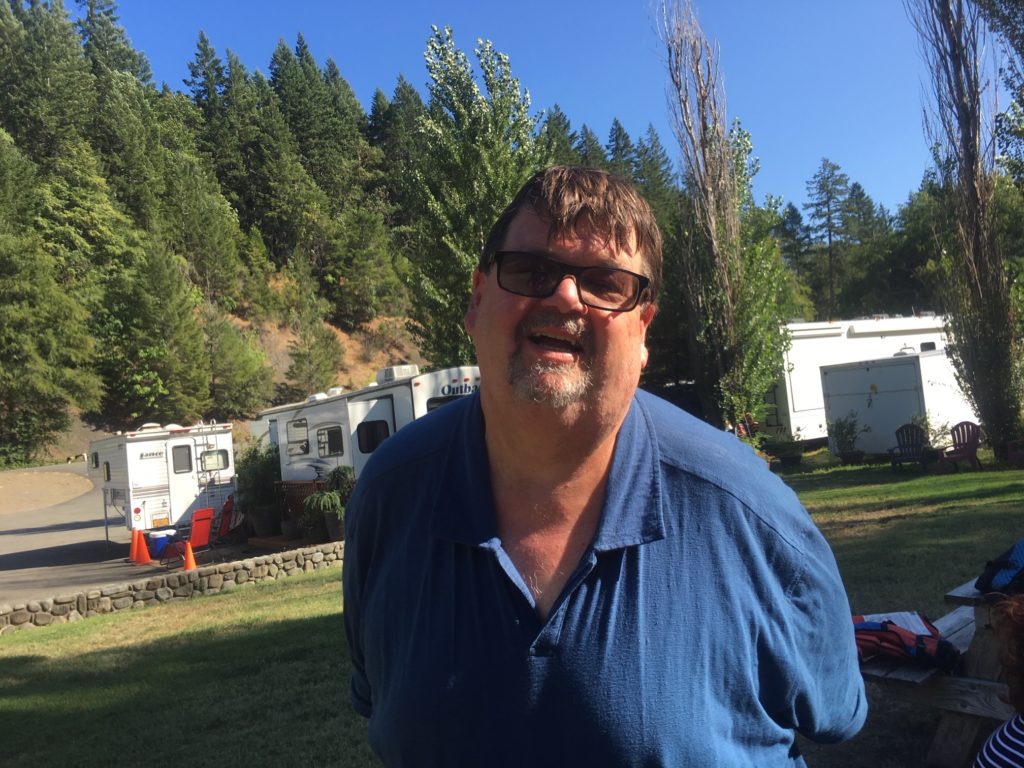 It was so worth it to him!
At the 2 rest stops, they sent a van down a steep hill to drive him (and us) up to the top, where we could use the restrooms and at lunch time, eat our picnic.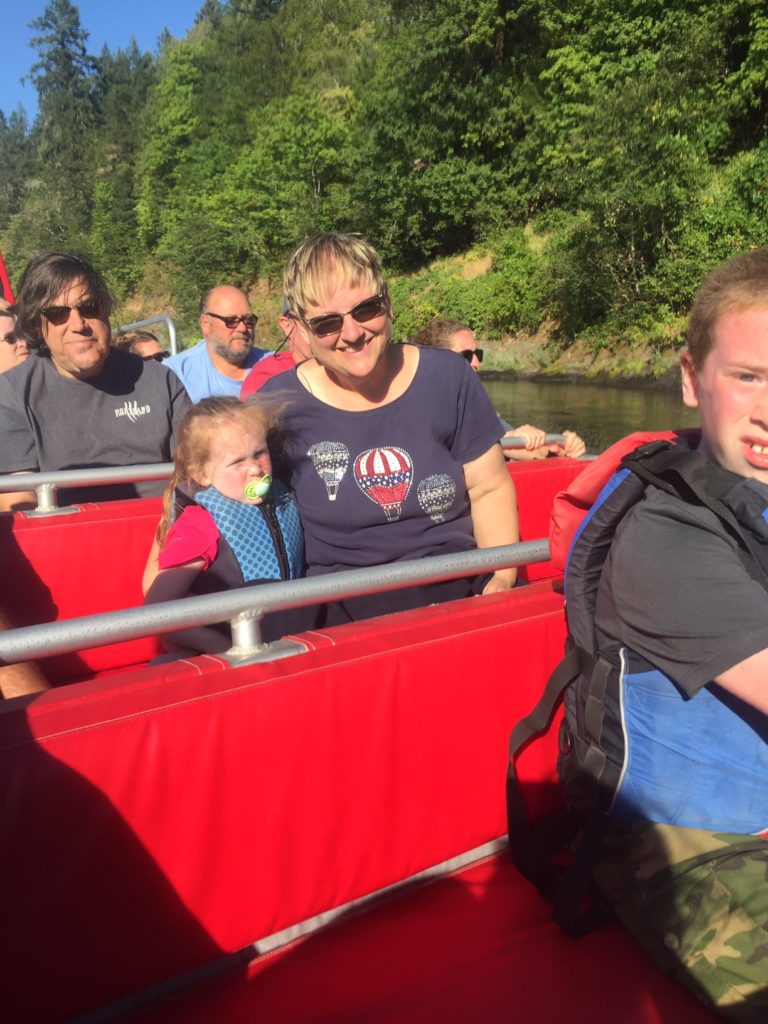 I had a blast, too! My little friend, Delaney, fell asleep between Rob and I on the way back. It was super funny because we were getting splashed with large amounts of water going down the rapids. We tried to shield her the best we could with a blanket that was for that purpose, but in the process, I was absolutely soaked. It was dripping off my hair and down my face. Some got on her, too. Through it all, she never woke up. The people behind us (and us) kept looking down and asking if she woke up, and each time the answer was "no." Pretty soon, we were all in gales of laughter as each new wave of water doused us, and the child still slept. I guess she was tired:). When she was good and ready, she woke up and enjoyed the rest of the ride.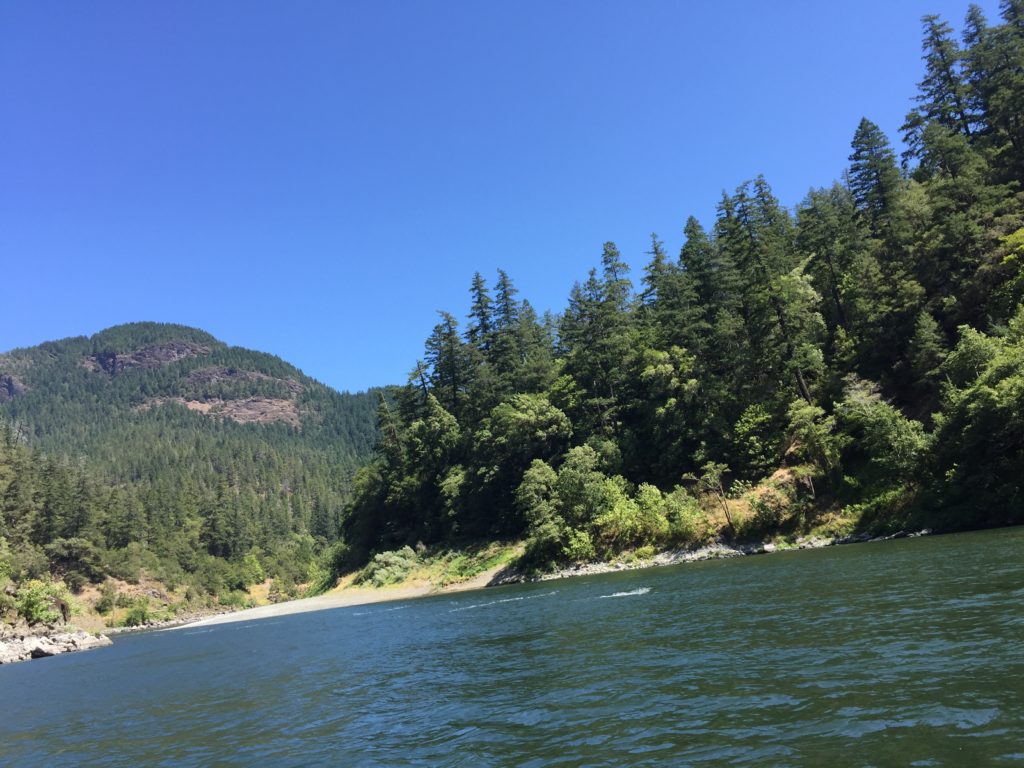 We saw so much beautiful scenery. There was a lot of wildlife. We saw ducks, egrets, osprey, a bald eagle, otters, deer, and a seal or sea lion–not sure which, and more.
There were a couple balancing on various small rocks. The boat driver was very skilled and got us up pretty close to this one.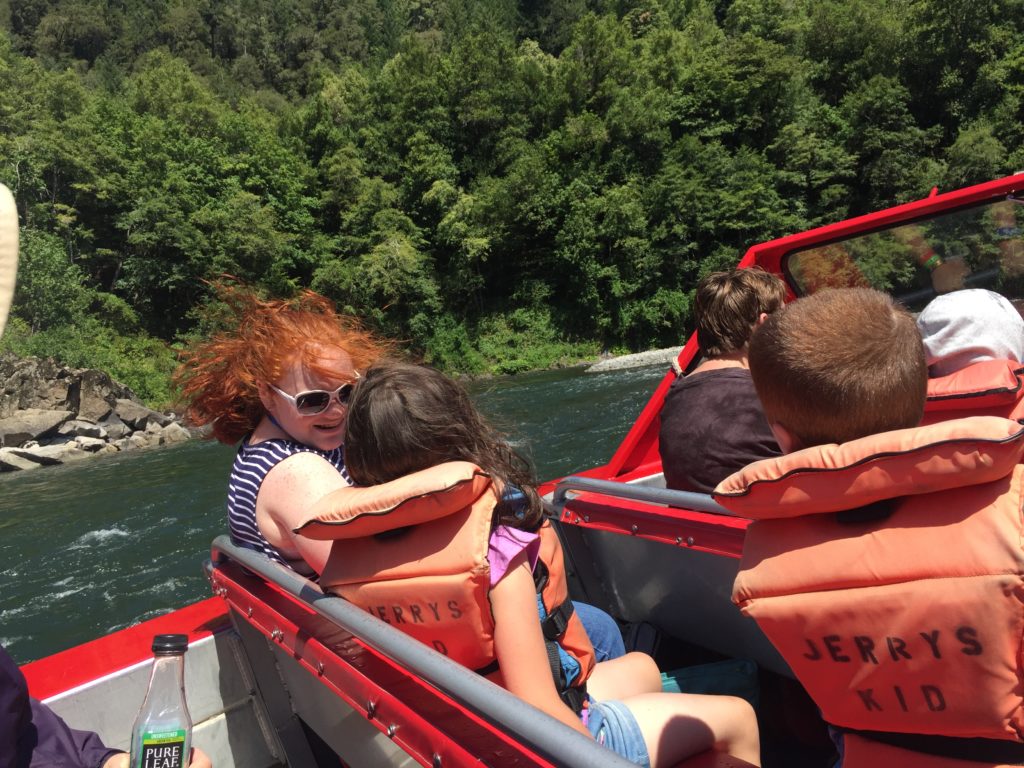 We were on the water for around 6-1/2 –7 hours. We went the 104 miles, and had 2 stops. We went from the cool, balmy coast to the dry, scorching hot interior, and back down to the cooler coast once again. The driver did a great job of cooling us off with water when it was hot, and keeping us dry when it wasn't. Running the rapids was fun. We all had a blast.
We got back into the vehicles, handed each kid a granola bar, and headed an hour north to the town of Bandon.
It was pretty late by the time we arrived, but I had dinner all planned and it didn't take long to get it on the table. I had taco meat and refried beans premade and they were warmed up. Tortillas, garden tomatoes, lettuce and pre-shredded cheese were put out, along with a Costco bag of corn chips and some salsa. Every scrap was devoured.
Our Monday was very full of fun, as well. I'll continue writing about our trip tomorrow in Part 2, as this post is getting pretty long, and there's lots more to tell.