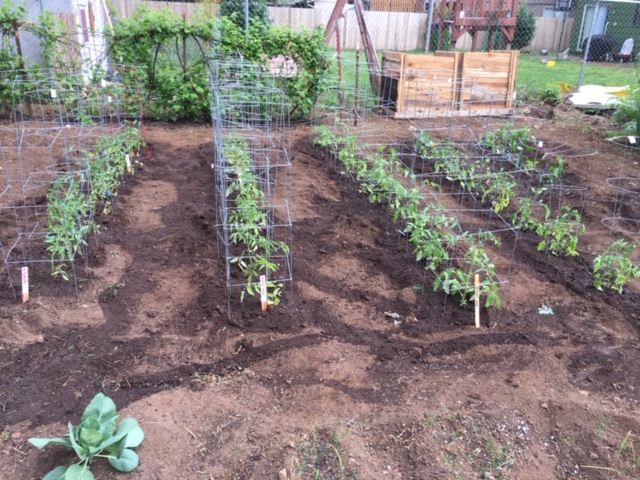 I've spent many hours this week working in the garden. We have had an unusually early spring. I've never had this many things planted at the beginning of May, as long as I can remember.
Rob grew such large, healthy tomatoes. We dug every cage we could find out from behind the shed, and planted them. I'm trying something different–I made quite a wide space between the rows, but planted the tomatoes close together. I'm hoping I can still get in there to pick them, but wanted to plant as many as I could. I put a little organic fertilizer under each plant as I planted to give them a boost.
Rob finished his bean trellis. I planted the pole bean starts on the end, Blue Lake seeds in the middle and a small handful of Violet-Podded Pole Beans down on the very end. The damp patch in front of the trellis is planted in Blue Lake Bush Beans and Carson (yellow) Bush Beans. In the background, you can see artichokes, snow peas, cabbage, carrots, and lettuce. The raspberries in the back are about to bloom, so I know those will be giving me a crop in the next few weeks.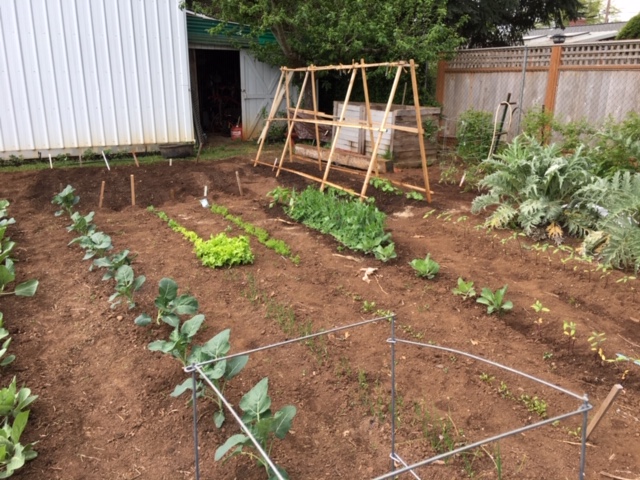 The broccoli is growing nicely, as well.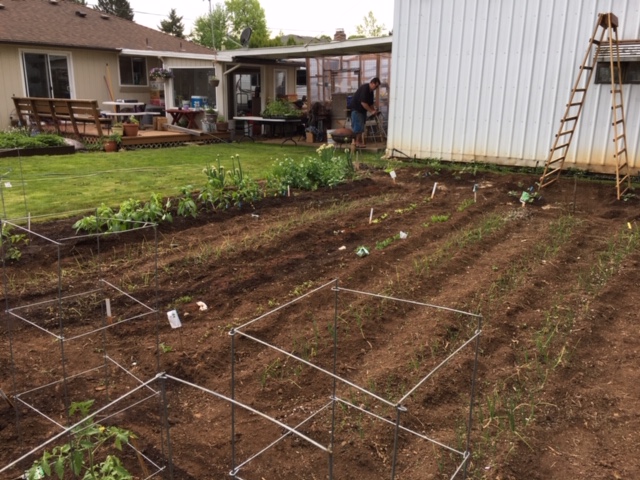 The Trombonconi Zucchini is planted at the base if its trellis. There are lemon cucumbers near there, as well. The onions are very faint and hard to see, but are starting to grow. To the left are rows of beets, carrots, a few more snow peas, dill, basil, cilantro, a few more snow peas, and peppers and slicing cucumbers to the far left.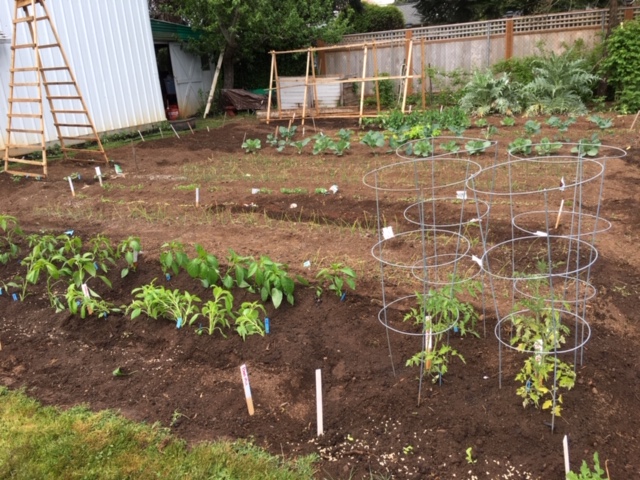 These are Sungold, Chocolate Cherry and Yellow Pear tomatoes. The peppers are Anaheim, Italian Pepperoncini, Carmen, and a Hot Pepper Blend from Territorial. I have Serranos, Bell Peppers, Hungarian Wax Peppers and Lola Peppers elsewhere.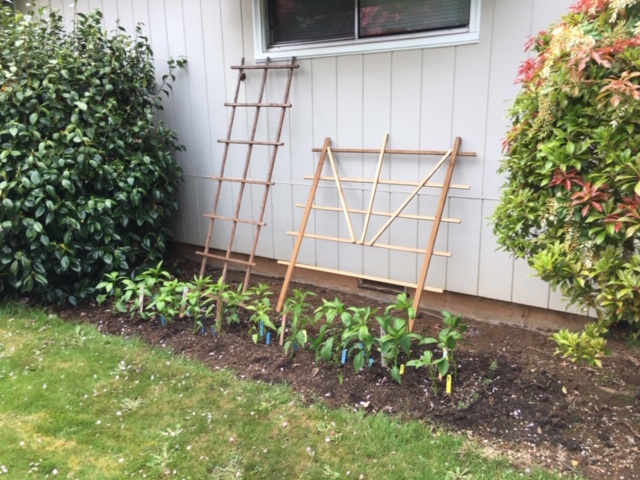 These are a mixture of the above-mentioned peppers in the flowerbed under my bedroom window. The trellises are there because I planted some very old Alderman Pole Pea seeds at the base of them. If they grow, they will give us a few peas, if not, they won't take up space in my seed bucket anymore.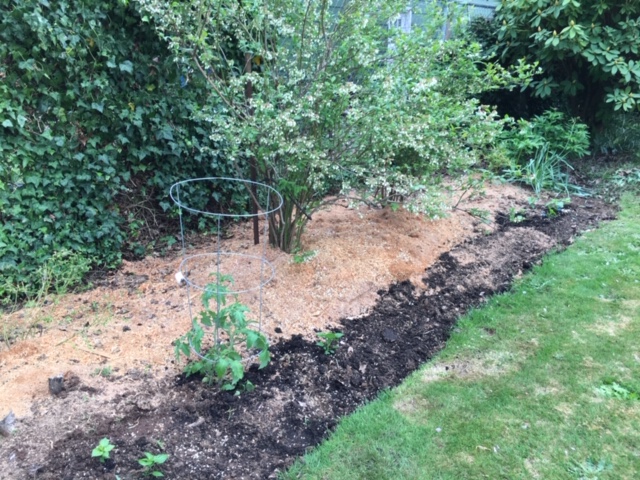 In front of the blueberries, but hopefully not too close that I can't get in there to pick the berries, is 1 tomato plant and some little Bisquino (Little Beak) Peppers. They make tiny peppers and should be decorative. I've had them pickled before, and thought I'd try to grow them this year. The plants themselves are quite small, and the peppers are tiny. It's always fun to experiment.
I will continue to plant more seeds in every extra space in the garden throughout the next few weeks–and then later in the summer and fall, my time will be focused on harvesting and canning. I like to succession plant Oregon Pod II Snow Peas, head lettuce, Buttercrunch Lettuce, mixed lettuce blend, green onions, and whatever else I can fit in so we can eat a continuous supply of fresh vegetables. I only planted part of the beans I need. I have space for a few more rows. We need to can quite a few. I have Sugar Pie Pumpkins and Butternut Squash plants to put out, and Rob grew some Okra. I worked as long and hard as I could, but didn't finish before the much-needed rain came. I really pushed myself to get as much done as I could, because the rain will water everything in and the cooler weather will give the plants a chance to settle in a little. I'm happy to stay inside today and do other things. It's supposed to be gorgeous next week, and I can get out there again. The plants should grow nicely, but then, so will the weeds, so I won't lack in garden work to do!