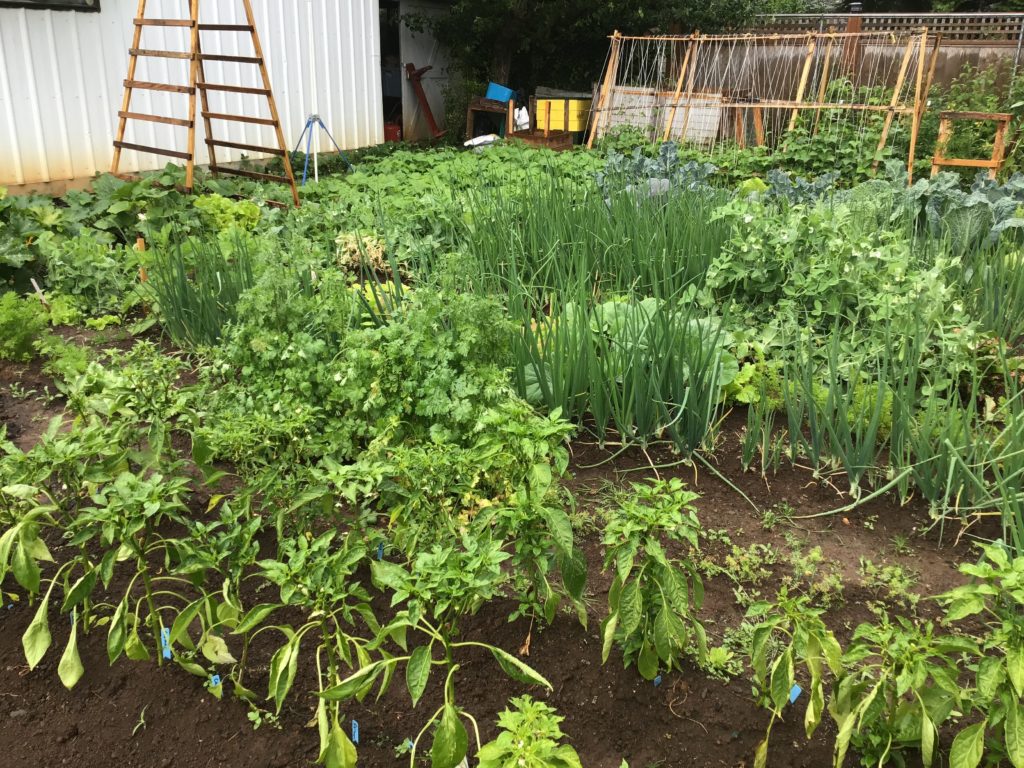 The garden is growing like crazy! I'm excited, because all of our hard work is starting to yield a lot of vegetables and fruit, and there's a lot more vegetables that are coming along nicely, although not ready yet.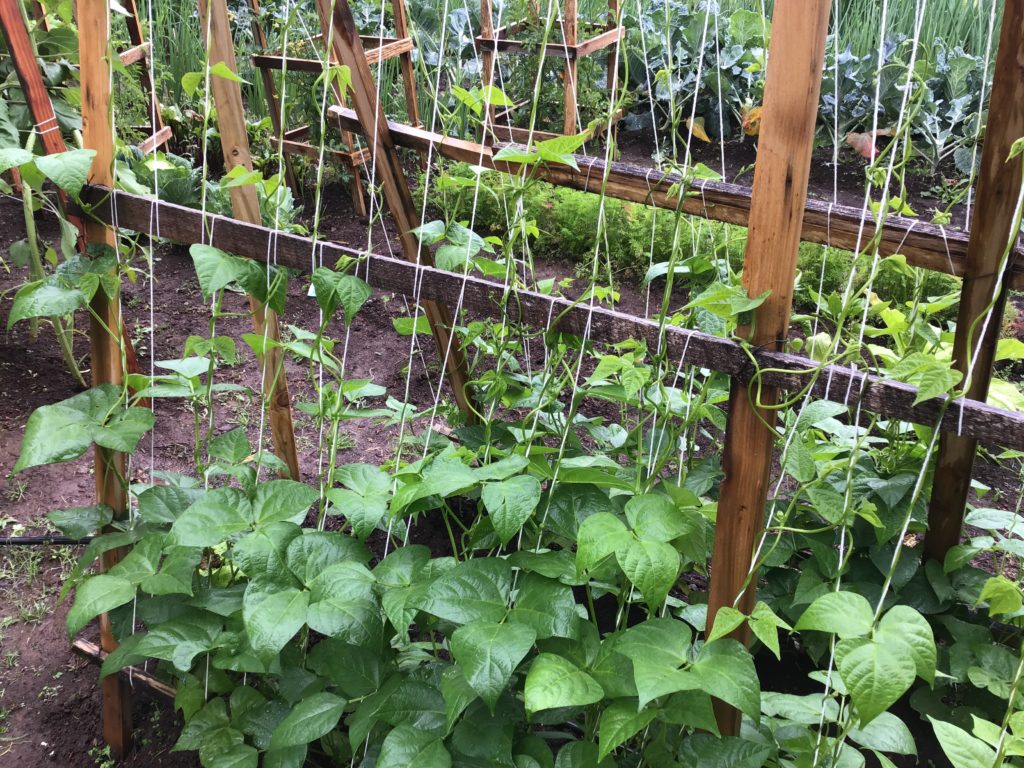 The pole beans are happily climbing up their trellis. These will yield until fall, and give me fresh beans for a longer period of time. I will can as many as I am able to get from the bush beans, as I need quite a few this year, but having fresh ones longer enables me to save the canned ones for winter when nothing grows. There are Blue Lake Pole beans and Violet-Podded Pole beans on this trellis.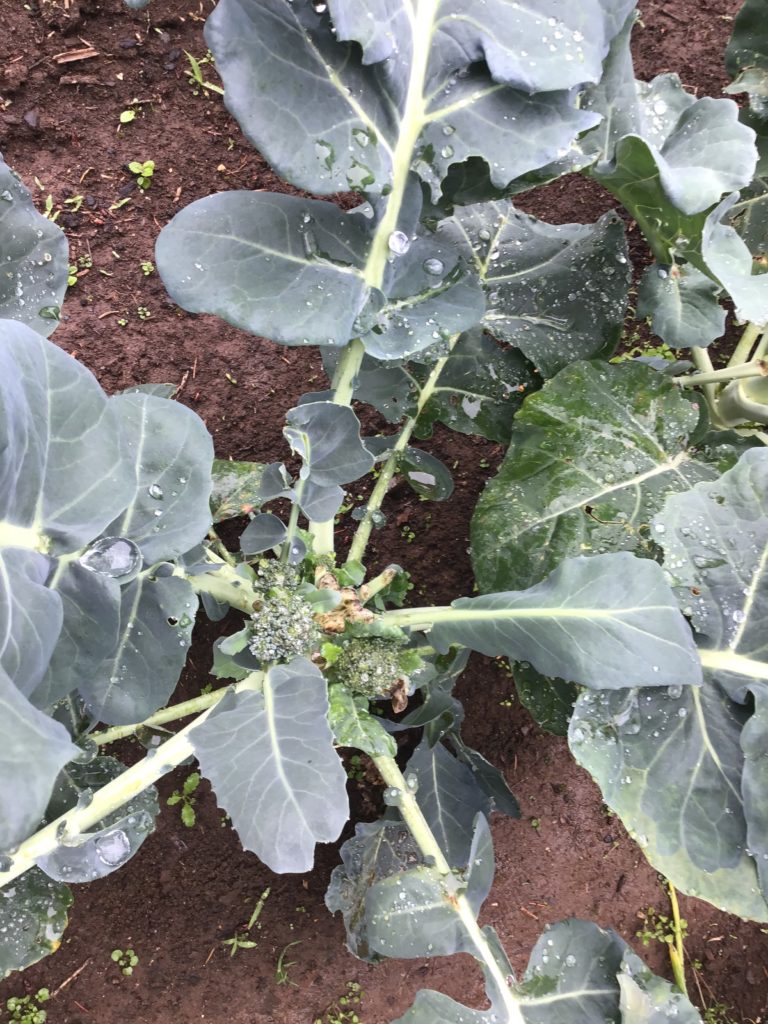 The main broccoli heads have been picked and frozen or eaten. Now, side shoots are forming. I put some fertilizer on them and will get lots more before these plants are finished. They look awful right now, but trust me, there will be more broccoli! Rob planted some new babies in the greenhouse, and I will put them out in mid-late summer for a fall crop.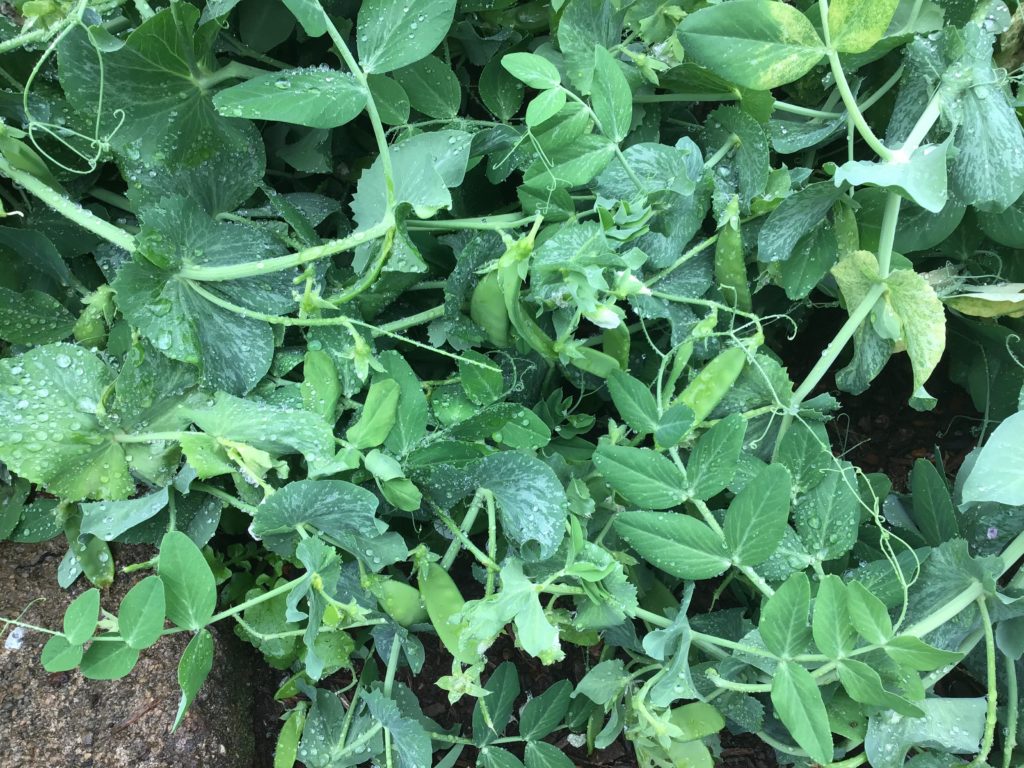 This is the third planting of Oregon Sugar Pod II snow peas. The other 2 have been pulled up, and more have been planted wherever I can find a small space to do so. We have eaten them several times a week. Rob stir-fries them up for his morning scramble, and I've made several stir-fries for dinners. I don't try to freeze any. They get too mushy for our taste.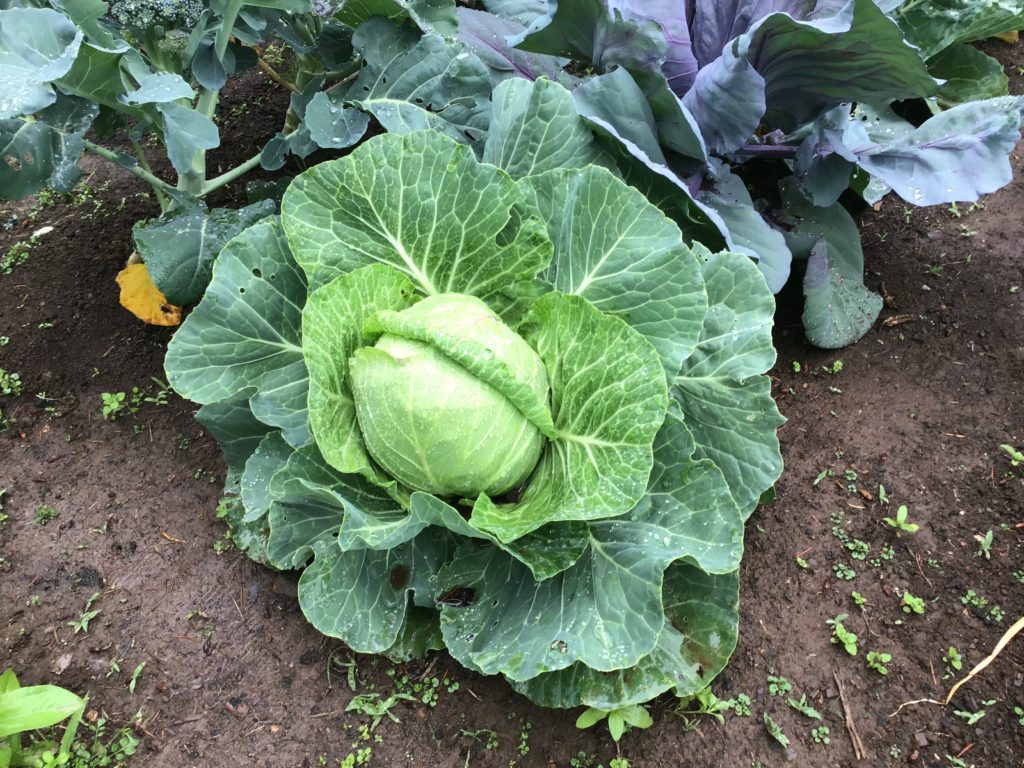 We've eaten several cabbages. I have a cabbage blend, and some Golden Acre cabbage. Coleslaw has been a part of our meal plan often. We like it with raisins in it. It has also been added to soups and stir-fries. There are still several cabbages growing, and Rob has some baby ones in the greenhouse for a fall crop. They are called Quick Start cabbage, because that is the kind the store still had. We will see what they are like. I really can't see how any cabbage would be a bad choice around here. It grows well here.
We have 2 raised beds near our deck. One is full of strawberries and the other is mixed vegetables and herbs. I just keep filling every crack and corner in with new little lettuce plants as I pick things. In that blank space on the right, I filled in a few snow pea seeds just yesterday.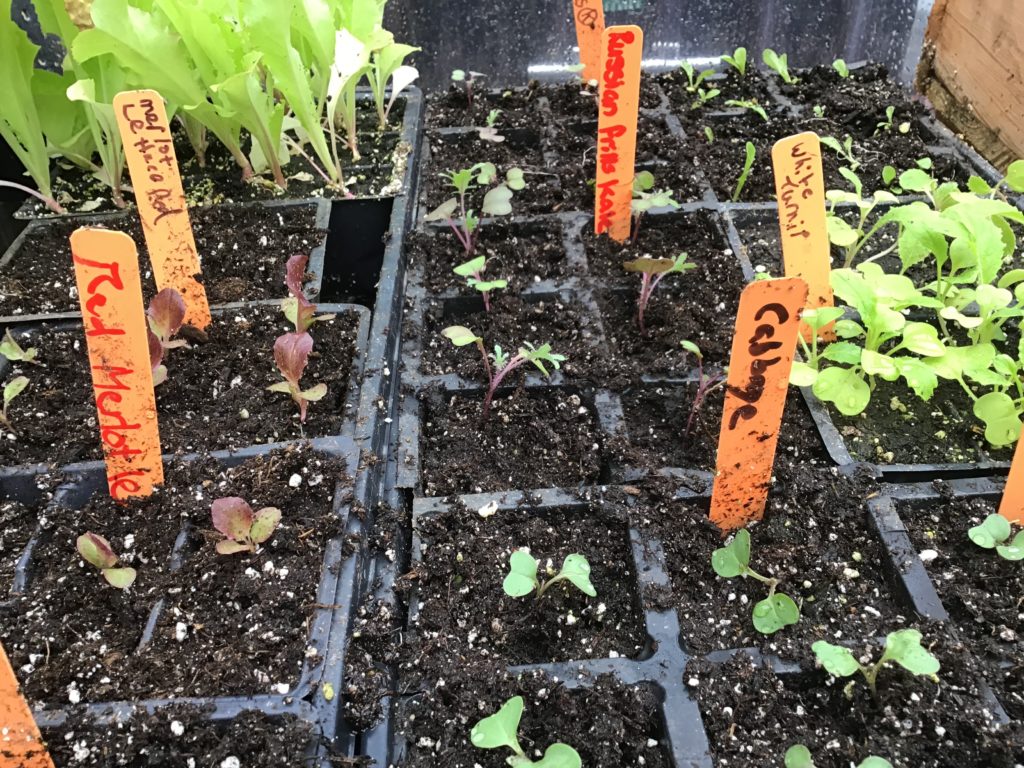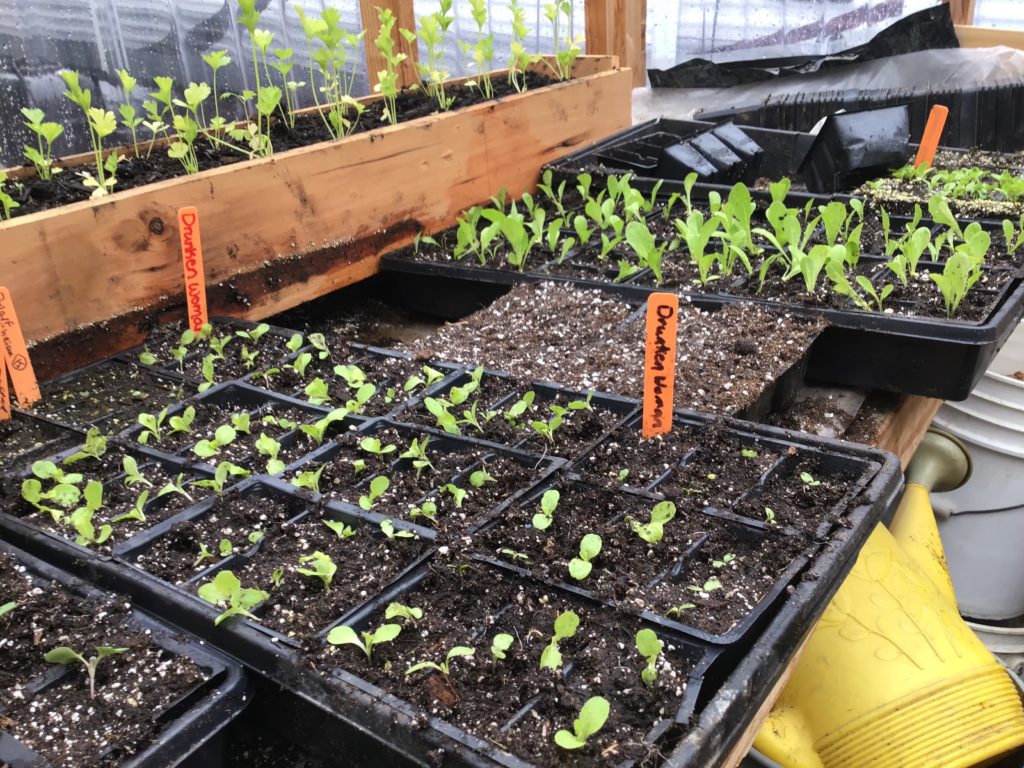 We are having tremendous success with Rob's plan of growing little seedlings in the greenhouse while waiting for space to free up in the big garden or raised bed. He has planted some unique varieties of seeds a friend sent us, and is excited for me to plant them out. He also keeps a steady supply of lettuces growing so I can fill in partial rows, or little spaces that free up.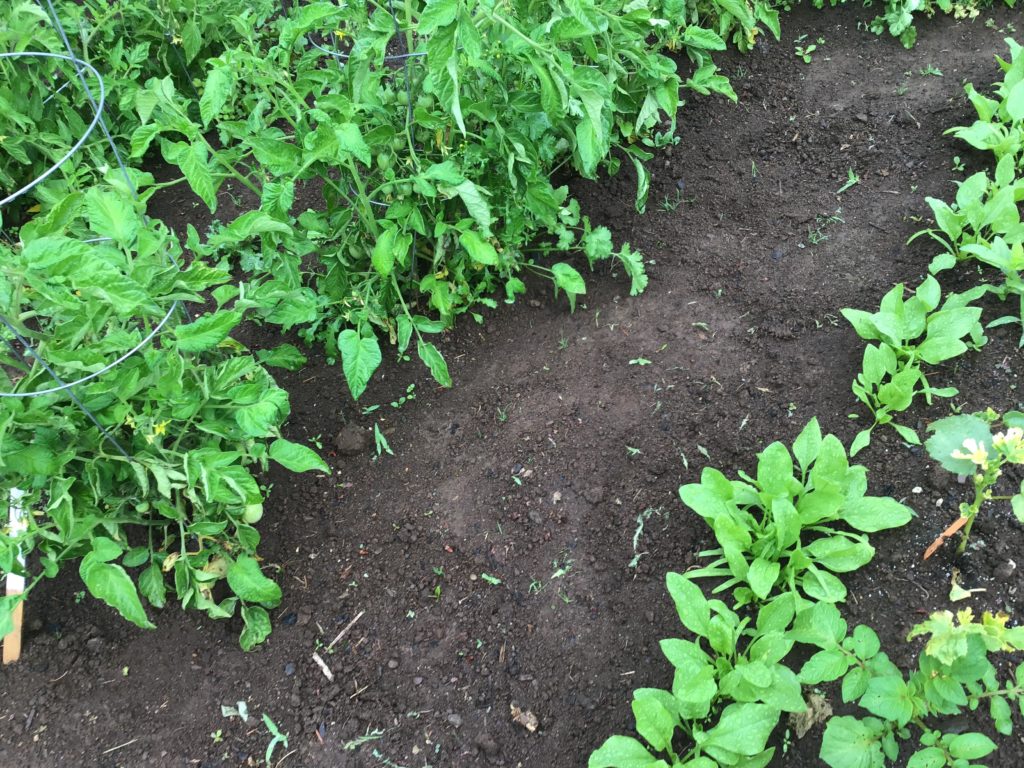 The new spinach row is growing nicely, next to the sad and sorry okra that is not. It's just not hot enough for it to be happy here, I think.
The Blue Lake and yellow Carson bush green beans are growing nicely, though. To the left of the broccoli, the empty space has been planted with more pickling cucumbers. There is another patch already growing elsewhere, but I want to do a lot of pickles. I have dill tucked here and there, and even planted some more in one of the front flowerbeds yesterday to get ready when this later patch of cucumbers does. We love pickles and they have been a great boost to Rob's dieting, since they are very low-calorie. He's almost wiped out my supply, so it's time to do many more jars.
Once this yellow zucchini starts pollinating we are going to have a ton! There are some green zucchini bushes as well. You have to have a male blossom open to pollinate these females…a couple finally opened this week, so I know I now have hope for the zucchini to grow and produce as long as the insects did their job. Rob eats zucchini almost daily in his morning scramble, so I'm excited that I won't have to buy them any more. It's not that a zucchini is expensive, it's that it's going to be so handy to be able to pick them and get most of what we need from the back yard when Rob is laid up after surgery. I will have lots of choices to feed him without leaving home.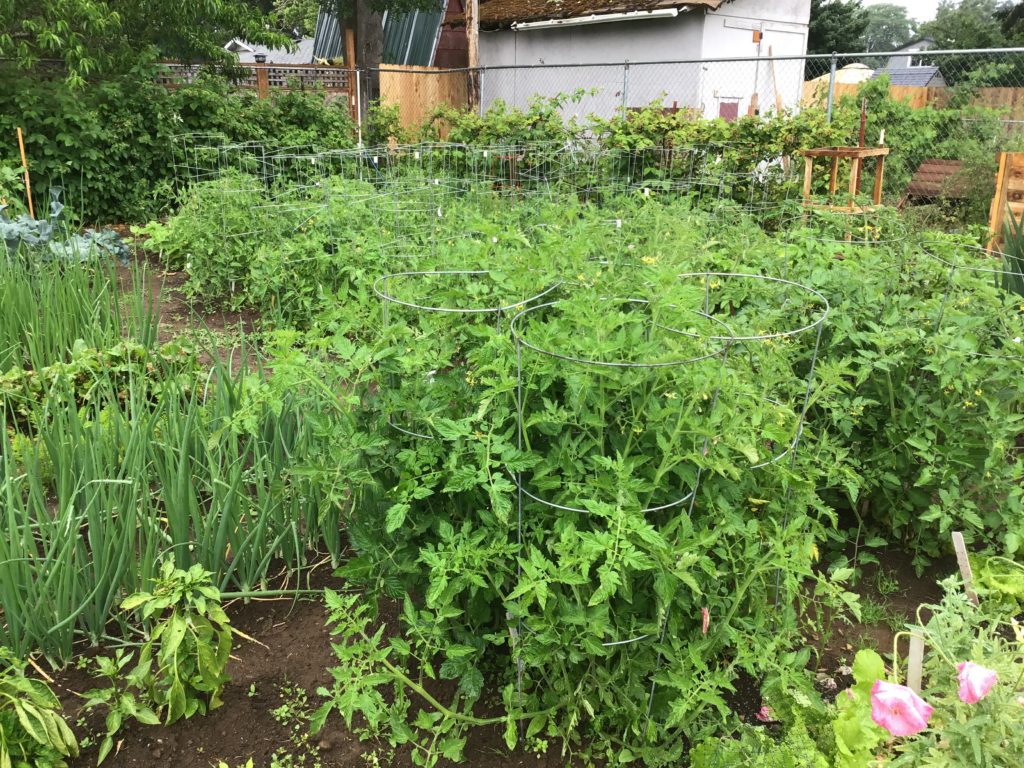 The tomatoes are growing well, and I've picked a small handful of the Glacier Ultra Early ones.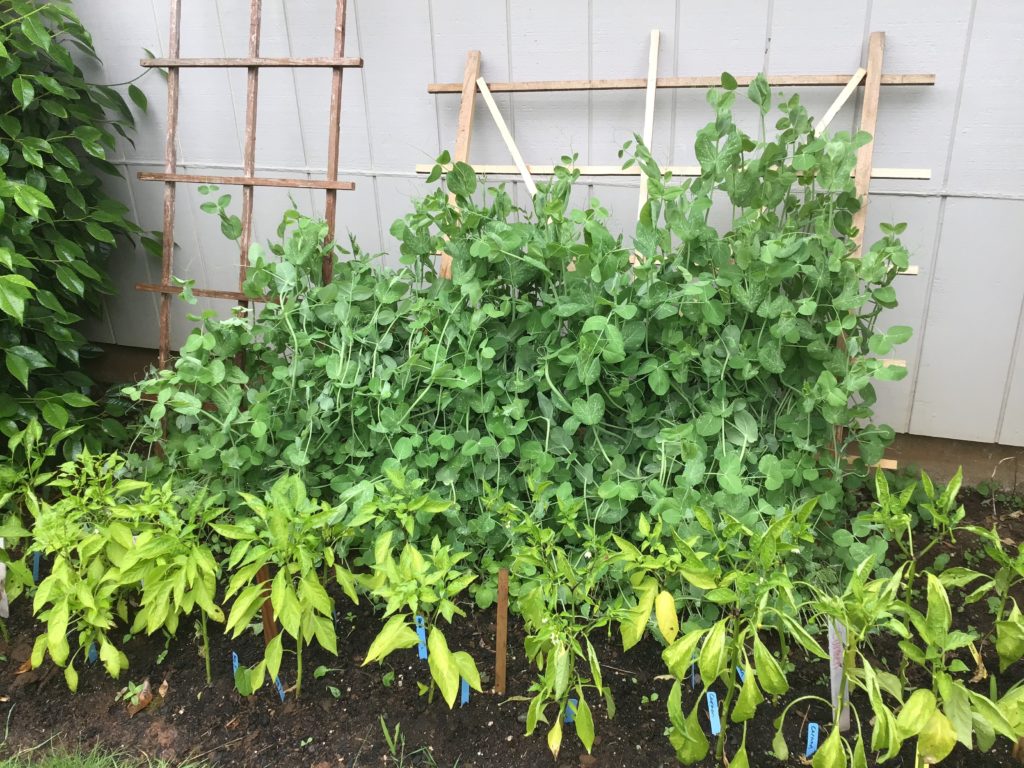 I have peppers in a couple of places. They are not setting fruit yet, and look a little sad. They want more heat. Next week, they should get some! The Alderman Telephone Peas in the back love this cool weather we've been having, but there are no blooms yet. Let's hope the heat doesn't fry them:)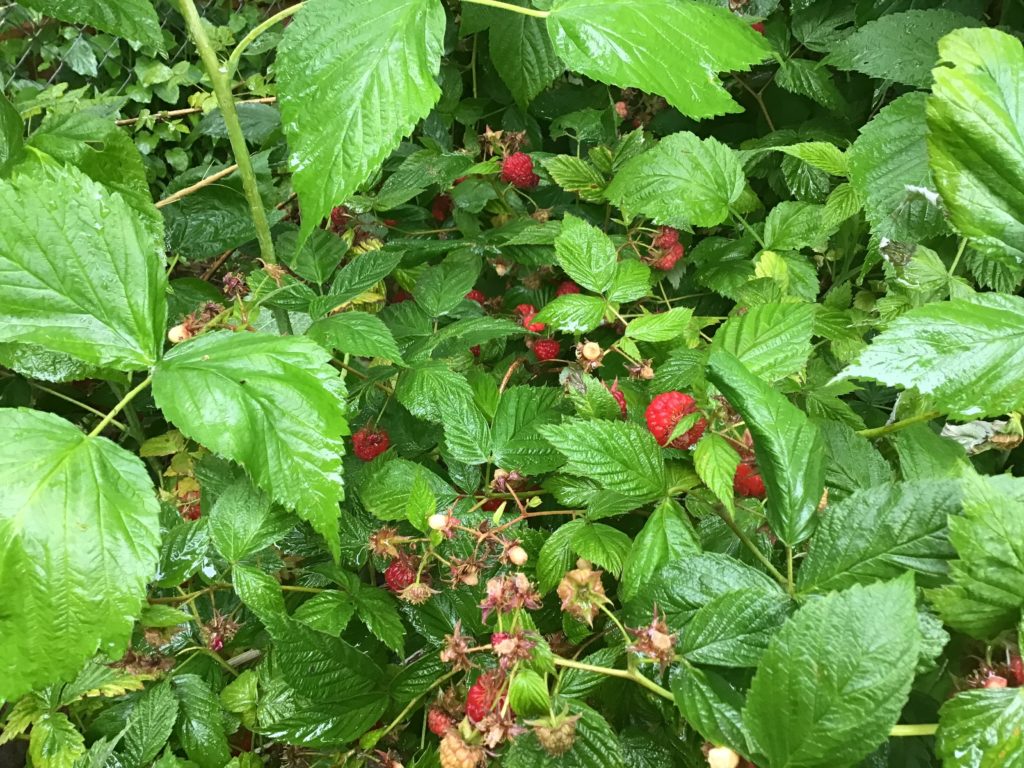 There is a bumper crop of raspberries this year. These are the ever-bearing ones. They are smaller, and not so sweet as the June-bearing kind I have, but I get berries sooner in the season, and later into the fall from them. I've frozen several trays of them and we eat them fresh, or in a bowl with a little milk or 1/2 and 1/2 on them sprinkled with a little sugar. The June-bearing kind are just starting to ripen, one here, and one there, and I have a huge amount of green ones on the bushes.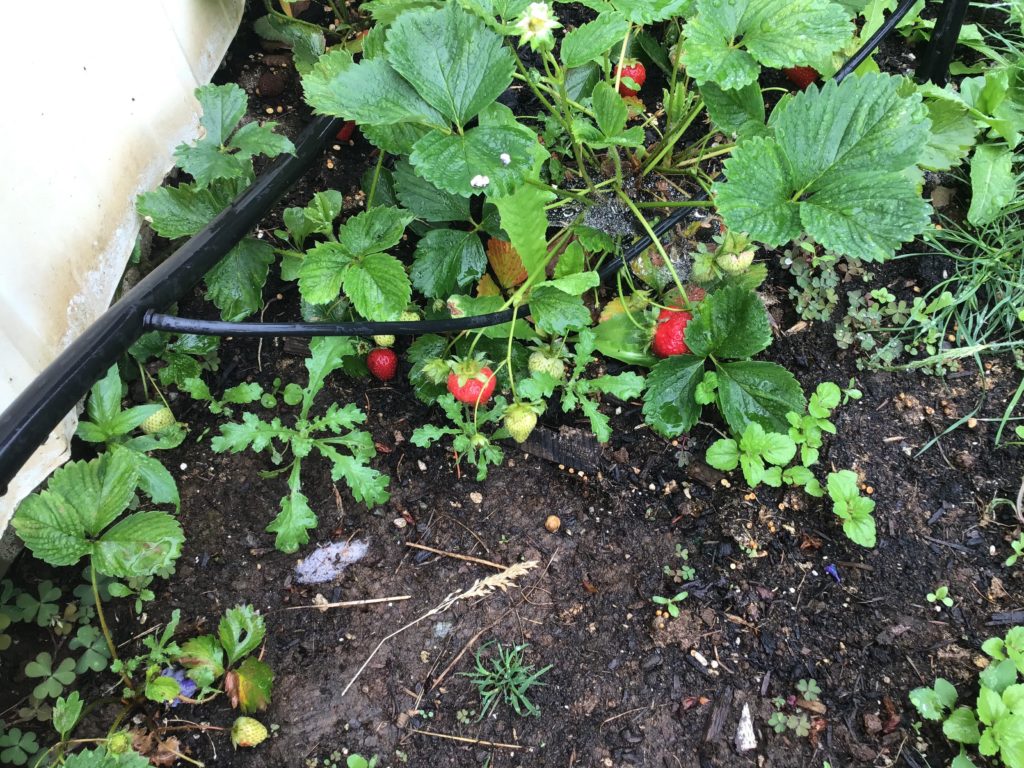 I'm getting about a quart -1/2 gallon of strawberries every couple of days. We've had them on ice cream, in smoothies, and sliced in bowls. Jake loves them sliced with a little sugar on them. I'm delighted, since it's difficult to get him to eat very many healthy foods. I'm freezing the rest.
The weeds are growing as well as the rest of the garden, probably even better. Instead of despairing, I just try to hoe or weed out a few each day. Yes, I will never finish, but, I'm also getting an awful lot of good food despite the weeds that keep cropping up every time I turn my back:)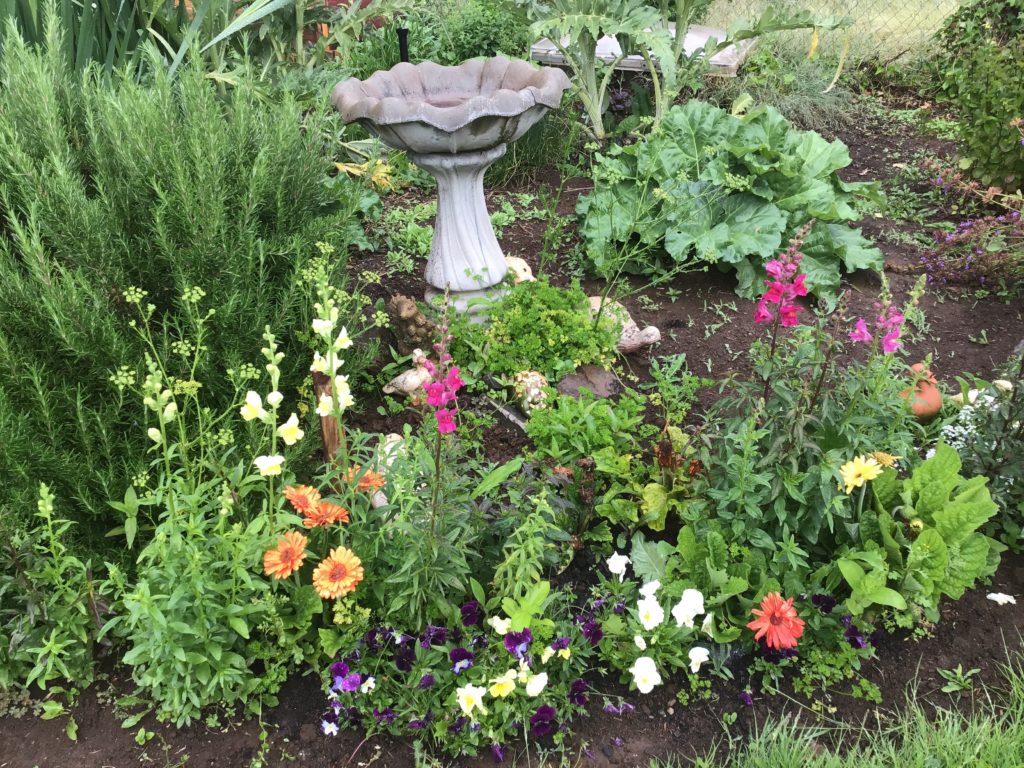 Rob's snapdragons and pansies look so pretty by the herbs. You can see that the rhubarb is already growing back from when I pulled each and every stalk a few weeks ago.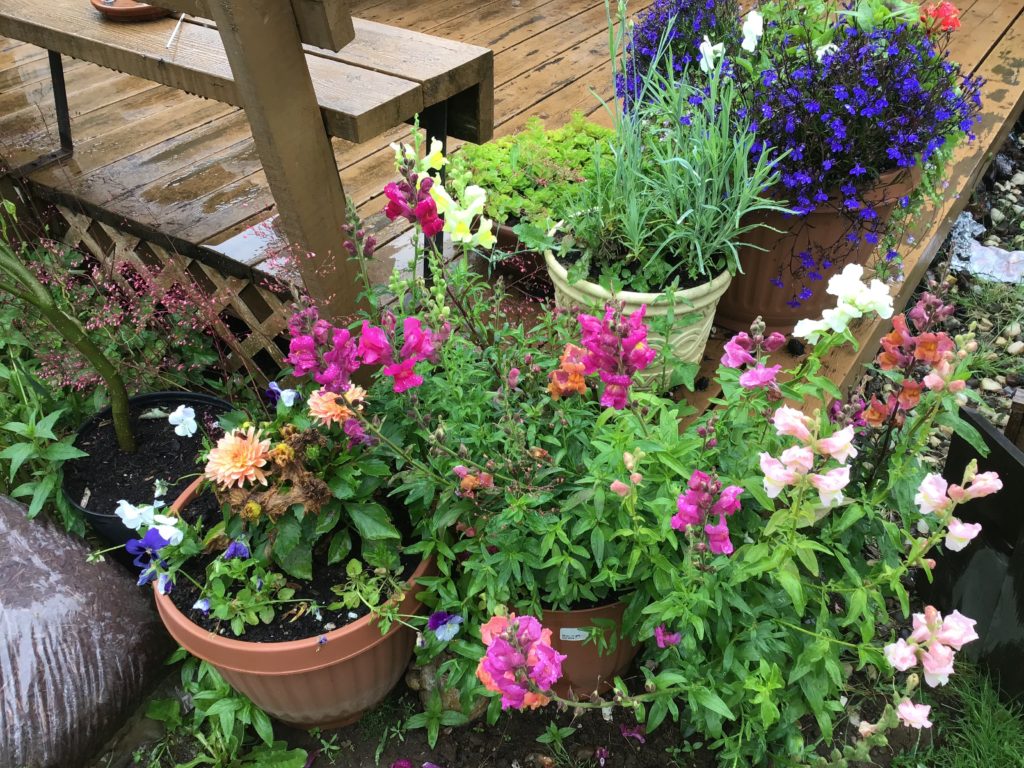 It's really almost ridiculous, the amount of snapdragons that grew from those little Dollar Tree seed packets! We have them in lots of places, along with other flowers–some Rob grew, some we bought, and some were wintered over from last year. It's looking pretty good around here, and I feel good about the garden's progress.
I will not be suffering from lack of work once Rob is laid up next week after surgery, but I do feel like I have as good of a handle on it all as I possibly can. We have family members already lined up to come help me out, so I know I can go out and pick things, weed a little, etc. And, the best part is that he will be getting better each day instead of worsening as he is doing now. In a few months, who knows what he will be able to do? But, even when he is recovering, after the first couple of weeks, he should be able to transplant his little baby plants, and so forth. For now, I'm under strict instructions to water them each and every morning, without fail. I can handle that!