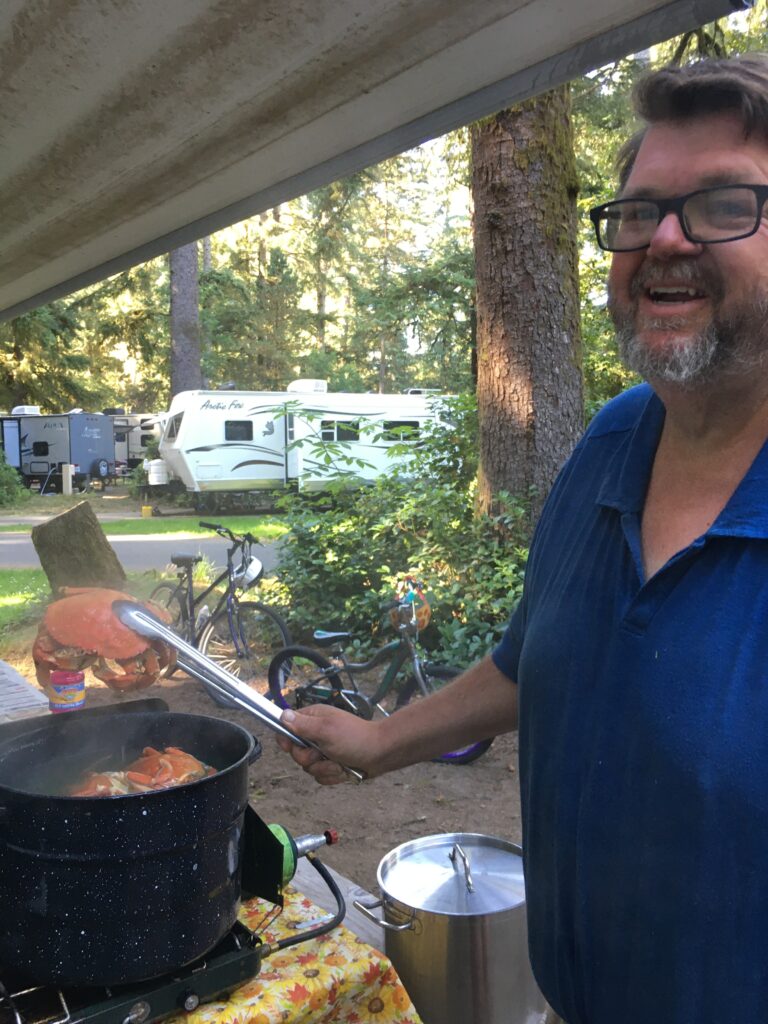 We just returned from a wonderful week camping at Ft. Stevens State Park. Due to Rob's surgery and Covid, this was the first time we were able to take the camper out for a whole year! We were so glad we got to keep these reservations we made 9 months ago, and that nothing happened to cancel them.
We made up for lost time and did everything we could!
We also took along many activities for both Jake and Patsy and did an outdoor school/camp experience for them, with a focus on Lewis and Clark, as Ft. Stevens is very near to where they ended up at the Pacific.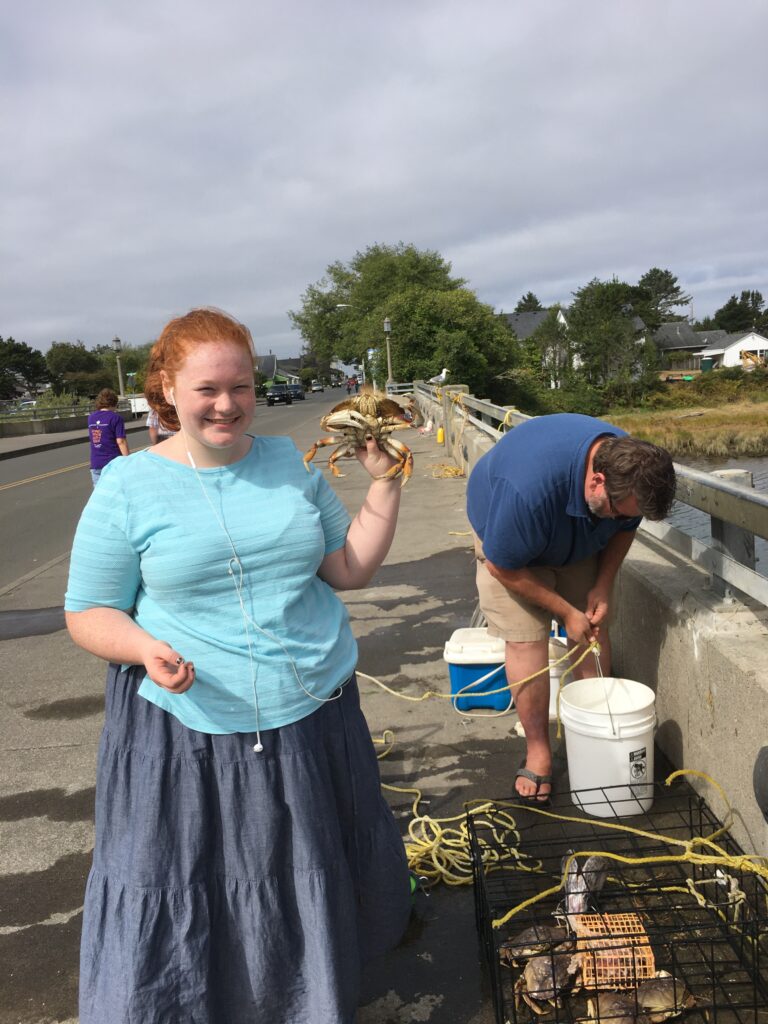 We crabbed off the bridge in Seaside and were very surprised to get 5 keepers. We made a conscious decision to go at a time that was not perfect, so the kids would have a good experience, and …..WOW!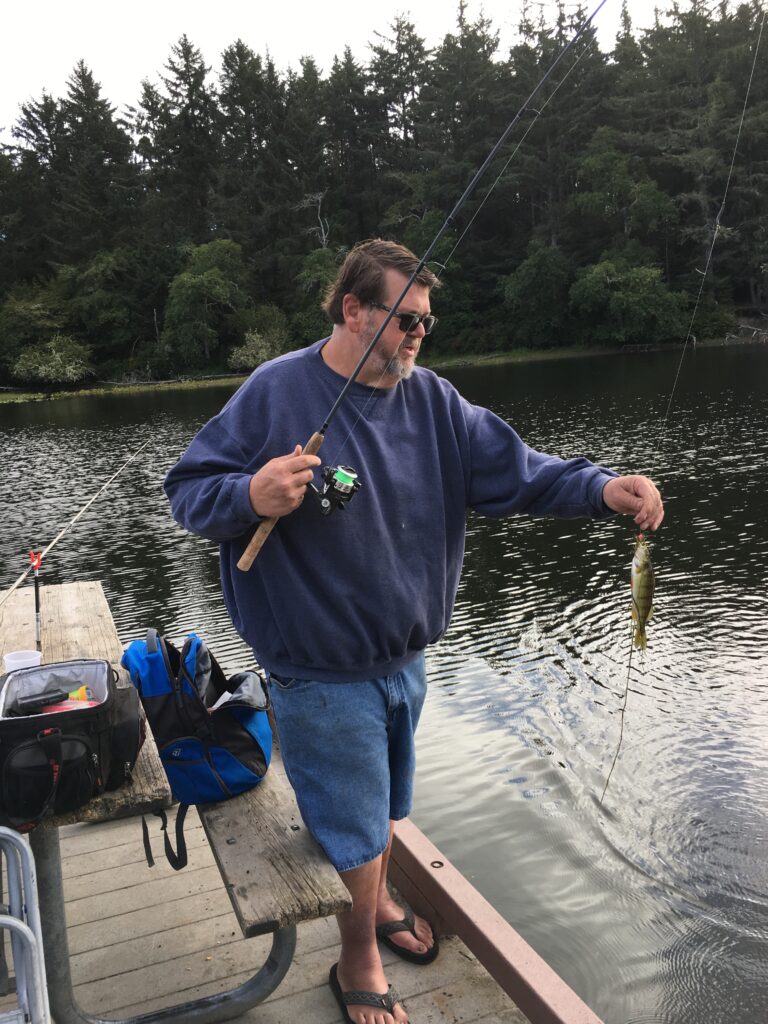 We went fishing at nearby Coffenbury Lake a couple of times. The fish Rob has was not a keeper, but he did get one that was. Jake loves fishing now and had fun pulling in a few little ones, which we put back.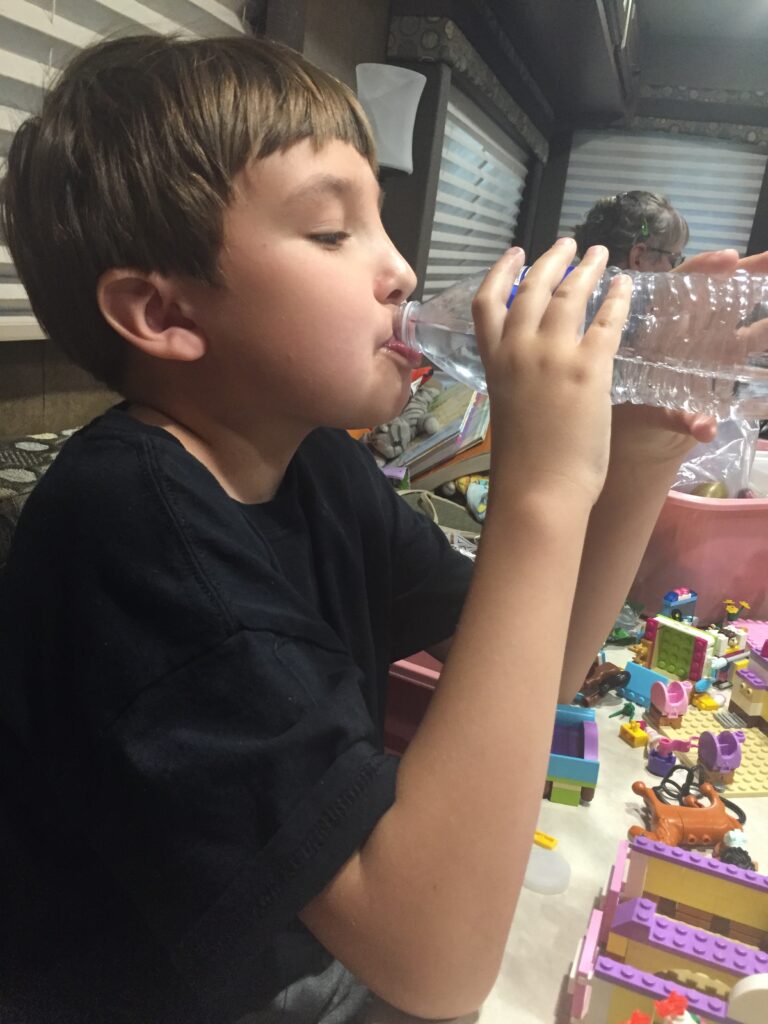 Jake played Legos for hours. We have some that we keep in the camper and never bring into the house, so they seem like new toys to him. The kids did glow sticks every night, as usual. They played "hot and cold" with Uncle, as usual. (He hides little prizes around and they find them–). They dug for buried treasure, as usual. (Rob buried gold chocolate coins this time and made them find them outside the camper.). I read outloud for hours, as usual–this time it was about the journey of Lewis and Clark. Can you tell this is a boy that likes his routine? 🙂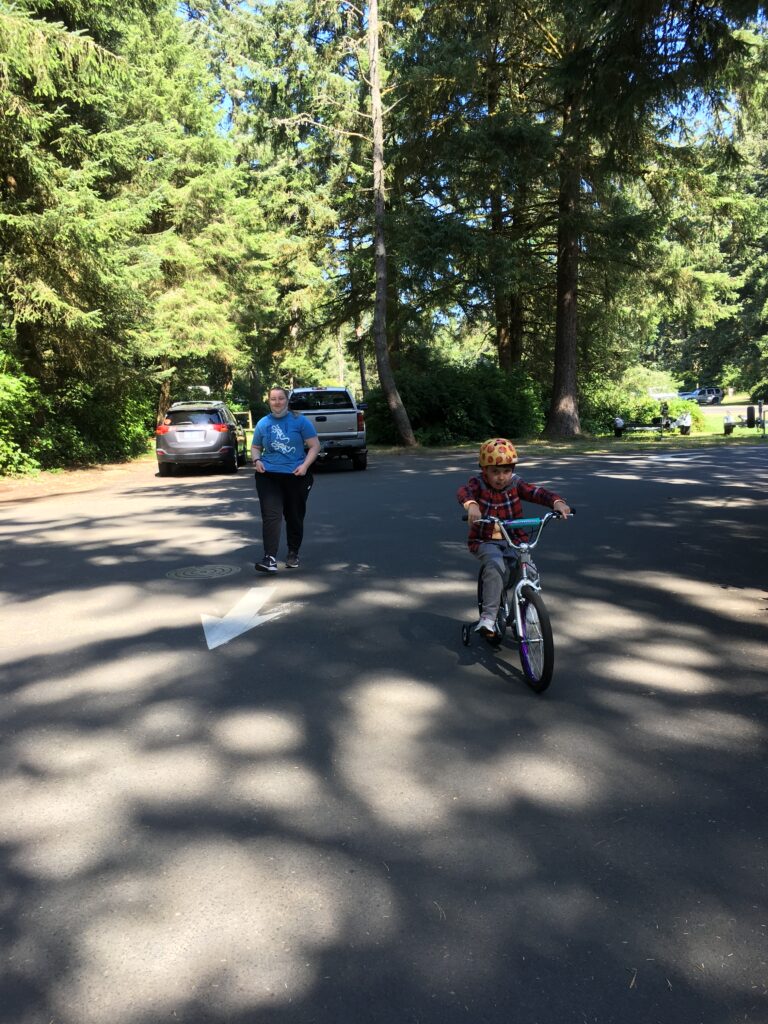 Something new this time was the bike riding. One day Jake's big sister, Caitlyn, came over and helped him "ride" on a very long bike ride. I guess she had to push about half the time, but it was fun.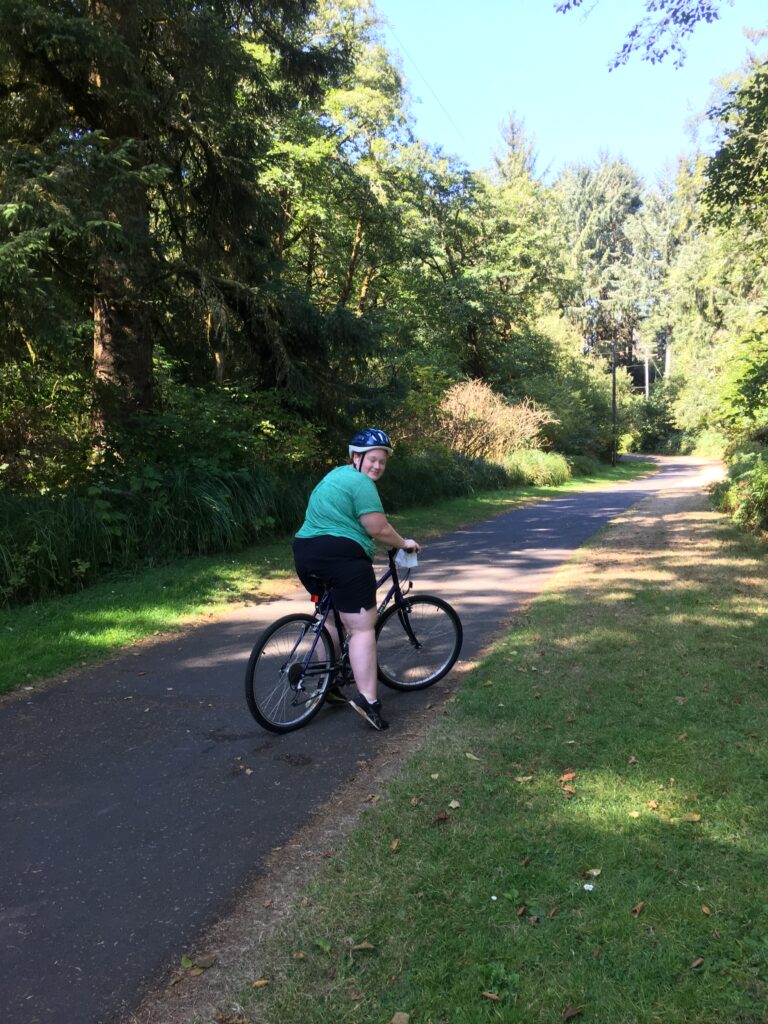 Mostly, he and Patsy rode around and around the loop where we were camped, and both had a blast! My aunt had a bike she had not been riding, and gave it to Patsy. Patsy loves it so much. Rob taught her how to put on new tires and inner tubes, and once they fixed up, it worked very, very well for her. She rode it for miles, I think, because she was on it almost every day.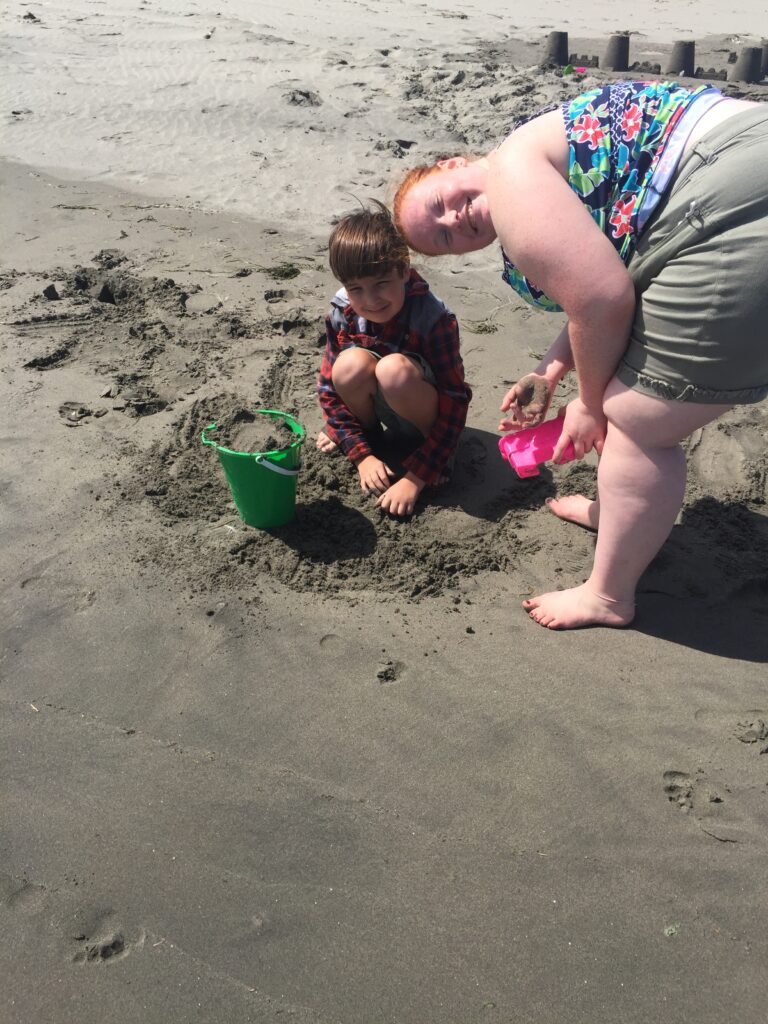 They dug in the sand one day. Rob did some fishing while they dug, and I stayed back and cleaned up the horrendously messy camper, a couple of cupboards and baked the cookies. Although I was offered help to bake the cookies, by that point, I had had enough help for a little bit, so Rob took them away for a little while, while I got the camper cleaned up. We never intended to leave the camper sit for an entire year, so of course, I found a few crackers that had seen better days. The kids happily fed them to the seagulls one day. Another day, we drove across the bridge to Washington State, and read road markers about Lewis and Clark's journey. We also spent quite a bit of time playing Lewis and Clark–pretending to explore with a compass that was used more for fun than for correct direction, but…..
We went for several hikes down the trails, in fact, did a hike most days.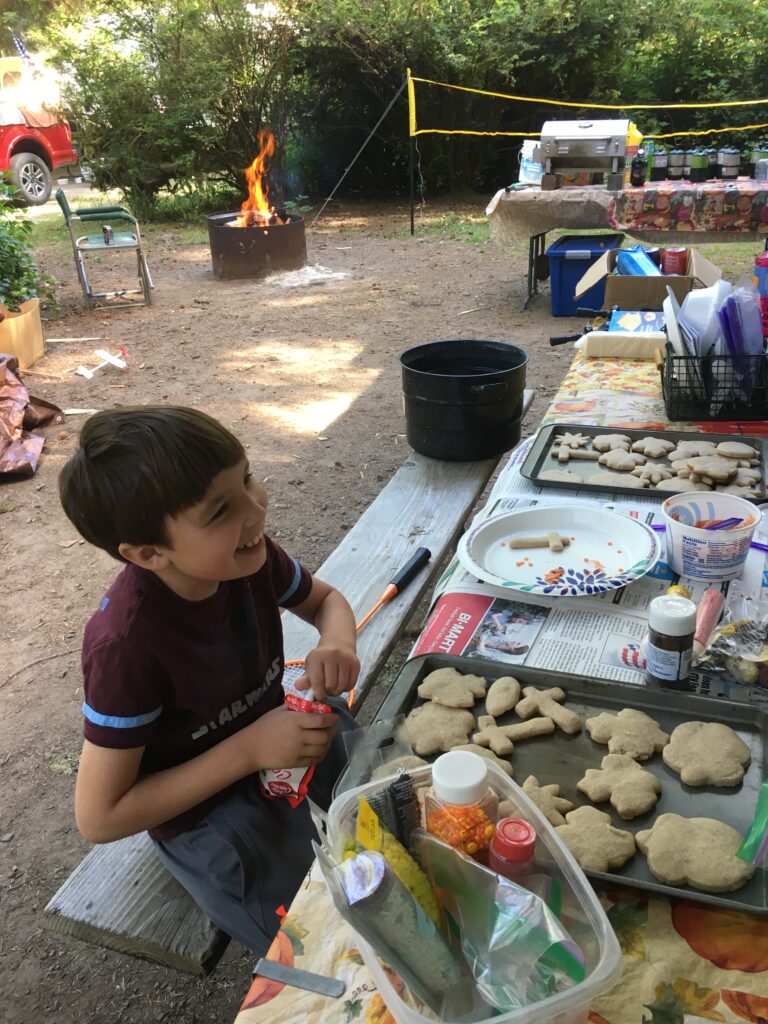 I took so many fun activities that we did not get them all done. They did camp fire cooking, decorated fall cookies, craft projects, plus all the outdoor fun. I still have some ideas left for next time, which is how I like it!
My sister came and picked the garden several times while I was gone, so it is in good shape.
We stayed frugal by using the foster/adoptive park pass we have, so we camped for the week for the $8 registration fee, only. We ate all meals as picnics or at the campsite, except one drive-thru at McDonald's for a lunch the day we drove around. We always save change in a can for that purpose, and still have plenty left for another time, as Rob and I didn't want a lot from there….just sayin':). We'd prefer a little seafood or chowder, but since it's Covid, we chose not to go to a restaurant so McD's it was. The kids were happy, and we found a nice spot to sit and look out at the water while we ate, so we were happy, too. We visited a grocery store one time for a few items, but most food was brought from home, using our regular grocery budget and garden produce. It was a great week, and I'm so glad we got to go!