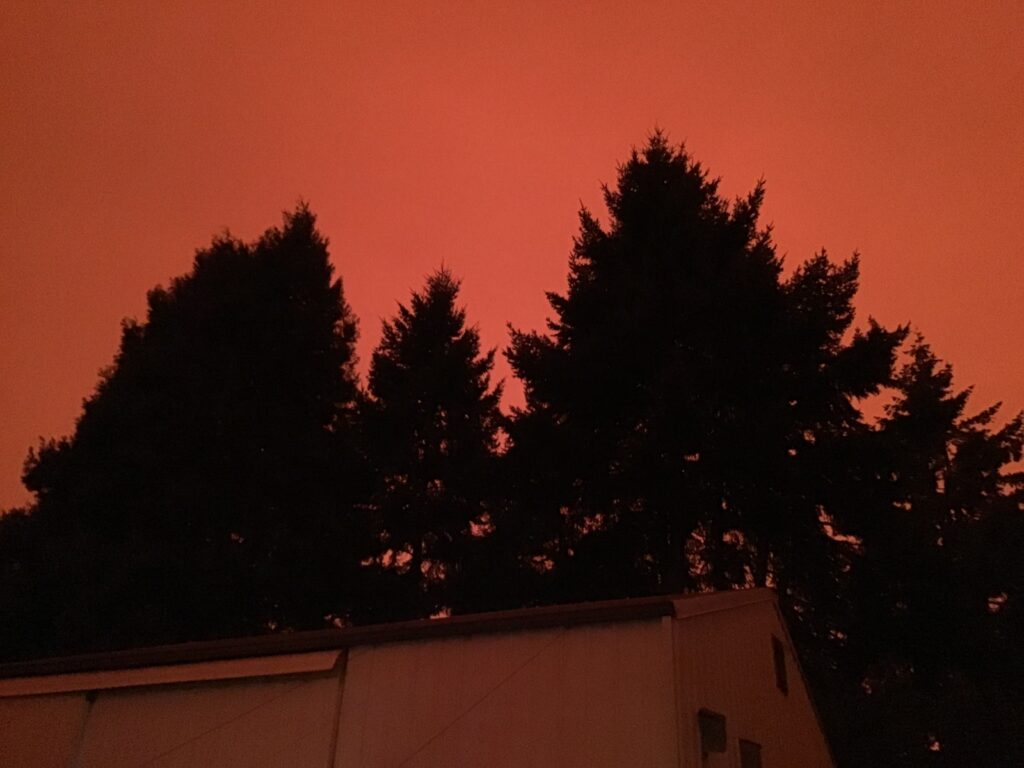 Yesterday was disconcerting, to say the least. Smoke from wildfires in our state covered our area. We woke to darkness, as if it was a winter morning. The darkness continued until after 9 a.m. When it finally got light, the light was very dim.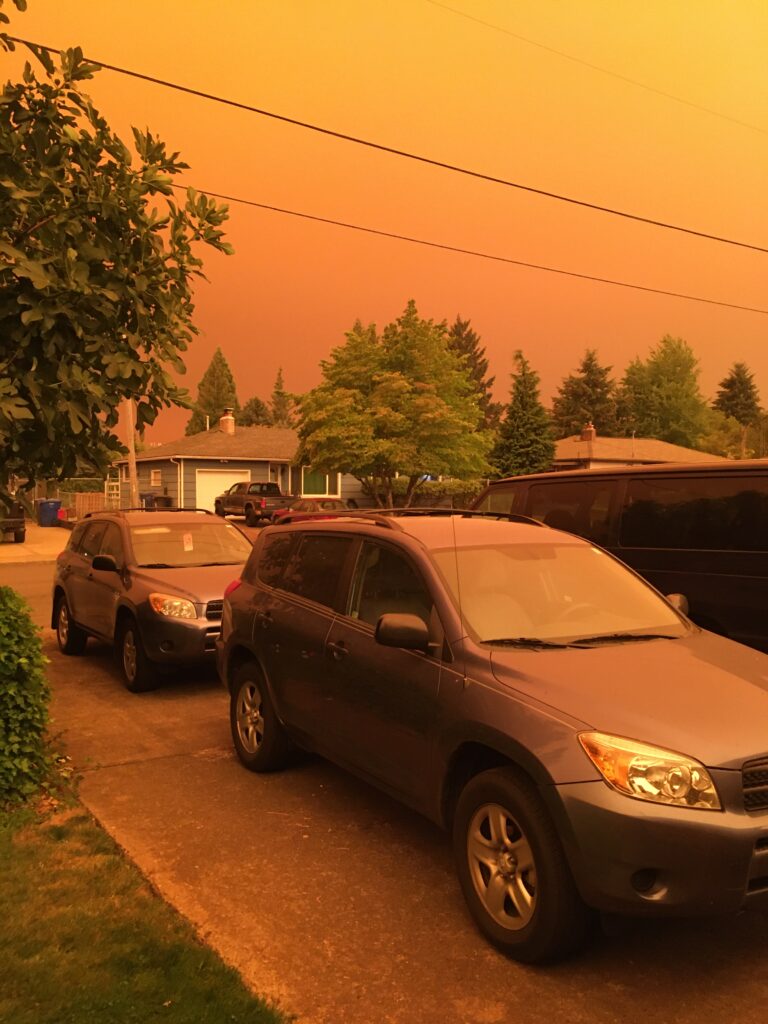 Our cars were covered with ash, and the ash is worse today. Pieces of ash constantly drift down and swirl around, as if it was lightly snowing.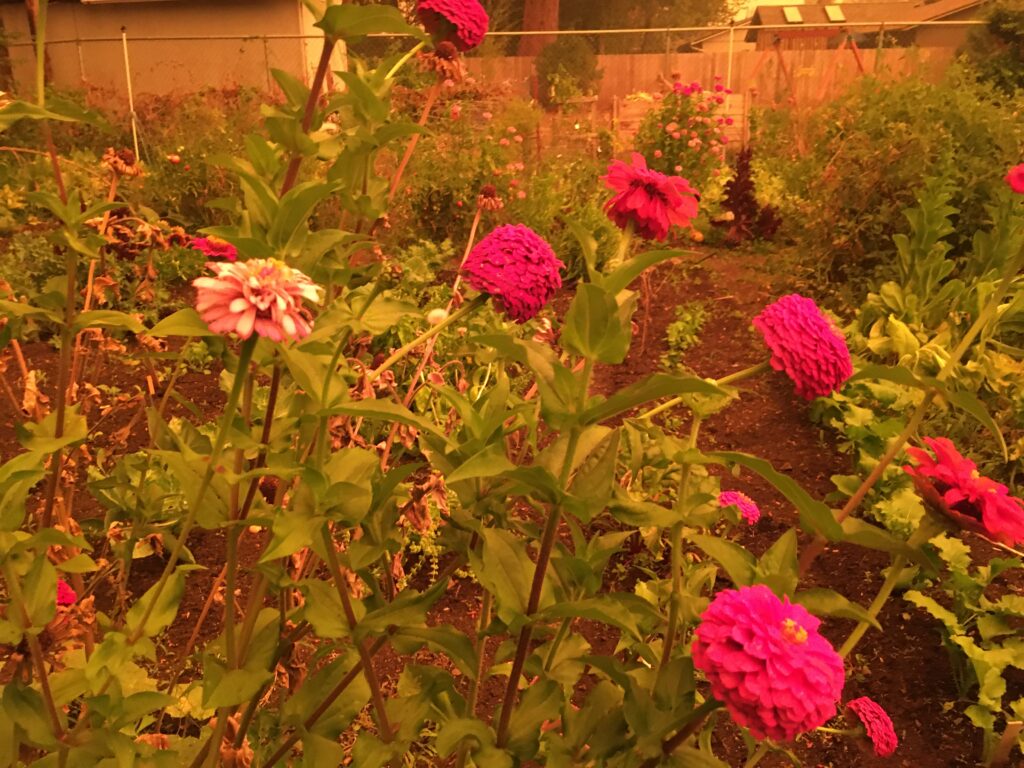 The plants in the garden are not amused. They are really covered with ashes today. I put the sprinklers on last night to hopefully wash them off, but they seem pretty dirty today. The lighting was so bad yesterday that I went out in mid-late afternoon to pick some green beans. I picked what I found. Today, when the light was better, I went out again and got another whole colander full that I simply did not see yesterday because it was so dim.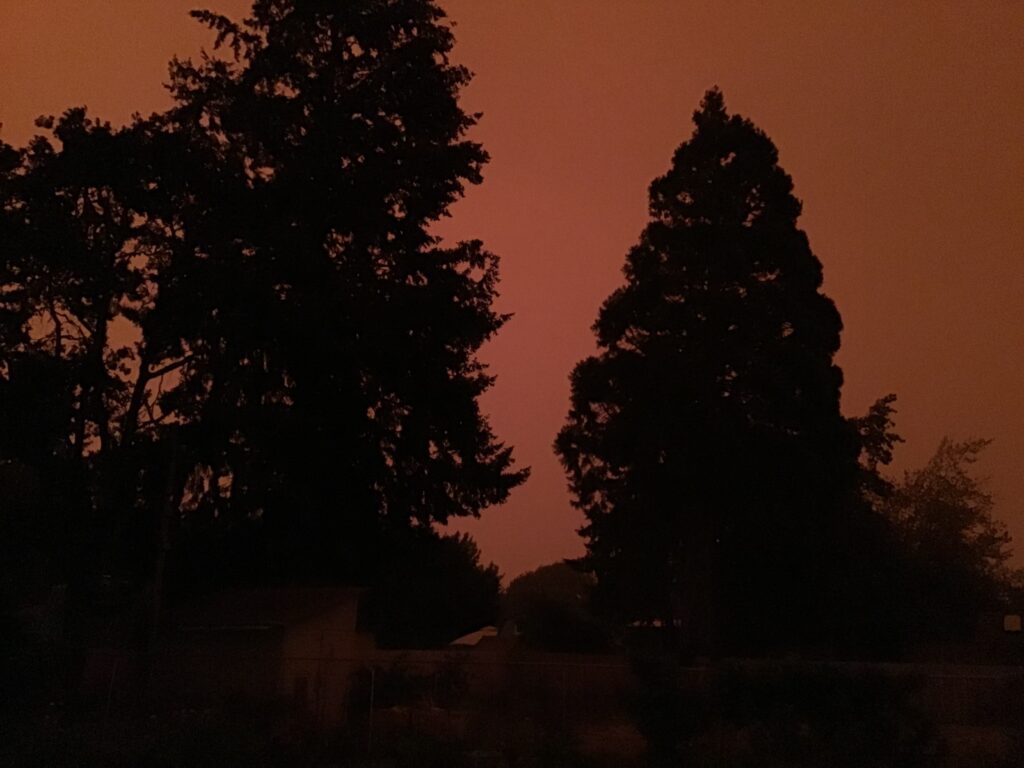 Long before 5, the sky darkened, and it was once again pitch black.
Today was a little better, but still very smoky and ashy and the light was dimmer than normal. The extreme conditions have moved up the valley a bit. Although it is freaky, we are very safe where we are, in the middle of the city.
I'm not complaining. There are entire towns pretty much wiped out. There are people who have lost everything they own, and some have even lost their lives. We have friends who have had to evacuate. Fire is raging in the canyon where we recently vacationed. We don't even know if the cabin we stayed in is still there. That entire town has been severely damaged, we know from news reports.
One hard thing is that there are so many fires. They just announced that there are 27 in Oregon. They are all over the state. Down at the beach, one of our popular seaside towns has been partially evacuated due to a fire that is getting closer. In southern Oregon, my mother's cousin had to evacuate a campground, and I read today that it burned up. (The cousins are safe) There are several fires in the county where we used to live, and one is extremely near to where our house was. Rob's uncle and many, many others had to transport all their animals to the fairgrounds near them when they had to evacuate.
Almost every Wednesday for about 20 years, Rob and his friend have met for prayer, Bible Study and to visit. His son, a policeman, came by as his family was there for safety reasons, and Rob got to talk to him about the fires in the area. It was nice to have so much info. Rob drove up there today as usual, and they met in the pitch dark. The heavy, heavy smoke had moved up there today. He planned to visit a couple of friends and drop off a little garden produce while he was up in the area, but was unable to as one had evacuated to another location, and the other had been up all night, thinking they might have to go at any moment. So, those 2 dodged the zucchini bullet, just for today. They are safe, and their homes are safe as of tonight, and for that, I am very, very grateful. I heard from my friend that lives in Central Oregon, and she's ok, too, even though there are fires there, as well.
I'm praying for the people who have lost so much. I'm praying for safety and strength for the fire fighters. I'm praying for everyone to make good decisions and stay safe. And, last, but not least…I'm praying for rain. Lots of rain.