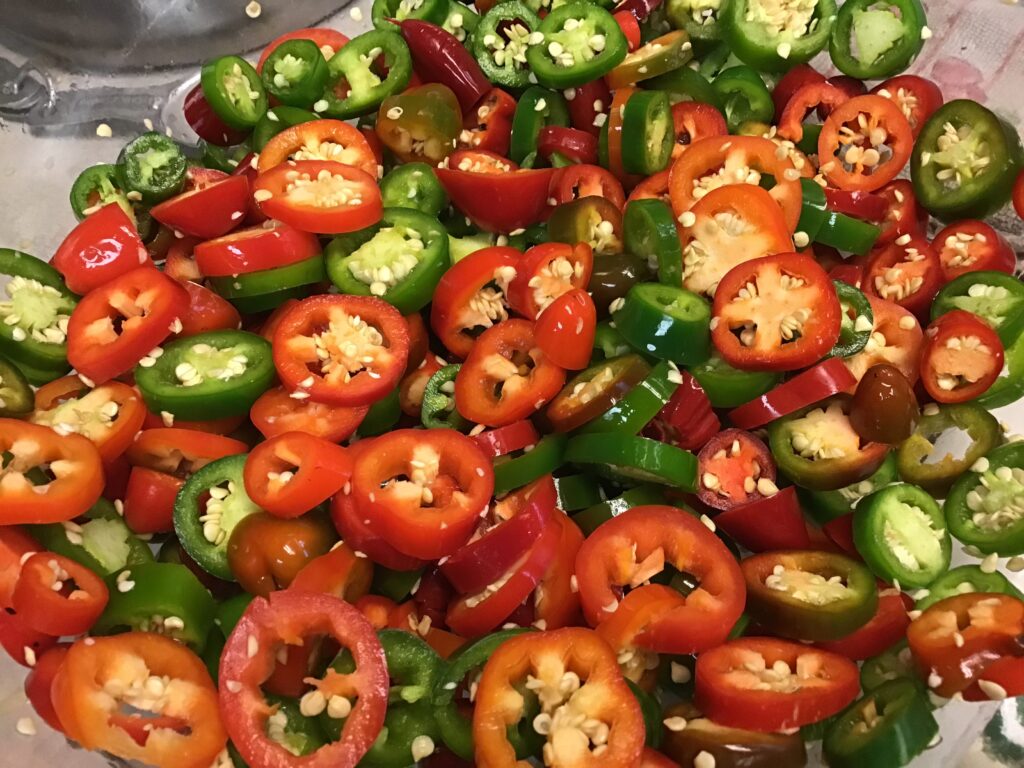 I want to say thank you to all of you who have offered prayers on our behalf here in Oregon, and all along the west coast. The fires are still raging in our area and thick, choking smoke fills the air and ashes cover our yard and garden. The town where we recently vacationed with my sister and family, Detroit, is almost gone, as our many other towns around the state. So many of our family and friends who live in different towns than us, are evacuated. Many others are on Level 2, which means "get ready to leave." Hopefully, the weather system they are forecasting will bring rain in the next few days, and that will help the situation out.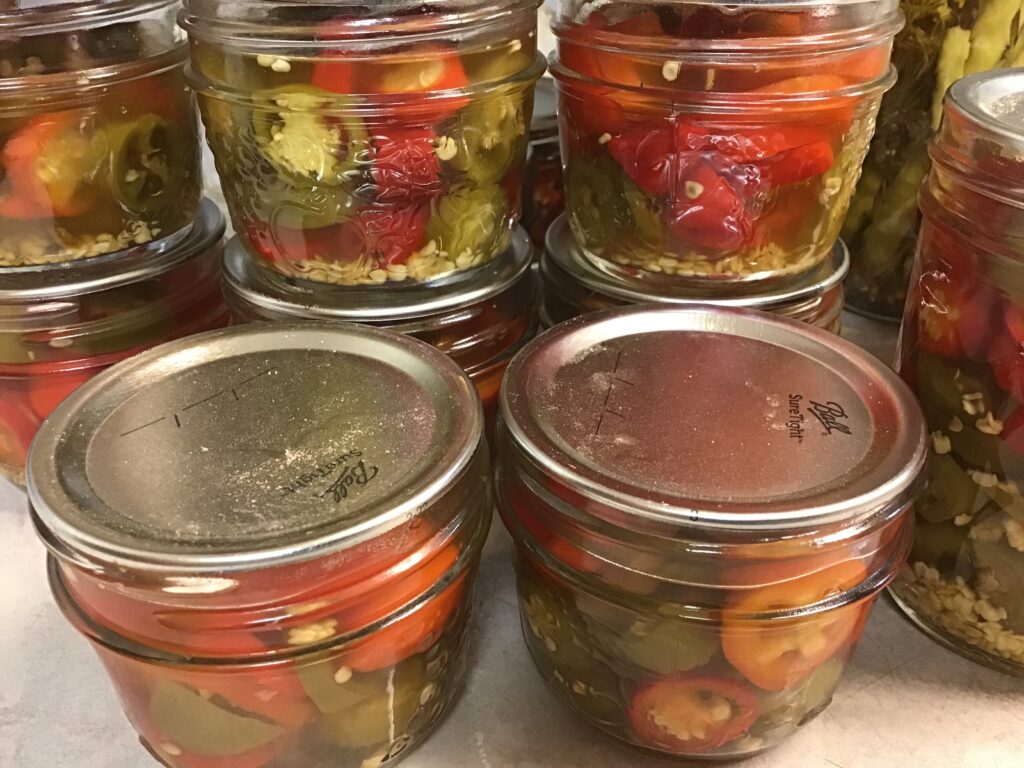 But while we waited for rain, hunkered down, inside, trying not to take big breaths when we were outside, I finished a few projects. I had the assorted hot peppers my sister and aunt gave me. I dashed out to pick the ones from my bushes and Rob cut them all up and we pickled and canned them. Rob will eat some of these on salads and sandwiches and I will use some of them when I make refried beans. They are so pretty in the jars, even with the light coating of ashes that persists in spite of wiping and dusting them. No worries…after this picture I got it all off!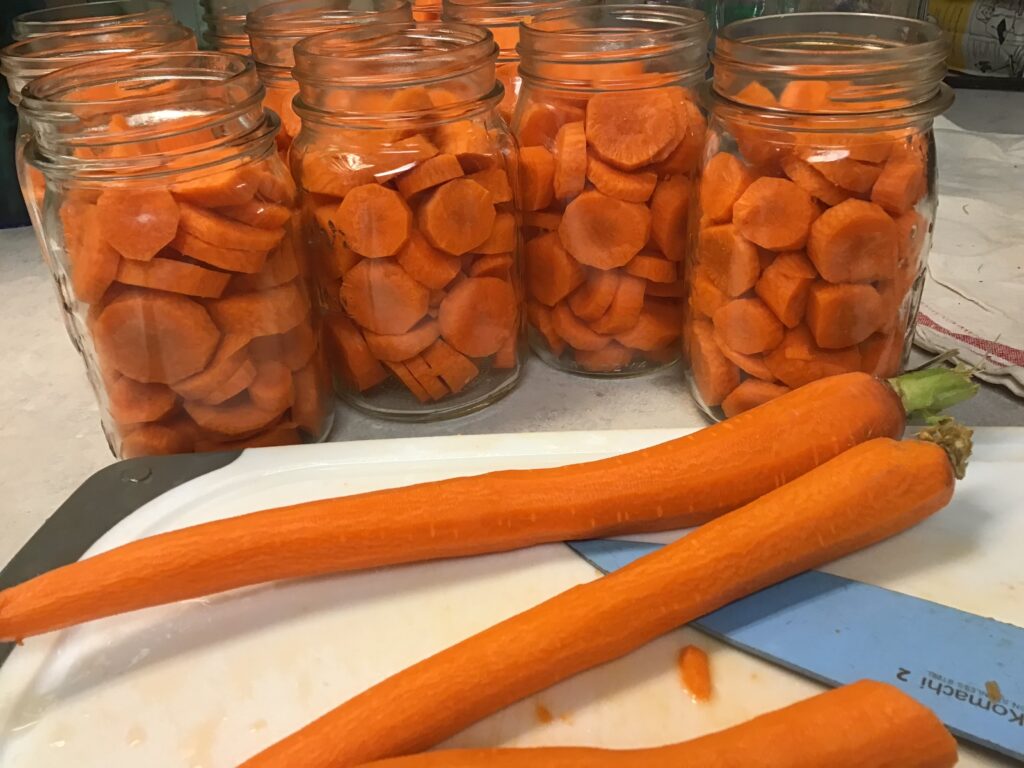 After my pathetic carrot crop was exhausted, in one afternoon I might add, I knew I wanted to can a few more. Rob found a 25 pound bag for under $9, so I canned 20 pints. There are lots left to cook with in other ways. You may ask me why I bother canning carrots when you can buy them cheaply and store them easily. It's because there are occasions when I want to make my chicken-rice soup in a hurry. Like yesterday. And the day before. At those times, I just dump in one of my little jars and I'm good to go. We do occasionally eat a jar as our vegetable at dinner, but that's pretty rare. I tend to use fresh ones for that. I don't can carrots every year, but this year, I'm out so…… I kid you not. I ran out of so many things this year–things I usually only can every 2 or 3 years. It was the summer of canning, for sure. This batch of carrots will last quite a while.
We cooked several things this week. I made chicken-rice soup twice, using frozen broth, and frozen bits of turkey. I shared a couple of large bowls, and we ate the rest. Jake was with us quite a bit this past week, in fact, he still is as of Saturday night, and he likes that kind of soup. He was quite put out to hear I have given away the last of the first batch, even if it was to evacuated friends in a hotel near us…. who had no food because they had to leave home in a hurry…..who really needed dinner…….No matter. He was fine with helping out, and wanted uncle to check on them the next day, as long as there would be more soup coming. (They are fine, by the way, and will stay in the hotel for a few nights and then hopefully return to their home, which was still standing yesterday, anyway). So I made more soup. It's one of the few things he will eat that is full of veggies and other good vitamins.
We made a lot of white rice. Jake eats that, too. Rob made some pork chops, I baked a chicken with a spice rub from a cookbook. It came out great. We also had a Costco chicken. You can't beat the $5 price. Since Rob cleaned out the freezers last week, we found a few things that needed to be used. One was ham bits, so we've had scrambled eggs with ham, baked potatoes with ham, ham sandwich filling…..it was a fairly big bag, but it's gone now.
We bought 10 butters at $1.99/box and 10 peanut butters for .99/small jar. He got eggs for 89c/dozen. Rob did a Costco run for heartworm medicine for the dog (good price there), lemon juice (I've used so much in the canning…), and got a few other things we needed while he was there. So most of the groceries this week were for stocking up at low prices to use in meals later, keeping the grocery budget down.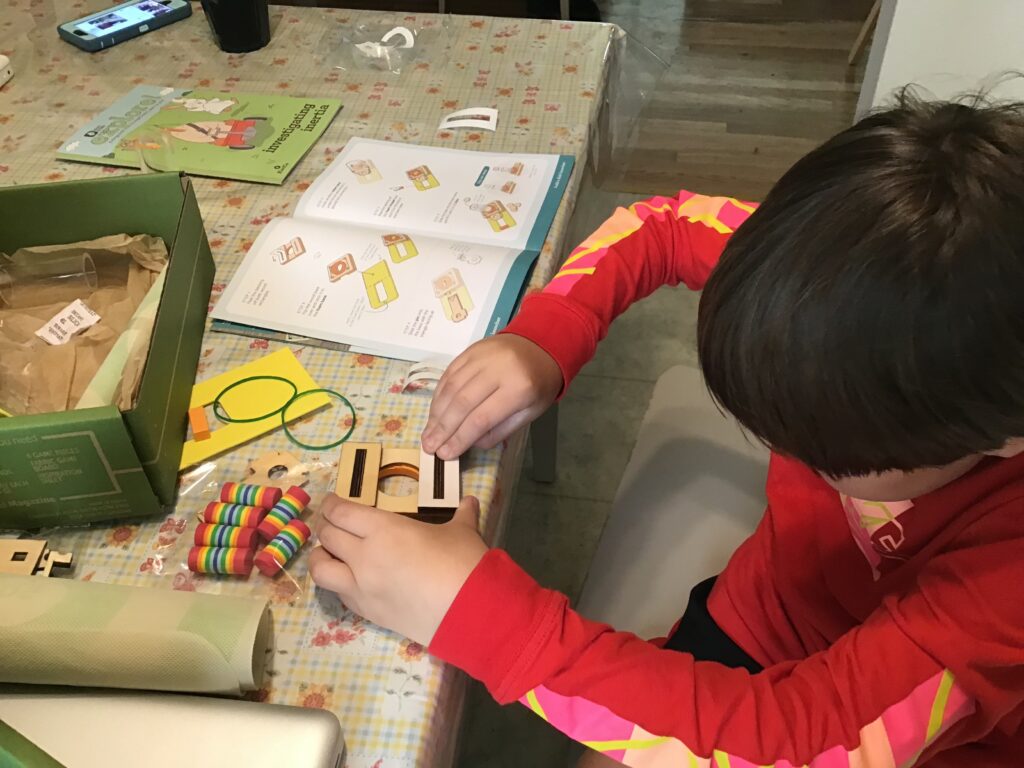 Our neighbor gave me 2 Kiwi Co. crate kits. They were for her boys and they enjoyed them, but there were extra parts in the box, so she sent them over for Jake. They were science projects. He's done one of them, and has the other one left to do. He really liked doing them.
We did school. I read and read to both Jake and Patsy. Jake's mom just finished a book called "The Skippack School." She read it to him for school and she sent it so we could talk about ideas about the character. (A modified character study.). He loves the book so much he made me start all the way over. We are almost finished reading it, again. It's just a simple book about a little boy who lived long ago, who had a few struggles paying attention in school, and got into some mischief, but did learn to do better and learned to read. It is nice he enjoys it, and so nice that being homeschooled this term allows him to get to hear it again. (Everyone is homeschooled this term around here, due to Corona virus).
It's been a strange week. We just feel like we are waiting for something, and we have a vague feeling of anxiety, especially when the sky is dark, or glowing orange, or so smoky it feels like it's foggy. Or when it's both smoky and foggy, like today. I'm sure when the smoke lifts, and the fires are under control, things will feel more normal. Until then, we will continue to pray and see if there are practical things we can do as well. It's what you do at times like these.