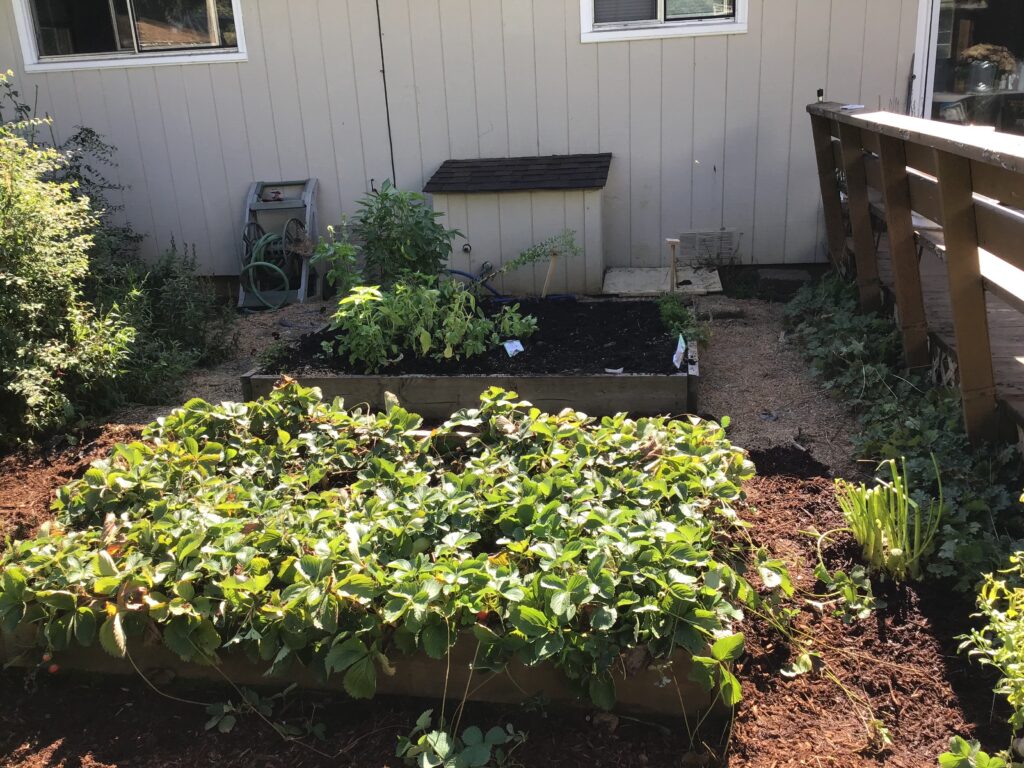 The wildfire smoke finally cleared enough for me to get outside. It took 2 sessions, but I got the weeds pulled around the raised beds, old plants pulled and trimmed and new compost spread in the back one, a few more fall veggies planted, and bark dust spread around the paths. I had 2 bags of the darker brown bark dust left from last spring, so used them. The rest of the paths I spread with some shavings Rob's been saving in an old garbage can from his woodworking in the shop. I'm hoping the paths will remain walk-able for me this winter as I hopefully harvest lettuce, kale, green onions, spinach, snow peas and boc choi. It's a little later than I wanted to plant, but if things don't fruit before the winter, sometimes they will over-winter and give me some goodies very early in the spring. Last year, that's what my over-wintered snow peas did.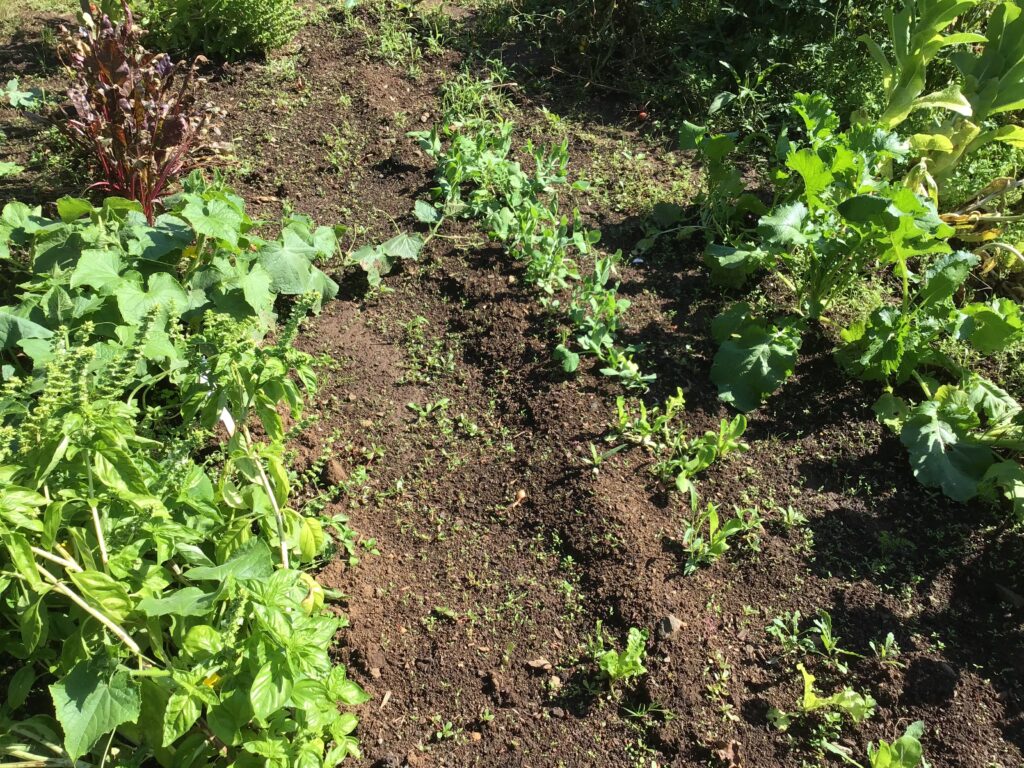 The garden's getting pretty messy, but there are some plants in there that I still have hope for.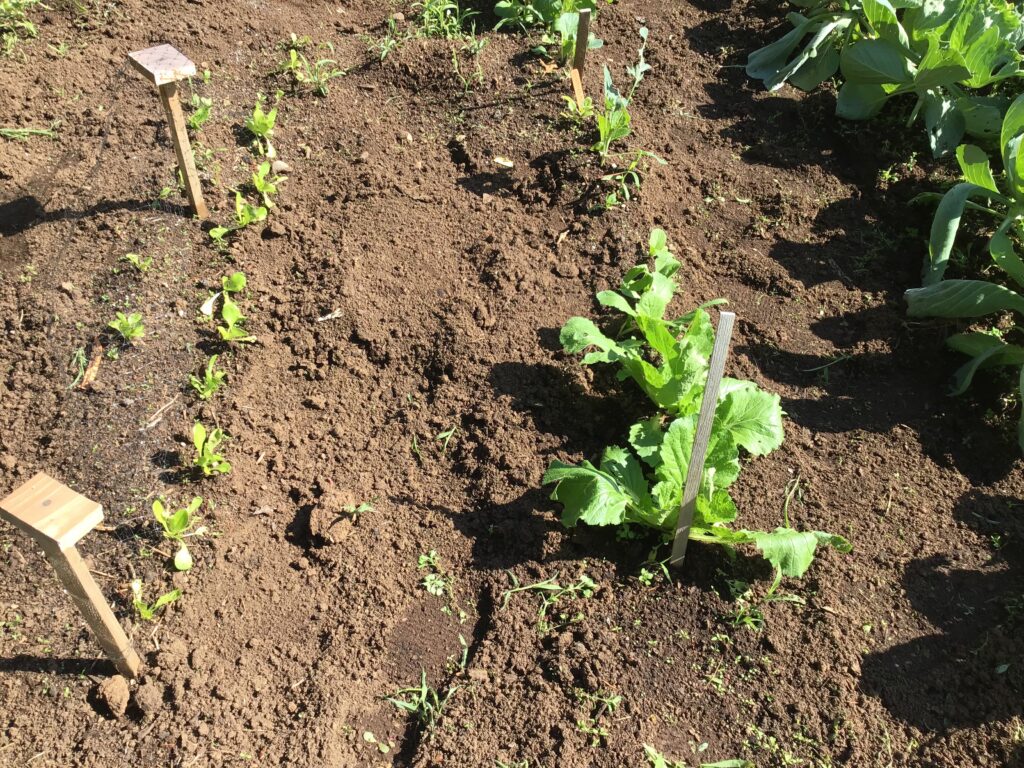 My winter lettuce is very tiny. The Chinese cabbage is growing, and I can see that the cabbage is growing nicely. The spinach didn't come up. Such is life:).
A little dose of reality? Yup. That's really what my zucchini patch looks like. But, I still keep getting a zucchini or two every couple of days….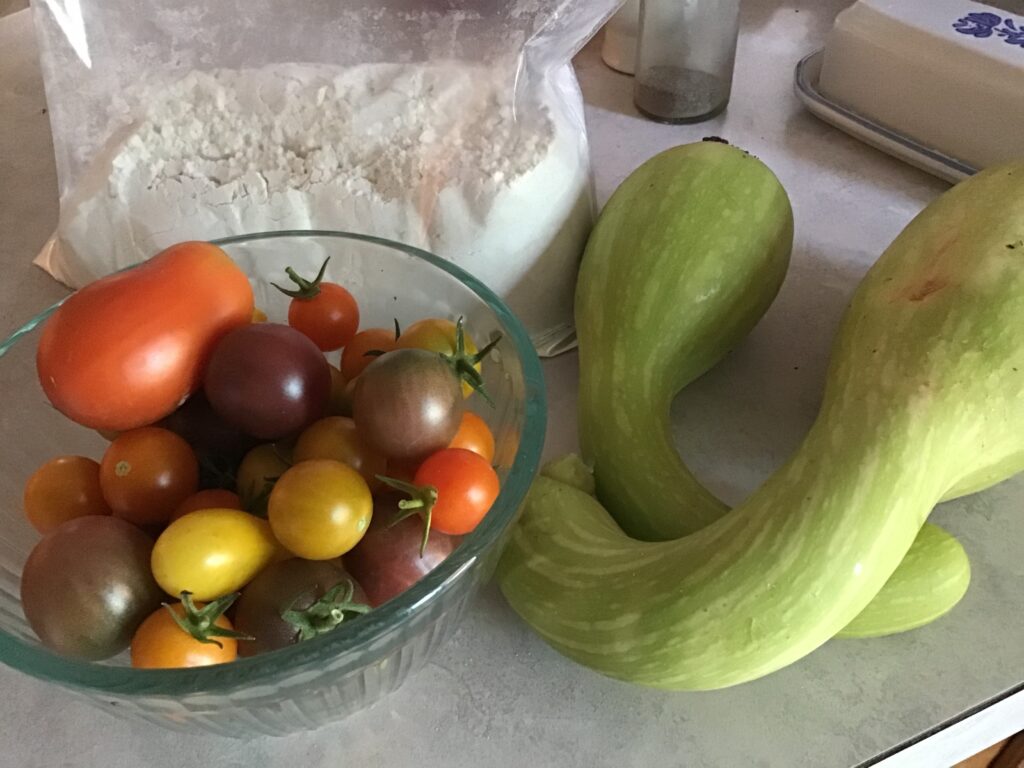 And, a few tomatoes. You can also see the gluten-free flour mix I stirred up. I want to make bread in the next day or two. I don't eat a lot of bread, but I do eat it now and then.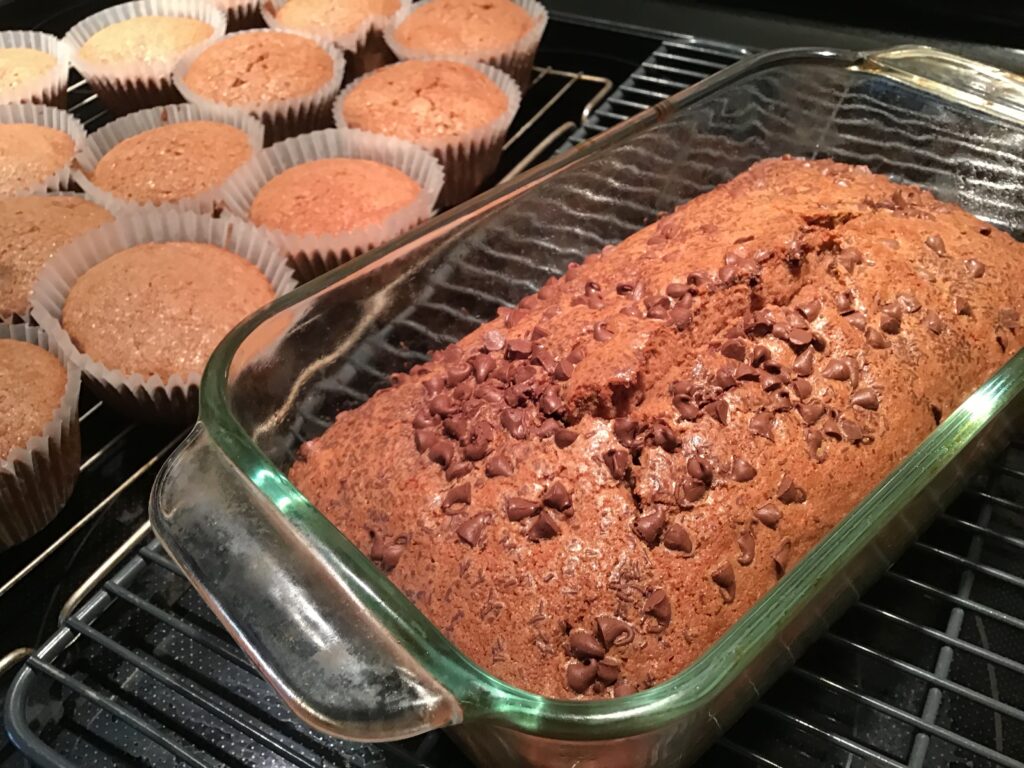 I made some chocolate cupcakes and used 1/2 the batter to make a loaf cake to slice, freeze and keep on hand. I also froze some turkey meatballs and 1/2 of the pork Rob marinated and barbecued. It's so handy to have things to grab from the freezer and eat when I'm in a hurry.
My canning and preserving project is slowing way, way down, as the garden is also slowing down. However, I did get enough tomatoes to can 9-1/2 pints of diced tomatoes this week. I am thinking of things to do with all these, as it's a little too much to eat, but not quite enough to can. Pico de Gallo comes to mind, as does sharing with my extremely good-natured neighbor. She has graciously accepted all extra veggies, including some of the less "popular" ones that others might turn down.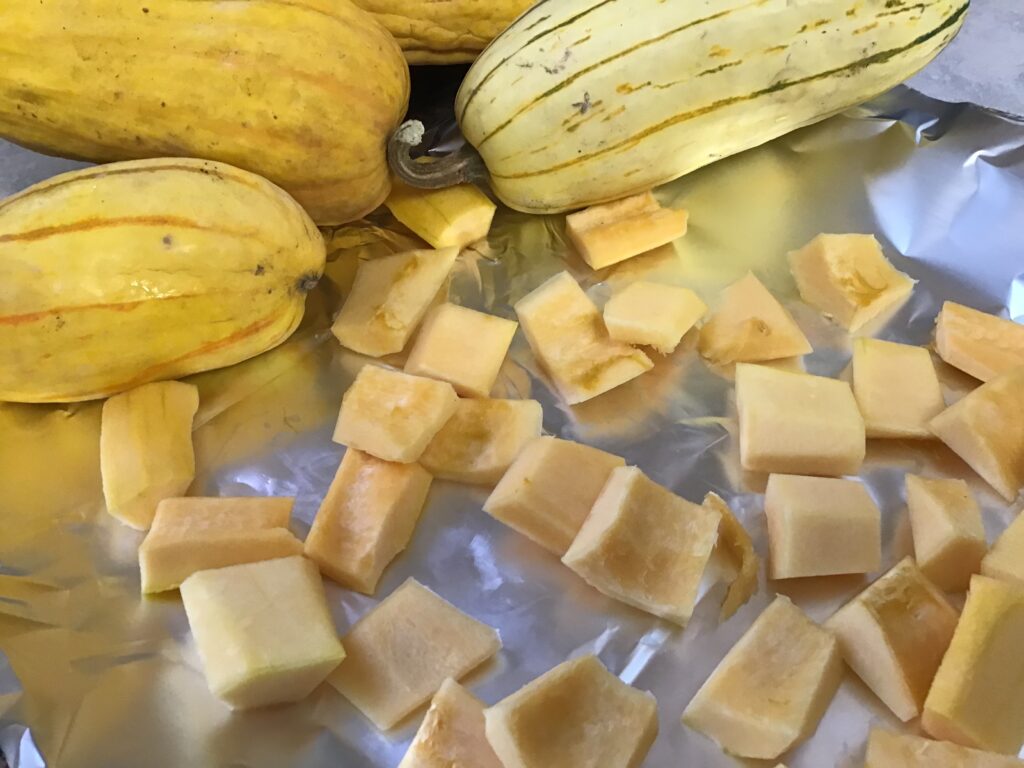 My sister gave me 5 tiny squash. I peeled, chopped, and roasted the bits and we gobbled them down.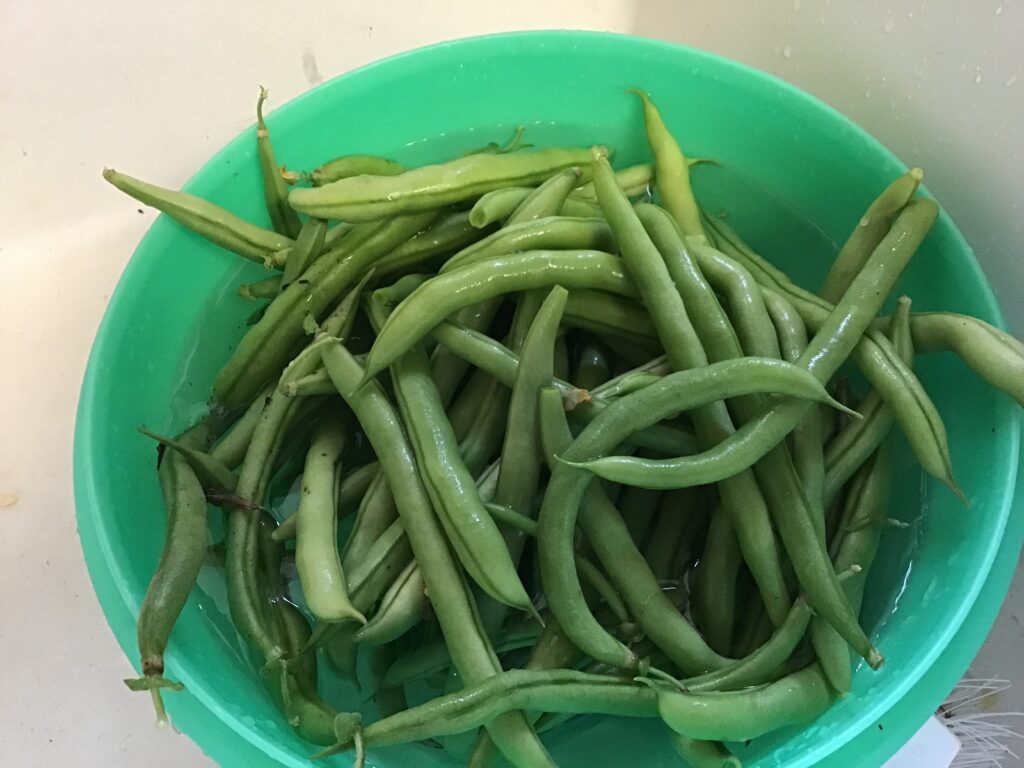 Once the hot weather was over, the pole beans bloomed and started producing beans again. I've had several bowls in the past couple of weeks. I'm hoping that we will get quite a few more dinners from them before it frosts.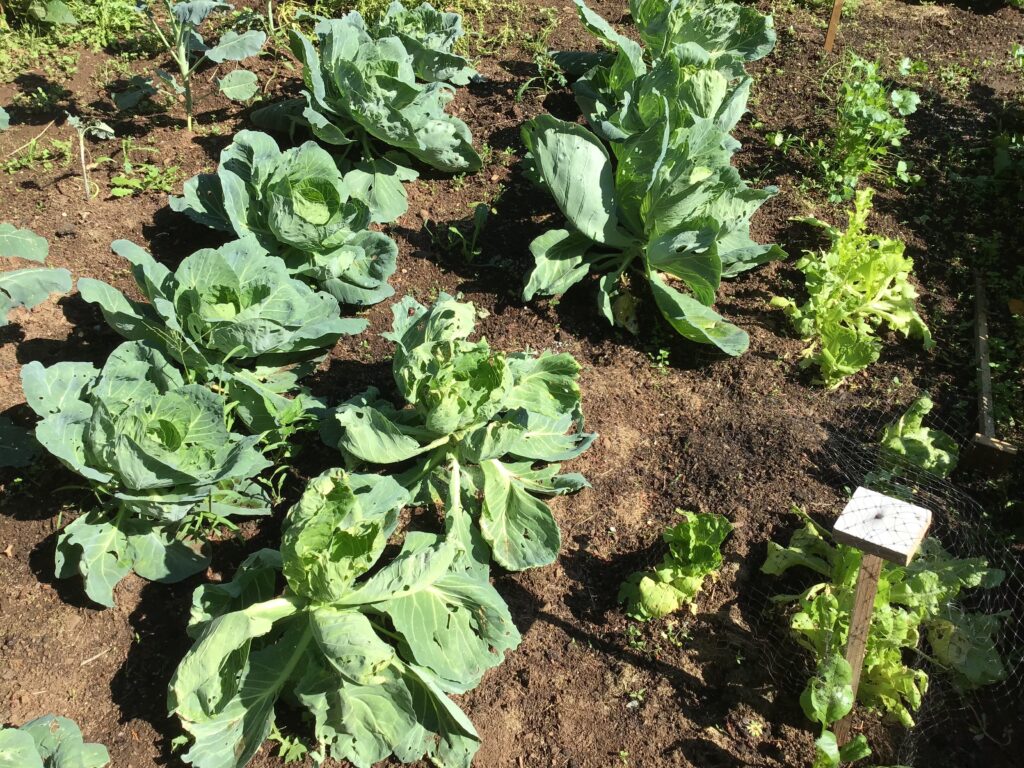 I can't say things look great out there, but I'm still very satisfied with all of the food we just keep getting. Now that the light can shine on the garden since the smoke is gone, and we've had a little rain, I think I may be surprised at what may grow. Here's hoping anyway……..
The rest of the week was filled with spending time with Jake and Michaela, doing school with Patsy, and a little cleaning. We started exercising again yesterday. We just couldn't go outside to walk until then, the smoke was that bad.