On Tuesday afternoon, we got a brief snowstorm. It was the first snow of the winter, and in an afternoon, we had 2-1/2-3 inches piled up in the yard.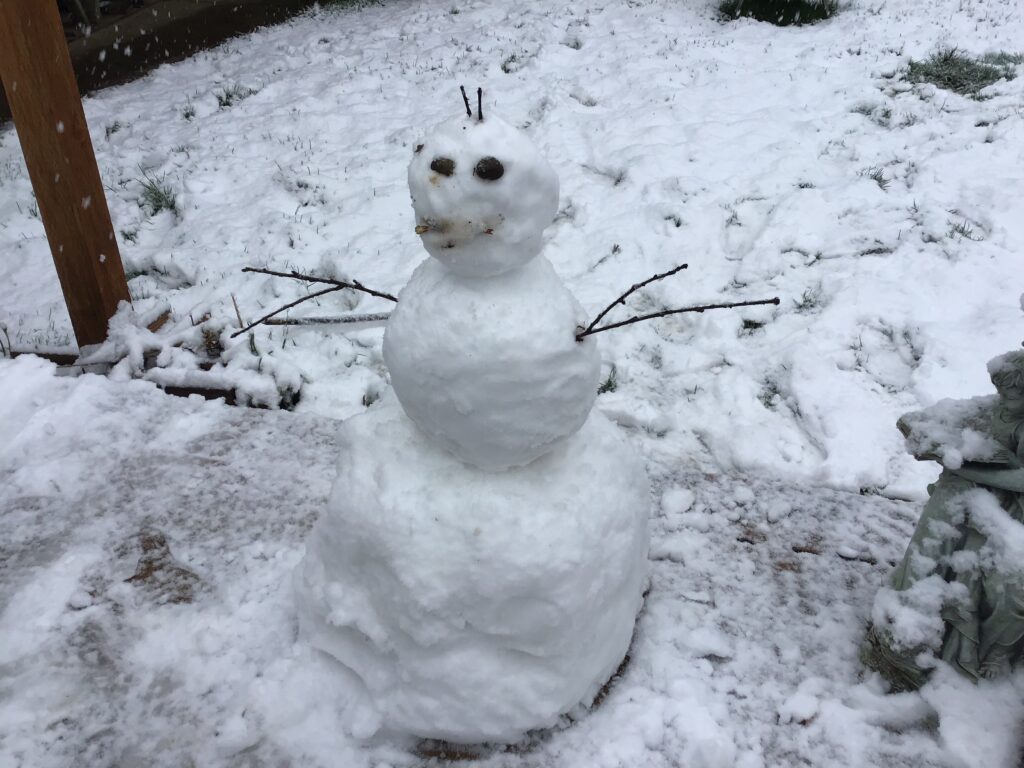 Patsy made a snowman on Tuesday, and on Wednesday we still had enough for her and Jake to play with in the yard for quite some time and build another one. Today, on Sunday, we still have one small frozen ball of old snow still standing from the snowman, but it all melted away quickly other than that. The kids got a lot of fun from that snow, mostly because it's so rare around here.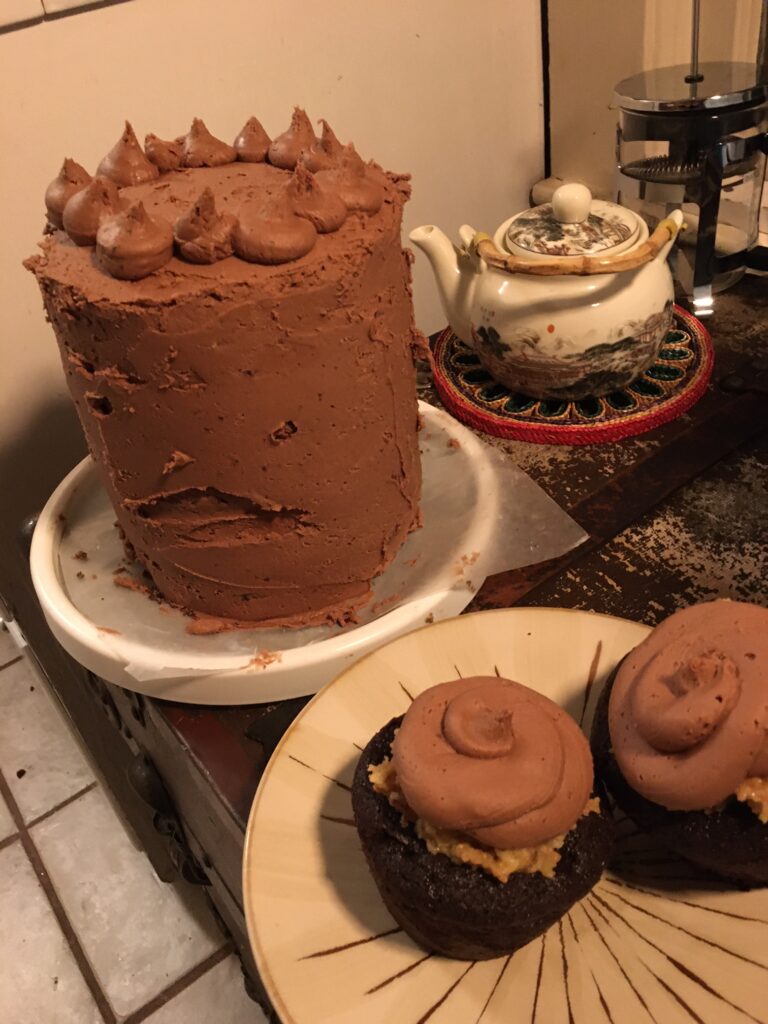 We felt bad because Lovana had invited us over for Rob's birthday, and had gone to a lot of trouble to prepare. But, we postponed until Thursday evening, figuring the only one who knew how to drive in the snow would be doing it with one arm………we'd better stay home that evening! We did have a wonderful time on Thursday when we did go.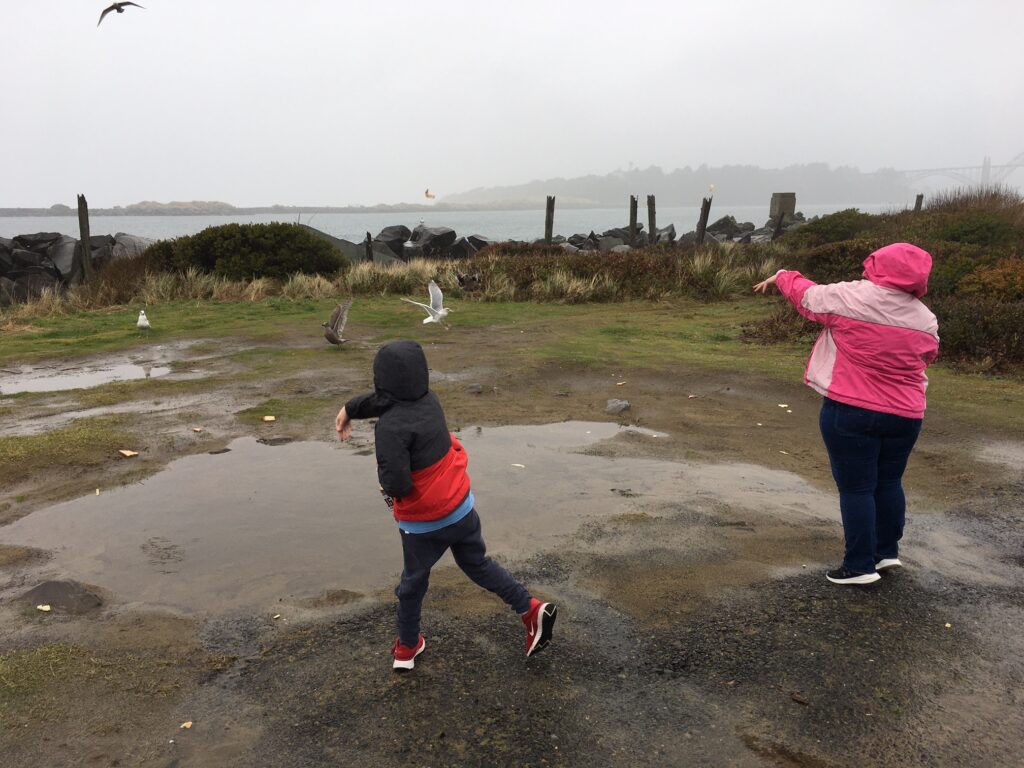 My sister and brother-in-law made a snap decision to get away for a couple of days, if we would watch the kids. They had a tremendous amount of work they needed to do in peace and quiet for their business, so they packed it up, dropped the kids off Friday after lunch, and headed out. We decided to take a drive on Saturday with the kids. My sister happily pitched in gas money and money for fast food, to make the day easier for everyone, so off we went.
The weather was absolutely terrible, but no one cared. We took old bread and the kids fed the seagulls. Since it was windy and rainy, they petered out quickly. Rob had got some very old bread at the day-old bread store for this purpose. Some was actually a little moldy, to our surprise. I decided to throw the rest of it to the birds at the end of our excursion because the kids were tired and I didn't want to take moldy bread home. I jumped out of the van near a cluster of seagulls, grabbed a big handful of bread and threw it at the birds. At that moment, the wind strengthened and caught the handful of bread and whipped it all right back into my face. Yuck and double yuck! Rob and I were cracking up, though, he in the van, and me outside. The kids never even noticed, as they were on electronics by that time. Such is life as an auntie:)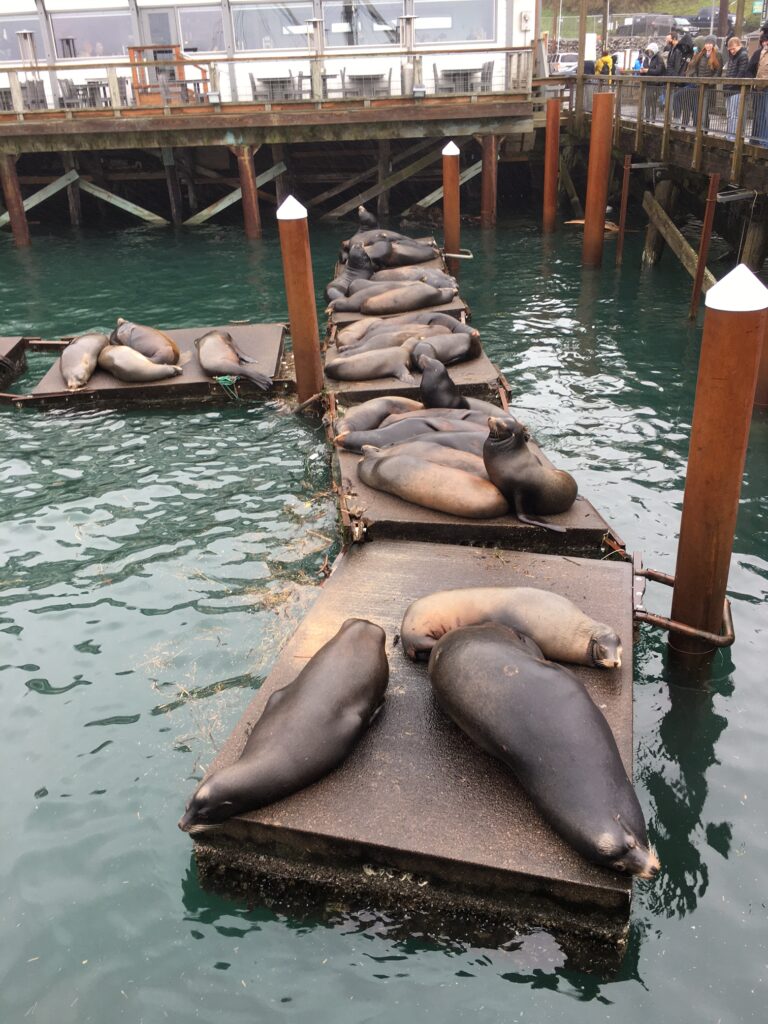 Michaela wanted to see the sea lions, so she and I did. We grabbed fast food–whatever they wanted from either Taco Bell or McDonald's, visited a candy store, and drove home, stuffed and happy. Everyone had a great time, and that's what matters.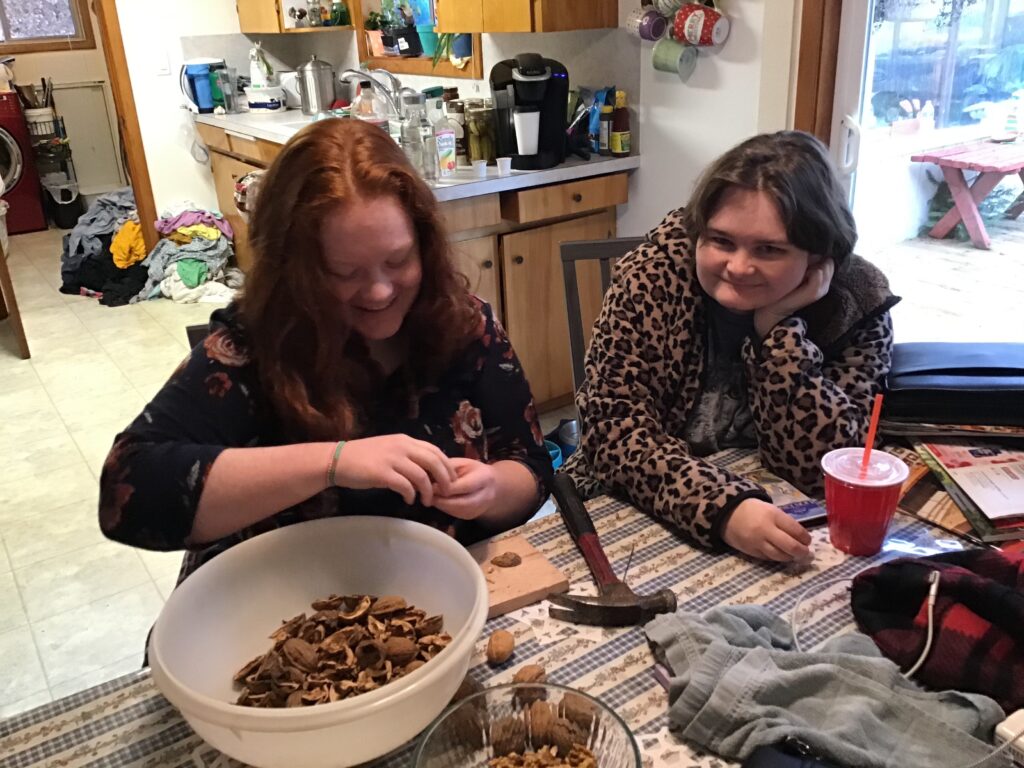 Rob and some of the kids cracked out 10 pounds of walnuts he bought at a farm stand we like. They will be a gift for someone's birthday.
I cooked several meals, and by the end of the week Rob was bored, so he cooked a whole bunch. (It's fair to say he's really, really on the mend, but still has stitches until tomorrow and is limited as to how much he can lift or pull). So much food, in fact, that we ended up taking a meal to some friends with a lot of children.
One thing I made was taco soup with some of the chicken/pepper mixture the school has been handing out for fajitas. They give it in little cartons, frozen, so I've just been re-freezing it when we get it. I added beans I cooked another day, home-canned tomatoes, and taco seasoning. It ended up so thick, it can either be eaten as very thick soup or rolled into burritos. We are getting so many little cartons of milk and they have come in handy this weekend, as Michaela drinks between a quart and half-gallon of milk daily.
I went to Safeway myself, for the first time in months, instead of sending Rob with a list. I did fine, and stuck to my list, but did notice I came in over what I wanted to spend by a few dollars. I later got in a conversation with 2 checkers, and one was explaining that the items he was marking recently were all being marked up 20 cents each…right down the line. He was working in the soda department, but said prices had risen in other areas as well. The other checker said that the sales are for a few cents more than they used to be, which I noticed. I did notice that butter was very inexpensive, and they were doing a loss leader for ice cream, so we won't be suffering this week:). In fact, I easily stayed within our grocery budget for January and was able to order extra bulk items from Azure Standard, such as large packets of pepper and spices, along with some cleaners and other things I like to get from there. It wasn't a large order, but I like to keep stocked up when I can.
Staying within budget is a direct result of the marvelous garden we grew and preserved this past summer. We've been really reaping the benefits of that garden and eating jar after jar of fruits and vegetables and pulling item after item out of the freezers. The school lunches are helping, too. It's not because milk is expensive around here–it's holding at about $2/gallon. It's because we usually get milk, apples, carrots and celery and a few other things that help us stretch out the time between store visits. The less we are in the stores, the more I save because it causes me to eat our home-preserved and bulk foods more often and to be more creative with them. Win-win! The fact that we grew greenhouse lettuce helped too, with stretching the shopping trips out. We have one more picking of lettuce out there. I've been amazed at how much we ended up getting from this experiment. And, it's almost time to start our plants for this spring's planting. I'm excited to begin the cycle again!