The garden is growing so quickly, I can hardly keep up with it. I love this time of year! Between the time I recently took this picture and today, we've already eaten the lettuce and one of the cabbages.
I've removed the excess, side-dressed with compost and planted a few zucchini and little scallop squash seeds in the blank area. I like having a second crop of squashes for early fall. The other older bushes often succumb to powdery mildew or just give out by then. These cabbages, along with some in the raised beds were the first ones that were planted in March or April, so it makes sense they are ready first. I've also planted a new row of lettuce behind the carrots.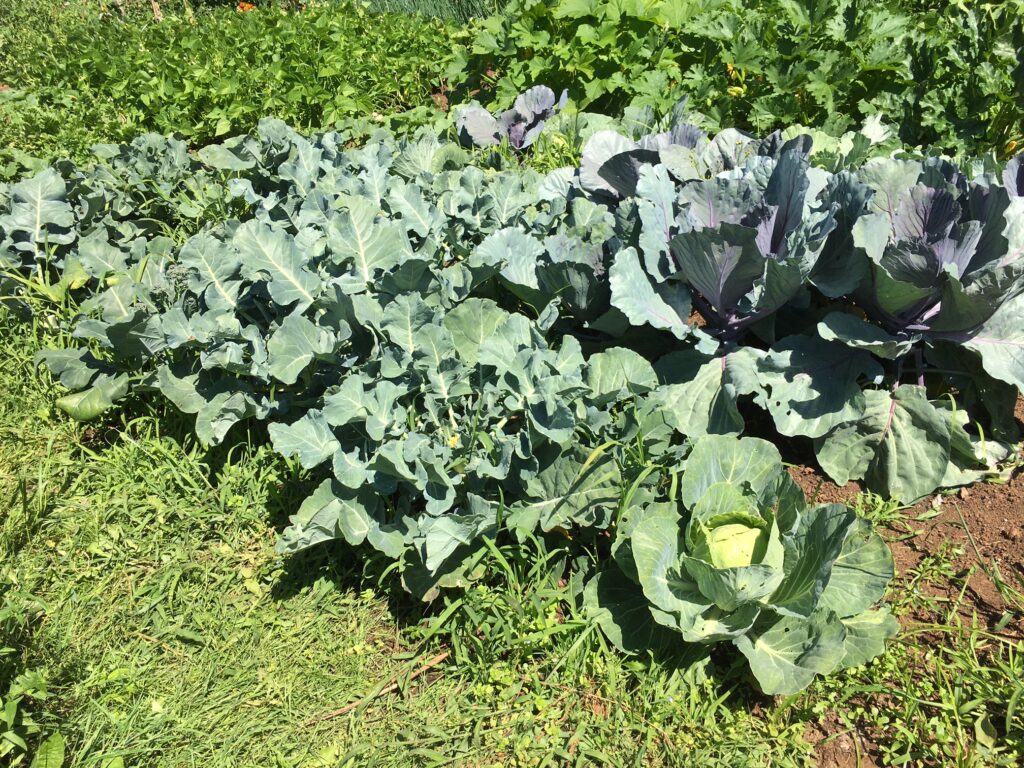 The path on the left is overgrown with grass and weeds. I have been concentrating on weeding between the plants and rows. I usually go out every evening for an hour or two. These are broccoli and cabbage plants with zucchini behind and green beans and cucumbers on the left-hand side. This is a cabbage mixture so there are reds, ball-heads, cone-heads, small and large ones that will ripen at different times. We bought a Cabbage Mixture from Pintree Garden Seeds and a package of red cabbage from the store (not sure which brand–it was kind of like "take what you can get" at that point.)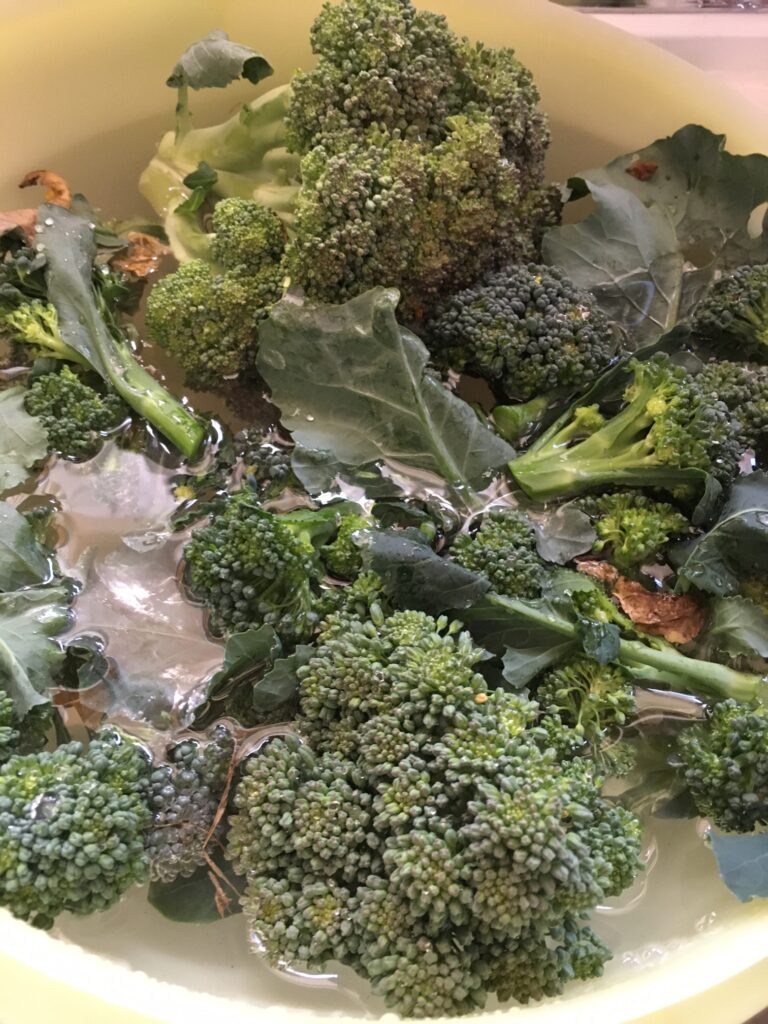 I've picked broccoli 3 times, which is why the plants look bare. More side shoots will grow. I grow the Hybrid Broccoli Blend from Territorial. It comes on at different times. Today, for instance, I got one big, main head and the rest are side shoots from heads I've previously picked. I've frozen several baggies for winter. This broccoli is soaking in salt water to chase away any critters.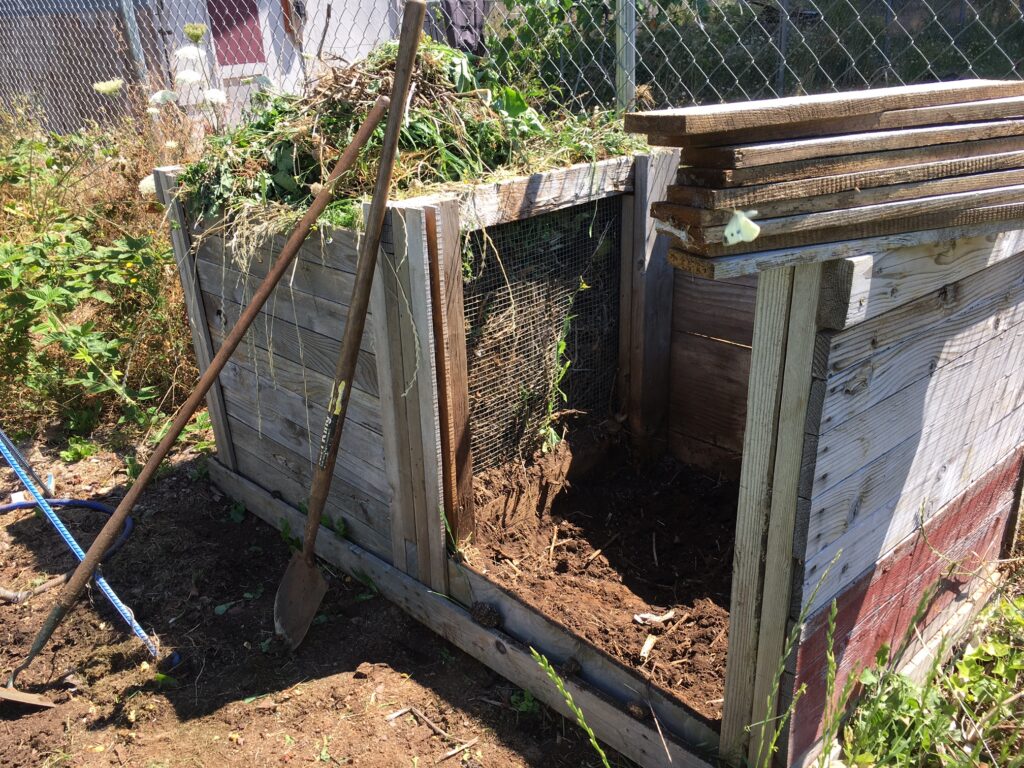 I shoveled out the finished compost from the bin on the right. As you can see, the left-hand side is overly full. I have not been letting anyone use the right-hand side as I knew it was almost finished. I used the compost to side-dress the previously mentioned area of the garden, some peppers, some artichokes and some lettuce and onions.
Then, I put the slats back and started using the emptied bin to make some more of my "dark gold." Patsy's happy because she has to empty our kitchen compost pan each evening and she now has plenty of space to dump it in:). We have 2 double compost bins. The other set has one side that is finished and one side that is absolutely full. So she has a point.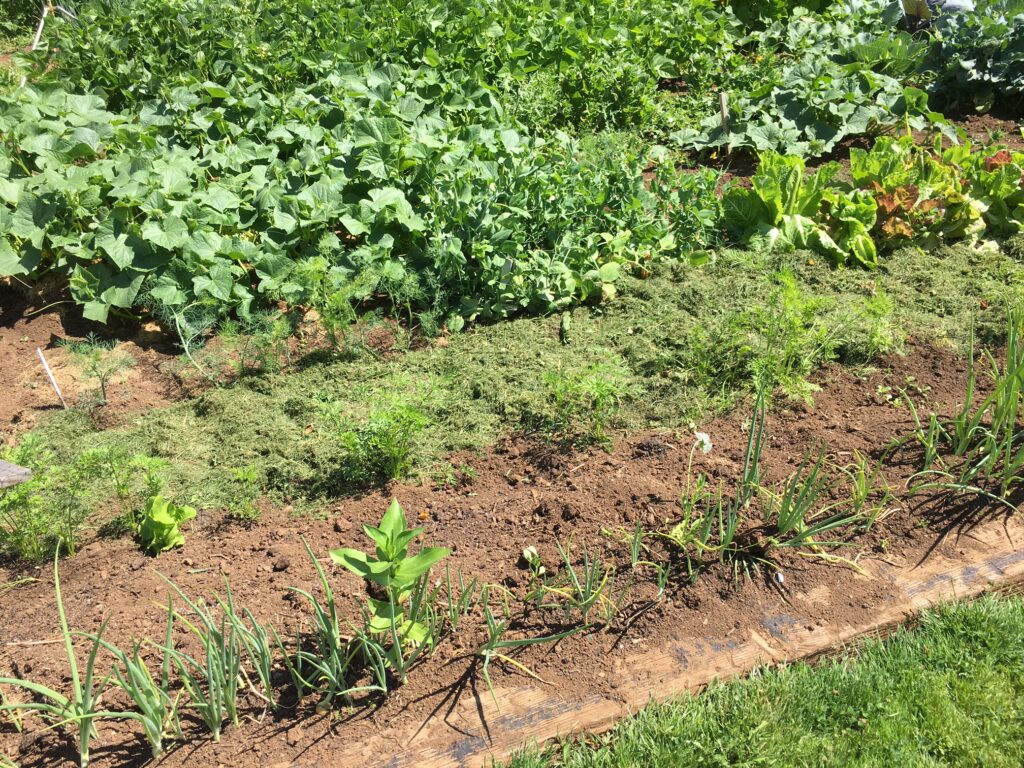 As you can see, grass clippings were dumped between the row I weeded last evening. We are constantly trying to improve our soil. Any little bit helps. Last spring, we spread a load of mint compost. We've dumped bags and bags of steer manure/compost on it over the past few years. Last fall, Rob picked up a lot of huge garbage bags full of leaves from the side of the road downtown and they are spread and tilled in on the right-hand side of the garden. We also use organic fertilizer from a bag, that we buy, to supplement. We've found we can't grow this much, this close together without a lot of nutrition.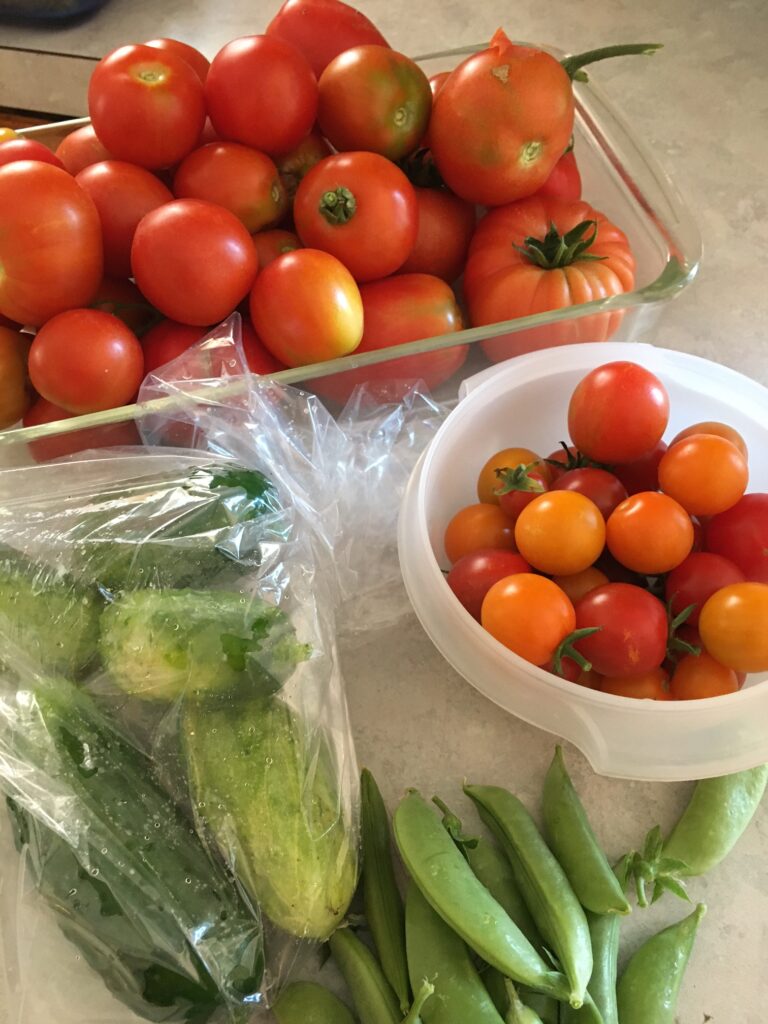 It's paying off. We've also been harvesting zucchini this week, along with cabbage and lettuce, green onions and cilantro.