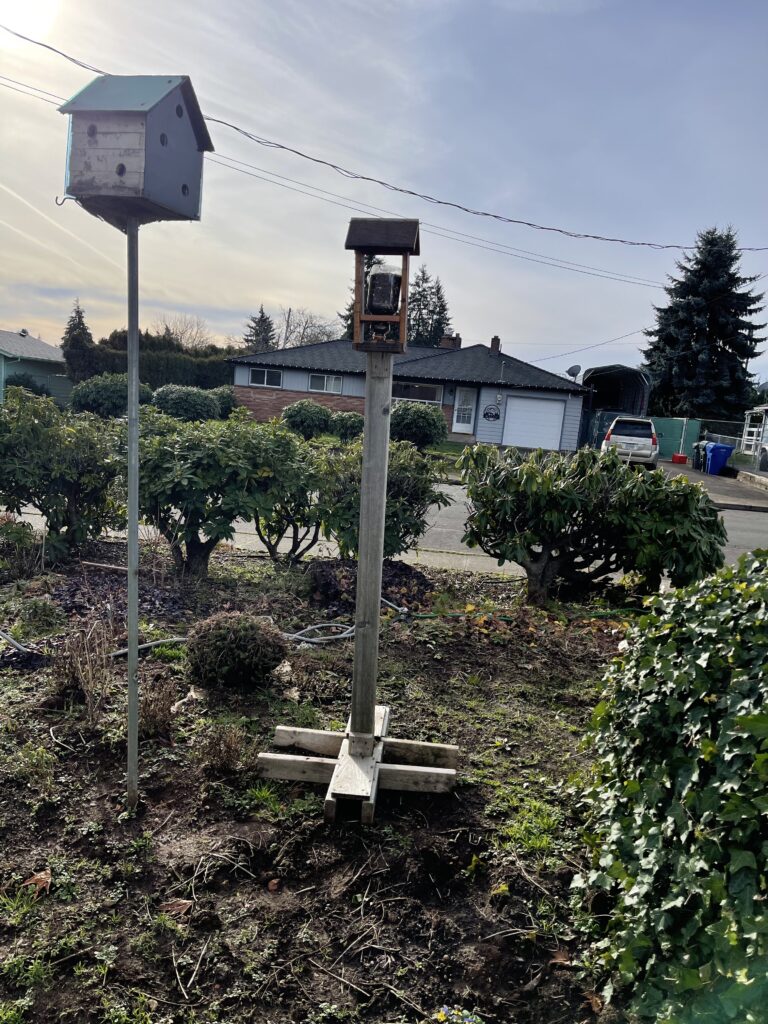 This week was filled with ordinary, everyday activities. One fun thing Rob did was to put up this bird feeder. He made it from a recycled juice container and some wood. Our grandson loves birds. We are hoping they find this feeder pretty soon, as it is right outside a window he can look out of easily. So far, he's only seen 2 when he's been here. But he loved both of them:)
Rob also finished up a dresser he's been fixing up for the babies to put their clothes in. He got it free, rebuilt the drawers, sanded it, painted it glossy black (per our daughter's wishes), and added drawer pulls. There weren't any. He used wooded ones he had on hand and painted them dark, dark blue. He's been working on this project for a few weeks, so it felt great to him to be able to deliver it the other day.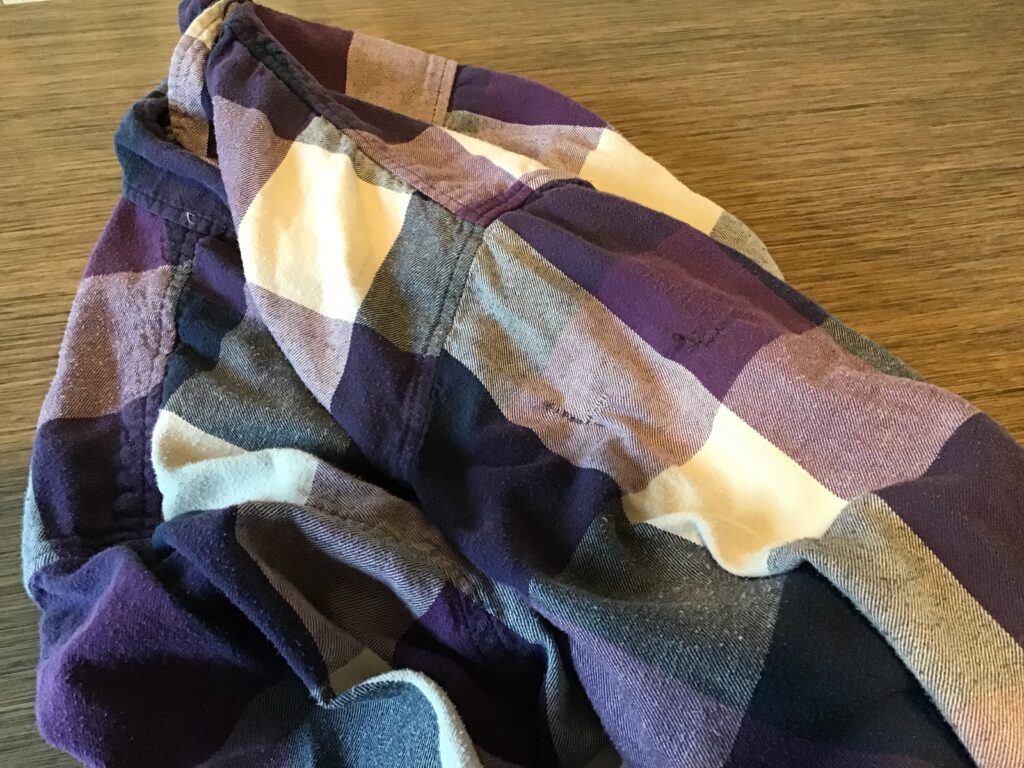 Like I said…..the week wasn't super exciting, but I need weeks like that! I mended several items. Since Rob wears this shirt outside to get firewood from the woodpile and other chores, I just sewed up the tear he made, using the sewing machine. He promptly tore it again a couple of days later, so I sewed it up again.
I also mended some items for other family members and even a stuffed toy for Jake, my nephew. His stuffed toys keep developing tears at the seams. He's convinced it is "bad fabric" and Auntie's is better. I'm convinced the thread is weak, or the wear and tear is great….maybe a little bit of both:).
I spent some time tidying up in the garage. It's used as an extra living area and often becomes a dumping ground for extra items, so I try to get out there and clean now and then.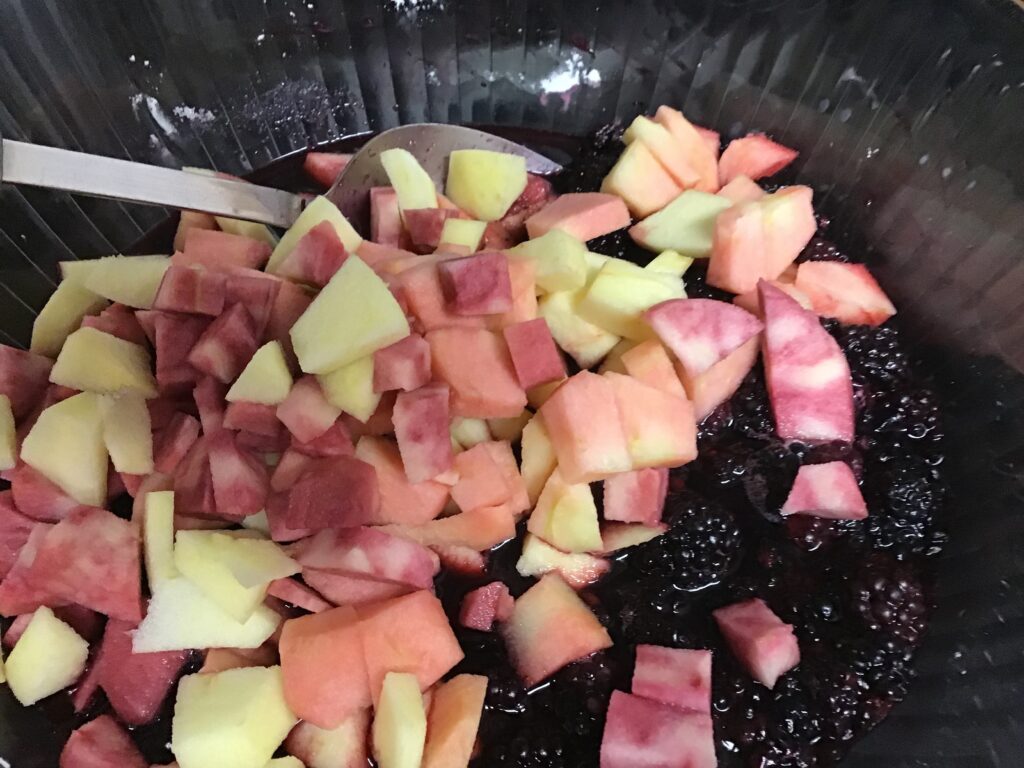 I cooked quite a few things, as usual. I made this berry-apple crisp from some wild blackberries Rob picked last summer. I added pieces of various apples his sister gave us. I've never had apples that are pink and purple inside. This fall, she took a seasonal job at a large apple grower's fruit stand up near Hood River, Oregon, where she lives and got to take 5 lbs of apples home, per day she worked. I guess they have fancy kinds, and I heard she had way more apples than she knew what to do with, so she sent some down for us. Of course, I thickened, and topped the crisp, but wanted to show the gorgeous apples and berries!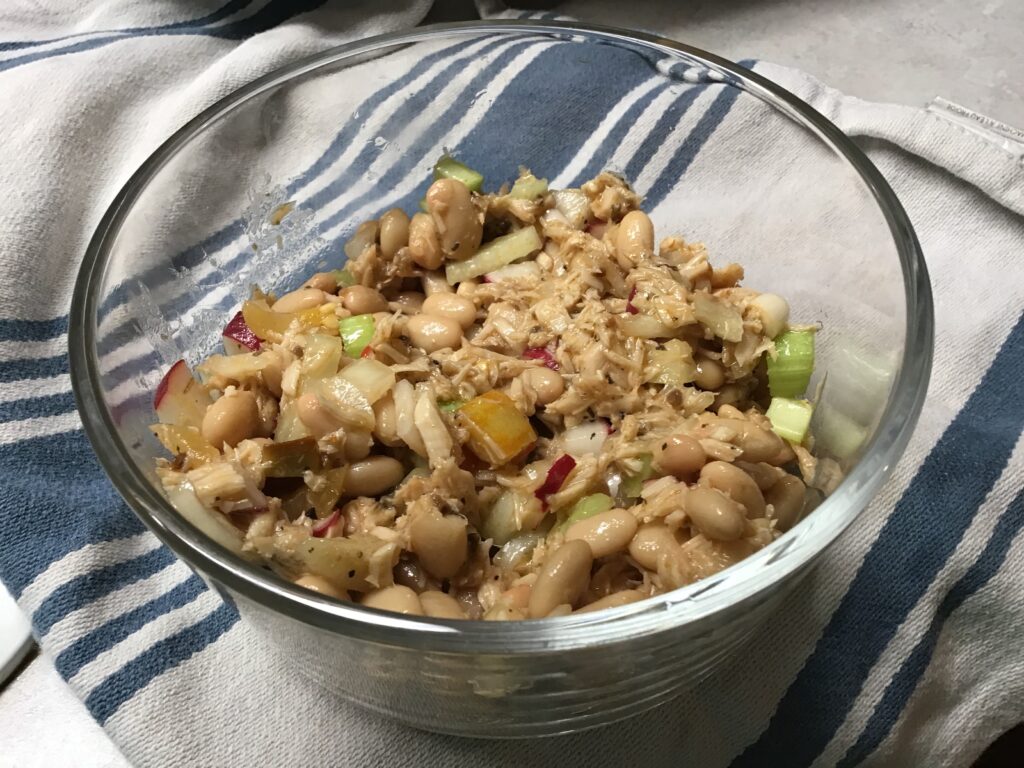 I made a tuna/white bean salad. I was in a hurry, but had nothing thawed, at one meal time, so chopped up celery, onions and some canned sweet peppers and mixed them into our home-canned tuna and a can of white beans. I dressed it with sun-dried tomato salad dressing I wanted to use up. It was different from what I usually make, but tasted good.
I made Chex mix from some Chex and a few pretzels that had been around for a while. I added some roasted hazelnuts.
I used lots of broth I had previously frozen, home-canned carrots, frozen bits of chicken, celery, rice and onion to make chicken-rice soup. My sister gave me some manicotti she made–yum–and I also made turkey meatballs and used my home-canned pasta sauce to make a penne pasta/meatball casserole.
As we do this time of year, we emptied many, many canning jars, and freezer cartons and baggies. Since I re-use the baggies if they are still in good shape, my sink has looked quite funny with bags draped over every tall cup or spoon:)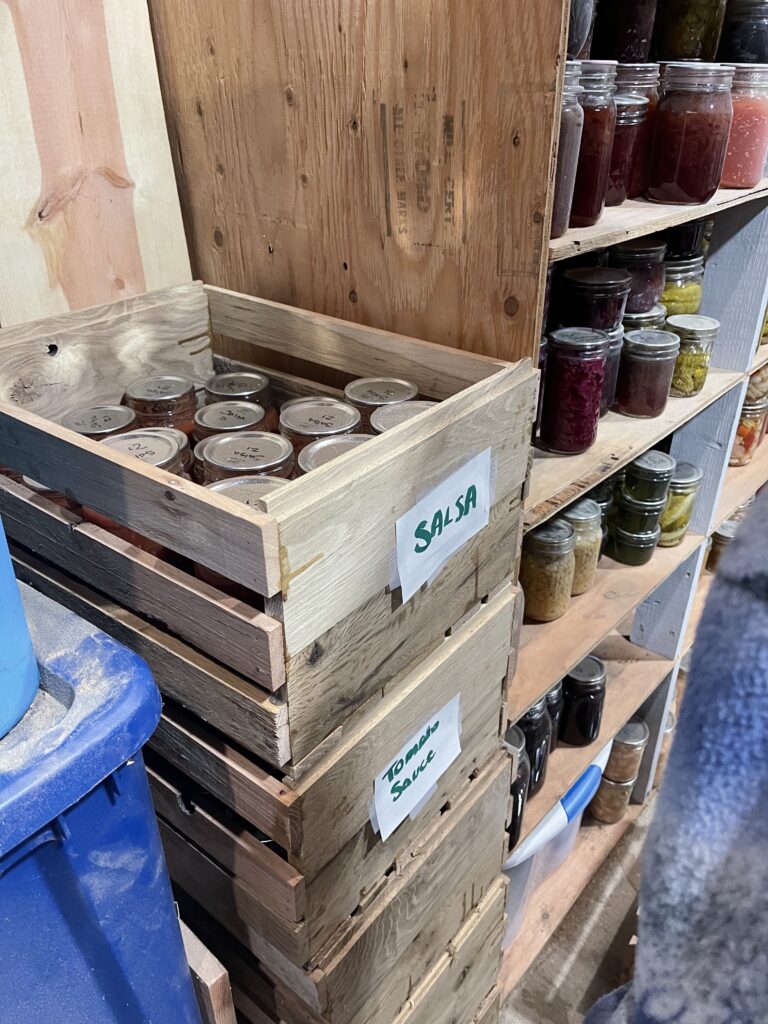 Last summer, we filled these crates with extra jars of various canned goods I made. This week, Rob and I spent some time rotating some empty jars into the bottom crates and putting more full ones on the shelves. If you look closely at my canning, you see a film of wood dust all over it….that's what you get when you share space with someone who is sanding an old dresser:). Thankfully, it wipes off easily, but we have been throwing around some ideas about how to keep my jars from getting so dusty.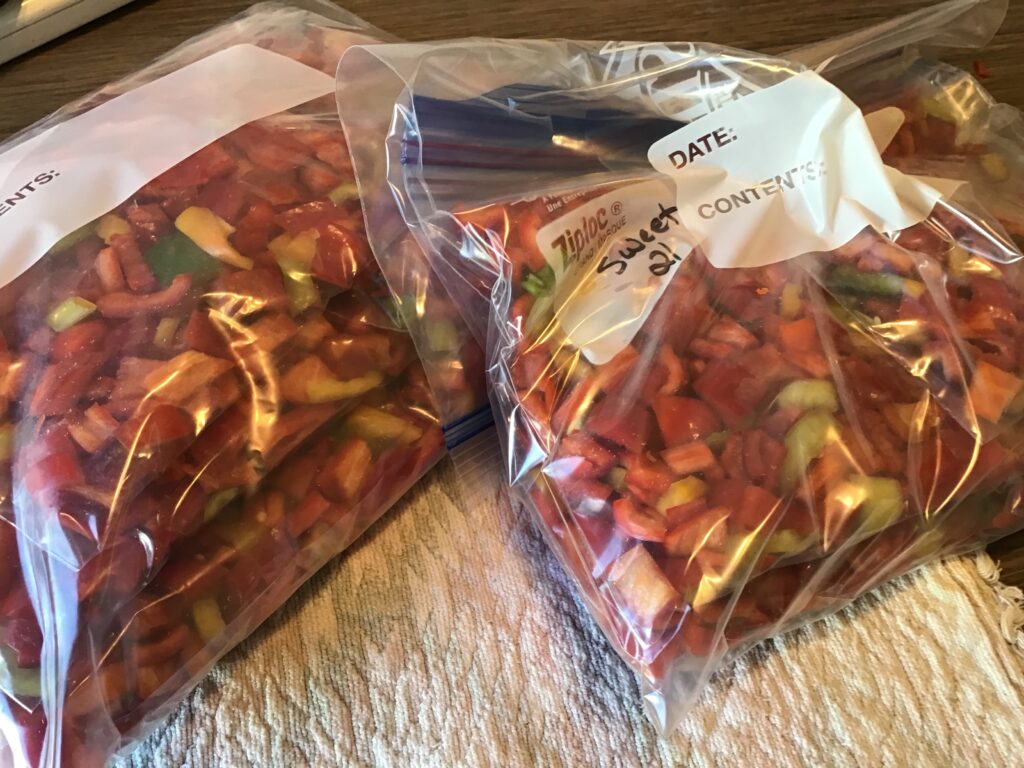 Rob paid Patsy to help him clean out the greenhouse and he planted some peppers and onions. I found I had forgotten to order my Carmen pepper seeds when I ordered. Oops! I ordered some yesterday. At least the Lola (light green),Mixed colors, California Wonder (green), Jalepeno, Ancho, Serrano, and Anaheim and planted. I have been planting Carmen for years, since they turn red earlier than most. They are a longer, Italian pepper and taste the same as other red peppers to me. I like to cut up mixed bags of pepper chunks for use in the winter.
This time, I ordered from Pinetree, as I really like them, as well. Since I was ordering anyway, and had to pay postage anyway, I ordered some flowers for him for his birthday. He seems to really enjoy growing things these past few years.
He went to the Dollar Store and things were still $1, vs. the $1.25 they keep threatening to raise the prices to. The seeds had arrived. He got a handful of different packets, including Danvers 1/2 Long carrots, dill, and some flowers. Danvers carrots work just fine for me in my garden. I do put coffee grounds down the rows, as I read to do a few years ago and it really does seem to help with the wireworm problem.
We used all the Bottle Drop money for groceries and spent the money we would have used for a 25 lb. bag of gluten free flour, about $50. It is what it is, and we were delighted to be able to get that this month!
I'm looking forward to another nice, ordinary week ahead.