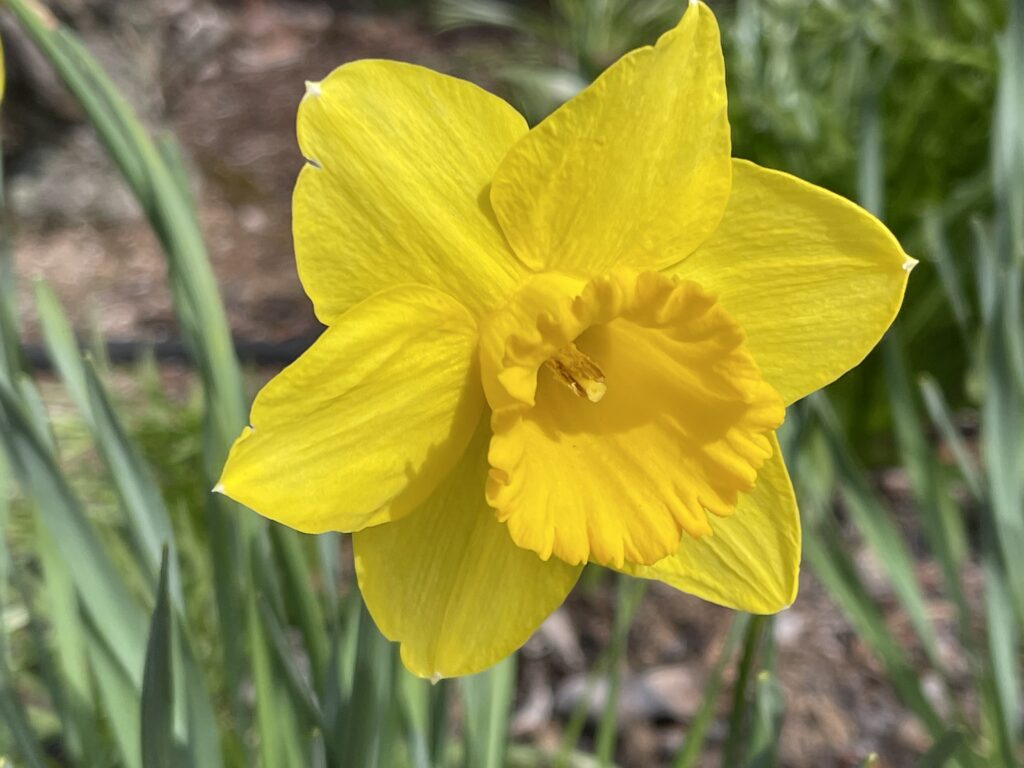 Many flowers are blooming right now. We took many walks this week and enjoyed looking at the various yards. I worked in our yard a little bit. There is so much to do this time of year! I planted a row of little pansies in a flowerbed. These were grown, by Rob, from seeds he saved from last year. They are not blooming yet, but they will. I also planted some Sweet William plants he grew. They are biannual, so won't bloom this year, but will fill the area nicely and bloom next summer.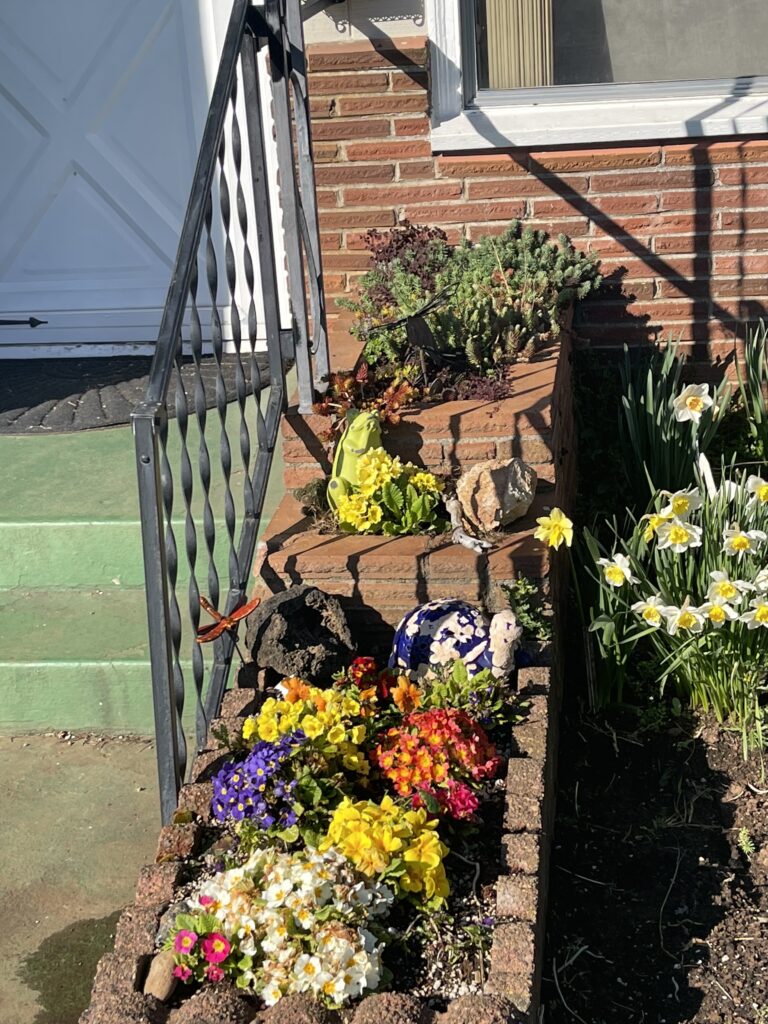 I'm very happy with how these primroses came back from previous years and are blooming so well. Sometimes, in the past, I haven't had such good luck with them re-blooming, but these are gorgeous.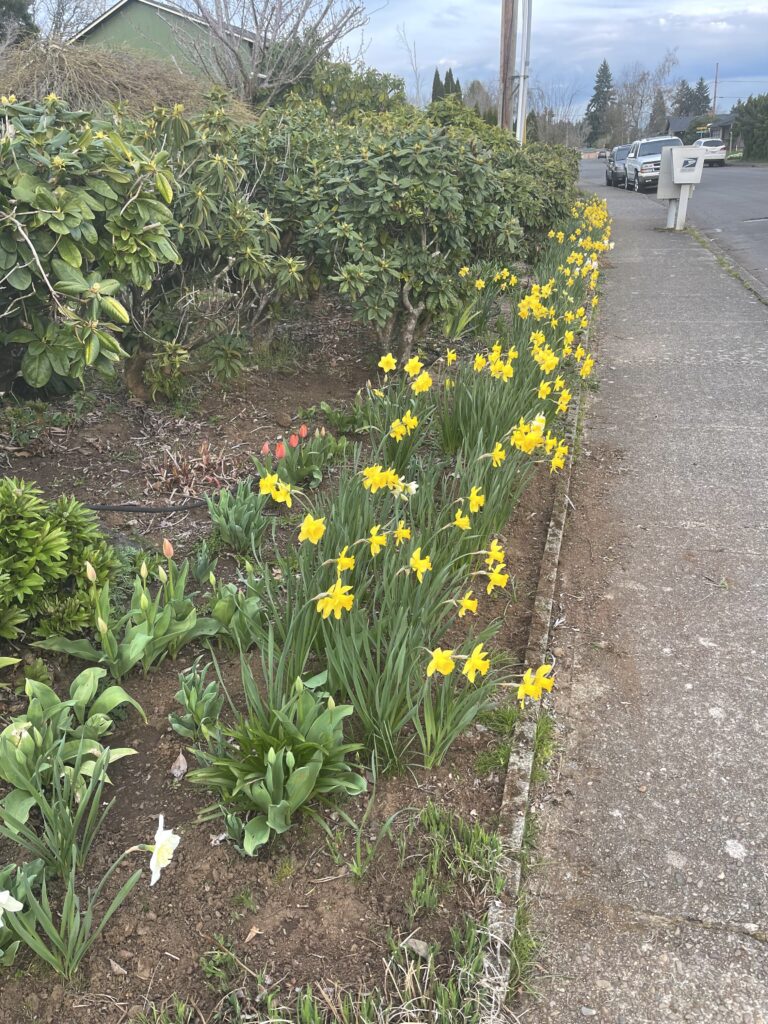 It's always nice to see all the cheery daffodils. Years ago, we got most of these bulbs from my sister's yard. They needed to be divided at that time. They have been so pretty every spring since. The tulips were here when we moved in. I dug up some from another flowerbed and transplanted them here last fall. I missed quite a few, though, so want to get the rest moved over here this year. This flower bed does not get watered in the summer, so the bulbs can grow with the spring rains, then dry up in the summer.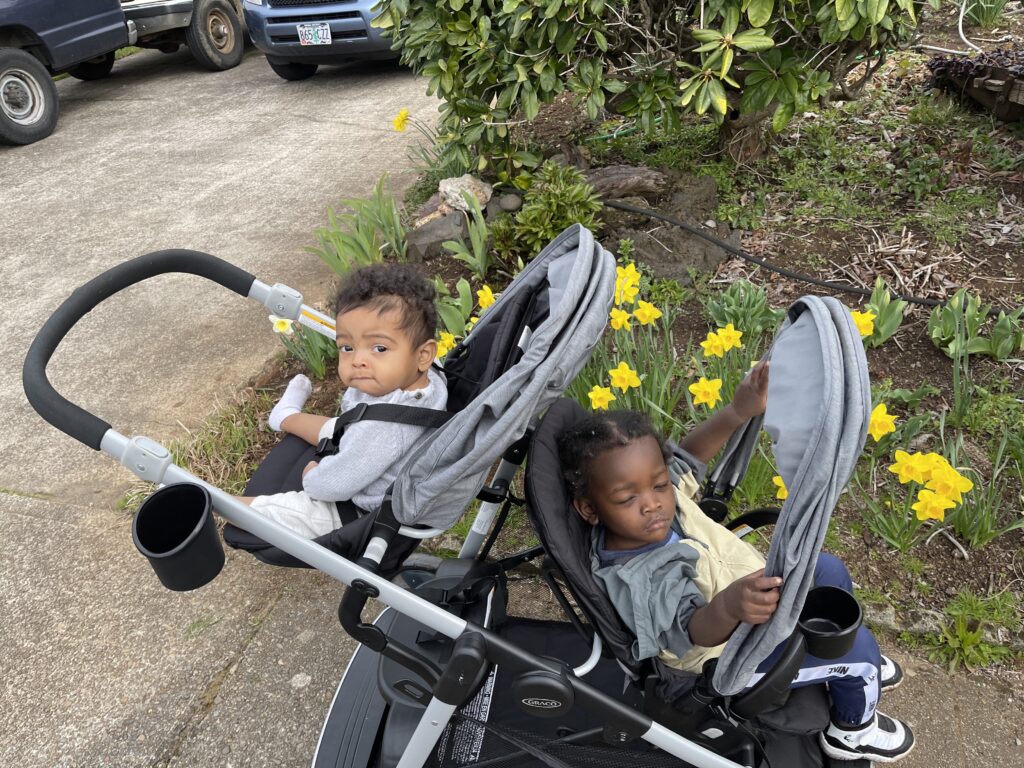 We took the boys for a walk and to the park to play and enjoy the nice weather and flowers along the way. They also enjoy kitties, birds and any dogs we see. Mac looks so sleepy in this picture. It must have been relaxing. We took bubbles to blow, he threw sticks into a little creek, and played on the equipment.
This week, we did a lot of extra laundry and cleaning. Patsy decided to wash most of her blankets, along with lots of clothes in preparation for camp. I had her work on deep cleaning her room, although there's quite a bit still to clean in there. She officially departed on Tuesday, late in the day. Although she does not work on weekends, there was a first aid class she needed to take and some other things she needed to do on Saturday, so she only came home briefly to grab some things she forgot.
Rob and I have been on vacation ever since. A few weeks ago, we were supposed to have a little vacation, and ended up with a severe flu. We decided to do all the fun things we had planned, and didn't get to do, this week to make up for it. We ordered Chinese food "to go" and watched a movie we checked out from the library. We went out to Mexican food another night, using a gift card we had. We took several long walks, including one that was several miles in a park that runs along the Willamette River corridor.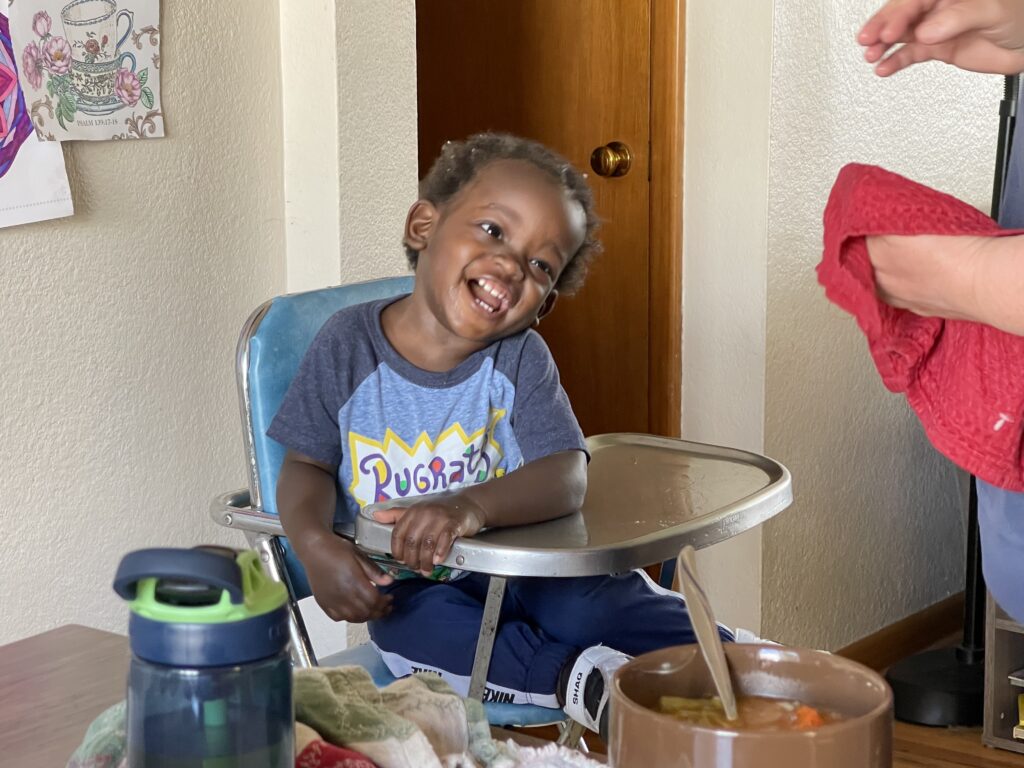 We spent a day with the boys and my Mom came over for lunch one day. Mom and I folded laundry while we chatted. There was so much this week with all of Patsy's extra! We even went to the movies–the matinee, of course! It's still quite expensive, but less. We have not been to a theatre for several years. We didn't buy popcorn or anything this time, more because we didn't want any than for any economical reasons.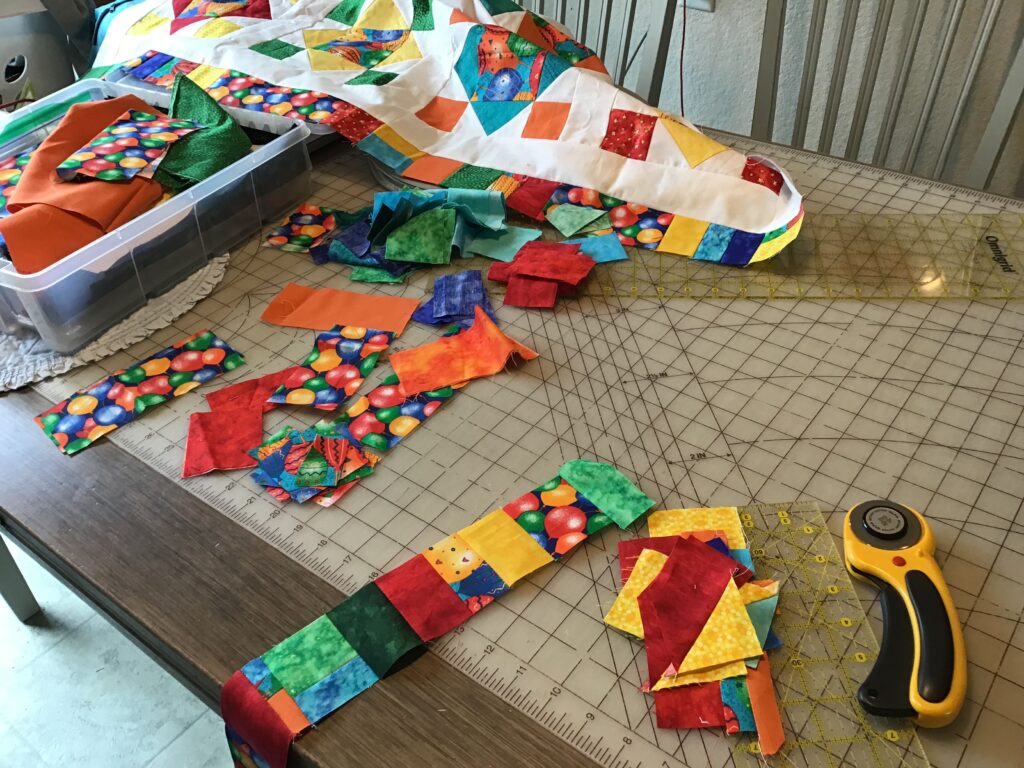 One morning , Rob went to visit his Mom and I sewed on the quilt I'm currently constructing.
Even though we were on "party" mode for a few days, we still were able to do a few things around here in-between our more exciting activities.
I decided to deep clean the laundry room. There was so much dirt and grime on the floor and clutter covering the dryer. I cleaned and scrubbed and organized to my heart's content and it looks much better now. I have several more areas in the house that need attention, and I want to tackle them one by one.
I cleaned the bathroom, which is now my chore every week, instead of every-other-week. Patsy and I used to switch off. There are a few other chores she usually did before she left, so Rob and I are working together to make sure they still get done. We used to pay her to mow the lawn, I did it yesterday. I put the clippings on the corner of the garden where the soil could use amending.
We both worked on cleaning our outside covered porch area. I recycled many boxes and empty milk jugs that were previously used to water the greenhouse. Rob got the automatic waterer going in the greenhouse, so we don't need so many jugs filled with water. That porch area is where I do my canning in the summer and it's a step closer to being ready for that. The plants are growing like crazy, and it will be time to plant some of them soon.
Rob spent some time cutting up onions. The red ones from last year's garden are wanting to grow, so he froze 10 cups of chopped onion pieces. There are still lots of onions to use fresh. The yellow ones we grow keep longer than the red ones, so he targeted any soft red ones this time and will do this again another day to get them all saved and used. It's also very handy during canning season to grab out the frozen 1 or 2-cup baggies to throw into relishes and salsas. I also use them when I'm making soup in a hurry sometimes, although right now, I'm grabbing and using any onions that seem to be getting soft or wanting to grow.
I made vegetable soup, chicken soup and potato soup this week. The potato soup is for Sunday, when my niece, Alissa is coming to lunch after church. It's her favorite. I fed the other soups to the boys, and ate them for breakfasts and lunches. We had salads a few times. We cooked a pork roast I got for $1.99/lb. I made enchiladas, we sliced and ate it, had it on salad, and froze the rest for another day. Safeway was selling pizza for 8c. Rob stopped in and got that along with a few other things we needed. It's not gluten-free, so it will be for him, and any kids who come over. Cheese was $5 for a 2-lb loaf, so we got a couple. We shopped a couple of times this week, gathering things we needed in smaller-than-usual quantities. I'm adjusting to feeding one less person and would rather shop more than waste food, as I make this adjustment in our family. We still have so many people though the house that I don't think it's going to be that drastic of a change, but I'll find out. I don't know if I will be sticking to the every-other-week shopping as I go through this transition, but I'd like to eventually make that work again, as I like doing that.
We went to the eye doctor. Both of us didn't need new prescriptions as our vision had not changed much, but I always have to go each year for my diabetic eye exam. I had recently had my lenses replaced under warranty, after I got hit with a flying coaster launched by a baby, and Rob's were just replaced under warranty as well. We had benefits available to use, though. I ended up getting new frames with lenses that are just for distance, with no reflective coatings or sunglass feature for absolutely free, covered by my insurance. They are for walks and driving on days when I don't want my world darkened with sunglasses. Later, I can replace the lenses with a new prescription if I need to, and will need to pay for all the bells and whistles, but have this nice new pair of frames or my current frames to use when I do so. Rob did the same thing.
There's never a dull moment around here, and this coming week is no exception. I plan to enjoy the spring weather that is expected and hope to be outside frequently. I love this time of year.
Happy spring to all of you readers!