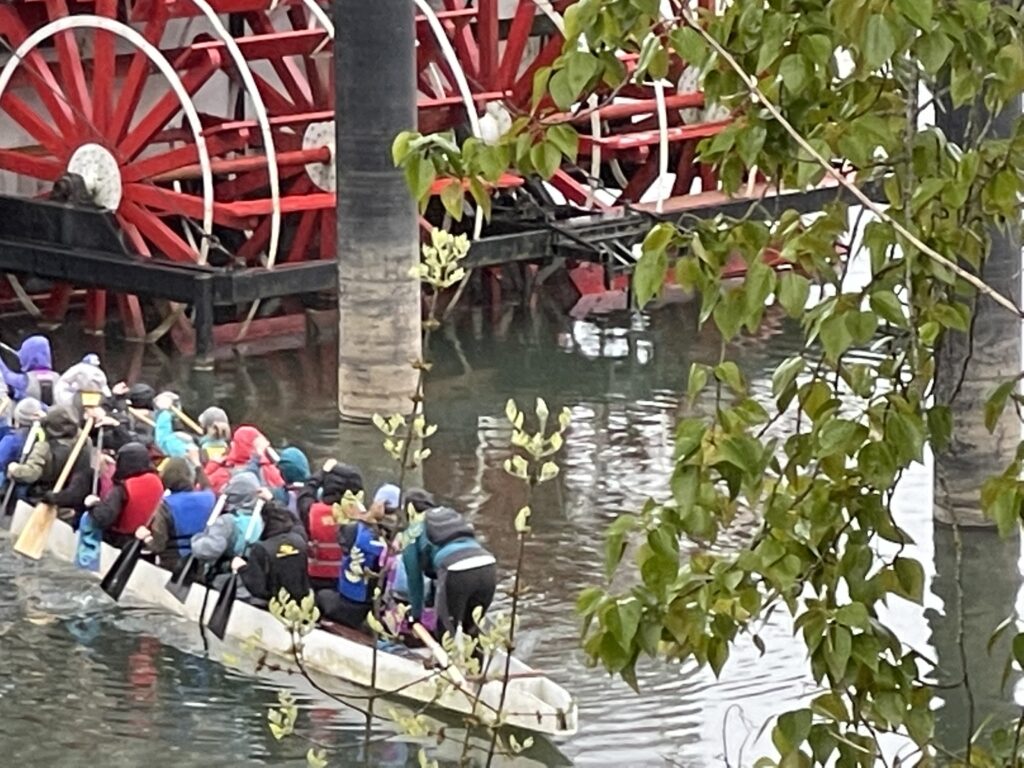 We had just a few minutes Sunday evening before we had to be somewhere, and stopped at a park by the Willamette River to take a short walk. Before it started to rain heavily on our heads and we scurried back to the car, we saw this boat full of what we believe were tourists.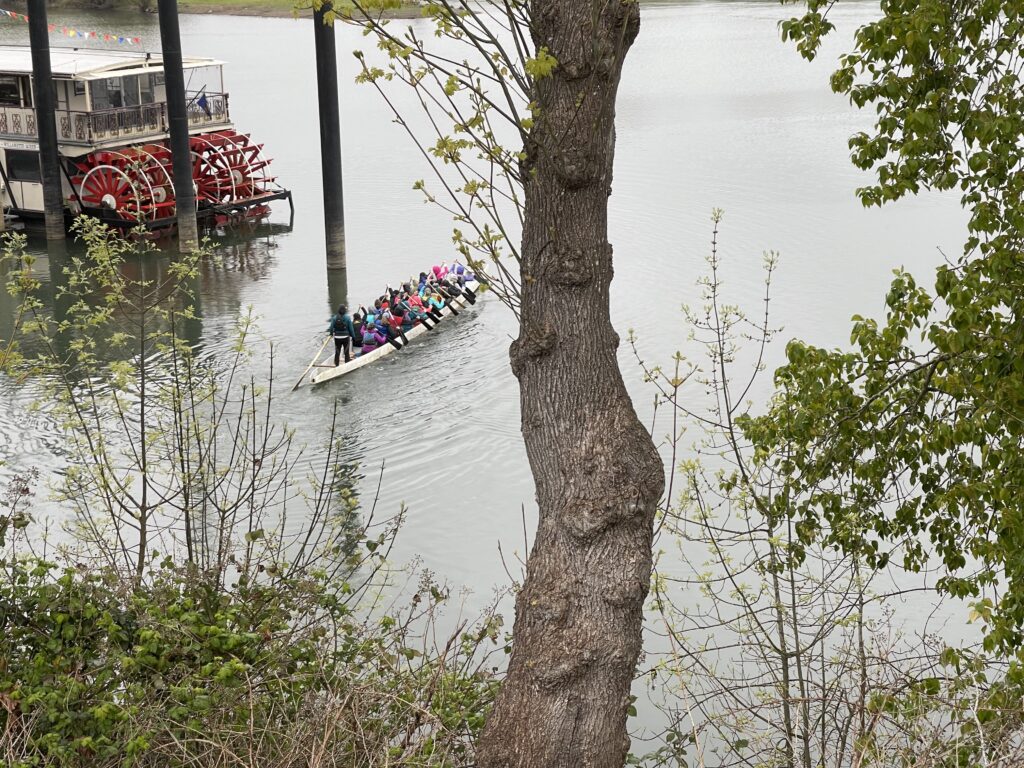 After some instruction from the person standing up in the back, the whole crew started to row as per her instructions and before we knew it, they navigated away from the dock and into the river. They are tougher than I felt yesterday. The rain was icy and the temperature in the 40's with a wind whistling over the water. Rob and I marveled at their persistence, and happily got into our car, turned on the heater and went on our way. It's been very cold here. Portland, Oregon, got SNOW! Rare at any time, but in mid April? Crazy! We didn't. We are a bit to the south of there, but it's not warm here, either.
We took several walks last week. On one of our walks, we found a lady setting out a twin-sized bed frame in excellent condition, so we happily grabbed it and carried it home. I'm sure people were marveling at OUR persistence. We now have a frame for the spare bed in my back room. We made that lady very happy, too, as she wanted it to go where someone would use it. Today, we set it up. Rob cut boards he had scavenged and put the slats in the frame and we added the mattresses that had previously been on the floor of the spare room. Now it will be higher and much, much better for laying my quilt squares out on so I can see how they look before I sew them together. Visiting kids will enjoy sleeping on it, as well, I hope, although they never seem to have minded the mattresses on the floor.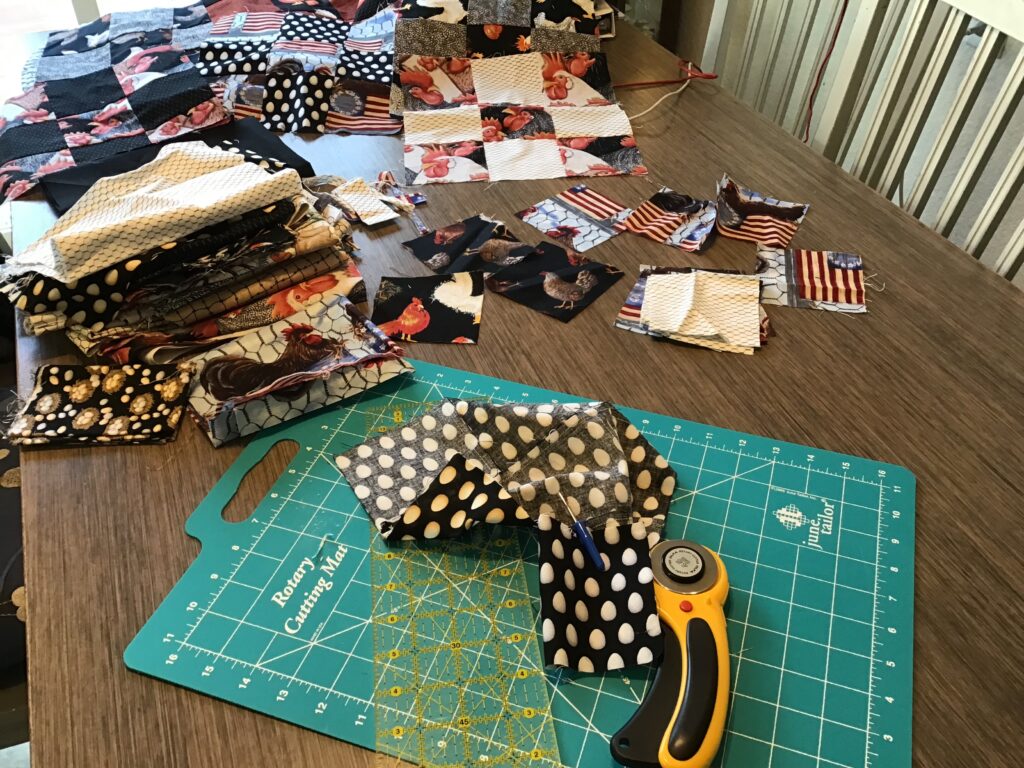 I continued my project of cleaning out small areas or working on unfinished projects. Rob has been cleaning, too, which helps. Yesterday, he tackled a larger area in hopes of getting bags of trash since we had room in the garbage can. I joined him after Jake and I were done with school. We were not disappointed. We filled 2 whole bags and used every bit of space in that can. We may have a garage sale eventually, but some things just aren't worth saving to that end or donating.
Many years ago, one of my children decided to make a "chicken" quilt. We cut out simple squares together, and they sewed a few together with my help, and then lost interest. I ripped quite a few blocks apart and started re-sewing them and made a few more. I threw away the squared with holes?? in them???? No idea what happened there… Now I'm working on putting a sashing between the blocks. Rob's mom turns 90 this year. She loves chickens. I'm hoping to finish this one up before her birthday in July.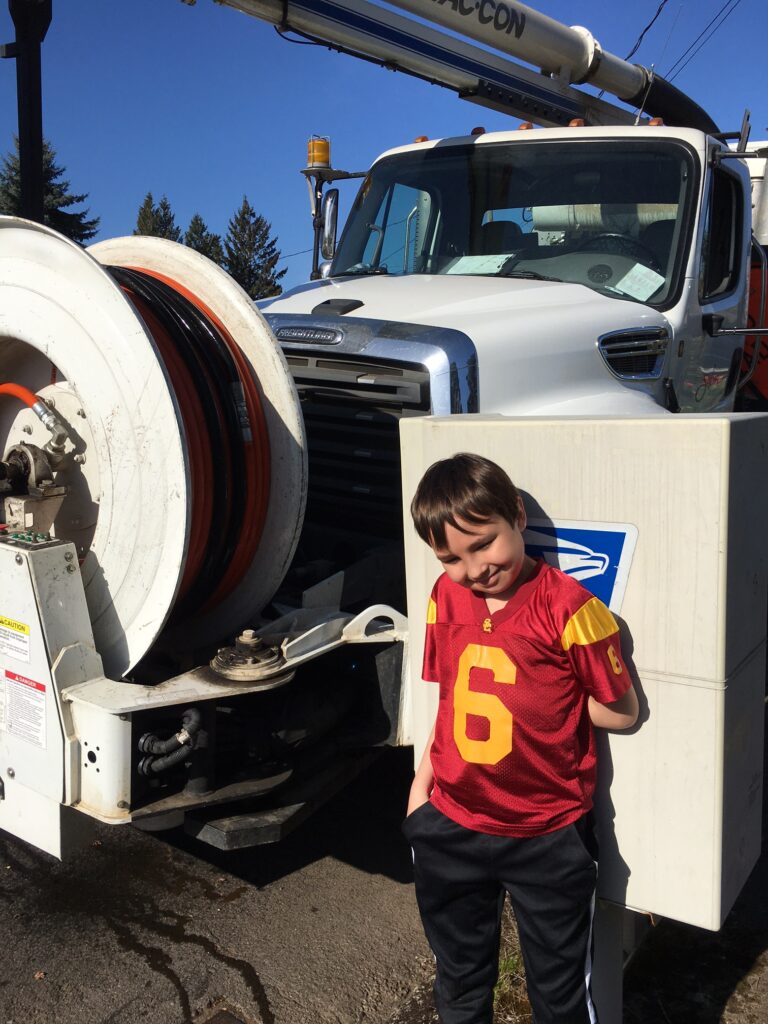 Jake and I got a morning of free entertainment and a free field trip all in one when two men parked this truck right in front of my house and proceeded to clean out a water line in the street. They were more than patient and answered every single one of the many questions he asked and explained it all to him in minute detail. His only disappointment was that no water shot up high and no one got squirted:). When that was shared with one of them men, he laughed and said he almost did get squirted, but they are supposed to do it in such a way that water is not wasted, so they don't use any more than they absolutely need and reclaim it, but once in a while some does get away. Just not that day!
And, Jeannie in Tennessee, this picture is for you. Jake wants you to see this water line cleaner truck–since you've sent him interesting pictures of storms before. (Jeannie has been Jake's pen pal for a few years now, although he tends to be a bit fickle–nothing for months, then out of the blue–demands I post something for her–it's fun!)
Grocery shopping happened at 2 stores because they each had things on sale that we wanted. Rob did one store and I did the other. We got almost everything we wanted for Easter dinner along with things we were out of. I'm hoping I either don't have to shop at all, or just buy a few things this Friday.
I spent some time today going through cupboards and pulling out some nice dishes I want to use for Easter dinner. I also pulled out any spring decorations I found and some tablecloths. I'm actually going to start pre-cooking several things over the next 2 days. We have some extra activities to do at church this weekend, including a kids' activity we signed up to help with on Saturday. I want to have most of Easter dinner prepared ahead of time so I can enjoy the day.
I'm off to a good start. I'm keeping the meal itself simple. I'm planning ham (already in the fridge–87c/lb–great deal!–Rob will cook on the BBQ), twice-baked potatoes (ingredients already in the fridge and pantry–can be made ahead and baked easily that day after early service at church), canned corn (all the work done last summer), cupcakes (thank you, Jake–we got that done already and they are frozen waiting for frosting), cheesecake with gluten-free snickerdoodle cookie crust (again, Jake and I made the cookies last week, and I practiced in my Instant Pot already so that will go quick and you HAVE to make it ahead of time–blueberries frozen for topping from last summer, ingredients in fridge), green salad (spinach ready to pick in raised bed, head lettuce easy to get if we run out, salad dressing purchased on sale last week), dill pickle rolls (pickles made last summer, lunchmeat and cream cheese in fridge, bought on sale a couple of weeks ago), drinks purchased (seltzer and soda, tea, coffee, water), and so forth. This gives me time to indulge myself if I get a bee in my bonnet and decide to make something else at the last minute…I usually get an urge for deviled eggs…..You get the idea. Preplanning is the key for me. Then I don't feel stressed out at all. I will even put out all the dishes and things the day before so I can focus on the family on the day itself.
I'm looking forward to the day.