On Saturday, we celebrated with Patsy. She is finished with homeschool high school. She wanted the theme of her party to be "tea party."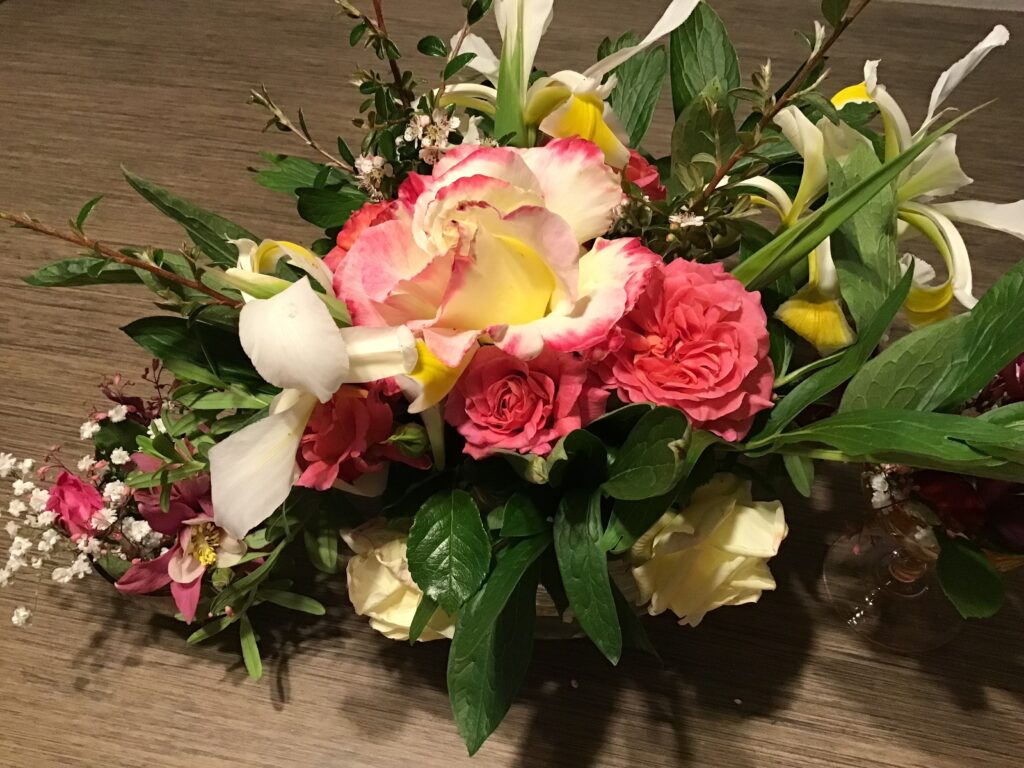 Here's how we made it both frugal and fun! We used flowers from our yards–both my yard and various relatives' yards. We did buy some baby's breath, but the rest were grown by the family. My niece brought this bouquet for the mantle.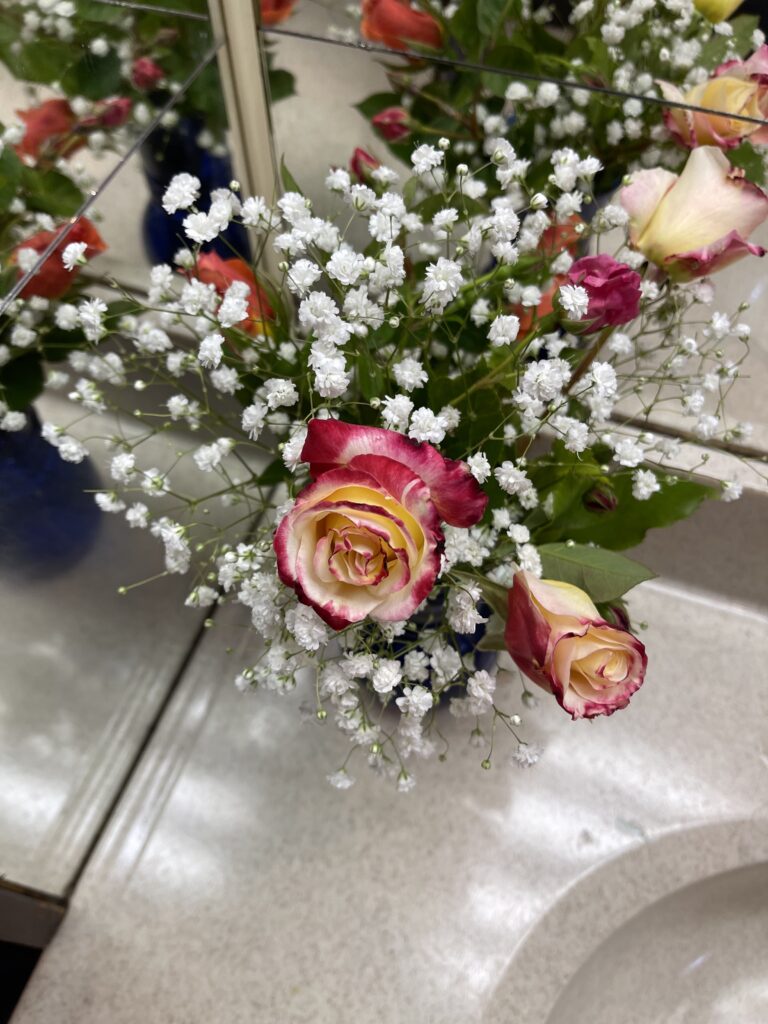 My aunt sent over gorgeous roses from her bush. For such a momentous occasion, even the bathroom got a beautiful bouquet.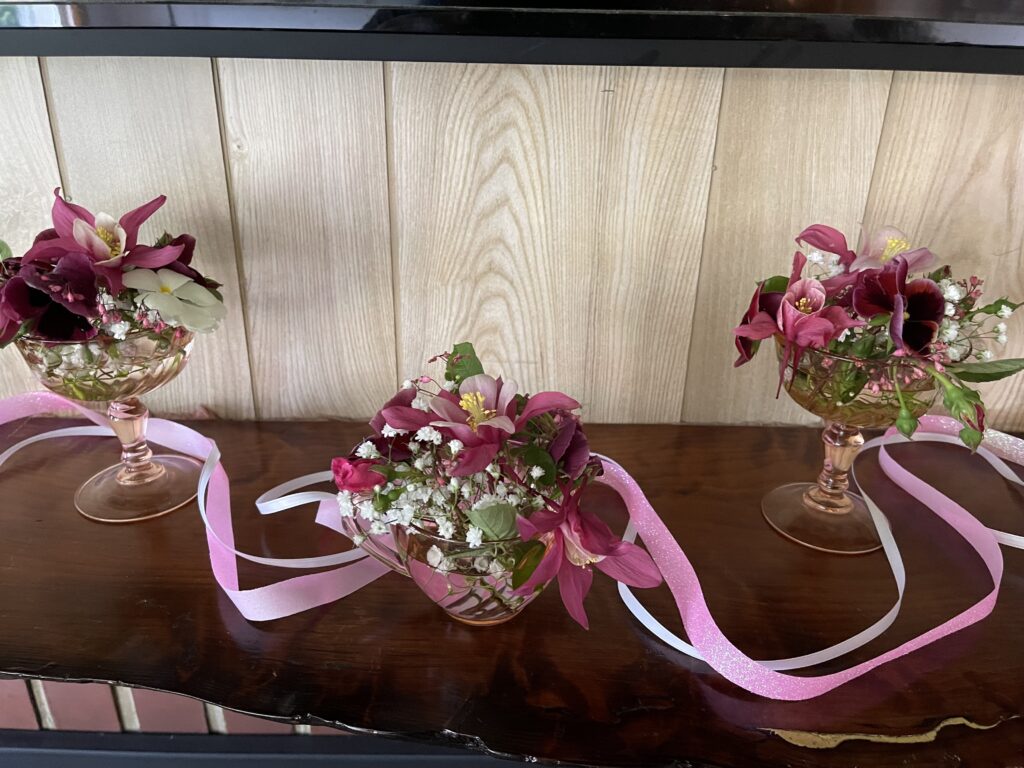 There were flowers everywhere!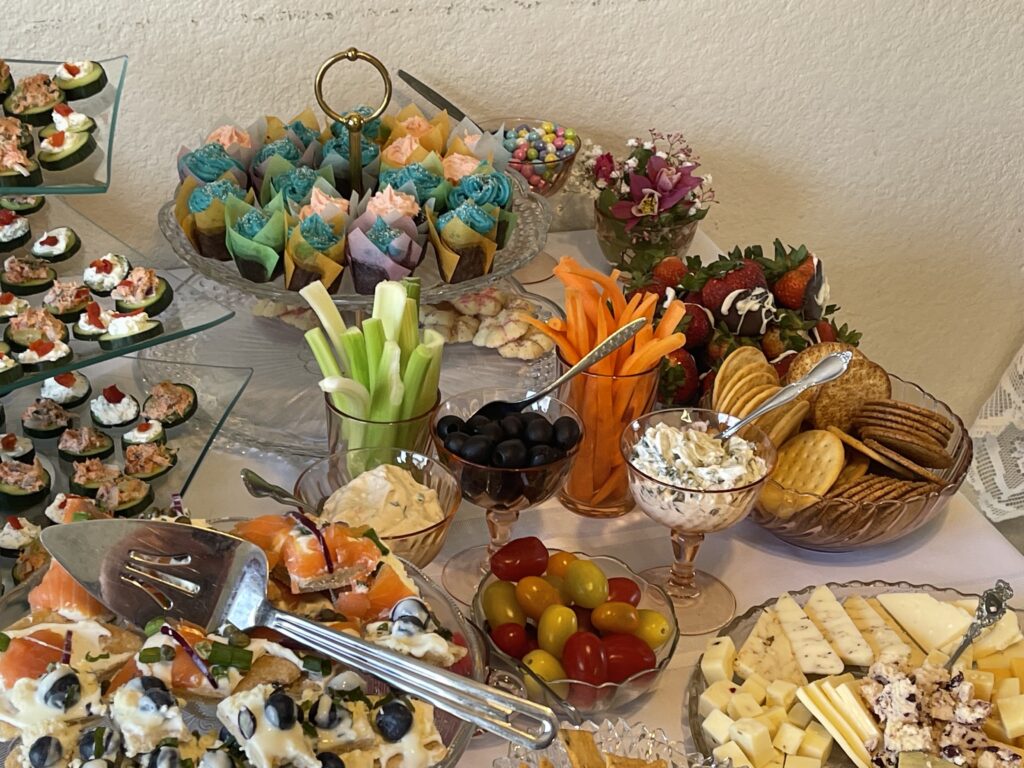 We had all kinds of bite-sized foods. My sisters, mother, and aunt all brought fancy foods. This kind of food tends to be expensive. I feel as though I kept the cream cheese and whipping cream companies in business this week. I think I used 8 boxes of cream cheese, just with what I cooked!!! But, I bought a little here and there over the past month, as I found sales, used several stores to get the best deals, and happily accepted platters of goodies from any who offered. We cut back on our grocery shopping for regular meals this month and, instead, used more food from the pantry, freezer and canning shelves, and stayed within budget overall for the month. Mostly:). I went over a few dollars and will simply take it out of the budget for June. It's such a small amount it won't make any difference, especially since the garden is starting to produce a few things.
The biggest way we stayed within budget was by cooking from scratch. Because of the dietary needs in our family (lots of celiac–so no gluten), every single thing was gluten-free except the licorice sticks and one bowl of crackers. We would have had to pay a fortune to buy it all pre-made or to have it catered.
I was able to use herbs from my garden. I used parsley, chives, thyme, and dill in various things. I used some early lettuce for part of one salad. I candied some nuts we bought from a farmer and cracked out ourselves a couple of years ago–they were in the freezer. The dipping chocolate for the berries was purchased after Christmas on the clearance rack as they didn't want to keep it another year, so it was only 49c/package, and so on….A deep pantry was my friend, as I didn't have to buy every single ingredient at one time.
I will say that I did put in many, many hours cooking, cleaning and setting up–digging out the dishes, washing them, etc. Some times in my life, I am too busy and just have to buy more things and be o.k. with that. Normaly, I would use paper plates and other things that cause less dish washing. On this occasion, I had the time, so I did it more elaborately, but it was definitely more labor intensive.
Lovana came over and made salmon flatbread with some gf flatbreads I made and froze earlier in the week. I made blueberry-lemon flatbread, salads, cheese plate, veggies, cookies, and bought every kind of pastel candy I could find. I even used some Cadbury eggs purchased after Easter, as they were the right color.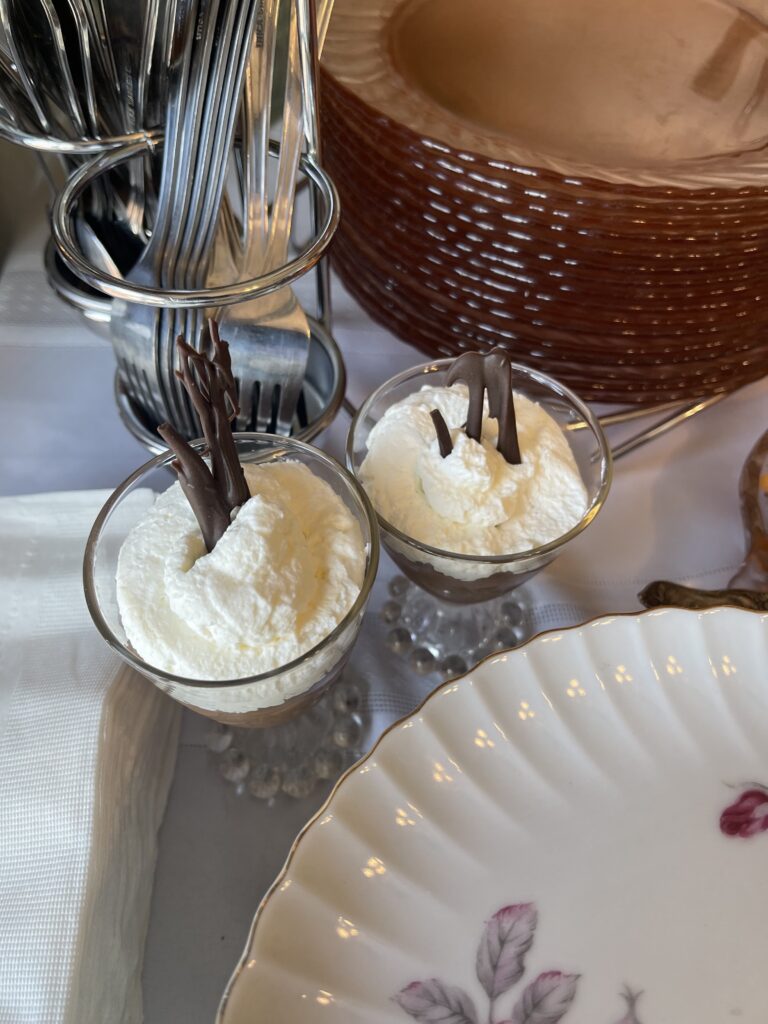 I dipped strawberries in chocolate and made chocolate mousse in little dessert glasses. That was stressful. I'm more into everyday, ordinary cooking, but by the time I whipped egg whites in one bowl, whipped cream, melted chocolate and tempered egg yolks, and then had to fold it all together…..I was in agony that it would turn out. Thankfully, it did! Every bit of it was eaten.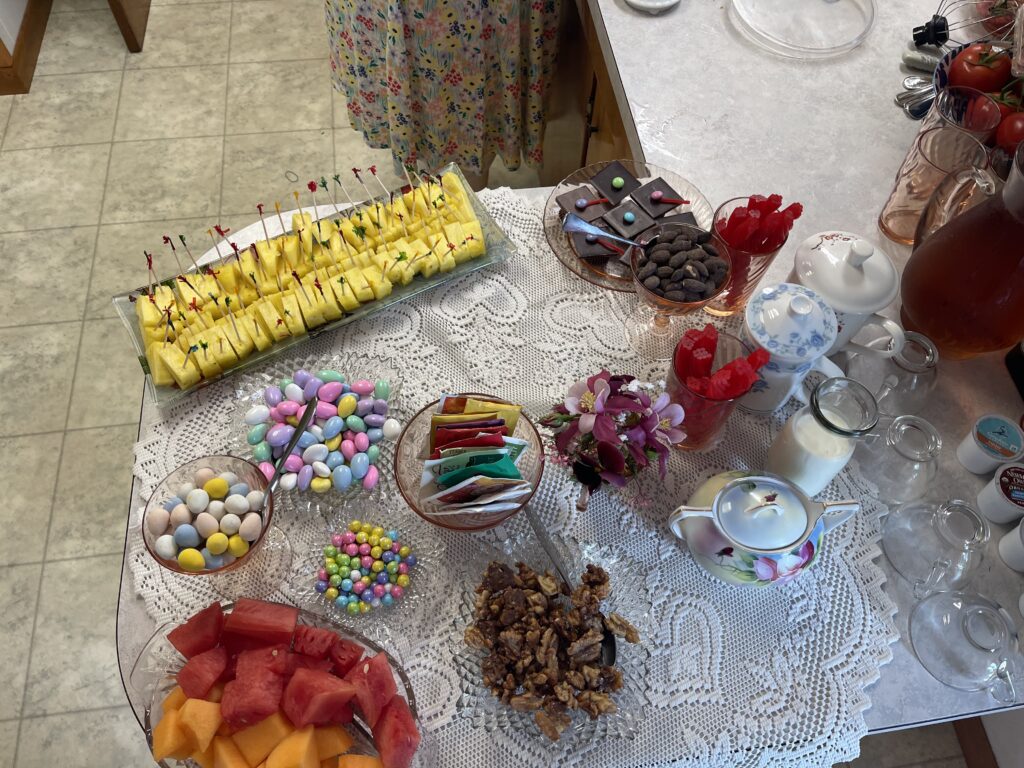 There was a teapot right in the middle of this display on the counter and although most people made coffee in the Keurig, or drank punch from the punchbowl, one little girl in particular drank her tea in a fancy cup, poured from the teapot, and had it filled more than once:). Those little square candies on the top are graduation hats, made from Ghiridelli squares and Reese's peanut butter cups with an M and M on top.
As you can see, we used my fancy dishes and linens. There were a lot of dishes to wash, as we had between 40-50 people flow through the party, but my relatives cheerfully washed the plates and silverware and put them back out for re-use. It was so nice to use my nice things that are so rarely used. So many of them have come from garage sales over the years. Some have sentimental value to me as they were from relatives in my past. But, none are doing anyone any good in a cupboard or drawer, so I was delighted to use them, even if there was a risk of them getting broken. None broke, in case you were wondering. The pink plates are the ones we use every single day to eat off of, but they fit the occasion beautifully.
We went a few weeks ago and got her dress and shoes. Although I love to get bargains, this time I wasn't looking at the clearance rack. It's no picnic shopping for dresses these days and I wasn't sure we would find one we both liked at any price! As always, I prayed before I went, and we did get a dress that she liked and fit her, and I was so, so happy to get it. We found the necklace and earrings the same day.
Patsy had a great party. It was so nice that so many could come and celebrate with her. Many who could not come sent cards to her, so she felt well-celebrated and loved.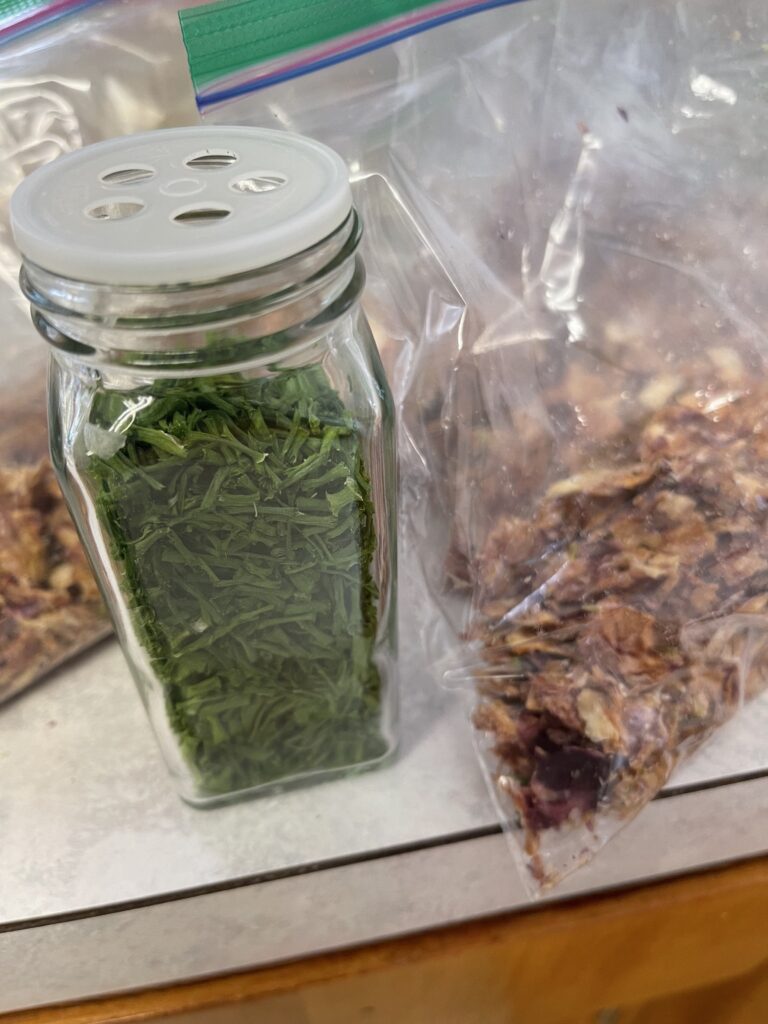 During the week of prep, I did a huge amount of yard work. I worked in the garden a little, too.
Rob dried almost every onion left from last summer's garden because they are wanting to grow now. They lasted well–this is May, after all. I dried a couple of trays of chives at the same time.
It was a great week, totally consumed by Patsy's party, and I'm ready to have a more normal week full of gardening, work, and other more mundane activities, and I can just remember the party and all the fun we had!