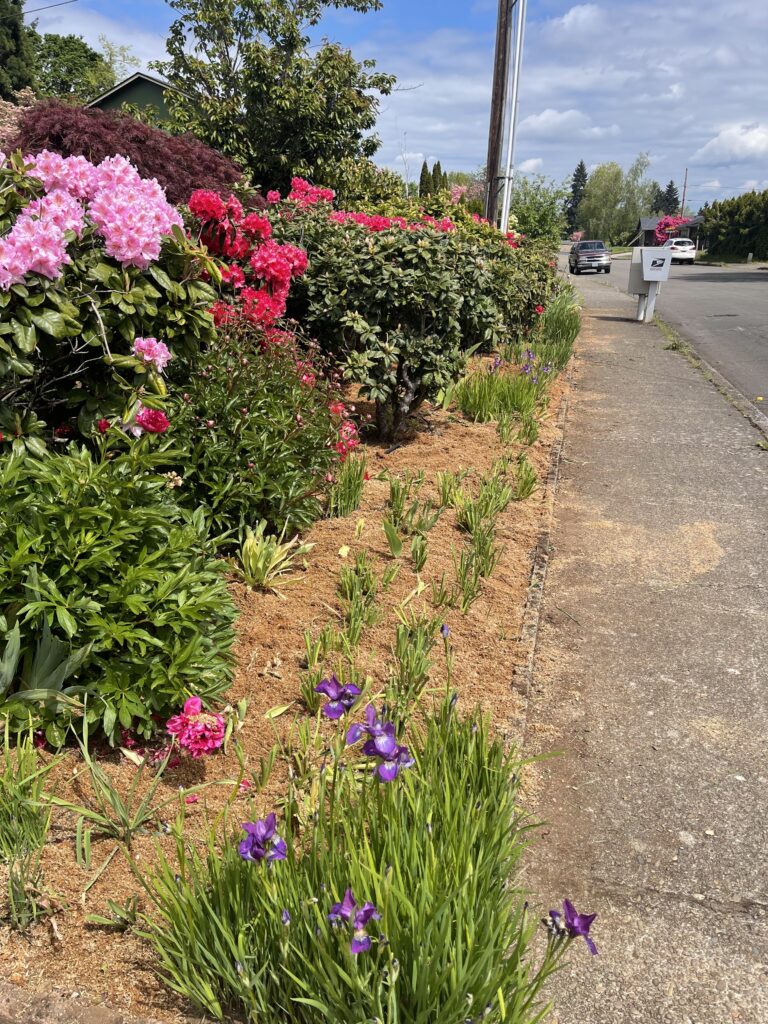 I spent hours and hours weeding and clipping in this flowerbed. I filled the entire yard debris bin. Then, Rob drove me to a business that leaves its excess sawdust in a pile for people to take, free of charge. Patsy helped me shovel it and we got 4 huge trash cans full–enough to spread over the entire bed. Now the weeds will have a harder time re-growing. It also helps that this bed is not irrigated. The bulbs are not harmed by drying up in the summer and it keeps the weeds down. Let's hope it doesn't keep raining so much that I have to weed it all again!
We met some of our friends at a park for a fun picnic. My sister, Jake, and Michaela were there and my daughter and both grandsons. Our mutual friend brought several children of her own, plus some daycare kids. Rob made a fire in the BBQ box and the kids roasted hot dogs and made s'mores. I made potato salad and coleslaw and brought some graham crackers. Others brought chips, buns, drinks, etc. We all had fun.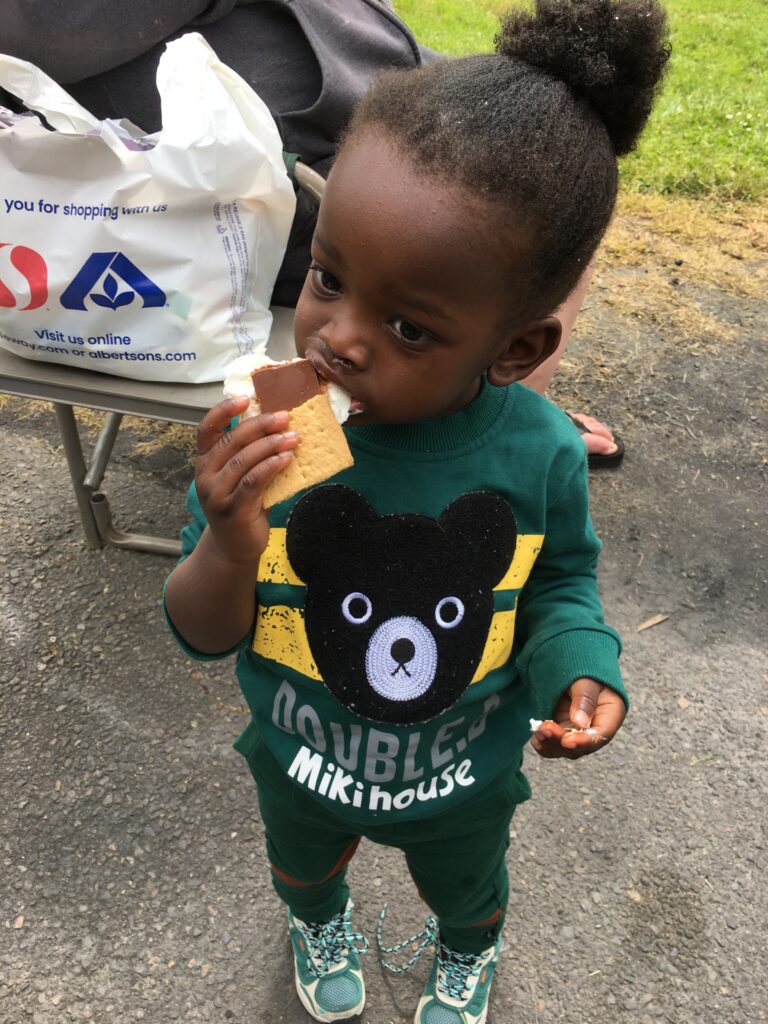 Yum!
This guy was happy to cling to Grandpa for most of the picnic. Grandpa was not sad about that!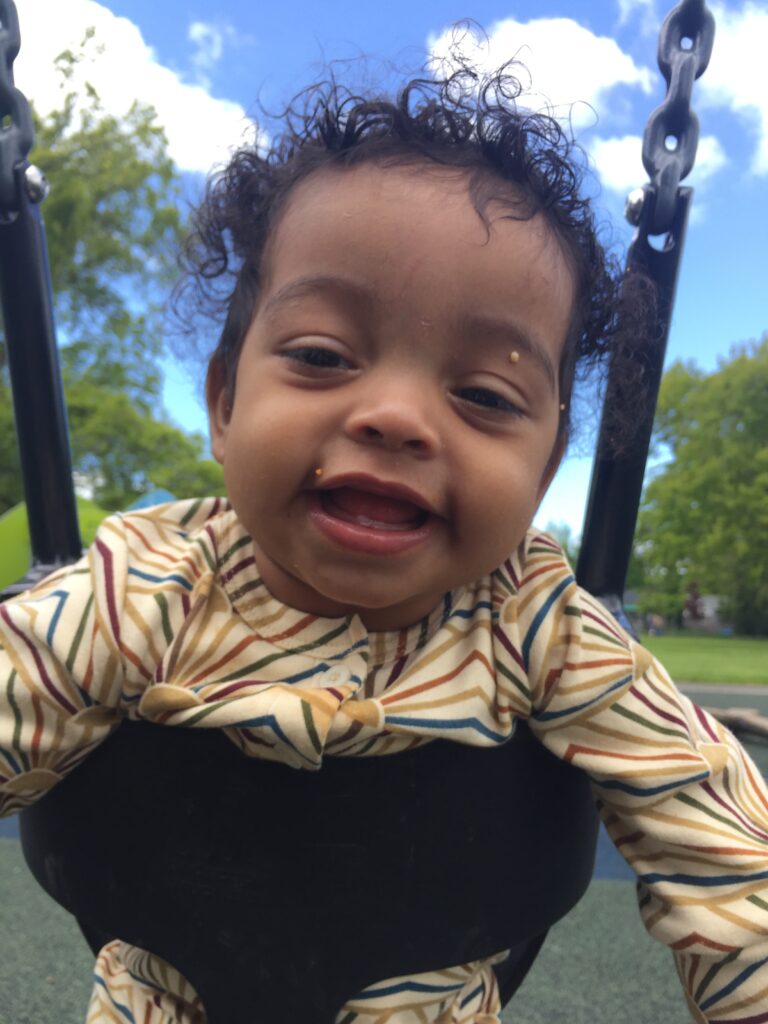 Of course, if Auntie Patsy will take me swinging, I might just let go of Grandpa for a while:). And, yes, those are chips all over my face. With so many kids to hand me one whenever I squawked…..what can I say, but yes, please!!!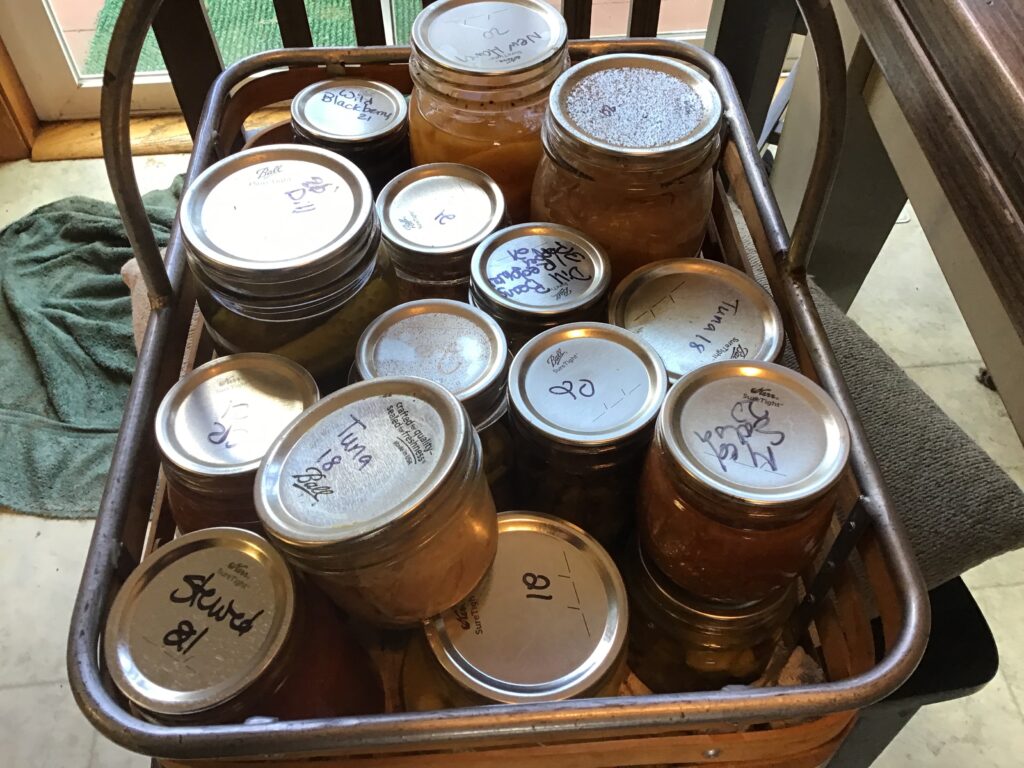 Jars came in full and went out empty, as always. I've had to buy very few groceries the past couple of weeks. I did grab milk, a little produce and some cheese slices that were only 84c/package. Since we are having a big party next Saturday to celebrate Patsy's graduation from homeschool high school, I am working on emptying the fridge to hold the party food. Over the past few weeks, I've bought most of what I need for the party, but will go out Friday and get perishable items, such as strawberries to dip in chocolate and other yummy items.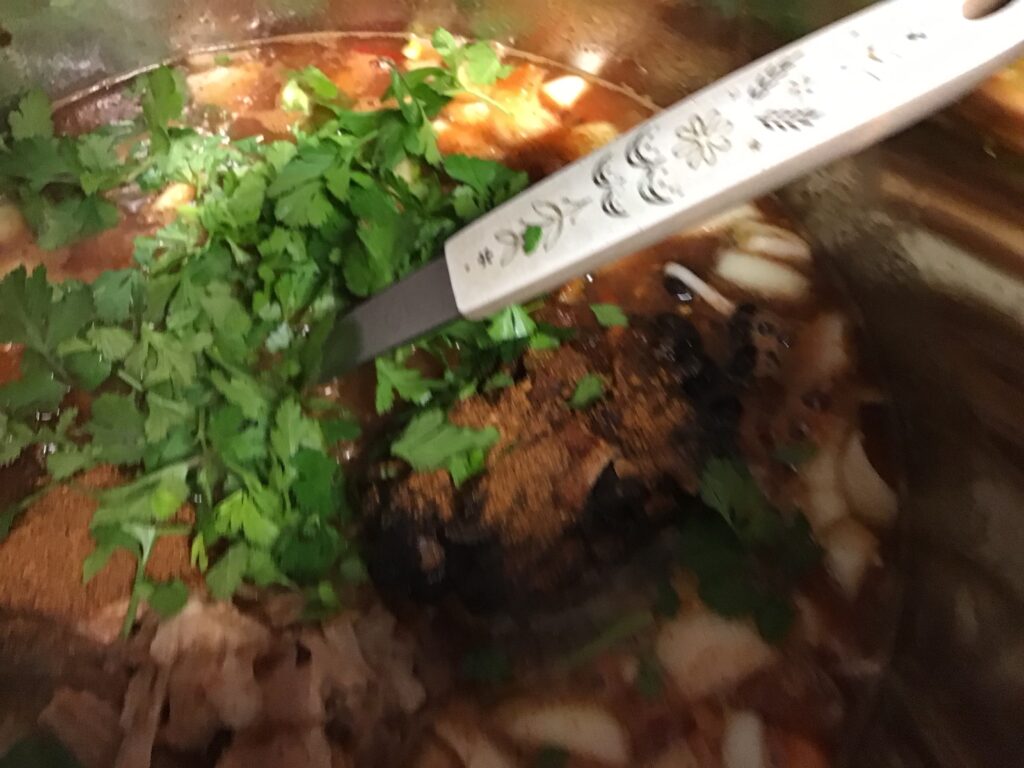 I used some of my home-canned tomatoes and salsa to make taco soup. I pulled frozen pork bits and frozen black beans in, as well. My cilantro is going to seed in the overwintered raised bed, so I put a lot of that in there, as well. I baked a pan of cornbread to go with the soup.
Other meals were cooked. Rob BBQ'd chicken legs, and made chicken-fried steak. I baked several potatoes and they were eaten for dinner or diced and fried for breakfasts along with our usual eggs. Some rice was cooked. We used various veggies and fruits from our food preservation, as well. We make large batches of food and eat the same foods for several days–mix and match style. It's not fancy, but it tastes good and is especially handy when I'm out in the yard so much at this time of year.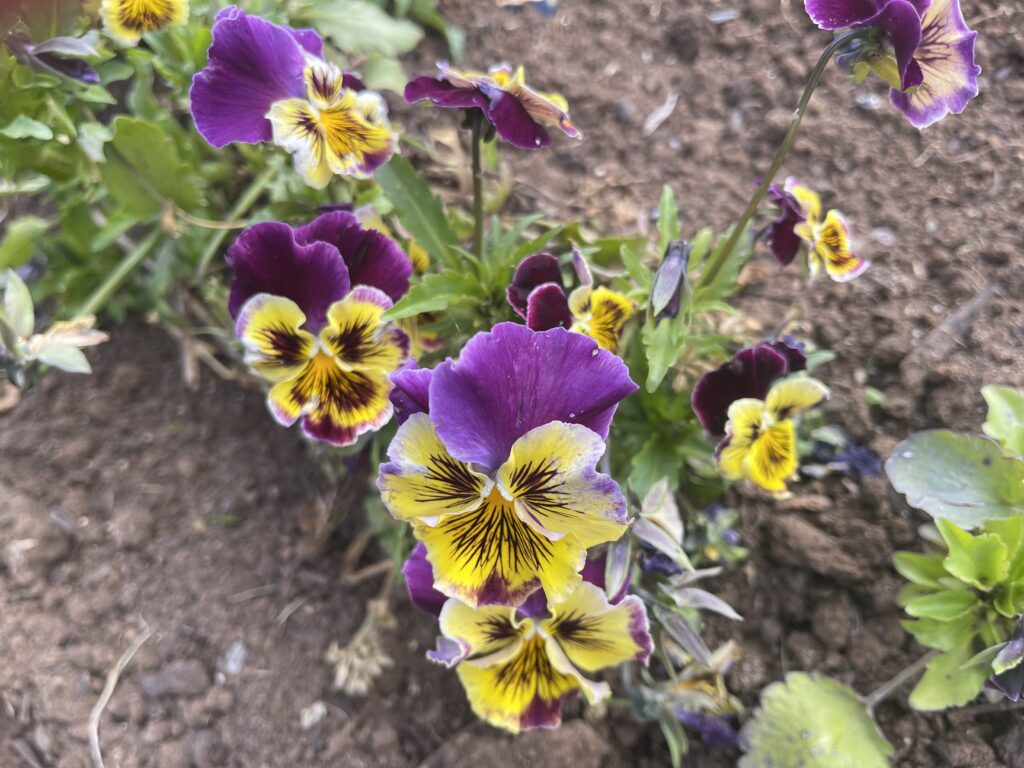 I'm enjoying the flowers that are starting to bloom in the flowerbeds. Even more, I'm enjoying the fact that there are many, many more to come. Rob grew or overwintered so many flowers. I have planted almost everything from the greenhouse now, but I had him start some little head lettuce and kale for me and I will have him do a succession planting of broccoli and cabbage for a fall crop.
The extra plants have either been tucked away in corners here and there, or given away. Rob has a dahlia on every corner, so to speak, with a few more to plant or find a home for. I have to say that if even half of his flowers bloom, it will be a real showplace around here.
My aunt gave us tiny little Delphinium/Larkspur seedlings from her friend and we are trying to grow them to a bigger size in the greenhouse. I'm expecting them to be large enough to plant out later in the spring or early summer.
My sister attended a charity auction and bought us 2 beautiful flower baskets. They are full of shade-loving plants so I've put them in places they will hopefully like.
The wild daisies are beautiful down at our local park. We visit there frequently. Yesterday, Ja'Ana and Patsy and I wheeled the boys down there for a nice, long play time. Zai loves the swing and Malcolm loves the play equipment, the flowers and throwing sticks into a little stream that is there at the park.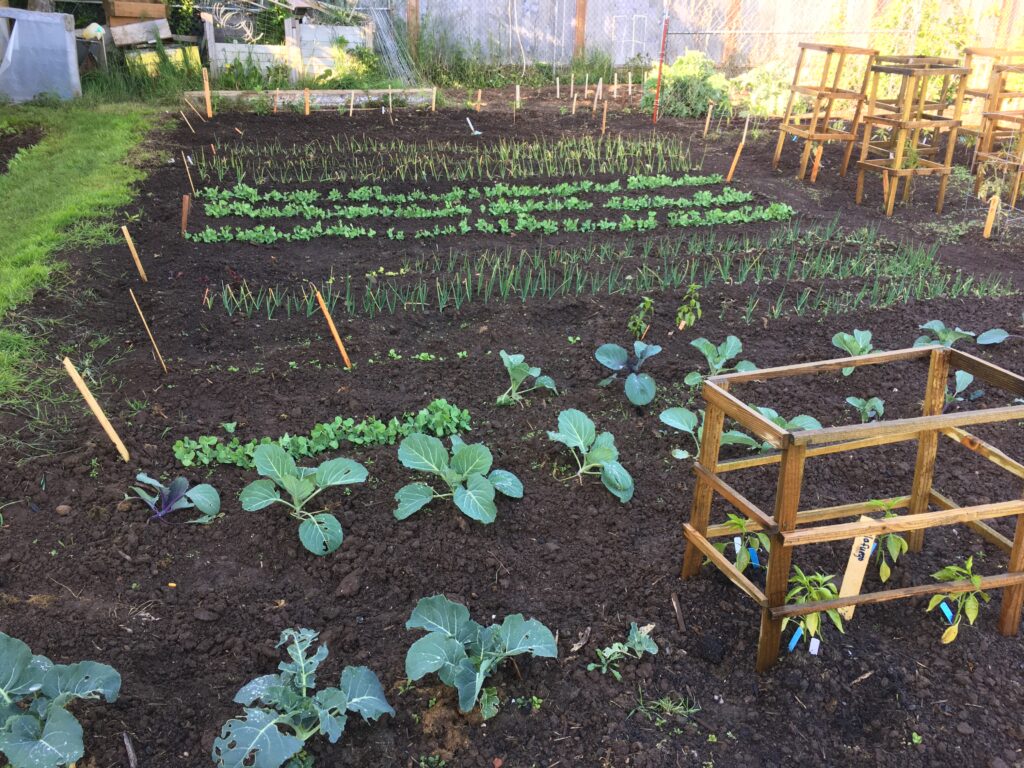 The weather has finally warmed up a bit and most of the garden veggies that were already established have literally doubled in the past week. The poor, spindly tomatoes are starting to sprout new growth at every joint, which is hopeful. The newly planted peppers are looking good, too, but I still am waiting for seeds to come up. Patience, patience, patience:). My earliest planting of English peas (Maestro) have burst into bloom, so it won't be long until we have those. In the meanwhile, we are eating garden lettuce, chives, cilantro, and I even snipped off a piece of an onion here and there when I was in a pinch for green onions one day.
Quite a bit of hoeing and weeding was accomplished. If you look carefully, you can see volunteer dill plants on the top right hand corner of the picture. I weeded around all those so I can start snipping bits to use in cooking without waiting for my row to sprout.