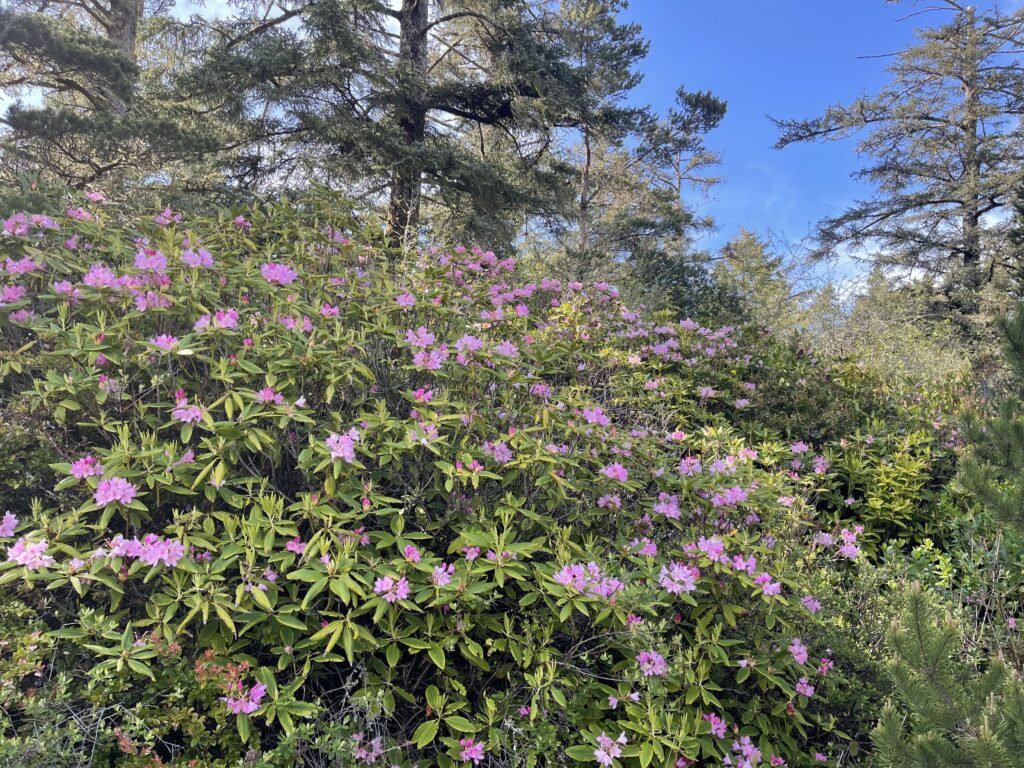 We pulled the camper down to the Oregon Coast for a few days. The wild rhododendrons were in full bloom and we marveled at their beauty during one of our walks.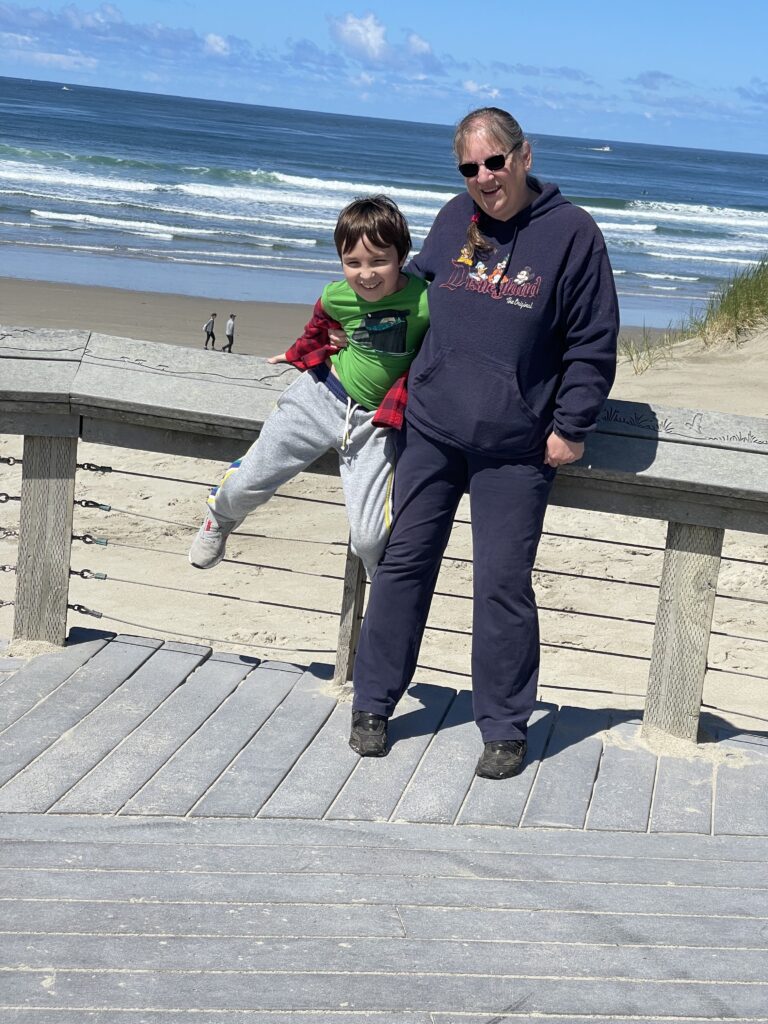 Jake really, really, really wanted to go camping, so we did. We had 2 gorgeous days and a couple that were very rainy and wet.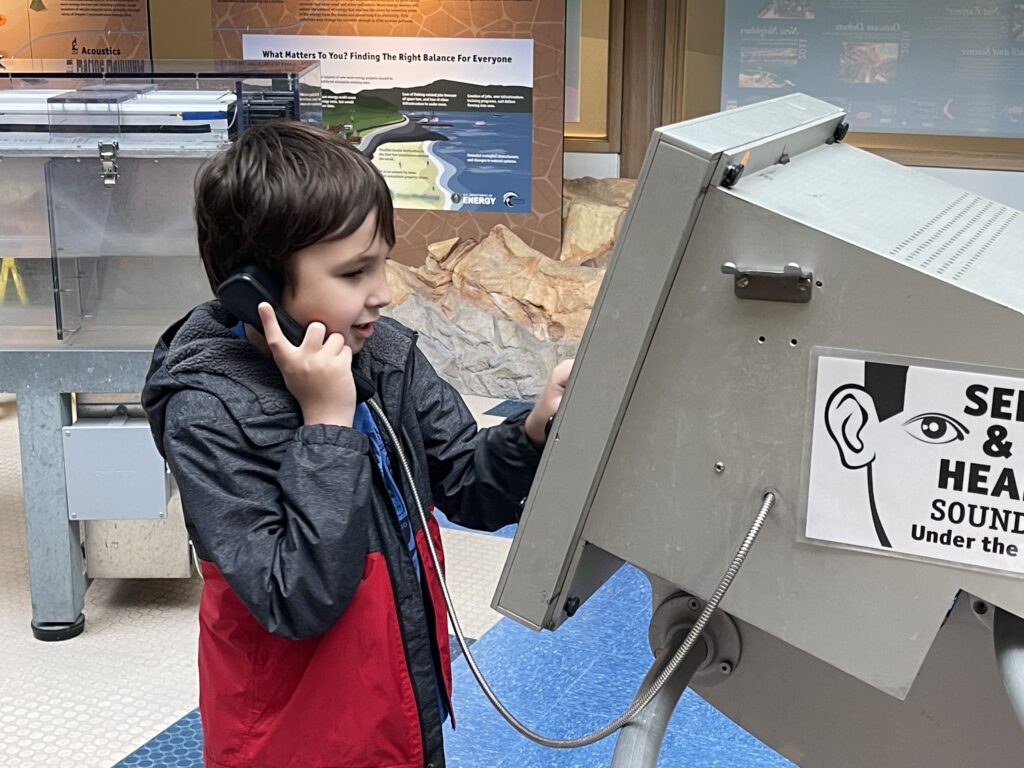 We were delighted to find that the Mark Hatfield Marine Science Center has re-opened after a very long Covid closure. I made reservations and bought tickets on-line and we went on one of the very rainy days. Our other special activity was visiting a candy store. We took several walks, visited the campground play ground and did school in the camper.
The price of gas is high, so we decided not to do any extra drives on this trip. We also saved gas by choosing a campground that was closer to us, vs. one we like that takes 3-1/2 hours to get to, or another one we like that takes even longer to travel to. We went to South Beach State Park, in Newport, and it took about 2 hours to get there, including a stop.
I didn't have much time to pack, due to helping Lovana with that marvelous party I mentioned last week. So, I just grabbed a lot of food from my freezer and crammed it into the camper freezer. I had put some celery and carrots in the fridge, some potatoes and onions in the cupboard The camper has lots of pantry items that stay in there all the time. I was pleased to find that I had stuffed so much in that we didn't need to eat out at all, and only had to get $9 worth of groceries during the week. We did not suffer at all. Rob even made steak over the fire.
Once we got home, we had a couple more rainy days, and then got to work on the garden. Over the past 2 days, I have been out there for many hours. I transplanted jalapeño, ancho, mixed bell, Hungarian Wax, Anaheim, and Serrano peppers from the greenhouse. I planted seeds for pole beans, bush beans, more lettuce, slicing cucumbers, lemon cucumbers, pickling cucumbers, dill, basil, more snow peas, and what seemed like endless little onion plants. I planted hills of Tromboncini zucchini, yellow zucchini, green zucchini and scallopini zucchini. I even dug up some potato plants that had come up volunteer in my compost bins and transplanted them into the garden. We have a potato tower Rob made a year or so ago, and is didn't work because there was not enough sun where it was. I thought I'd try again in a sunnier spot, with absolutely free potato starts, so I'm not out anything if it fails again.
I also worked on the flowerbeds a little and filled the yard debris bin 1/2 way up with mostly clipped ivy. I got the lawn mowed, but it was so tall, I'll need to do it again pretty soon as I had to set the mower up pretty high.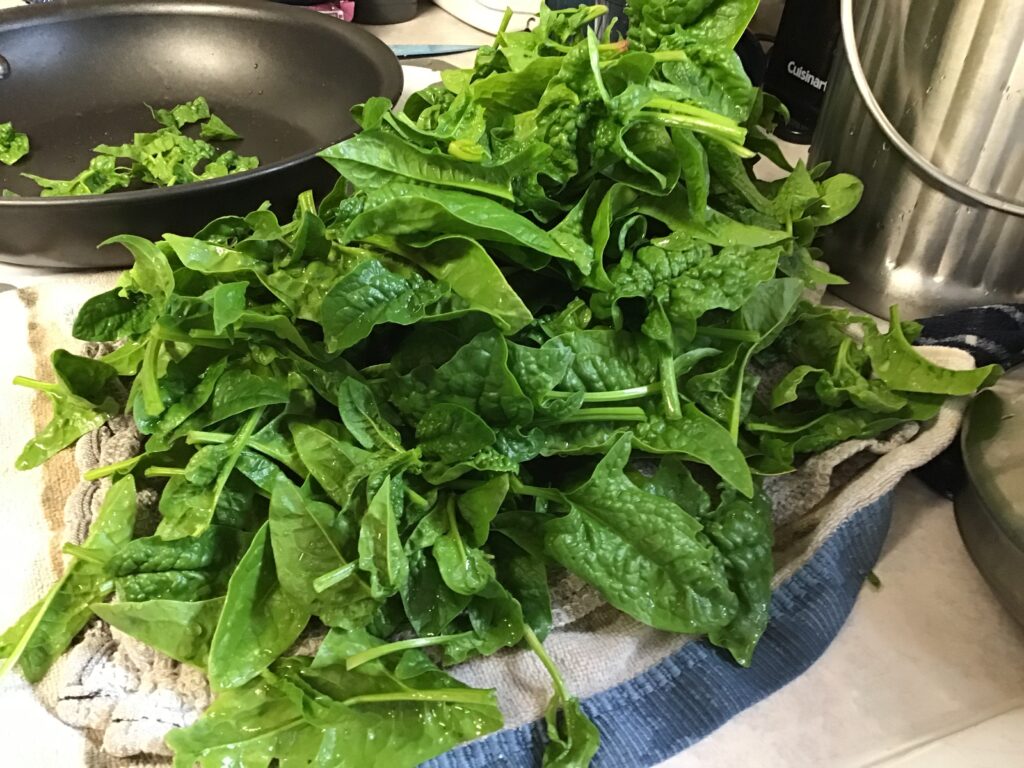 I picked and froze all the rest of the overwintered spinach. I've been picking off leaves and using them, but it was time to pull the plants.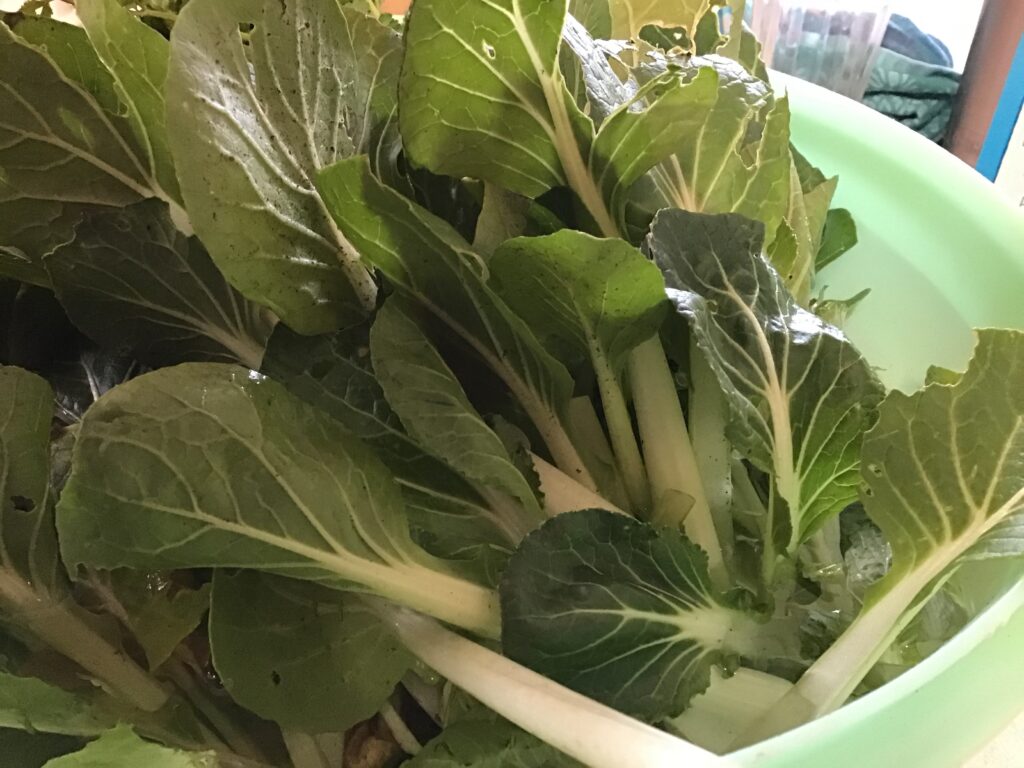 I picked Boc Choi for the first time this season. So far, I've made chicken stir-fry with it and added some to the chicken and dumplings I made yesterday. There was also some lettuce to pick.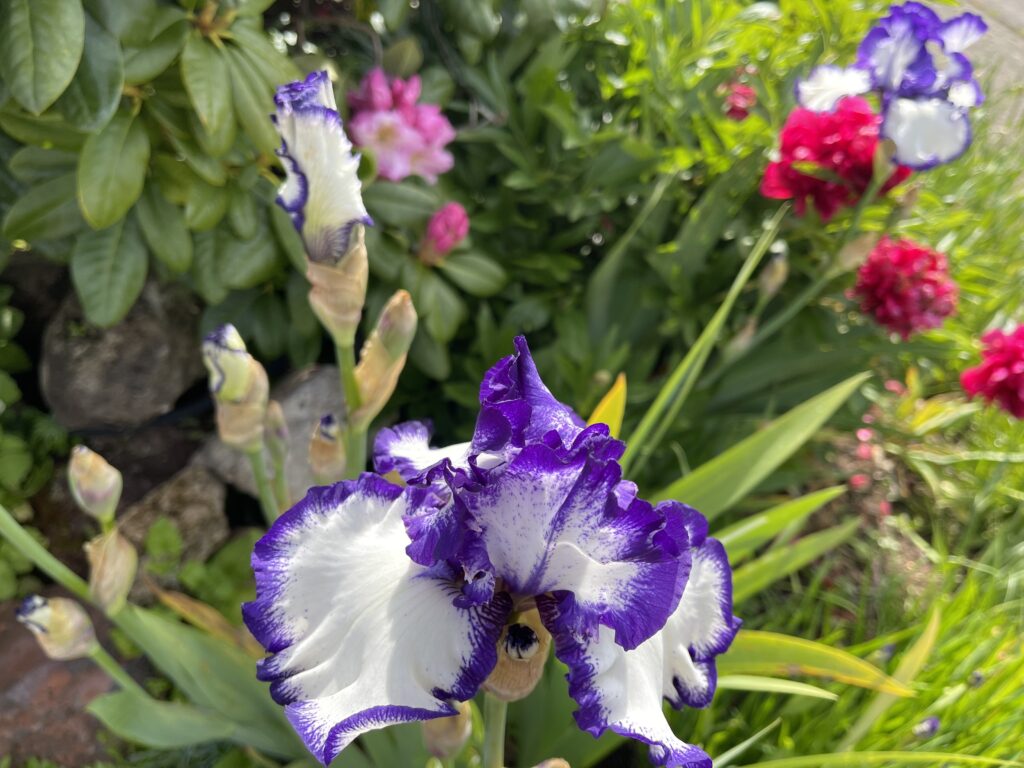 The irises are starting to bloom. I divided quite a few of these last fall and I'm enjoying the extra blooms now.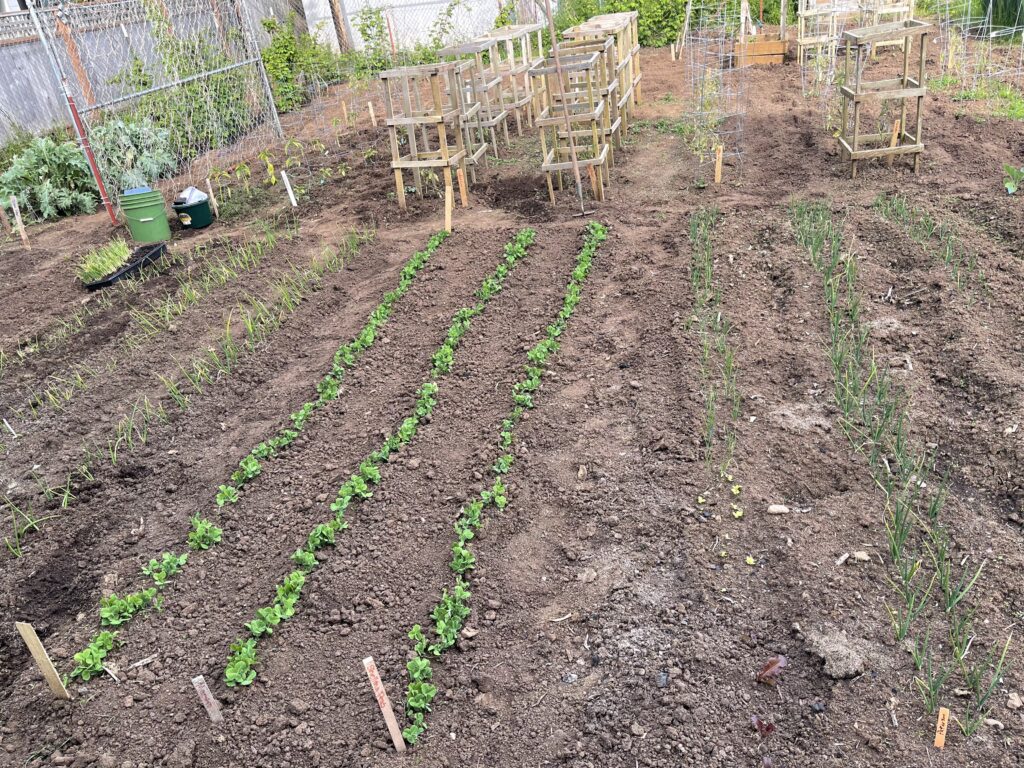 I plan to crawl into bed early tonight. I'm quite stiff and sore after so much yard work. The reason there was so much pressure to get a lot done is because our spring has been very, very wet. I prefer to spread my yard work and garden work out over many evenings, not do marathons. But, this year, it has been too wet and muddy to work out there very often. Rain is predicted again tomorrow. I took my window of opportunity and am very happy that I got one! There are many weeds to pull and a few more things to plant, but I made huge progress and I'm pleased.