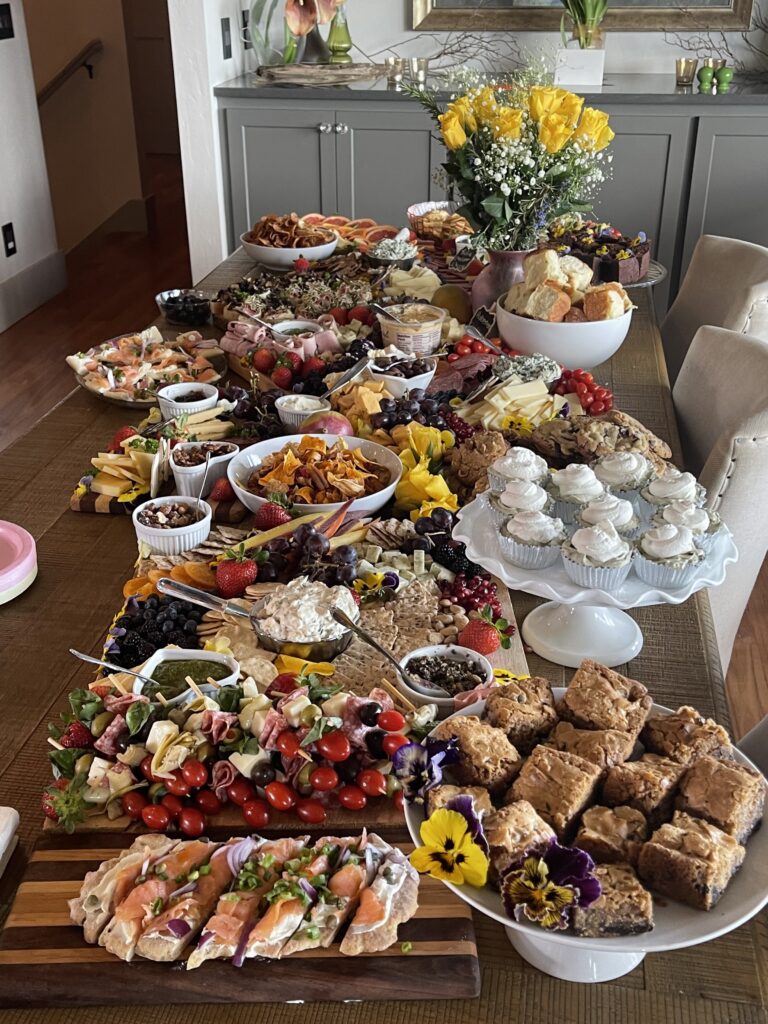 Lovana had a big project this week. She was asked to do food for one of her best friend's college graduation party. Her friend's mom, also my friend, gave her money to use, but could not personally do this party as she wanted to attend the actual graduation, which was at 9 a.m. the same day. Once Lovana got a plan in her mind, she asked me for some help in carrying it out. She sent me recipes to print off on my computer, I compiled a notebook, and then was able to cook a few items while she was at work. Even my mom was called into service one morning to thread skewers.
We made a small gluten-free section on the board, and I baked flatbread and French bread for that. The rest used purchased wheat breads and purchased crackers of all kind. There were fancy cheeses, meats, crackers, dips and spreads, skewers, desserts, nuts, and more. It was quite a production and took many shopping trips and cooking sessions. The bulk of the cooking was done all day Friday and Saturday morning, and the set-up and finishing touches were done at the event, which started at 2 p.m. We didn't get home until around 7 p.m.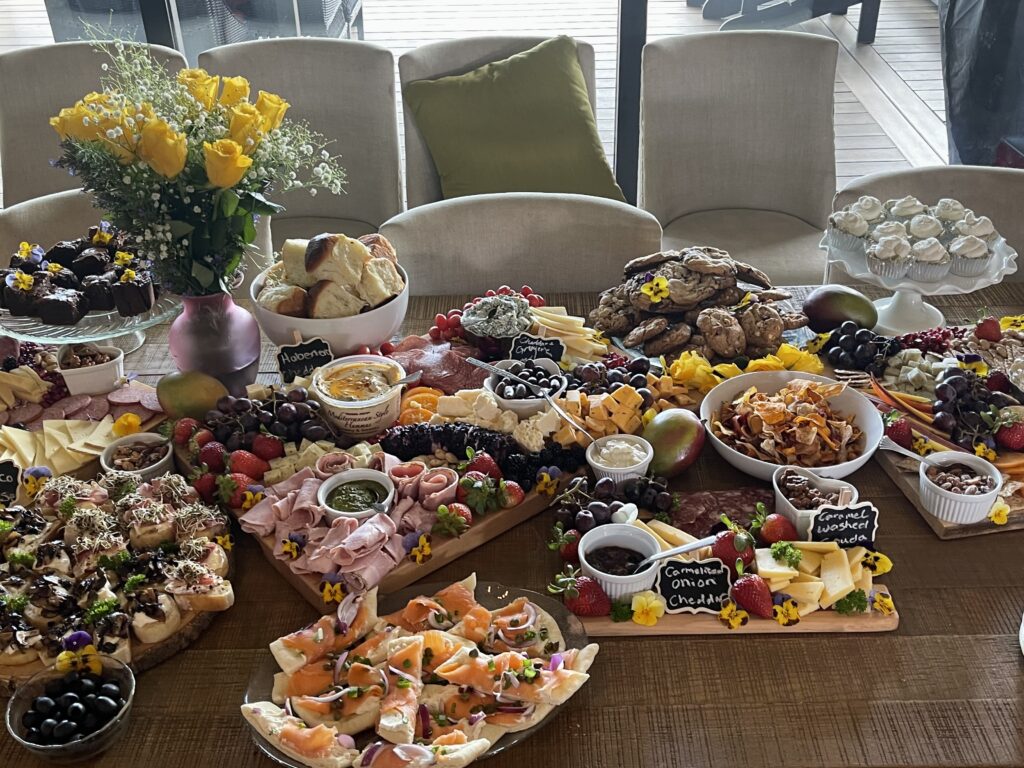 We had a really good time doing this event. When asked by a few guests if we did catering, and how many of "these events" we were doing this spring, I quickly answered.."ONE." This was it for us.
One of the other girls in Lovana's close circle of friends did a gorgeous display of flowers. She had bouquets and bouquets, all displayed on carts and other places, following her theme of "flower stand." I got to bring home one of the bouquets as a "thank you" gift for my help. It's beautiful.
The house where it was held was up in the hills, with a lovely view. The kitchen was huge, with multiple sinks, 2 dishwashers, a huge gas range, and spacious counters. It was a dream to work in and the owners were so gracious to leave word that we could use anything we needed. Thankfully, we remembered almost everything, and only needed to use a few spoons, bowls, and a couple of other things.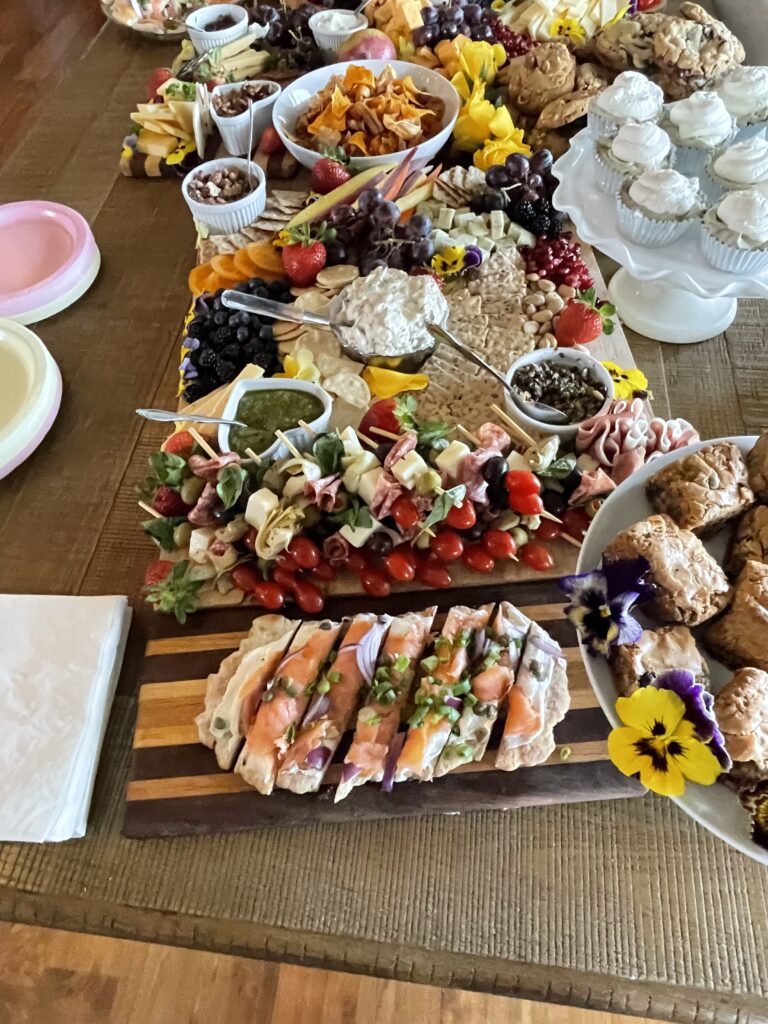 We were able to use chives, parsley and rosemary from my garden. Almost every pansy bloom in the yard was picked and used. They will bloom again, even better.
At the beginning of the week, I made chili, chicken-rice soup, potato soup and we ate them all week, in-between cooking. Rob made some home-baked fish sticks and baked potatoes. We also got a Costco chicken. It's amazing they are still $5. I boiled the bones for broth, and froze that for another time.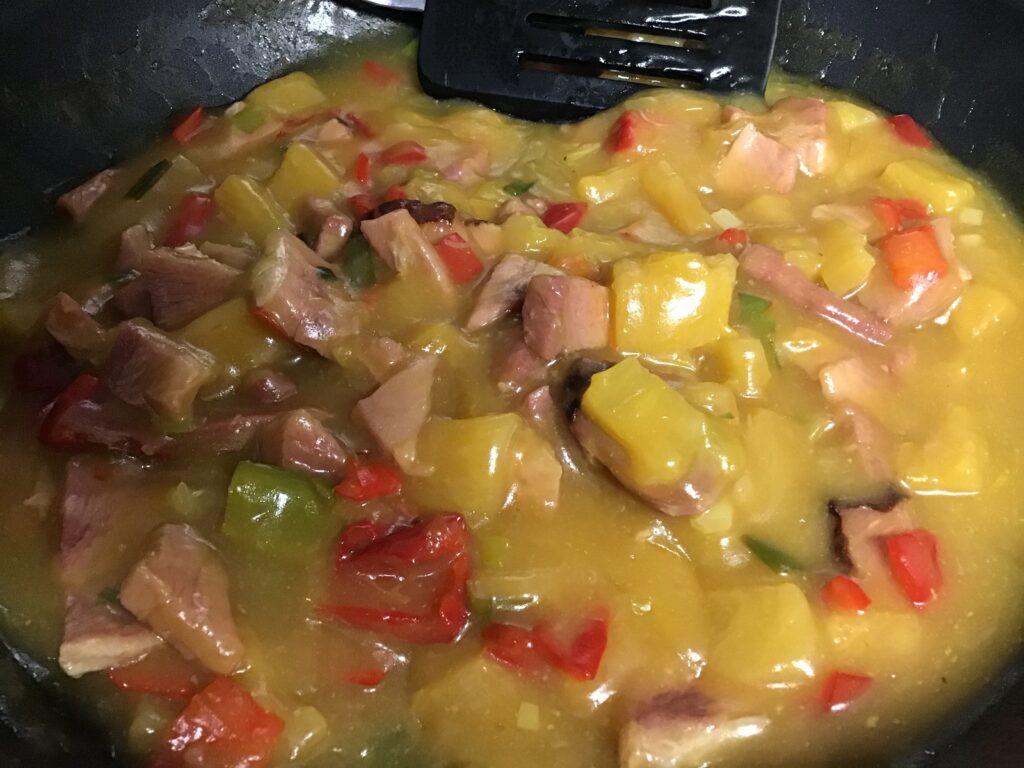 I also made some rice in my Instant Pot, and this ham-pineapple dinner. It was basically sweet and sour sauce with ham in it. It was great. I used some of my home-canned pineapple, frozen peppers from the garden and ham leftover from easter. It was quick and easy and kept everyone fed on a week where I was extra busy. I wanted to keep my grocery bill low this week, and not get caught in the trap of driving through fast food on such a super busy week, and I met that goal.
One morning, we spread out 4 huge garbage cans of sawdust around the blueberry plants. The sawdust is piled along the road where it is a by-product of a business, and is free for the taking. I did get a little weeding done in the flowerbeds at the beginning of the week. I'm still having to take an hour/day here and there when it's not so wet. It has been exceptionally wet this April.