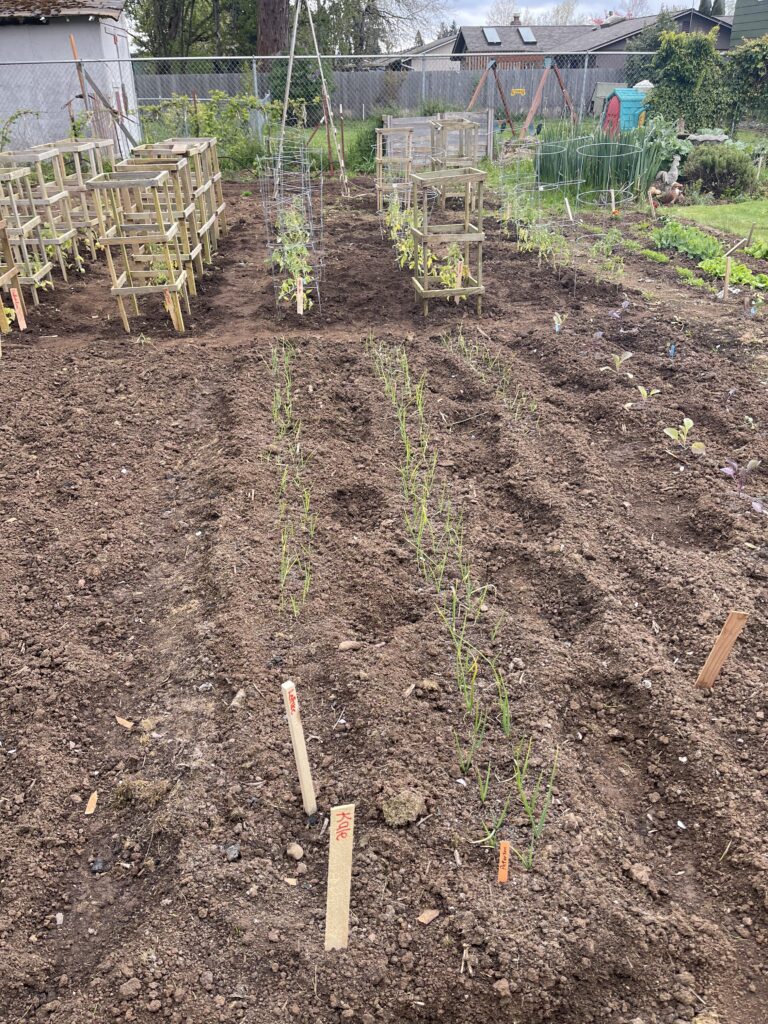 I spent a lot of time in the garden one dry morning. The tomatoes plants were getting away from Rob, so I dug deep holes, we put in fertilizer, a little dirt and IO planted them deep. They will grow roots along the stem that is buried and should grow into nice big bushes, full of juicy tomatoes.
It has been a challenging year in the garden because it has been so wet. Even when I do get out into the garden or yard, I'm often digging in dirt that is close to mud, or, at best, slightly too wet to be ideal. Still, I have been able to get it done, slowly, bit by bit. Every year I put the tomatoes and other veggies closer and closer together to see how many veggies I can cram into the garden. Last year, I found that I had planted too closely and I didn't get as good of a yield per bush and couldn't walk between them, so this year, I spaced things out a little more. I'm always experimenting, and we will see if I have reached the ideal spacing, yet, or not:).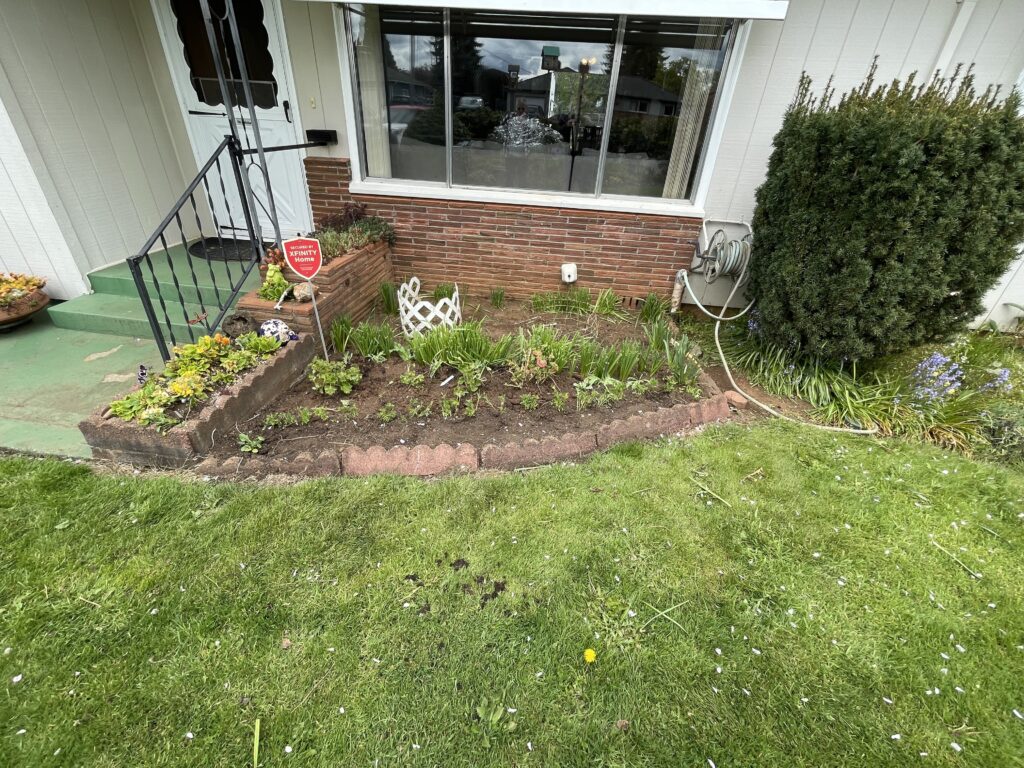 I was able to get the front flowerbed weeded and planted. I planted some geraniums Rob wintered over in the greenhouse, and marigolds he started from seed. I also added a few poppies to go with the 2 that came up volunteer.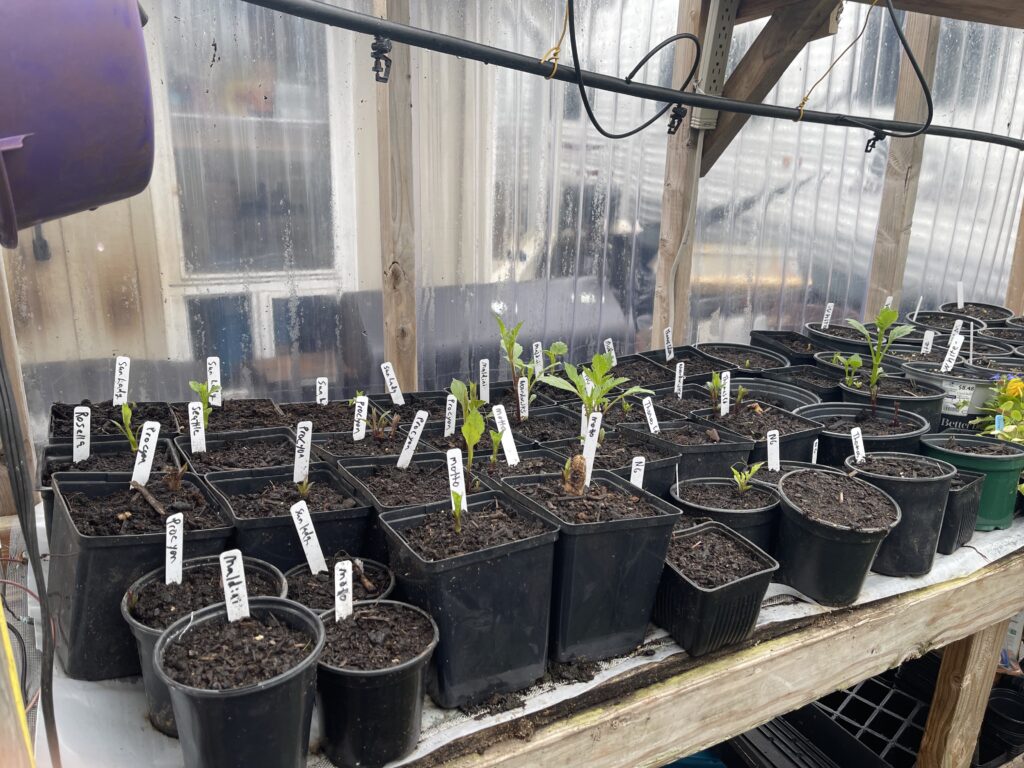 Rob's dahlias are starting to come up in the greenhouse. We have tubers that were given to us last year, tubers dug up from the corner of our garden, tubers from his birthday, tubers from the store and THEN his friend gave him a grocery bag half full of tubers.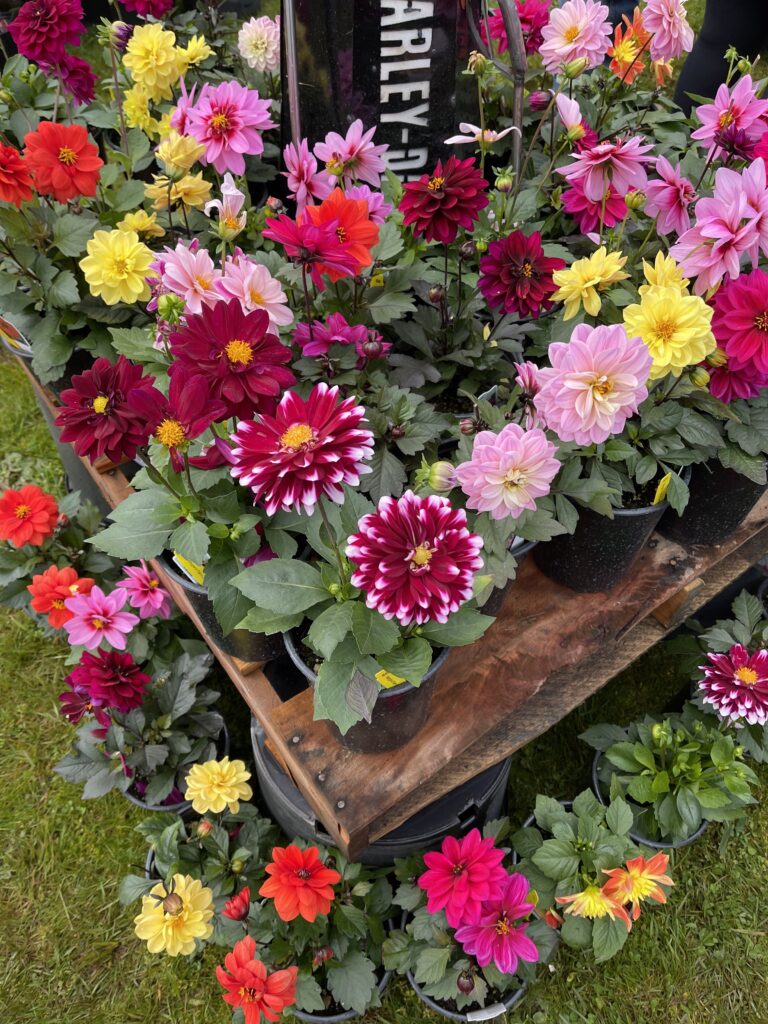 That's a lot of dahlia tubers. Some were very small and may not do much this year, but many will be gorgeous and the rest will grow. (He did not grow these in the picture, they are from a flower show, but he hopes his get this big!)
Rob got to go to a flower sale/show with his mom and got inspiration. He had a wonderful time looking at all the blooms.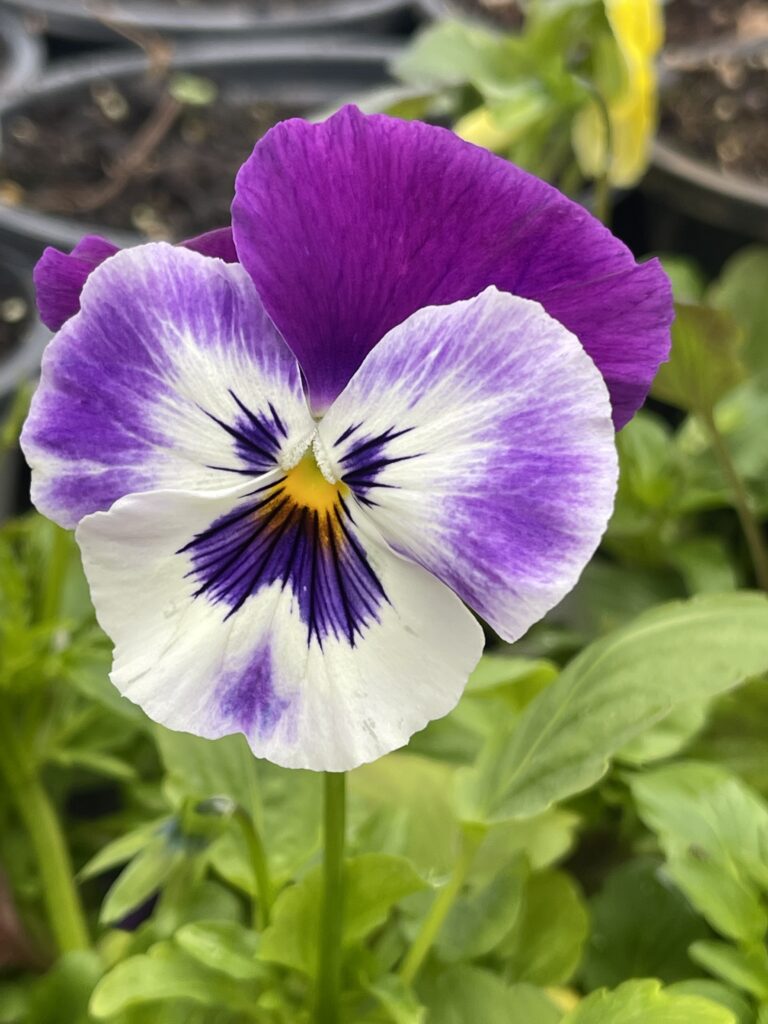 This is one of the many pansies he grew this year. He is really enjoying working in the greenhouse more than ever and I'm happy with all the plants I'm getting.
Rob was able to get some clothes for the babies at a yard sale–about 10 garments for $2, some red rubber boots for $1 and some Mega Block toys for $3. Malcolm found the boots sitting on the floor and put them on right away– over his sleeper while he ate, wore them all day to play, wore them after his bath with nothing but a diaper and a scarf (quite the fashion statement) and wore them to church with his nice church shirt. We think he likes them. Rob's already looking for a new, larger pair, as these won't fit for long.
I cooked chili, chicken-rice soup, berry cobbler, tacos, tilapia, and many other meals. I have plenty to get me through several days, which is good because I'm super busy this week. One of my daughters is doing food for her friend's college graduation party and wants some help from me. This is one of our former 4H kids, so I am super excited to be a part of this momentous occasion. Last week I printed off recipes as she sent them to me and made her a notebook. Today, we went shopping for the bulk of the food. She will do some cooking ahead in the evenings, we will shop again on Thursday for produce, then I will help her cook last minute things on Friday. The party is Saturday.
I was able to use many jars of home-canned and frozen food this week and buy minimal groceries. It's a good thing I have so much food on hand. It really helps. Our stores have a few nice loss leaders, and we are grateful for them. I have noticed that the limits are lower–i.e. you can get 2 of the item instead of the 4 you used to be able to get, and that prices are going up, little-by-little every week or two. Still, in our area, I can still get plenty of food and stay in my budget, which makes me very happy.