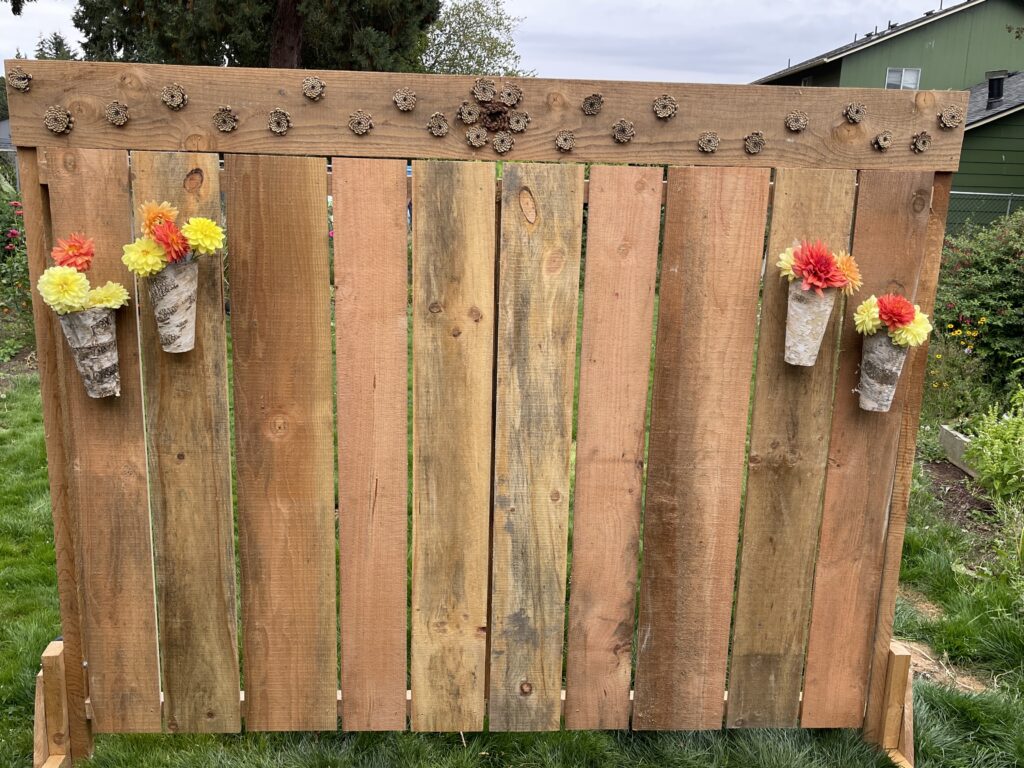 My niece will be married in a couple of weeks. My sister and I (and husbands) are in charge of the reception. We've been planning for months.
Rob has been working hard on building decorative items. I've been working hard helping him set his projects up, wrestle them around our yard, and adding ideas and finishing touches to them. (Meaning he is the master builder and I am his assistant!). This fence will be behind the sweetheart table where the bride and groom will sit during the reception. He built it in 2 sections, because we have to man-handle it up an elevator in the venue to the second floor. It won't fit in its entirety, and is also too heavy in one piece. There is a crew coming to do this lifting, as we are really not able to do it ourselves. We have a LOT of heavy stuff!
The flowers on top are made from the bases of pinecones and will match the wooden flowers she is choosing to use in some of her decor/bouquets. The dahlias will be chosen from our garden in white, yellow, bronze, apricot, and other fall colors and picked the day ahead.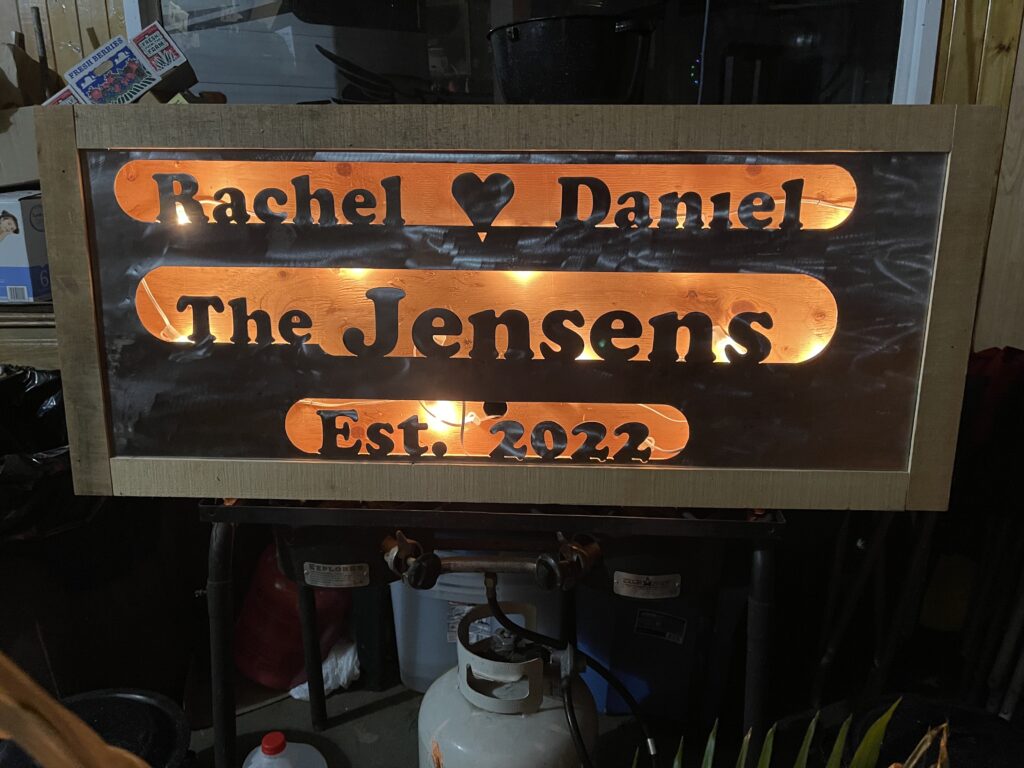 Our extremely talented friend cut this metal sign for Rob. Then, Rob finished the metal, and built a frame box for it with the lights inside. It will be hung on a fence that is much smaller than the previous one with chrysanthemums along the bottom and will be placed in an area where people will see it when they first come in. Then the newlyweds will get this sign for their new home. Her new hubby is a young man we have known and loved for years, so this wedding is doubly exciting for us and Uncle wanted to make something super special for them.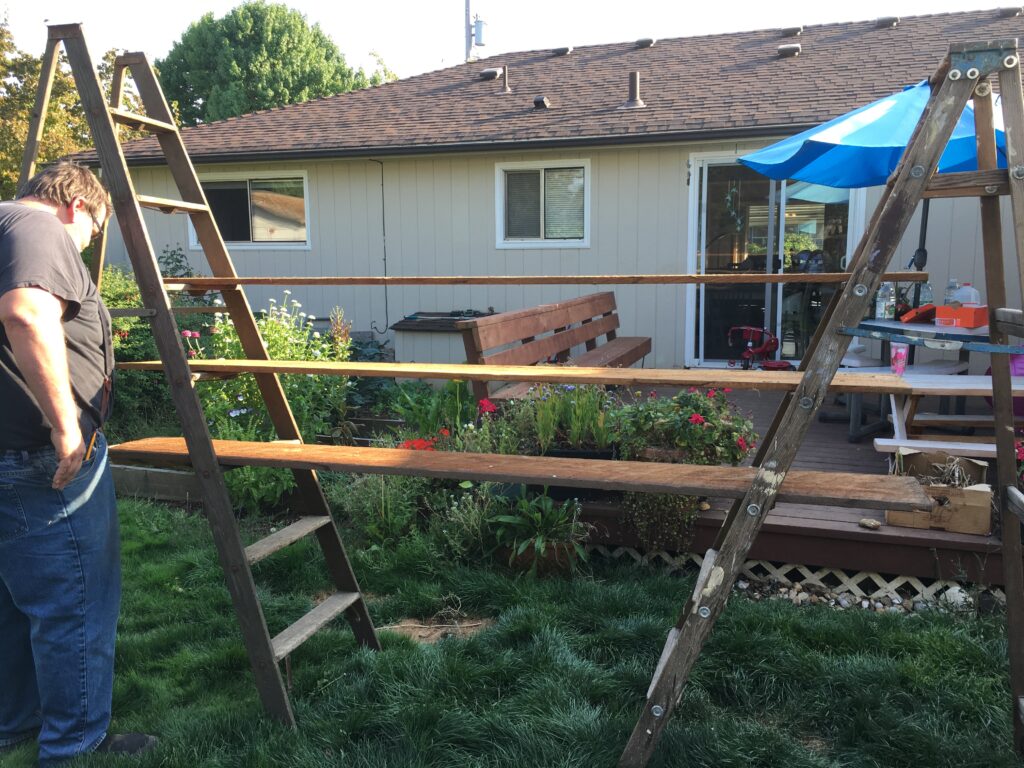 These rickety old ladders were scrounged from basements and garages from friends. He did have to do a little fixing, but they were left rustic on purpose, as the bride wanted. Rob cut old boards he also scrounged to put across them for a cookie bar. They will be decorated up the day of the wedding with various items. I'm hoping to get pictures of the final results. It will be a busy day.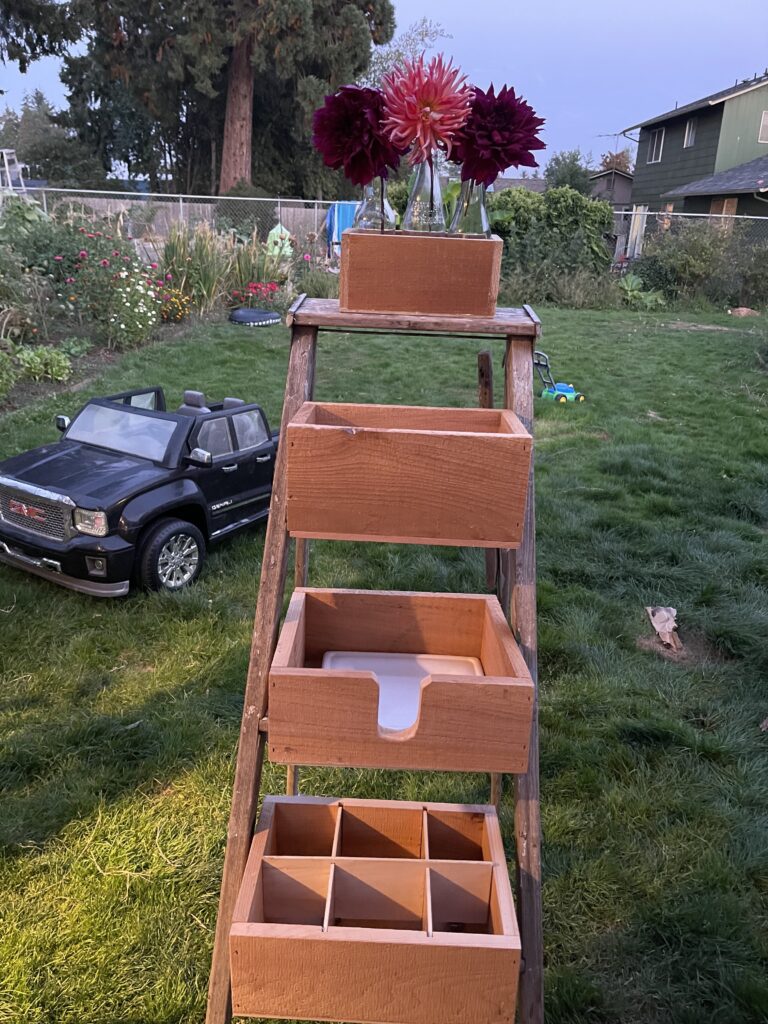 The third rickety ladder was transformed into a holder for the paperware for the buffet. The very top holds 3 bottles for flowers, which will be in wedding and fall colors, not purple. The napkins are next, then the square paper plates she has purchased and silverware at the bottom. We may set more flowers at the base, or just leave alone as this needs to be functional and not trip people up.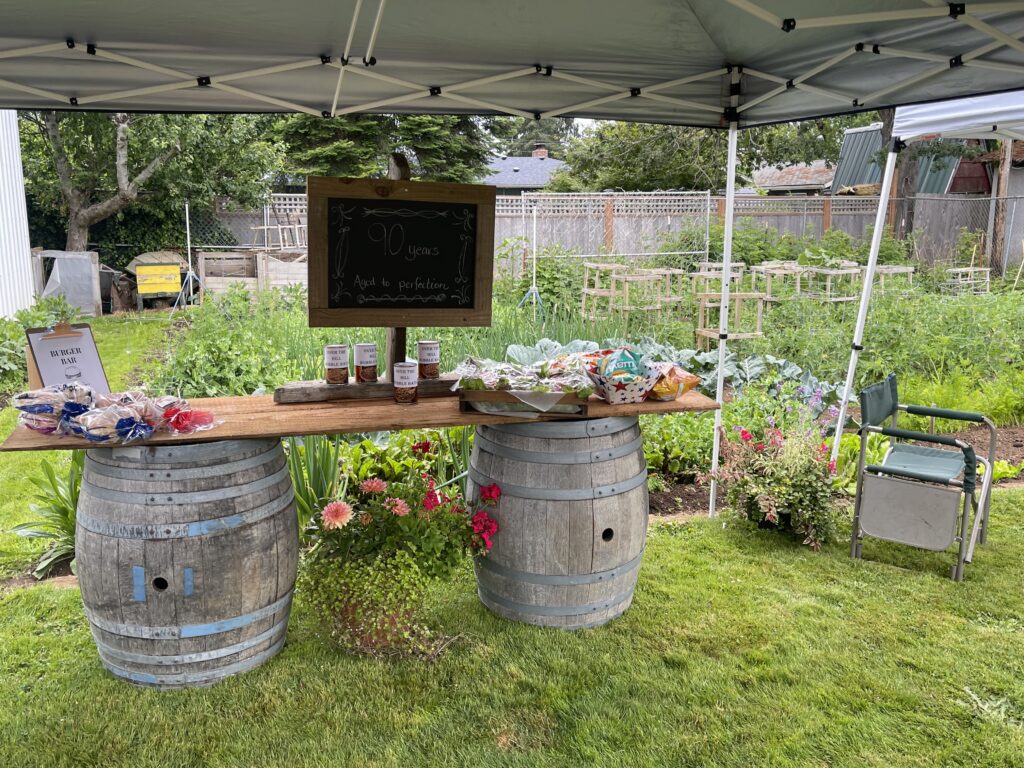 These barrels (shown here at a party in July) will have the board across them and have a kids' buffet area with goldfish crackers, licorice, gummy bears, and other items they will like. The bread will also go on there so the buffet stays gluten free. Our niece asked that allergies be respected and food labeled and that there were options for many of her friends and family who have the need for that.
The actual buffet tables have a base of normal tables the venue provides. Rob has cut a thin laminate to lay across them and scads of crates and baskets have been gathered for the base of the food. Dishes, plates, wood rounds and more have been sourced, along with all the drink items, which will be in a different area.
The table will have bouquets of dahlias and the white zinnias we planted in the spring.
Rob will prepare the meat in his barbeque. We hope to have turkey, roast beef and ham. It will be served sliced thin and cold. We have borrowed a meat slicer for that. There will be bread and condiments for those who want to make sandwiches and lots of veggies cascading out of baskets. We will have dips and salad dressing and salad toppings in little jars so hopefully people will pour some out, and not dip in and contaminate things. There will be a cheese board, salad bar, fruit salad, and a watermelon wedding cake. That cake is all my sister–I can't wait to see how she makes that!
The venue provides nothing in the kitchen except appliances, counters, and a sink. I'm putting together a kit of things like towels, soap, scissors, tools, Saran Wrap, etc. I am started, but will work hard on that in the next few days.
Then, of course, there's the actual cooking…….We've tried to make it as easy as possible and have pulled in some friends and family to help on the day of.
There has been a lot of planning and work done already, and much more to do next weekend. I'm excited to see how it looks when we get it all done and even more excited to see two special people we love so much start their new life together!