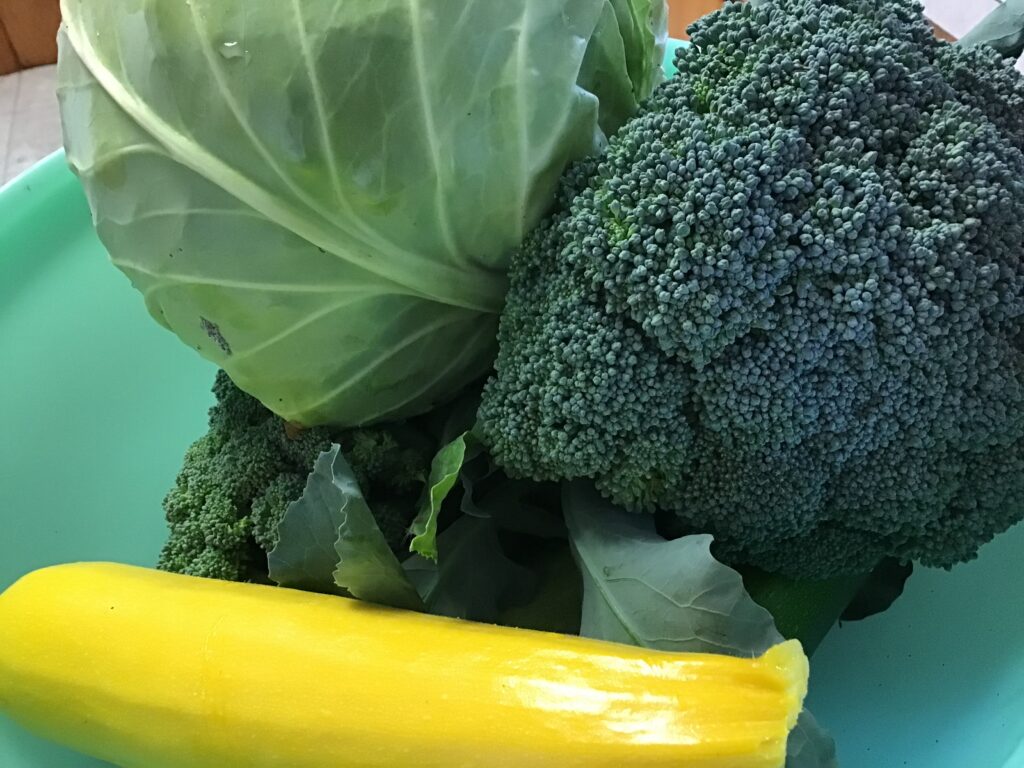 Our fall crop of veggies is producing. We've been eating the new crop of broccoli, cabbage, the new cucumbers, the mixed summer squash (all sorts in the same packet from Pinetree), along with the tail end of cucumbers, tomatoes, green and purple beans, peppers, etc. Our squash and cucumbers from spring planting is succumbing to powdery mildew, as normal, so I usually plant a small bit of those for fall eating.
I was able to freeze a few more packets of broccoli, which was one of my goals for this fall crop. Now I have enough for the winter.
I pulled all of the beets that were still in the garden. Both Mom and I kept what we wanted to eat and I pickled 9 more pints.
I have started to pull onions, and clear away other plants in the garden that are finished. I'm hoping to get that done so it can be tilled before the fall rains begin. It's a big job, so I will try to work at it a little most days.
On the same day Rob picked up my Azure Standard order and did a very small Costco run, the girls decided to buy a LOT of groceries. I believe it was around 10 bags full or more. Then, a few days later, Lovana shopped for her party food, which was many more bags full. I picked up the specials at Safeway last Friday, as there were a few things I needed. Then you add in the wedding food as Rob is doing all the meat for 175 people. It's not a small amount. Our fridges are bursting. We've used coolers with lots and lots of ice for overflow. We have the kitchen one, one small one in the camper and one ancient, rickety college dorm-sized one on the porch. That's it. I have declared this to be NO MORE SHOPPING FOR FOOD week. But, then I ran out of something. And we need 20 bunches of green onions and 12 cucumbers for the wedding that we can get at our local Safeway for a great price. What can I say? I'm sending Rob and Michaela out on Thursday. Everybody better eat fast between now and Thursday.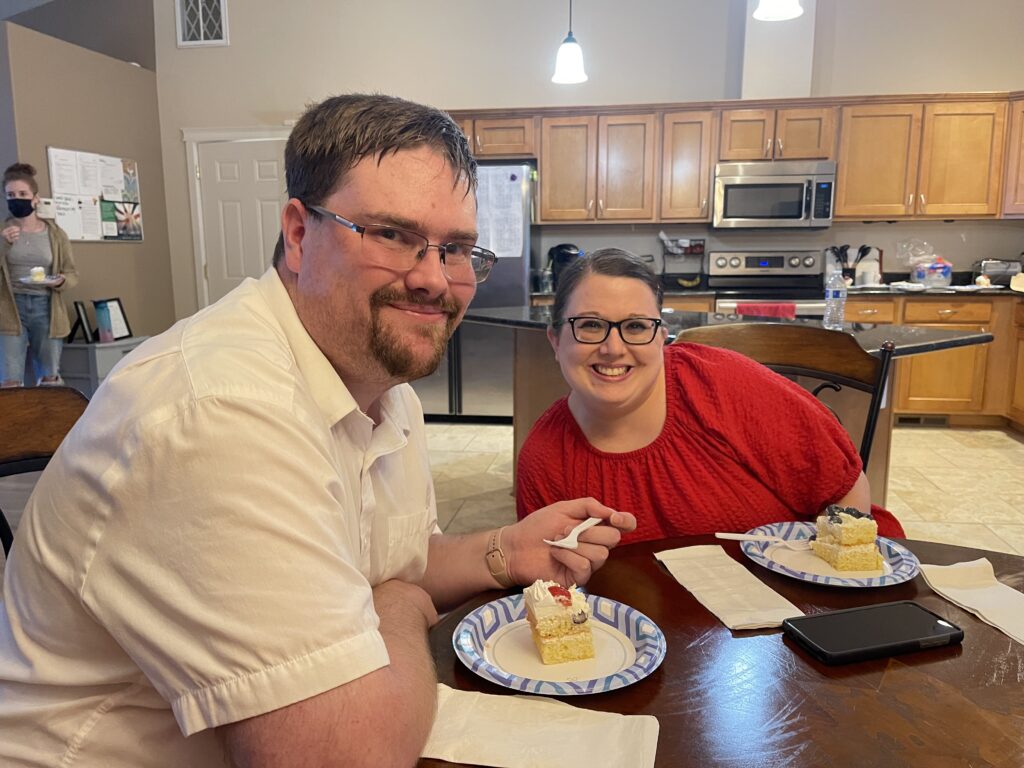 We were invited to Allison's birthday at the group home she and Anthony live in. It's the first time we've visited their new home and it is super nice! I'm happy for them.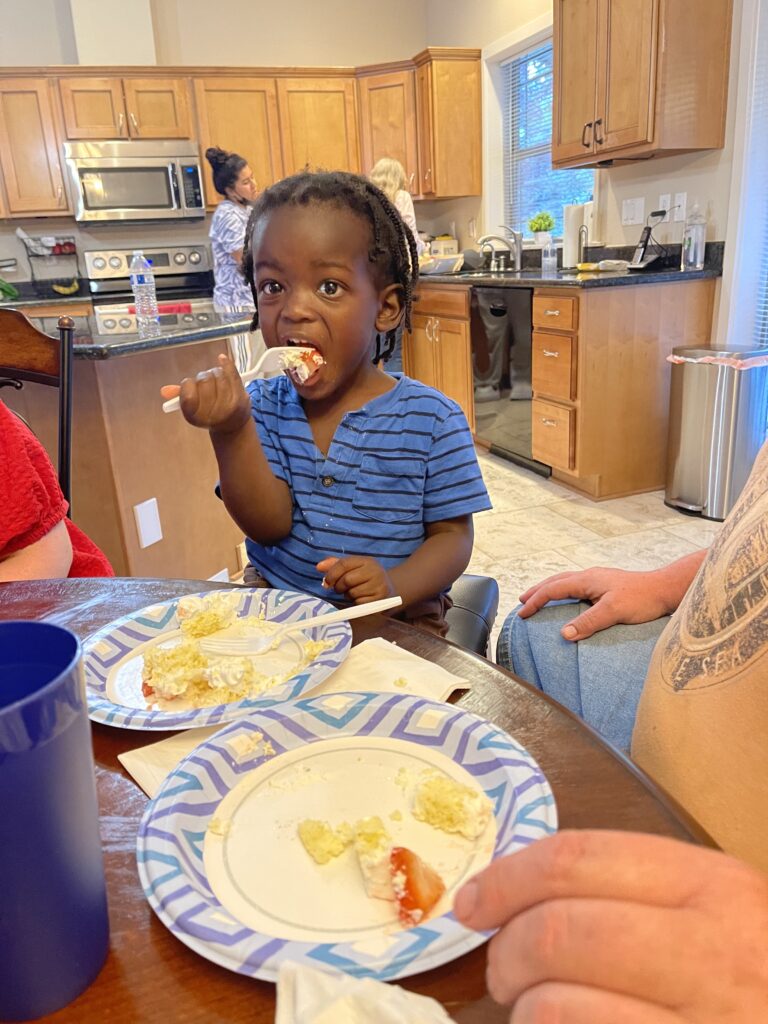 We took Malcolm. Boy did he have fun. We had not realized we WERE the party, other then the residents, so we were super glad we took him along. Everyone enjoyed him so much and he was the center of attention as he pushed and rolled his cars along the floor and enjoyed his cake!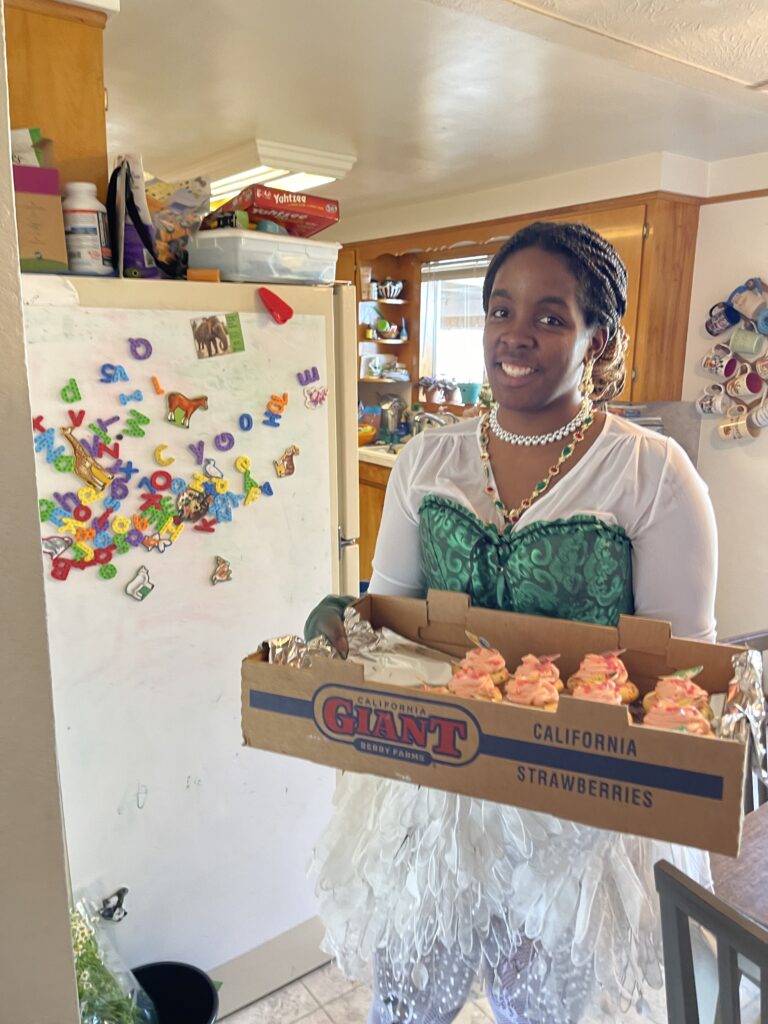 Lovana cooked and baked for a costume party for her friend's birthday. It was a Marie Antionette-themed party and she made 2 cakes, decorated beautifully, brownies, cookies (more than one kind), and cupcakes. There may have been more items, but I can't quite keep track of that girl when she bakes. She really has a knack for it.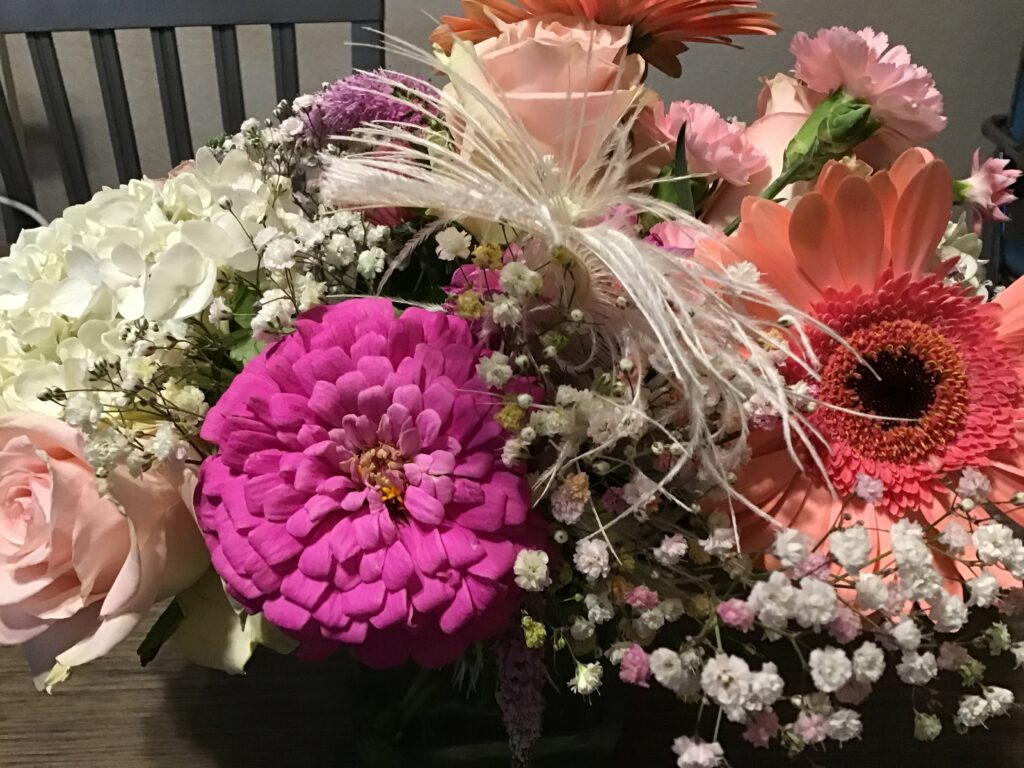 She also arranged many, many flower bouquets for the decor. She said the party turned out really nice, but she couldn't get any pictures in time:(. Now I'm enjoying this gorgeous bouquet every day.
This upcoming weekend is the big wedding for my niece. We are going to be working very hard to prepare all the food. Much has been done ahead of time, but there are many things that have to be done the day before or even the day of the wedding, such as cutting fruit for salad. There are several people coming to help. My sister and I will spend quite a bit of time Friday evening putting together "kits" with instructions so people can be handed a box with apples, for example, with instructions to cut them into bite-sized pieces and add to the fruit salad. Hopefully, that will get all the jobs done and leave no one standing around wanting to know what to do.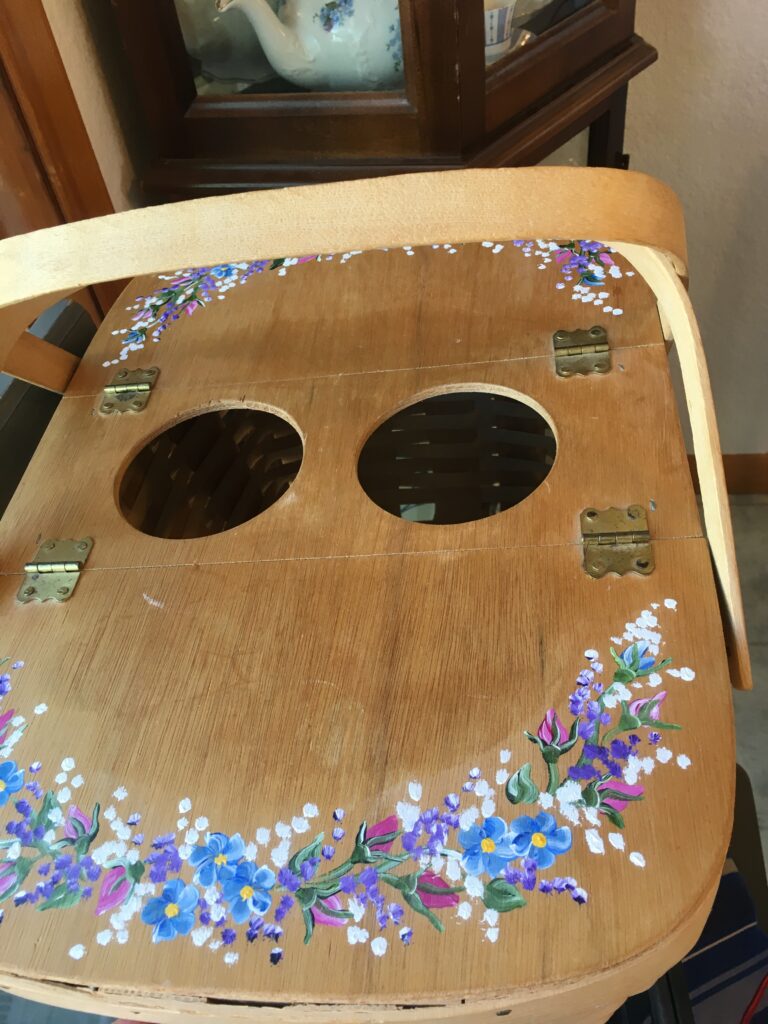 I picked up this picnic basket at a yard sale. Rob oiled it with a little wood oil after this picture was taken, so it looks even prettier now. The bride has asked for some of the wedding food to take with them on their honeymoon, as she feels she won't get to eat much. We will pack the food in here with ice packs. She also wants an assortment of cookies from her cookie bar, so we will add those, too.
I'm bringing containers, plastic wrap, dishcloths, soap, knives, cutting boards, scissors, etc., etc., etc., as the venue provides nothing but appliances. I've got a huge pile already and it's only Tuesday!!! You should see my sister's living room. She has decor for the food tables and will have all the food. Yikes! Rob has the van completely full of his projects shown in the last post. Let's hope that set up crew is on time and very, very strong.