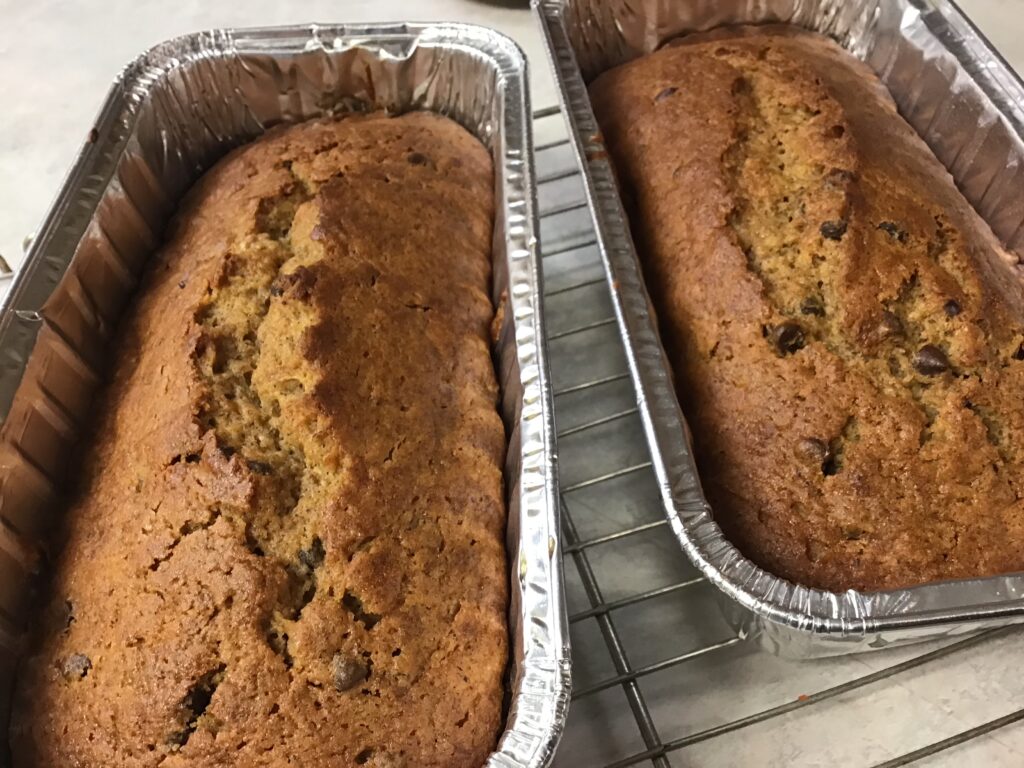 I didn't clean another area in the garage, per say, but did tidy up small places to keep the places I've cleaned so far from slipping back into chaos.
Instead, this past week was full of cooking up items that needed to be used from my pantry. I had several extra meals to cook, including food for 25 people that I was taking to the college group from church on Tuesday.
I started with a boxed mix for pumpkin bread I found when cleaning. It was a conventional, wheat-filled mix, so I had not used it. I used the rest of some squash I'd thawed and a mashed banana to finish up the cup I needed. I threw in some mini chocolate chips from the freezer and baked it up. I have no idea what it tasted like, as I could not taste it, but I'm sure it was delicious. What's not to like about chocolate chips, right?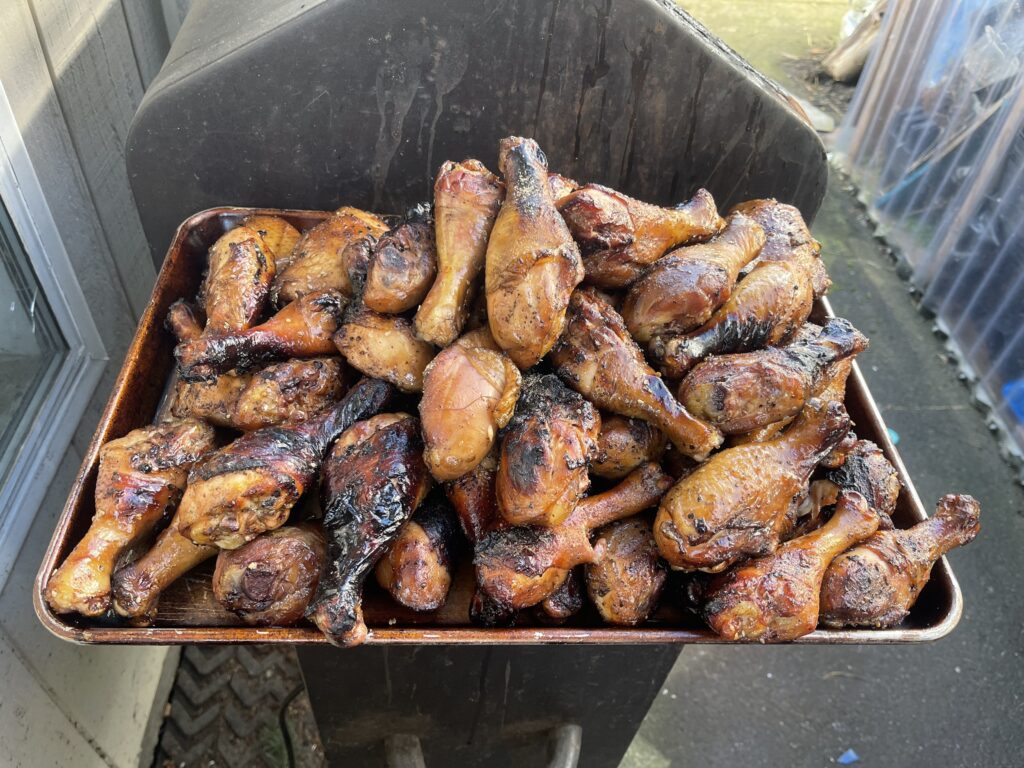 Rob marinated and grilled chicken legs and thighs for the group, us and my sister's family. I did not use the new chicken I purchased on such a good sale last week. Instead, we pulled the frozen packages we already had, thawed and used them to keep things rotating properly in the freezers. They were purchased on sale, as well, not long ago.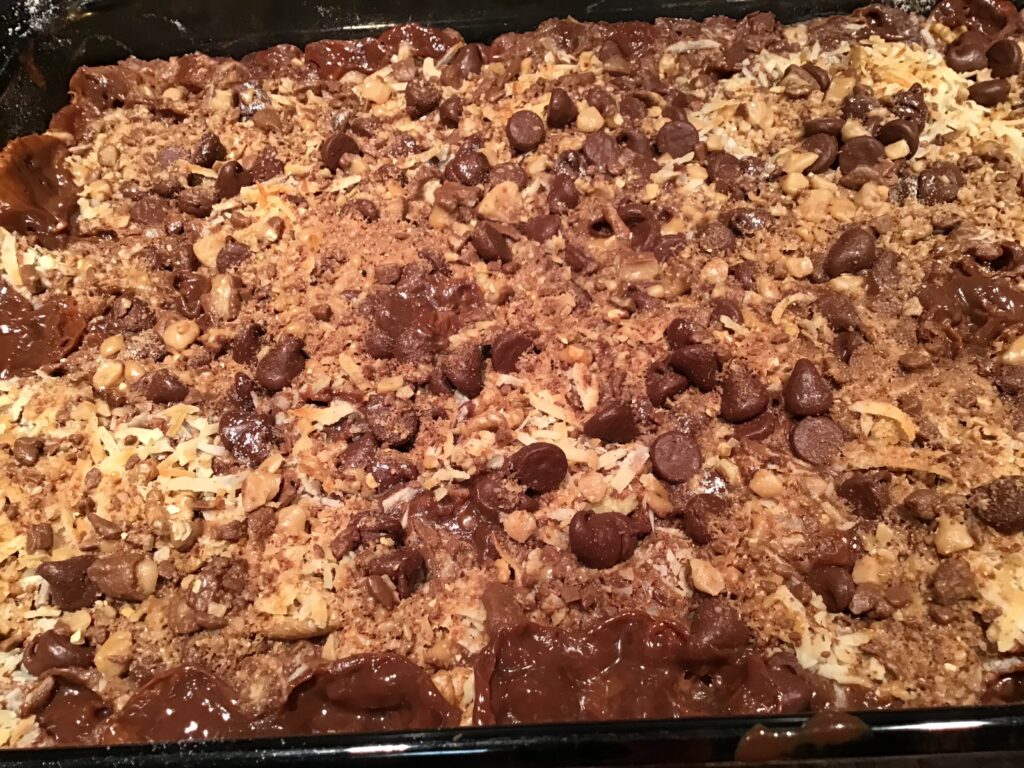 I made 3 kinds of cookies or bars, to use items I wanted to target. This one is fudge toffee bars. It used a can of sweetened condensed milk that was close to date, the rest of the toffee chips from a recipe a few weeks ago, some coconut that had been lingering and some glittery "disco" chocolate chips I had gotten on a super bargain. They were normal Toll house chips, but with some kind of glitter on top….go figure:). I guess they weren't super popular, as they were at the discount store. They were kind of pretty, to me, though.
I made raspberry jam oatmeal bars with oats and home-canned jam that was a couple of years old, but so, so yummy! I wanted to use some old-fashioned rolled oats I have and we liked the bars so much I'll make them again.
The third kind was peanut butter chocolate chip. I sent a few of those on my cookie tray, but froze most of them in the shop freezer. I like to make a batch every couple of months and we eat them slowly. I used a jar of peanut butter I got for 97c.
Normally, I would not make so many kinds of cookies for the group. I just wanted to use these ingredients in a creative way. We had plenty of cookies to eat and share and have a large container in the freezer still to use.
We got a bag of romaine from the restaurant supply store and added a bag of spinach from Safeway, as I had a coupon to get it for $1.50, for a big salad. I added shredded cabbage from my garden, grated carrot and just a few cherry tomatoes on top for color.
To finish that meal, I soaked and cooked a large pot of pinto beans, as I still have quite a few from the 50 pound bag we got at the beginning of Covid. At that point, it was about $22 for the entire bag, and they were in short supply. It was either buy that or no beans at all, at the time, and we were out. They still cooked up beautifully. There were no issues getting them soft. I made Western beans with southwestern seasonings such as cumin, and froze the rest for later use.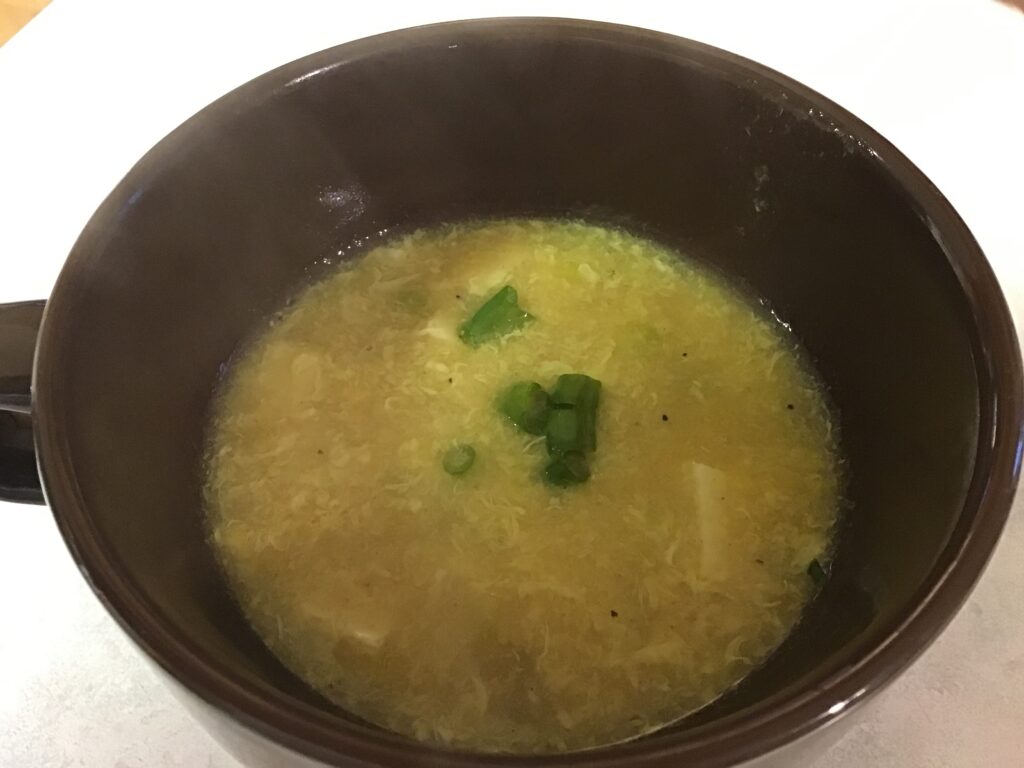 I tried a recipe for egg flower soup from a cookbook I checked out from the library. I added tofu cubes at the last minute so they wouldn't crumble. It tasted really good. The broth was given to us a while back and was almost at "Best used by" date and the tofu was a 97c bargain at the discount store. Rob loves tofu…I'm not as much of a fan, but it was good in this soup. It also used up some green onions that were starting to wilt.
One of our sons came over one day for lunch. I used hamburger buns that were lingering in the freezer and served burgers and extra salad from the big batch I made for the college group. I didn't make much else, as he only wants hamburgers, hamburgers and more hamburgers:)
Last, but not least, I made some salmon patties and fries in my air-fryer. There were some cans of salmon on the shelf that needed to be used. I shared some, and we ate some. One thing Rob did was make a fish sandwich from them. He liked the patties that way. I tossed the potatoes in a tiny bit of oil and added parmesan, salt and pepper and they came out very tasty.
I can see some small spaces already forming on the pantry shelves, which I'm very pleased about as I just organized it to be full and straightened. Once another large space opens up, I want to reorganize all of my tea. The freezers are in good condition, but will need cleaning before too long.
Food management is a big job around here, and I have plans to continue my pantry project for a while longer before moving on to the freezers. Unfortunately, there are still a couple of areas to clean out there in the garage, and happily, there are still many, many delicious items to put on the top of the "use-it-up" list. Thankfully, most of the items that urgently needed to be dealt with have been used!
I really enjoy cooking, and like to be able to find what I want on my shelves, so it's worth it to me. Also, organizing it allows me to buy several of each item when the price is low, and have plenty to use when the prices rise, without wasting! It really needed to be done and I'm glad I finally got around to it.