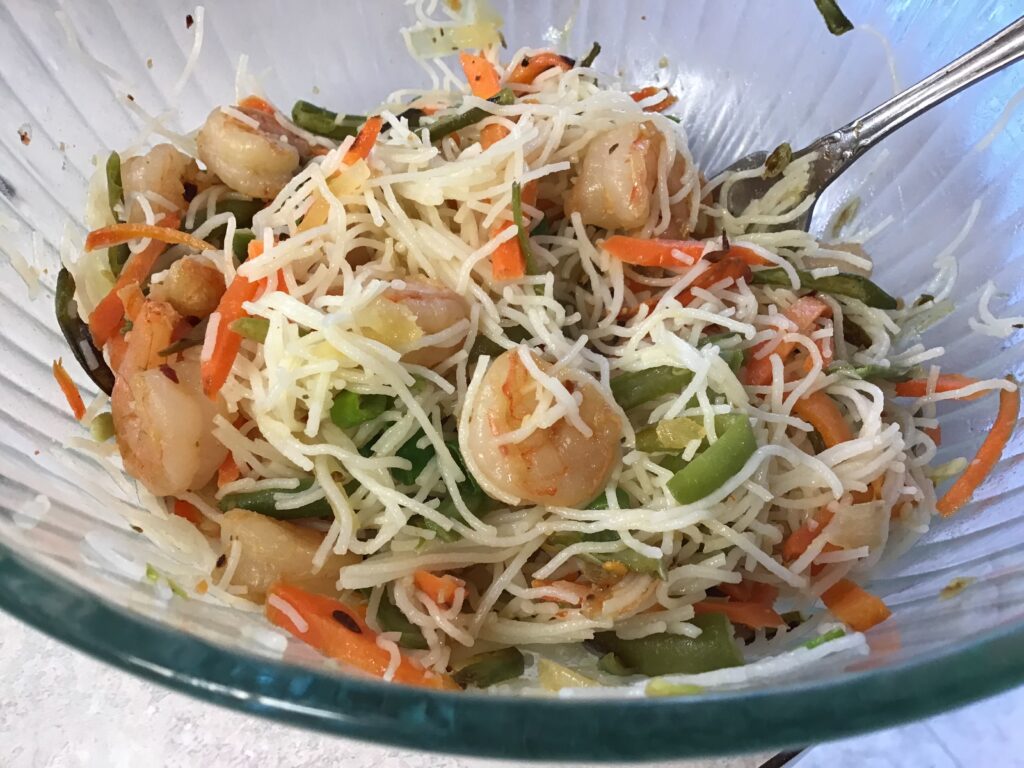 This has to be the winner of the "Use-it-up" project for this past week. It was a rice noodle-shrimp salad, and was served cold. I found and modified a recipe that used 1/2 box of thin rice noodles that had been on my shelf for a very long time, some frozen shrimp that was getting icy, home-frozen green beans, carrots, and a dressing that contained garlic and ginger. It was very bland, until I added the juice from one fresh lime and that brightened it up. If I ever make it again, which I might with the other 1/2 of the box of noodles, I will add a little something else to the dressing–maybe some soy sauce or ? It was so good, though, it's worth repeating.
I continued straightening up small areas. Some weren't even in the garage, but look better now. I kept using up bits of food from the freezers, fridge and pantry.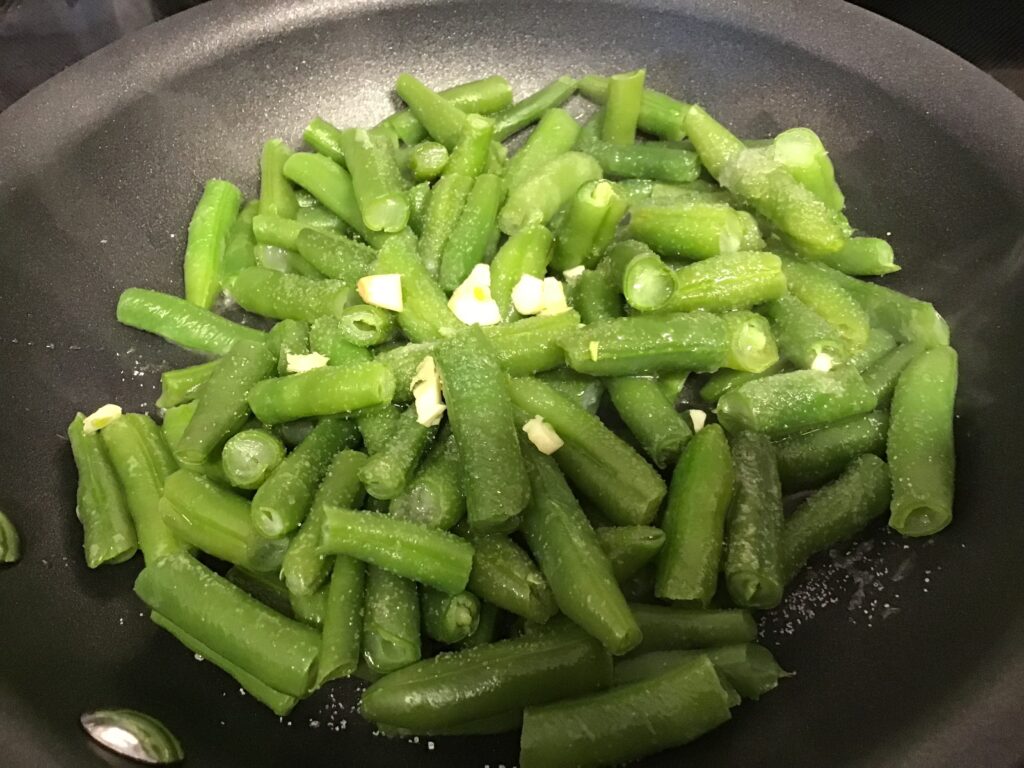 Several veggies, such as these green beans, were used, either frozen or home-canned. A small portion of strawberries that were badly iced over were used in a smoothie, as well as some newer berries, and even frozen peaches one time. Yogurt has been extremely cheap around here lately. I've got quite a few little cartons on hand, and so have been making "moo-thees" quite a bit for my grandson. It's a great way to get fruit and dairy down his little throat and he loves them.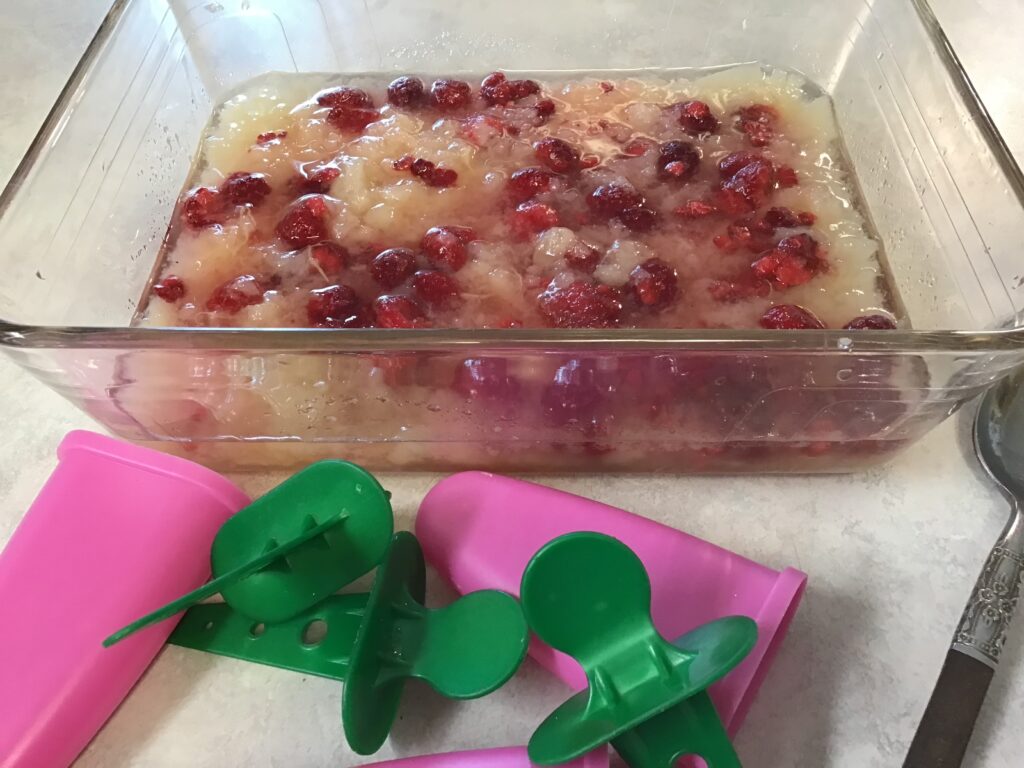 I refilled the popsicle molds with a mixture of mashed canned pears, frozen raspberries and a little bit of sugar. I didn't get any raspberries to freeze last summer, so these are 2021 berries and need to be used up.
I chopped up the rest of the candy bar I received for Christmas and used it in a bar cookie recipe. It is SO good I felt I could no longer have it sitting around, if you know what I mean:)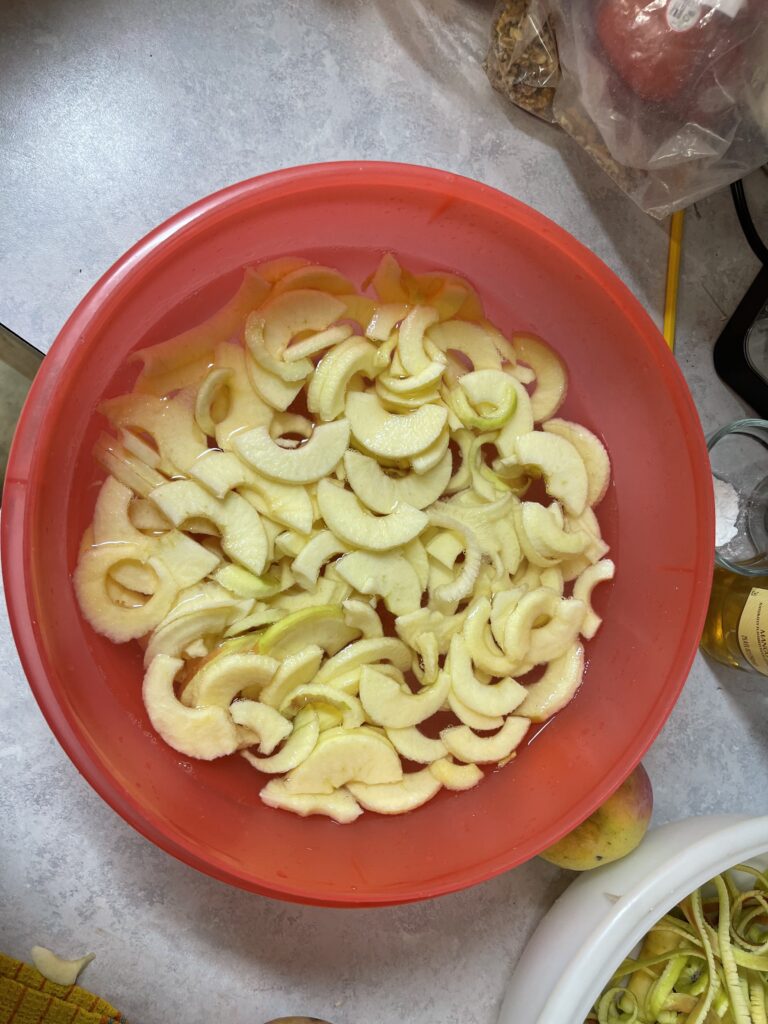 Several more batches of apples were peeled, dipped in lemon-juice water, and dried this week. The camper fridge does not have any more apples in the fridge drawer and an entire box from the porch has been dealt with, either for applesauce, fresh eating or with the dryer. There are a few more in another fridge, and we want to keep them for fresh eating because they are still in excellent condition. There are also some in a box, still, that will be worked up this week.
I made ham and beans with the broth and bits from a ham Rob cooked. I used some cans of white beans from the pantry that were getting old and needed to be used.
I pulled some Marion (black) berries from the freezers and mixed them with some of the worst-looking apples (peeled, cored, and cut up) to make some delicious apple-blackberry crisps.
I'm super happy with how the food storage area is looking. Yesterday, when I was at the store and found sugar for $1.99/4-lb bag (50c/lb), I was delighted to get enough for my summer's canning needs and to know I had a place to put it all! Right now, sugar is much more expensive than that, even at the restaurant supply place, or Costco. It used to come on sale for 99c for this size bag, but I haven't seen that for a very long time, and those days are probably over, so I cheerfully bought this! This was a manager's special and I was at the right place, at the right time. It will easily keep until next summer so I got quite a few bags.
I also used some frozen home-made flatbreads for pizzas, and used some of the mozzarella balls I got a couple of weeks ago on those. Little by little, I'm getting some spaces opened up in the freezers, and that is certainly a place I will continue my cleaning efforts, as the freezers are still quite messy and disorganized. There's always more to do!