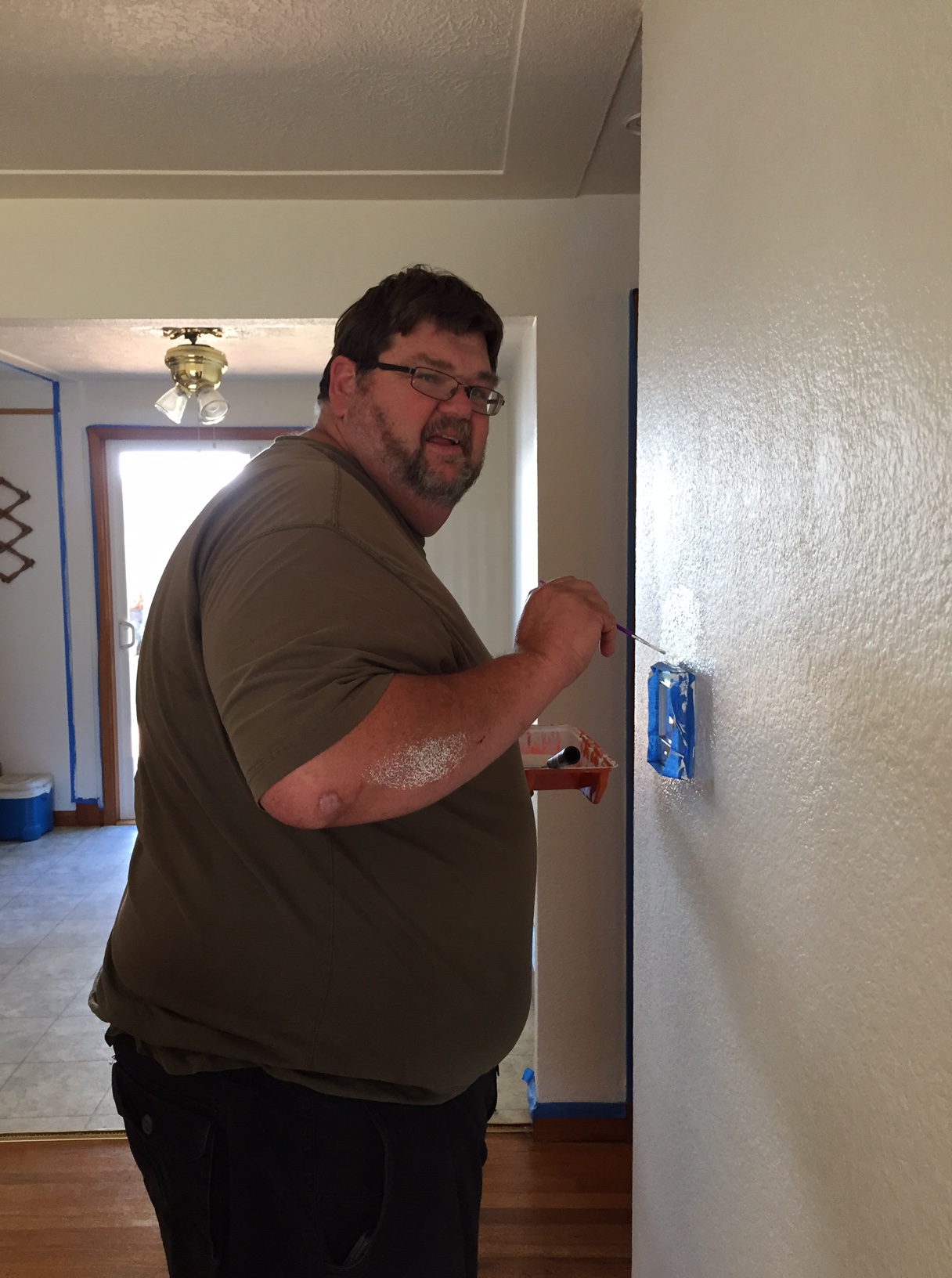 We, and several relatives, have worked many hours this week, and we have completed painting the inside of the house.  First, we painted it with Kilz to get rid of any smoke smell that might be lingering.  Then, we added the color.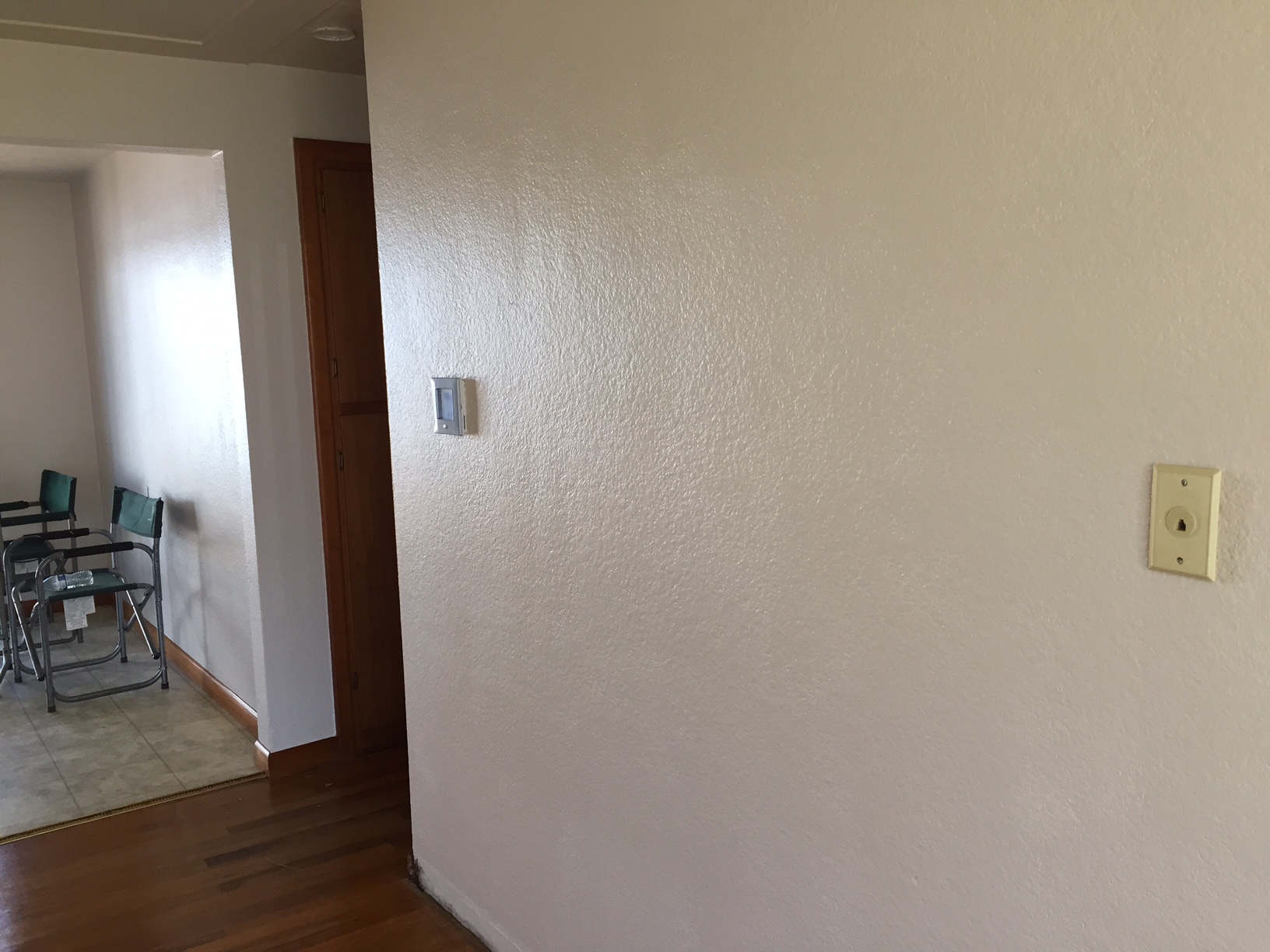 The living room, dining area, hall and Rob and my bedroom were all painted this creamy tan color.  It is light, airy, warm and inviting.  I love how it turned out.  This picture actually shows it being a little darker than it appears.  There are no lights in the living room.  Yet.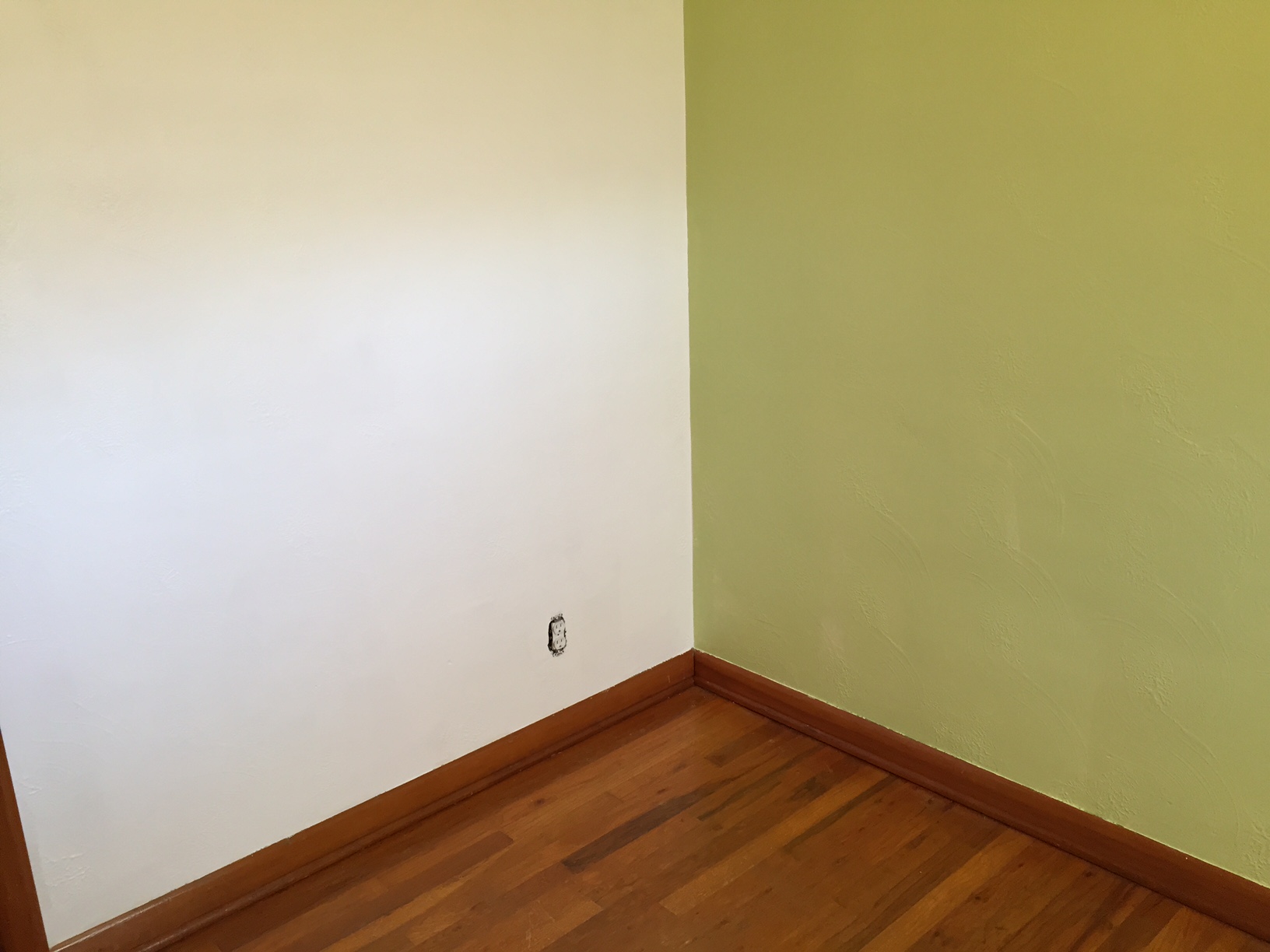 Patsy's room is mostly white, with the one wall that is light green.  A)  It also appears darker in this picture and B) Yes, I missed several spots, which I went back and painted with a brush after viewing this picture.  In fact, I went over several such spots in every room after I thought I was done!  The white is a nice, bright white and the green is much softer.  She has a huge closet in her room, and I will store quite a few of my things in 1/2 of it.  I also may put a community bookcase in her room, but I need to see how things fit in.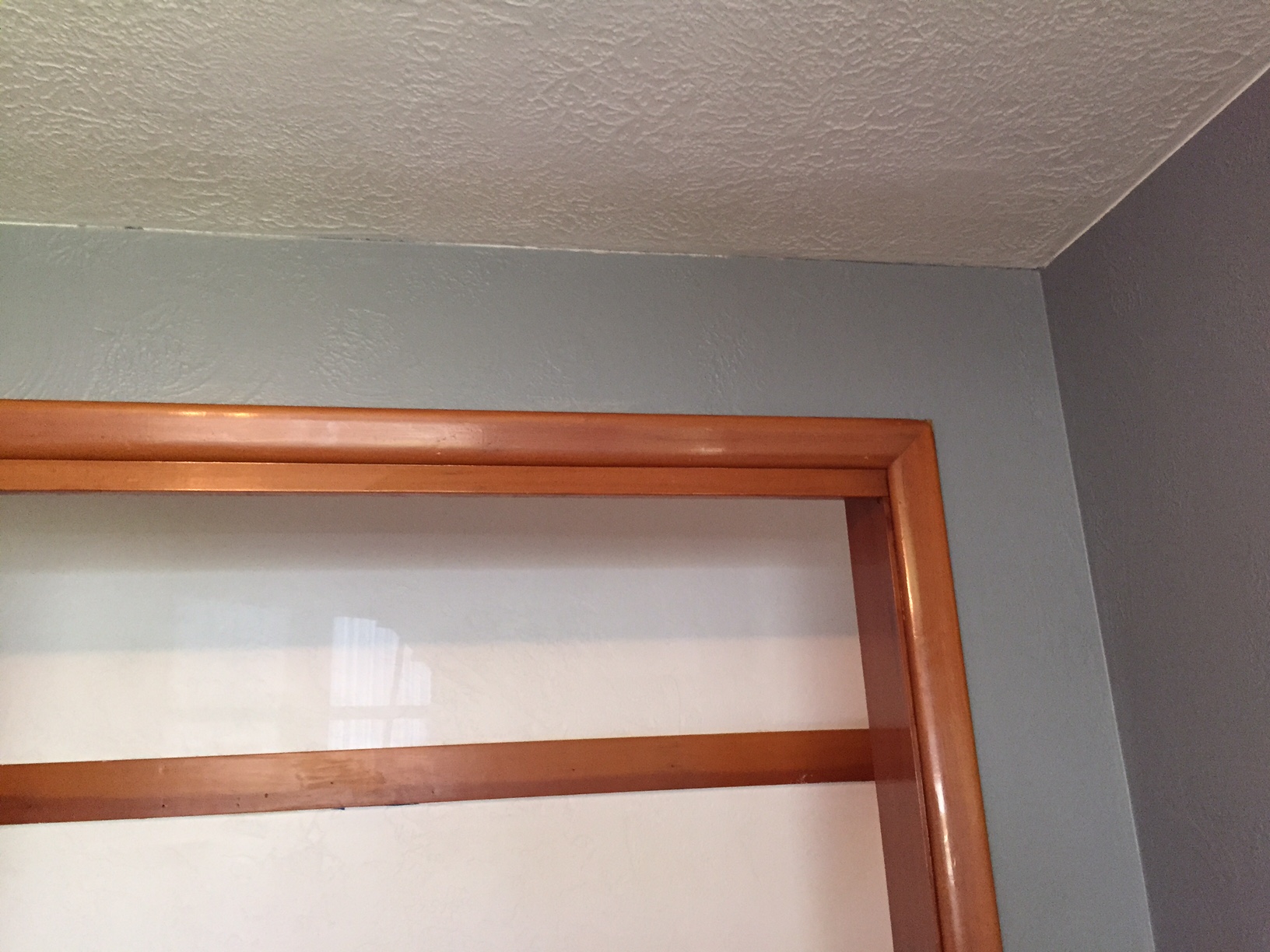 The big girls will share a room.  Their ceiling and closet are white.  Their walls are a blue-gray.  It is really this dark, maybe even a little bit darker.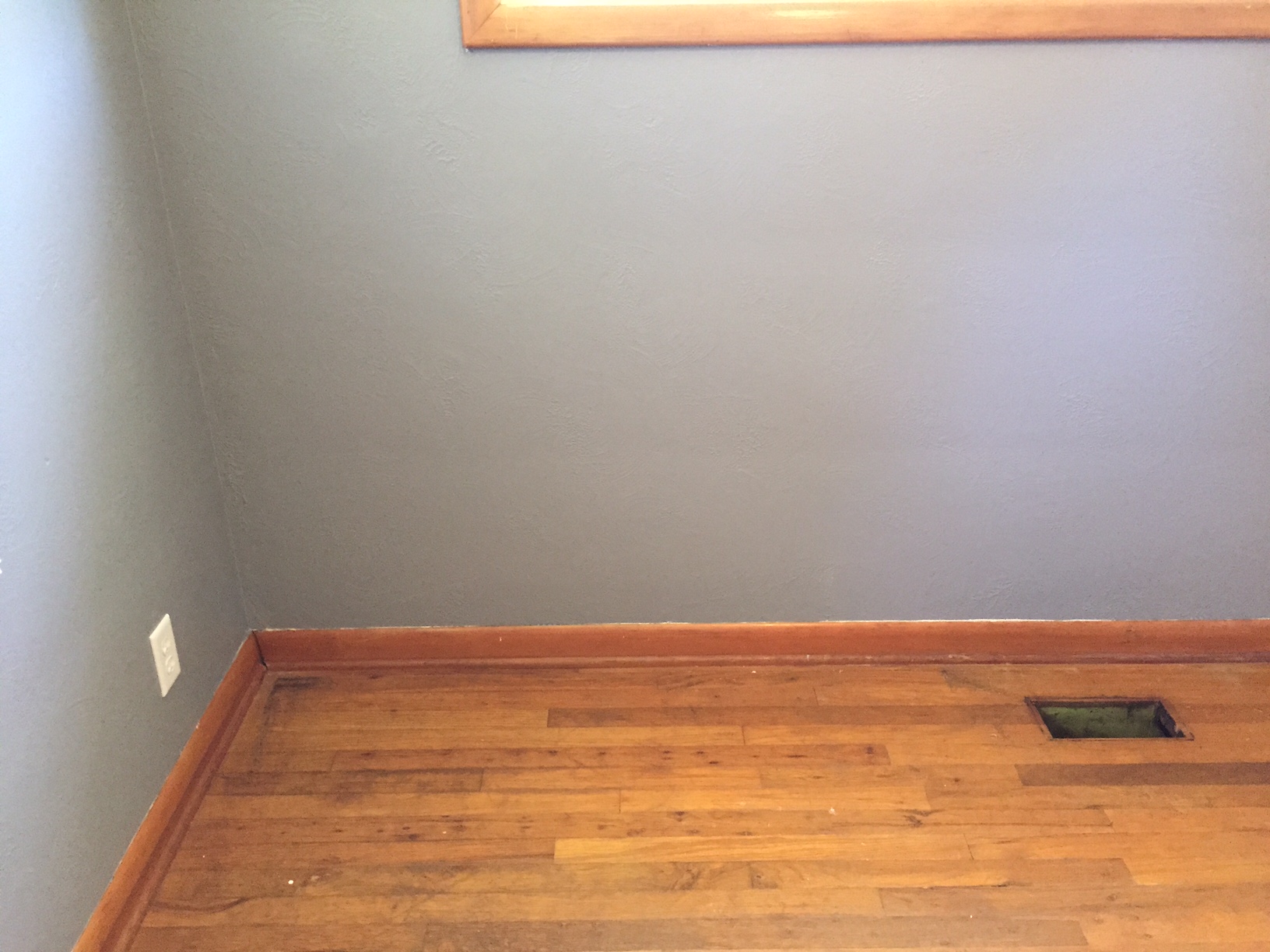 The big girls painted almost all of their own room.  It was good experience for them and took them most of 2 days, since they were new at painting.  The previous painters had not been careful in any room and there is old paint on most of the woodwork, often blobbed or striped as if they did not tape at all. We did it properly, and it has been suggested that we paint over the woodwork in the places that are blobbed with a paint that matches the brown trim  or color over with a brown Sharpie.  I'm not sure if we are going to do any of that.  By the time we get furniture in there, we won't see much of the baseboard:)
We've been moving loads from our storage unit over to store in the shop until after the floors are re-done.  We did another load today, even though the temperatures have been over 100 degrees this week.  (Very rare for our part of Oregon, so we are uncomfortable)  The only reason we could actually paint in this heat is that our new house has air conditioning.  Otherwise, I think the paint would have dried up too fast.  It's supposed to cool down a bit, so hopefully I can get lots of loads moved next week, and some yard work done.  Things have grown up while the house was for sale, but I can tell the previous owner kept things in good shape.  I want to do the same.
We've also been working with the stove insert company, getting the details settled for the chimney preparation and installation of a new insert stove.  After filling out forms in 2 places, mail has finally arrived, today, at our new address.  Not long now until I get to go get a library card to the Salem Public Library!  That excites me tremendously.  I was last inside about 25 years ago, and thought it was really large then.  I will really feel like I live there (which I don't actually, yet) once I check out books!